How Do You Fix MLB's Worst Radio Booths?
Last week, I gave you my favorite MLB team radio booths. This included the Indians, Dodgers, Cubs, and Cardinals.
This week, I want to look at what I find to be the two worst MLB team broadcasts. My opinion is based on broadcasts that I have heard myself. I know everyone has their own thoughts but these are mine. In addition to telling you why I feel their broadcasts are terrible, I'm going to give some important suggestions on how they can be fixed. 
Washington Nationals-Charlie Slowes (pbp)and Dave Jageler(pbp)
I'm not a big fan of two announcer teams to start with. I feel like if you are going to have a two-person booth, one should be the play by play announcer and the other an analyst who can give some insight as to what's going to happen and why. So that's strike one. Strike two is Charlie Slowes announcing. He's what we used to call a "puker." He's someone who is over annunciating every word. Strike Three is the massive amount of stats delivered during the Nationals radio broadcast. 
You can't listen for one batter without hearing a litany of stats and numbers. I'm listening on the radio; please describe the action because I can't see it. Just because baseball has a million stats now, doesn't mean you have to use all of them.
Alright, enough of my complaints; easy to do but harder to fix.
In a perfect world you settle on one play by play announcer and one analyst. Really hard to do when the Nats started as the only former players they had then were technically Montreal Expos. Now that the Nationals have just completed their 14th season in DC there are former Nats to pick from to add to the radio booth. 
My first choice would be Jayson Werth. An extremely popular player who just had his number retired this season. He still lives in the area and really knows the game. The downside is that he's very involved with his son's burgeoning baseball career. 
If Werth is not available I would definitely look at Mark DeRosa. DeRosa only spent one year of his major league career with the Nats, but he's a smart and entertaining analyst for MLB Network. He's very well thought of around the majors with his name even being mentioned for some managerial openings. 
Other Possible Analysts:  Adam LaRoche, Nick Johnson or Davey Johnson
Then the question is which of the two play by play guys do you keep? I would keep Jageler as I find him to be more conversational and less stats-crazy than Slowes. Either one would really be helped by better defined roles and a full-time analyst. Having two play by play announcers is like playing two quarterbacks. The old adage is "If you have two quarterbacks you have none. " I think that applies to this situation. You have to trust either Slowes or Jageler to call your games and give them an analyst so we are not overwhelmed by stats and data listening to your games. 
Chicago White Sox-Ed Farmer(pbp) and Darrin Jackson(color)
Having listened to them a couple of weeks ago, I am again surprised at how embarrassingly awful this broadcast is. Trouble in the White Sox radio booth began when John Rooney left the White Sox after the 2005 World Series Championship season to call St. Louis Cardinals games. (The Cards won in 2006 making Rooney the only radio announcer to call his team's World Series win for two different teams in consecutive seasons.)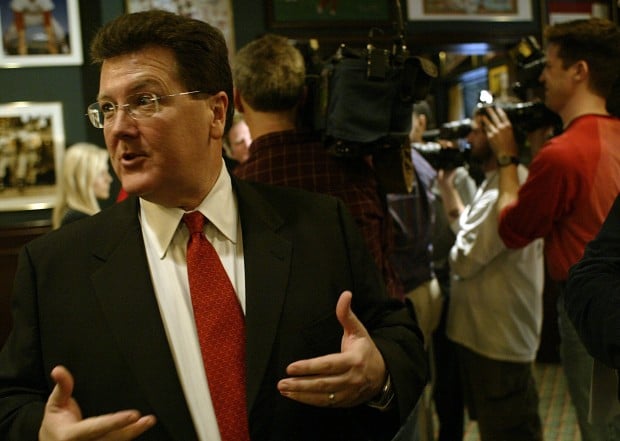 Ed Farmer was Rooney's analyst and the broadcast worked. Farmer moved over to play by play when Rooney went to St. Louis. He wasn't a play by play man then, and still isn't one now. He mumbles and stumbles his way through a game with a monotone voice. Additionally, Farmer apparently does little to no prep for his broadcast. 
For example, during a weekend series with the Cubs, he was talking about having seen Cubs reliever Steve Cishek when Cishek was in Minnesota and how he's practically unhittable. Sounds great, except that Cishek has never played for the Twins. Farmer had confused him with former Twins and current Phillies reliever Pat Neshek.  Knowing the information is 100% wrong, analyst Darrin Jackson had to correct Farmer on the air. 
To add to the fun there is no chemistry between the two, but they both try to be funny or bust each other. It is so dry and contrived and it nearly always falls flat. Jackson's not going unscathed here as he talked about astronaut and American Hero Jim Lovell as having "intestical fortitude" instead of "intestinal fortitude". It's an embarrassment to a storied franchise that has had some great announcers through the years. 
There's good news. This can be fixed and here's how. First, say goodbye to Farmer and Jackson. Thanks for your time. Next, hire AJ Pierzynski as the new radio analyst. He played for the White Sox for eight seasons including their 2005 World Championship team.  He returned to the White Sox as a "Team Ambassador" last December.  You hire Pierzynski then just move Andy Masur from Pre and Post game duties with the Sox to the play by play job. Masur has play by play experience with the Padres from 2007-2014 and is a native Chicagoan. 
It's also the perfect time for a major shakeup like this in the Sox radio booth. The team has been going through a rebuild and will bring a number of exciting prospects to the big leagues over the next two years. Additionally, this was the Sox first year on WGN and I know that Todd Manley, WGN's Station Manager and VP of Content and Programming, has to make this broadcast better. 
Matt Fishman is a former columnist for BSM. The current PD of ESPN Cleveland has a lengthy resume in sports radio programming. His career stops include SiriusXM, 670 The Score in Chicago, and 610 Sports in Kansas City. You can follow him on Twitter @FatMishman20 or you can email him at FishmanSolutions@gmail.com.
There's Never Been a Better Time To Take AM Radio To Market
"Nobody can argue that mobile phones aren't more convenient and can stream or provide pods, but your AM radio station stands out in a digital crowd."
Your AM radio station really is better than your mobile phone. Now is the time to make that case. Thanks to Ford's decision to NOT drop AM radio from its 2024 lineup of vehicles, many of your clients have an awareness of AM that they have not had for a while. Streaming and mobile dominate the conversation, so this is a chance to make critical points about your AM station.
The fight over the Emergency Broadcast System being partly delivered by AM radio and not replaced by mobile phone streaming was made in Congress, and Ford listened. The NAB rallied.
Nobody can argue that mobile phones aren't more convenient and can stream or provide pods, but your AM radio station stands out in a digital crowd. Be proud. Here is why we should let the AM force be with us and why it's an invaluable tool for businesses to reach a target market. 
WIDE AND LOCAL
AM radio can carry a powerful signal that allows for wide geographic coverage. Local businesses looking to connect with their entire community can benefit from such a wide net. By buying a local ad schedule on AM radio, businesses will promote trust and loyalty and increase brand awareness. This is especially true of legacy local businesses that have been in service for 25 years or more.
RELIABILITY AND ACCESSIBILITY
AM radio is reliable and easy to get to. Just turn on your car radio. Mobile phones need a good connection, and that can be tricky. Big AM radio stations have multiple towers to transmit over the air, even during power outages or when cell phone towers are knocked over. Dependability is vital when the chips are down, and an emergency or natural disaster has hit your area. Mobile phone networks can get too much traffic and jam up. The ability of AM radio to provide critical information and updates is huge!
NICHE AND TARGETED AUDIENCES
There is no arguing that streaming off a mobile phone opens a world of choices. But AM radio hits sports fans, political nerds, religious folks, or news hounds. Los Angeles has prominent sports radio stations on AM. AM advertisers can tap into these audiences, so the right people hear their message. It is much easier to navigate buying radio from you than streaming from a website.
PERSONAL AND DOWN THE STREET
AM radio stations often have deep roots within their communities and provide a real personal connection with their listeners. Local play-by-play programming, talk shows, and news updates are often fodder for locals to debate and share their opinions. How does a mobile phone stream do that? It would be hard to call into your favorite show off a delayed stream with your device to listen to it. Businesses can enhance their credibility and build strong customer relationships when swimming in AM radio waters.
For sure mobile phone streams are convenient and accessible. But AM radio has reach, loyalty, local connection, reliability, and target audiences. And AM radios will be available in Fords for the foreseeable future.
Jeff Caves is a sales columnist for BSM working in radio, digital, hyper-local magazine, and sports sponsorship sales in DFW. He is credited with helping launch, build, and develop SPORTS RADIO The Ticket in Boise, Idaho, into the market's top sports radio station. During his 26 year stay at KTIK, Caves hosted drive time, programmed the station, and excelled as a top seller. You can reach him by email at jeffcaves54@gmail.com or find him on Twitter @jeffcaves.
Ben Mintz Isn't Too Hot to Touch After All
"I've got a lot of options that I'm still weighing on what my next permanent move is."
If you feel bad for Ben Mintz after losing his job at Barstool earlier this month, you're not the only one. Stoolies, Barstool employees and even Dave Portnoy voiced their displeasure after Penn Gaming decided to cut ties with Mintz, after he said a racial slur while reading lyrics of a rap song on a live stream. Regardless of that outpouring of support, he's been out of a job and looking for his next move.
Initially it was a terrifying time for Mintz. He wondered if he'd be too hot to touch for other media companies and if another opportunity would present itself. Fast forward to three weeks after the incident and Mintz is now about to embark on possibly the greatest summer of his life.
Earlier this week, Mintz was at the SEC Baseball Tournament in Hoover, AL. His beloved Ole Miss Rebels didn't qualify for the conference tournament, but he found it important to still attend the event.
"It's all about staying relevant," said Mintz. "I think I need to be making an appearance at the SEC Tournament. Ole Miss and Mississippi State didn't even qualify but I'm still going."
After leaving Hoover, Mintz will be driving all over the south to see friends and family. His 40th birthday is next week and he'll be making several stops to see as many people as possible. After that, he'll be heading to Las Vegas for several weeks to pursue one of his biggest passions: poker.
Mintz essentially has a summer job with PokerGo. This isn't his next big venture into the media business, rather a fun gig to pursue while he mulls over his next big decision. PokerGo allows him the opportunity to play the biggest tournaments of the summer in Vegas, as well as provide fun commentary and content.
"I've got a lot of options that I'm still weighing on what my next permanent move is," said Mintz. "The thing with PokerGo that was so intriguing is that it's a perfect bridge job to the next thing. I'm going to be flying to Vegas on Friday June 2nd and I'll be there until July 20th. It's a funny thing, because I feel like I'm in high school or college and I'm going to summer camp or having a summer job."
Even after the biggest mistake of his professional life, Mintz is on the verge of one hell of a summer. Essentially, he'll get free lodging, a paycheck and the chance to chase his dream of winning the Main Event. Life is still good, very good, in fact, for Mintz.
"PokerGo, I'm good friends with those guys and what they offered was the opportunity to do commentary for the World Series of Poker final table, reporting, podcasting and poker content," Mintz said. "They basically are like, hey, don't feel like you can't play WSOP. You play whatever you want to play. I have investors, what's called backers in the poker world, that put me in tournaments. My backing deal, they put me in $1,500 buy ins and the $10,000 World Series of Poker Main Event. What PokerGo gave me was an opportunity. I get free lodging, getting paid and I get to fire off the WSOP for my backers. It's literally a dream situation and a six-week job before I figure out what the next step is. I think it's a perfect summer job."
While Mintz is enjoying his summer job with PokerGo, he'll be thinking about what his next move is. Luckily for him, there doesn't seem to be a shortage of options on the table. However, he knows the importance of his decision for the rest of his professional life.
"I'm at a humongous crossroads," said Mintz. "You really only get one or two spots in your life or career like this. I don't want to hurry or rush to make this decision. I'm definitely weighing stuff right now, but summer is a little slower in the sports world and it sets up for me to hopefully get something figured out before football season."
As for what the next move could look like, Mintz is leaving his options completely open. He's confident he can contribute and produce content in several areas and isn't going to pigeonhole himself into one particular platform.
"I think my strength now is my versatile background," Mintz said. "I have a gambling background with poker and sports gambling. I have a sports radio background and I've also worked for Barstool, which is one of the biggest platforms in the world. I do think what I learned at Barstool in consuming media, the 30-second to 1-minute short form videos are a big thing. I feel like the podcast space, I'm not saying I won't do one, but it's kind of over saturated now."
Before Mintz got his first big break at Barstool, his background was in sports radio across Louisiana. Could he make a return to the radio airwaves?
"I love doing sports radio," Mintz said. "That's certainly an option for the next step. I'm an open minded guy. Anybody that's trying to talk to me, I'm listening. I'm not going to close any doors."
His love for sports radio and understanding the need to stay relevant are big reasons why you can hear Mintz on various radio stations across the south. For instance, he was a Monday guest on Off The Bench at 104.5 ESPN with T-Bob Hebert and Jacob Hester. Mintz can join most radio shows now, since he doesn't have an affiliation with Penn Gaming anymore. While employed, he could only be on radio shows that had the same sportsbook sponsor as Barstool.
It's not time for a decision yet. In fact, right now, Mintz is largely focused on being thankful. The amount of opportunities at his disposal after what happened earlier this month, he been a pleasant surprise.
"Everybody that knows my character knows there was no maliciousness," he said. "I made a very stupid, but honest mistake. Just reading my song like a rap song, I had to pay a very big price for it. I have nothing negative to say about Penn Gaming at all. I put them in a terrible situation and I disagree with their decision, but that's their decision. They're a billion-dollar company. It is what it is. What I'm thankful for is that I thought I was going to be too hot to touch and it seems like it's broken the other way."
Ben Mintz clearly feels shame and remorse, but he is trying to make is mistake just a bump in the road. Has it completely stolen his happiness? Not for a second.
"It's been interesting being in public. At Jazz Fest or in the Carolinas, I'm still out in public all the time. I have so many fans and Stoolies coming up to me and saying how they stand with me. Some act like I'm dead. It's a bump in the road, but I have my health, friends and family and opportunities. The way it broke I feel like I'm in a spot where my next place is a launching pad. I think people want to support me even more."
Mintz will undoubtedly rebound in his professional career. He's too unique and talented not to. But in the meantime, even during his incredible summer, he appreciated all the support he's received from fans. Most notably, he's seen that on his Cameo page, where hundreds of fans have spent money on personalized videos to try and help him out financially.
"It wasn't that my Cameo always boomed, it didn't," said Mintz. "In the meantime, I'm in a situation right now where all the Stoolies were so mad about what happened to me. I'm getting a lot of support and they're asking how they can help, and it's to buy Cameo videos. That definitely helps me in the meantime for sure."
Tyler McComas is a columnist for BSM and a sports radio talk show host in Norman, OK where he hosts afternoon drive for SportsTalk 1400. You can find him on Twitter @Tyler_McComas or you can email him at TylerMcComas08@yahoo.com.
What Does a Sweep Mean For The Guy Calling the Games?
"These situations can put some pressure on the broadcasters, no matter if your team is the sweeper or the one getting swept."
This year in the NBA and NHL playoffs there have been a good number of sweeps. While it's always a possibility, the leagues and their broadcast partners cringe at these short series. There's very little drama, hence very little reason to tune in, unless you're a fan of the team on the right end of the sweep. 
Of course, monetarily, the television networks hate the sweeps. Most of them have already sold advertising for the "if necessary" games that they won't be able to cash in on. Sometimes a sweep will eliminate not just a marquee team, but some top tier players. For example, the Lakers and LeBron James were shown the door by the Nuggets in 4 games. Like him or not, LeBron is a draw.
"Definitely not ideal! Lakers–Celtics is the gold standard for an NBA Finals Matchup," Adam Schwartz, senior VP, video investment, sports at Horizon Media, told Yahoo. "Nothing can compare from a ratings standpoint. You hope for a long series between Heat-Nuggets. Playoff ratings have been great but the shortened series will have an impact overall," Schwartz said.
There are sweeps setting up in the Stanley Cup Playoffs as well, short series in hockey have the same effect on TNT and ESPN as they do in hoops. It's all about the money and what could be lost if the series only goes 4 games.
These situations can put some pressure on the broadcasters, no matter if your team is the sweeper or the one getting swept. Local play-by-play announcers have it a little tougher than the national broadcasts. Hometown crews are expected to deliver the call geared towards their fans. These announcers have built up trust and credibility in their market and have to play it as such. They are still expected to provide an entertaining and informative broadcast, but it has to be professional.
Nationally, play-by-players and studio shows can get away with a little more, because, the main goal is to entertain. These telecasts can be a little more critical and sometimes a little out of control. Take for example the exchange on Inside the NBA after Miami beat Boston in Game 3. The Heat went up 3-0 and all bets were off. Ernie Johnson, Charles Barkley, Shaquille O'Neal and Kenny Smith were on the set.
The crew couldn't wait to rip the Celtics. "I'm embarrassed as a Celtics' fan right now," said Barkley. O'Neal agreed, "Yeah, that was bad." Barkley says "That's bad, man," and O'Neal responds "Beatdown. Beatdown at the beach." Smith asks Barkley "You're a Celtics' fan?" and Barkley responded with "I say, if you're a Celtics' fan, I don't think you even mind losing. but that was humiliating." Johnson then goes "We welcome you to Inside The NBA, presented by Kia, even though it feels a lot more like a Forensic Files episode after watching that."
That's certainly one way to handle it, but it would not work for a local broadcast.
The problems for broadcasters of the team winning and losing are very similar actually. Creating drama and storylines and keeping games interesting. It is the playoffs, so that last point should be able to take care of itself. There is one thing broadcasters that are experiencing the playoffs or significant games for the first time have to watch out for – getting too amped yourself.
It happened to me when I called my first NCAA Tournament game in 2008, when covering the University of San Diego team. It took me most of the pregame show and until the first media timeout to ease back into my comfort zone.
To me, the best way to approach the playoffs is to realize that each game should stand on its own. Each game is like a separate battle within the total fight. If treated correctly it should appease both sides of the series. Game 4 is its own entity. Whether one team is up 3-0 of 2-1, the result is not a foregone conclusion, so make sure it is treated as such. You have the ability to build up optimism if your team is in the hole. At the same time, if your team is up in the series, you as the announcer, can keep things at a level so the fans don't get too far ahead of themselves. 
I know this can be difficult at times. After all as the team's play-by-play announcer, you've been with the club from training camp, through the ups and downs of the season and now into the playoffs. Human beings are emotional creatures and control of said emotions isn't easy in these situations.
I'm not suggesting making this broadcast sound just like a normal November NBA or NHL broadcast. Give it the reverence that it deserves but in a controlled way. Get excited when warranted and when things aren't going well, reflect that in your voice. Big games should be treated as such. But, the difficulty in keeping your edge without going too far one way or the other is a real challenge. 
I think of some of the best to ever do it and how easy they made things sound. They all stayed in that moment and rode the wave of emotion seamlessly. Guys like Marv Albert, Chick Hearn, Jim Durham and Joe Tait knew how to rise to the big game occasion. You could just tell by the tone and pace how their team was doing. They were always in control of their instrument, but still were able to deliver the message and meaning of each playoff game they called.
Professional announcers are able to adapt to the situation, whether or not their team is winning. The stress is the same, ahead or behind, to bring the fans a detailed account of what is happening on the court.
The good ones understand this implicitly and are up to the challenge. Remember what's important give the fans the information and be honest. It's what your audience has come to expect, win, lose or draw.
Andy Masur is a columnist for BSM and works for WGN Radio as an anchor and play-by-play announcer. He also teaches broadcasting at the Illinois Media School. During his career he has called games for the Chicago Cubs, San Diego Padres and Chicago White Sox. He can be found on Twitter @Andy_Masur1 or you can reach him by email at Andy@Andy-Masur.com.