RJ Bell Hasn't Done Anything That Matters Yet
Vegas.
Millions of dollars left on the table.
Founder of a 2x Inc. 5000 company.
Being linked to some of the biggest names in sports radio.
These are just a small number of things that RJ Bell has experienced throughout his career. Although RJ is proud of the great deal of success he's achieved, he still grades himself harshly and feels like he hasn't accomplished anything that matters yet.
There might be bigger successes in RJ's future, but his resume is still very impressive. It's easy to gather that his wins didn't happen by accident. RJ had a long-term vision and strategically positioned himself accordingly. He's the CEO/founder of pregame.com and hosts Straight Outta Vegas weekdays at 6pm ET on FOX Sports Radio. These triumphs didn't magically fall from the sky without having a plan.
One of RJ's greatest strengths is that he simply hasn't forgetten that sports betting is supposed to be fun. The joy he gets from betting comes through in his words and actions. RJ makes a major prediction in this piece about the near future of sports betting. He also mentions what he believes to be the most valuable commodity in the betting world, which can also be applied to other industries as well as life in general. Enjoy.
Brian Noe: What's the part of your job either with FOX Sports Radio or pregame.com that you enjoy the most?

RJ: I would say the new experiences with FOX Sports Radio are right at the top of the list. I've been a guest and doing 15 or so significant hits a week on various radio shows for a long time. Being a guest is a challenge — and initially it certainly was a challenge — but you don't really have control of the content. You're answering the host's questions. Having a chance to be a creator, to allow my creativity to shine through with the Straight Outta Vegas show has been very enjoyable.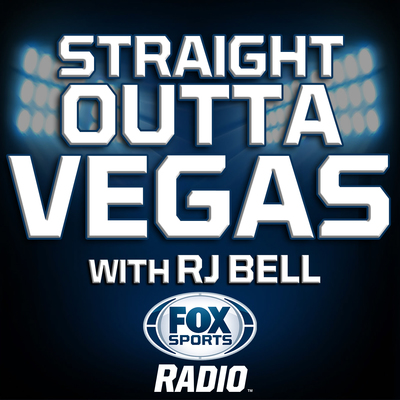 It's a new experience for me. I've had a podcast for a while with Podcast One that's more of a deep dive handicapping show. It's done surprisingly well with the listenership, but that's a niche offering. That's a, "Hey, you're a handicapper or you bet and we've got great betting information," and we get our listeners.
Trying to do a national radio show — and that's something that's important to remember, and I know you know this, Brian — is that when you're local you benefit from a built-in interest for those local teams. When your national, you don't have that crutch of the local teams and you've got to find something generally interesting for everybody. That's been a challenge. Quite frankly it's been exhilarating because it's new, but it's also so substantial when it comes to the reach with nearly 200 stations coast to coast.
Noe: Is there anything that you have tapped into as far as controlling your own show and the direction that it goes that normal hosts interviewing you don't pursue?

RJ: Our research shows that about half the people who listen to Straight Outta Vegas do not gamble regularly. Now that number I think is going to shock a lot of people, but I'm very proud of it. I really cultivate the concept that there's a Vegas perspective to anything. Whereas, okay, there's a buffet and it has a lunch price, and it has a dinner price. The dinner price is more. Part of the reason for that is they bring out the lamb chops for dinner, but you don't have the lamb chops for lunch. A Vegas guy is going to think, "Wait a second. It switches over at 4. I'll go eat an early dinner at 3:45, pay the lunch price, but eat all of the lamb chops I want."
That kind of value-based mentality is something — and really if you think about life — life is bets. You're making bets if you decide am I going to drive without a seatbelt? Or am I going to drive past the speed limit? The bet might be "am I going to live or die?". The bet might be "am I going to get a ticket or not?", and the economics of that. The bet may be something like the clam chowder here is half price but it's a day old. Is it worth the chance of getting sick?
The poker player, Annie Duke, wrote a book recently called Thinking in Bets and it really explores that concept that we're all weighing odds pretty much all day. To have a group of people with me hosting that do that professionally and then apply that thinking not just to who's going to win the game, but was that a smart trade or not? And all of the different sports topics that the talk shows discuss to me is different. I've been very enthused at the response to that, I think, unique approach.
Noe: How do you go about finding that middle ground where you are stimulating the hardcore gamblers, but you aren't causing the new people to swim in details they're unfamiliar with?

RJ: Yeah, I think there's two answers to that question, two different facets to the answer. One is, I have zero personal interest in playing to the purist. Every industry, which is niche initially, and then becomes mainstream, has that challenge as it's emerging into the mainstream. You've got the purists and they are saying, "This is how we critique and grade and validate people in our industry." The purists usually are the ones who were the arbiters of right and wrong that led to the industry being small and niche in the first place. To apply those rules as it goes mainstream is a big mistake.
It's kind of funny how often I think there is an analogy to professional wrestling and sports betting content. The reason being is the idea that it's an industry that we all know people like, people do, but it's always been on the periphery. It's always been kind of gray. Wrestling is, "You're dumb if you watch wrestling," and, "Oh, if you bet you're a degenerate," or, "You're a sucker." The way that Vince McMahon came in and said listen this isn't about any purist, this is about entertainment and how can we entertain the fan?
You had this purgatory that the WCW/NWA, those guys were like, "Hey, we're purists. We're wrestling and it's not real — wink, wink — but it's more real." Well, no, if it's not real, it's not real. Here's the analogy with sports betting. Probably the thing I say the most often is your chance of winning as a sports bettor — talking to the nation, all the listeners — is about the same as making the NBA. Some of you are going to be able to do that, just like some high school kids make the NBA, but most of you aren't. There's nothing wrong with that.
If you know that you're negative EV, then you look at it as recreation. If you look at it as recreation, you don't fool yourself that you're in this for an investment, that this is a money-making endeavor. It doesn't mean you can't win in any given week or month or even year. It doesn't mean that you might not surprise yourself and be that one in a long shot that has enough talent, willpower, discipline, work ethic to do it, but most won't. If they're doing it for fun, there's no harm in that.
So, we very much strive to help people win more, but winning more is very different than winning long-term and profiting. That distinction frees us up so much. One, we can be honest. Anyone who's not saying this is lying. I always say there's a lot of great information providers out there. Pregame is one of them we hope, but there's a lot of great ones. The ones to run away from are the ones that say it's easy to win, because you know they are scamming. The ones that say it's hard to win, but we think we've got the answer — okay be skeptical, but at least they're being honest about that.
A long time ago, we freed ourselves of any thought of being anything but 100 percent honest about it's tough to win, now let's all have some fun. I know that's a different audience than most of the shows, but I think that's one of the drivers of our success. Also finally, a driver of the fact that we're able to reach the casual better or even the non-bettor because we're not trying to pass a purity test and we're not trying to fool anyone that this is easy to win.
Noe: How many years have you been working in the sports betting industry and what made you initially want to get into it?

RJ: I graduated from Ohio State in 1992 with a finance degree. I did quite well in school. Now in high school I did horribly, and I grew up in a small town in Ohio — 4,000 people, zero stop lights, one fast-food place, it was a Dairy Queen, but it closed for five months of the year during the winter, so you had to get your Brazier Burger when the weather was fine. Going to Ohio State obviously was big change, going to Columbus, and I decided, hey, I think I can do this. I applied myself.
As it was discussed — the New York Times did an article a couple of years ago that I was involved in — they really thought it was fascinating that I was accepted into Harvard Law School after. It was like, "Who's this guy who's in gambling who could have went to Harvard Law School?" It really was not just, hey, I hate the straight world. There's a lot of hypocrisy I don't like about the conventional straight world, but it was more that I thought this industry doesn't have as many serious people in it. Maybe serious isn't the word, but they don't have as many corporate types in it.
My thinking at the time was, hey, I'm pretty good at this finance stuff, but there's certainly a ton of people better than me. I also thought — and this was certainly the case at the time when I was in my mid-20s — there's a lot of people that know a lot more about sports betting than me, but I didn't feel like there were a lot that knew both as well as I did. As time passed, I think that's proven out to be generally true.
Now we're seeing with legalization some really serious players getting involved: the venture capitalists, the Silicon Valley types, and the corporate types. I very much welcome that, because it's back to the idea of the old-timers versus the emerging new market. I believe that the hypertalented, fresh-thinking groups that come into this industry on the bookmaking side and the content side are just going to produce a better product for the gambler.
Ultimately — and I say this sincerely because I can promise you I have personal goals and personal interests, but I've aligned myself with the bettor. I really believe that one of the biggest mistakes the mainstream media companies have made, the ESPN's of the world — and I very much like ESPN in many ways. I don't like everything, but to me it's not FOX versus ESPN. It never has been and it won't be for me ever, but I think they make a mistake when it comes to their sports betting coverage.
Not naming names and I'm not looking to be negative about any individual, but unless I'm mistaken they don't have one person on payroll that is full-time with gambling. To think about the concept that there's a subindustry that's so big and so emerging and it's, "Hey, let's get this part-time guy that writes about high school football for the online edition of his local newspaper." That guy might be a great guy, he might not be. Who knows and who cares? It's how much does he know about sports betting?
Here's why they tend to do that. What are the credentials in sports betting? If you're looking for a doctor, he better have an MD. You better figure out how good the school he went to was, or the specialization, or all of these other ways to be credentialed. Well, as a sports bettor you don't get a degree. You don't get in a Hall of Fame typically. What have the big media companies done? They've leaned on amateur writers who then don't know who to go to because there's not a credentialed list, so they go to the sportsbooks.
One of the things I genuinely believe you can be critical of the big media companies about is their coverage of sports betting is almost invariably from the sportsbooks' perspective. I get it because, "Hey, this guy is the sportsbook operator for this big casino XYZ." It doesn't even matter which casino. "They've got a big billion-dollar brand, so I can trust this guy." Yeah, you probably can. He's probably not going to deceive you, but I promise he's going to tell you a story that's favorable for his side of the counter. To me, the bettor side of the counter haven't really had the advocates that they need and that's something that I pride myself on trying to be.
Noe: Why is it that the NBA is progressive and embraces the fact that many people bet on sports, where on the other hand the NFL and MLB resist embracing sports betting?

RJ: Great question. I think there's two answers to that question. The simple answer is how much do they need the money? Meaning the NFL is king — I was on with Colin Cowherd about a year ago talking about this very topic — the NFL had the best situation possible up until legalization, which was we can be completely sanctimonious and poo-poo sports betting while collecting and benefiting from a vast majority of the potential benefits out there. People were still betting and the interest in the games and the interest in the conversation around the games — things like the NFL Network et cetera — all benefited from gambling, but at the same time the league could say, "Oh, we don't believe in it. We don't like it."
Sanctimony plus profit equals smiley face for the NFL. Makes sense. Now with legalization there's so much more money to be made by embracing it, oh low and behold, "You know we've reconsidered. It's not so bad." With the NFL being in the driver's seat financially compared to the other leagues, they could be a little bit more sanctimonious and a little slower to adopt something that does have it's detractors. Certainly there are a certain percentage of people that just think gambling is wrong. They could avoid offending them without losing too much of the revenue, because the revenue was coming in in a tangential way. I think that's answer one.
I think answer two is simpler. You've got legacy money, old-school money in the NFL for the most part, and you've got more forward-looking owners in the NBA. Let's give commissioner Silver a ton of credit. It's been more than a few years that he wrote the first major commissioner kind of op-ed saying in the New York Times we can't be this hypocritical. If we're involved with daily fantasy, it's pretty much the same thing. Let's be honest about it and move forward.
That I thought was a smart move, but we know the billionaires — they're smart in a lot of ways but they're not always smart in every way. I think that Silver has seen the hypocrisy of daily fantasy being okay but sports betting not being okay at the time. Him embracing that really tore down some of the friction to get us to where we are today.
Noe: Have you noticed any difference since legalization with how you've been treated in general? I'm thinking before legalization some might have looked down at you like, "Hey, here's this guy. He's just trying to make a buck off of these suckers." Maybe not looking at you being as smart as you are. Now since legalization maybe that thinking has changed. Has that happened at all?

RJ: Not from individuals. I think some of that is the approach I took. One of the things on pregame.com that we really prided ourselves on, is once there was any uncertainty about online sportsbooks and the legality — and this goes all the way back to 2008 or so — we stopped dealing in any way with any online sportsbook. There was a lot of money, and I mean literally millions of dollars left on the table, but for me it was with an eye towards society is moving to embrace this and if you're in bed with companies in Costa Rica or offshore country XYZ, it's going to be a challenge to extricate yourself from that later.
I also think a second approach of mine personally has been understanding trust was the most valuable commodity. If you watch a movie like Two for the Money, if you watch any of the old Saturday morning touts shows on USA Network, those guys were very good at what they did. They were confidence guys. They were salesman. If you watch a movie like Wolf of Wall Street, what Jordan Belfort did in that movie and in his book – and I guess in his real life assuming that his book was a true depiction – is very similar to what a Stu Feiner did back in the day. I don't know Stu personally. I don't know really anything about his business except there was a group of guys that were running boiler rooms back then.
That's what people thought of when they thought of sports information.
Jimmy the Greek did a great job for himself, but it was such an niche. It was a, "He's Jimmy the Greek." Otherwise it was the guys on Saturday morning. What I figured was, well if I can get next to the ESPN's of the world, the FOX's of the world, the Stephen A Smith's, the Colin Cowherd's, how do I get next to them? Through providing them with differentiated content. Through providing them with value.
When I initially was on the Herd — I mean we're going back eight years ago — Colin's producer at the time, in my opinion one of the great producers in radio, Vince Kates, just a brilliant radio guy — we had a casual relationship and he's like, "Hey, we're going to start having a handicapper on once a week and we want you to start." My first thought was how can I make this segment so good that Vince is going to think, "You know forget the other guys, let's just keep RJ on!" What I came up with was the whole wiseguy grade on Colin's picks. Luckily Colin liked it, Vince liked it, and they allowed me to continue that segment.
Now imagine it's a year from then or nine months from then and someone says, "Oh, there's that RJ guy. Oh yeah, he's a pick guy," or, "Hey, he's a gambler," but, "Oh, you know I actually heard him on Colin Cowherd." Now it's not so easy to just be prejudiced against my career, my industry, because a guy like a Colin Cowherd is involved. Luckily through a lot of effort, and it was a focus of mine, I was able to build those relationships with multiple media companies and hosts on their platforms to the point that eventually it wasn't, "There's RJ Bell, he's a Vegas gambler," but rather, "There's RJ Bell, you probably saw him on the Herd or Stephen A Smith."
Noe: With sports betting being legalized on a state-to-state basis, I'm thinking about new bettors that haven't even dabbled in gambling that now will. There are a ton of things that you could say in terms of giving advice to new gamblers, but what would be the two most important pieces of advice you would give to someone who's brand new to it?

RJ: Bet less per game and bet less games. I mean it's really that simple because the basic premise, the founding principle of what we're doing with Straight Outta Vegas and pregame.com is it's hard to win. People just are shocked when they hear that because it's like, wait a minute. Aren't you the guy that's supposed to be saying, bet this game and by a car and once you buy that car you're going to have a hot girl that wants to ride in it with you?
I never wanted that, but even if I did I could never be as good as those Saturday morning guys at that. That's in their bones it seems. What was in my bones was I love gambling. Let me try to spread the joy and the pleasure I get from it if it's done smart and if it's done recreationally. Really it all comes back to that. As the industry grows, the risk grows for sure of problem gambling. But I think if the mentality is it's fun, it's not about getting rich quick, boy you could avoid a lot of the problems.
Noe: What do you see the future being? For example, soon you might go to a game and sports betting is readily available. Is there anything that you foresee happening in the next five years that you're positioning yourself for right now and getting ahead of the curve?

RJ: I think this is so big that I'm going to answer more toward the industry rather than my business. I think my business is going to be driven by two things — what is the objective of the content we produce? As we said with Straight Outta Vegas is we want everybody on FOX Sports Radio listening coast to coast that's a sports fan to think, "Oh, this is different." I tell my producer, Loren [Gardner], and he's been with FOX a long time. I'm only interested in doing segments which are either better or different.
If you've got Dan Patrick, Colin Cowherd, Doug Gottlieb, and then me? Chances are I'm not doing very much better in typical sports talk. It's like being on the Dream Team in '92, right? I'm not going to dunk better than Jordan. Well, this is the dream team of radio in my opinion. I am humbled to follow those three. I'm very sincere. If I'm doing the same thing as Colin, I'm done. I'm second best at best. And not even that, but I can do a Vegas perspective hopefully that's either better or different.
Ultimately, embracing that it's recreational and providing that audience with something better or different, that's the business goal. I think it's important, and I'll keep this short, but it's so important about where the industry is going. I think the legacy Vegas sportsbooks are in big trouble because I believe the differentiator for legalized sports betting in the future is going to be technology.
If you think about Facebook, what does Facebook do better? It's the user experience. The ability of company XYZ to be a big player in sports betting is going to be about cultivating that user experience. I don't think the Vegas casinos — boy when it comes to brick and mortar and gamblers they're the best in the universe. When it comes to online? Specifically apps? I think you look at Silicon Valley. My prediction number one is that you're going to see the sportsbooks of the future look more like Silicon Valley companies and technology companies than Vegas casinos.
The eye popper, the shocker of that — and I'm going to make a prediction and we'll look back on it in two years and see if I'm right — I believe that the interface between smart TVs and the operating system that sits on top of the television is where the next big move is going to be. Let's use for example Roku, or let's say Apple TV. You might buy brand TV XY or Z, but they're going to have apps on that television and it might be again Roku, it might be Apple TV, whatever.
Imagine the following. Imagine an Apple TV partners with a sports betting company and they say, "Okay we're going to allow you to have your interface" — and forget the business side of it because maybe it's, "We take 85% of the revenue," Apple says or whatever. In this hypothetical, Apple will keep an arm's length from the gambling itself, but imagine if Apple says, "See that space in the right corner of the TV when the football game is on? If you want to have your in-game betting right there, then all you guys start bidding on it. Whoever gives us the best deal, you can slide in there."
Everyone always thought it was going to be a triangle with the bookmakers, the leagues, and the TV networks to get that app in the corner of the football game. I think it's going to be simply the software company that sits on top of the television telling the leagues, "Hey, we don't need you," and telling the networks, "Hey, we don't need you."
Now maybe they'll pay them a percentage to make the peace, a business expense. I believe the lion's share is going to go to the technology companies like Apple and even the bookmakers themselves that Apple might partner with are going to be a commodity. Bookmakers pretty much are interchangeable. That real estate on your smart TV screen enabled to in-game bet — will LeBron James make this next free throw? Will the field goal kicker make this next kick? That kind of stuff is the future. We see it in Europe and I think it's the future that technology is going to own, not the networks or even the leagues.
Noe: Do you see any downside of legalized sports betting? For example, if you look at the NBA's last two minute reports or the NFL stressing that a call was missed in an effort to disprove the outcome was fixed. Do you see leagues going overboard when it comes to being transparent to show that there isn't anything shady about the result of a game?

RJ: Give me an example of what would be overboard.
Noe: Maybe if you took the last two minute report in the NBA and extended it to the second half report.

RJ: And why would that be a bad thing?
Noe: It could be overkill. Leagues could go so far to show they aren't doing anything improper that fans might get annoyed and worn out by it.
RJ: If we got there I would celebrate. If the typical response of the league XYZ saying, "Hey, we want to give you more information in the spirit of transparency or more insight in the spirit of transparency," and then if the average response was, "Enough already, we know it's all on the up-and-up," then I think win. We've won. Now we're not as worried about legalization and corruption around that.
Here is probably the thing I pound my fist on the most because it's so logical. Increased regulation in any marketplace leads to less corruption. Think about the SEC, not the Southeastern Conference, but the Securities and Exchange Commission. Around Roosevelt and FDR it was like, "Uh-oh, the stock market, a lot of shenanigans going on. Let's have an oversight organization."
Think about your wife, your girlfriend, whomever that you maybe want to hide a few things from. It might be, "Hey, I'm going to eat a Snickers bar." Well if she's out at the book club for the night, you're going to eat that Snickers and you're going to eat as many Snickers as you want. You're going to make sure you wash your hands and face before she comes back. But if she's got a nanny cam on you making sure you're not eating Snickers, that's going to be harder. I don't care what it is that people want to do that is wrong or something that the overseeing body doesn't want them to do. The more oversight there is, the less likely people are going to do it. The oversight acts as a deterrent.
A good friend of mine in the industry, Matt Holt, he was with CG Technology for a long time as a vice president and he started his own company. They have funding and it's been a success so far in that it's an integrity company. The whole business of that company, or at least the majority of it, is looking at the data as it comes in from all the different betting places and saying, "Is there anything that's irregular here?"
To me, yeah it's possible. We're going to get to the point that everyone is so confident they're going to say enough already, but that is a ways off still. There still are a lot of people thinking, "Hold on, RJ. If there was no legalized betting, there wouldn't be any betting to fix games on anyway. To quote Michael Corleone, "Who's being naive now?" We know the betting is going to happen regardless. If it's regulated, there's going to be less corruption.
Noe: Yeah, I agree with that. All the people that are envisioning point-shaving scandals or gamblers getting their hooks into a college basketball team — I don't know what's changed. We're talking about legalization on a state-to-state basis. I can't imagine the random Joe Schmo that's now legally betting fifty bucks on a game is all of a sudden going to strong-arm some kid into throwing a game. I just don't see it.

RJ: But if you're willing to break the law to fix a game, aren't you willing to break the law to bet illegally on that game?
Noe: Yeah, but if you weren't betting illegally to begin with, then why would I believe that because you're betting legally now, you're going to do something way more illegal, which is to try to fix a game?

RJ: You're exactly right. For anyone to even consider fixing a game the "illegality" in some states of sports betting is an irrelevancy. Thus, anyone who was inclined to try to fix a game in the past doesn't care if it's legal or illegal, so the only factor is if there's more legal betting and less illegal betting, there's more people like Matt Holt tracking the betting and finding out the people who are fixing the games.
Quick story, Jimmy Vaccaro, one of the true legends and sportsbook operators in Vegas was at the Mirage when the Arizona State college basketball fixing occurred. As he tells the story, literally guys walked into the Mirage with a bunch of cash and said, "I want to bet against Arizona State." He said, "What's that point spread? What does that number up there mean?" The guy didn't even know what the point spread was.
Vaccaro says, "Well," — I'm going by memory so it's probably wrong, the number — "that's +6." He said, "Okay, I want to bet against them. How much can I bet?" He says you can bet whatever the limit was. He bet it. Now he says, "I want to bet it again." Jimmy said, "Well, we've got to move the line." The line goes to let's say 5.5. Bet it again. So he bets it a few times, max bet every time. Jimmy's like this is weird. The guy doesn't even know what a spread is and he's betting it.
He goes, "Hey, let me get your license, I want to give you a buffet. You should eat all the shrimp you want. So the guy gives his driver's license and it's because of that move Jimmy reported it, and they ended up catching the guys. Think about that. That's a small example, but if that was a bookie that you met in a bar that was mobbed up or whatever, they wouldn't have any concern, they'd be thinking, "Hey, if this game is fixed, how can we go bet it with some other bookie?" They're not looking to get the guys driver's license. The legalization will deter game fixing and corruption. Fact.
Noe: Is there anything that you want to accomplish that you haven't thus far either in the industry or something well outside of it?

RJ: I feel like everything I've done both as a businessman — and I am proud of the fact that pregame.com is a two-time Inc. 5000 company. Multiple millions of dollars of revenue is one of the requirements of being an Inc. 5000 company — and being a coal miner's son, quite frankly, and doing that with the help for sure of my current team and the team members of the past. I'm proud of that. I am, but to me it all has felt like a prelude to something so much bigger.
There's an old funny saying. Joe Kennedy said the first million is the toughest. It's like to get from nothing — and literally I moved out to Vegas in 1998 with $3,000 in cash. That was pretty much what I had out of college. To go from there to the Inc. 5000 has taken a lot of work and a long time, but the idea that in the next five years, I could 5x or 10x what we're doing is very possible. In one way I'm proud of how hard it was to go from nothing to something, but I'm excited about going from something to something really big. That's on the business side.
On the media side, I don't believe I've accomplished anything that matters yet. I'm super critical of my work and I think that's helped me to get better as the time has passed. When I listen to Colin, when I listen to other guys on FOX and certainly other guys on CBS and ESPN — I personally believe this is probably a controversial position that I think Stephen A. Smith is a masterful broadcaster. In a way some of the things people don't like about Stephen A Smith is proof of how good he is at what he does. I don't put myself anywhere in their class.
I hope in my own way I could eventually get there. If the day came where I did a week of radio shows with my Straight Outta Vegas team that I said, "You know something, just maybe this week of shows could stand up to this week of Colin's shows, or Dan Patrick's shows," that to me would be a great achievement. It's something I really want to achieve. It's a passion, but I know are ways from that, and thus yes, that is a grand goal I have.
Noe: I do have to ask being a coal miner's son — is that where you developed your love for squirrel stew?

RJ: (laughs) You know I thought you were going to say where I got my accent from, but yes, my dad was a hunter. Now this dude worked — he's retired now — he worked 60-plus hours almost every week of the year. It wasn't 40, it was 60, but he would take off a week for deer season. Like three days for squirrel season, and three days for rabbit season. Let me tell you, he wasn't the best shot, but when he came home with something, we were eating it the next night or you were not eating.
Noe: How would you describe the taste of squirrel stew to someone who has never indulged in such a thing?

RJ: A very gamey chicken.
Noe: (laughs) Fair enough. Fair enough. I have to thank you because I interviewed you years ago, actually on FOX Sports Radio, and for some reason I always thought it was — what was I saying? Not wiseguys. What was the term? It was a certain term…
RJ: Oh, I think you said sharks instead of sharps.
Noe: That's what it was! Yes, I said sharks because I thought it was like they sensed blood in the water so I thought it was the sharks in Vegas, not the sharps, and you played it off very nicely instead of calling me out on it.
RJ: Well I'll tell you this, the first major media hit I ever did — and it was a weekly — was Mason & Ireland in LA. I consider both of those guys to be friends. I did that hit for nine years and just had to stop with the FOX deal. Mason to this day — eight years plus in — he would call them sharks. So, you were not alone with that one.
Brian Noe is a columnist for BSM and an on-air host heard nationwide on FOX Sports Radio's Countdown To Kickoff. Previous roles include stops in Portland, OR, Albany, NY and Fresno, CA. You can follow him on Twitter @TheNoeShow or email him at bnoe@premierenetworks.com.
The Chiefs & Eagles Have Super Bowl Game Plans, How About You?
"The Super Bowl is the biggest event in sports, no team would go in without a solid plan, your show shouldn't either."
When it comes to preparation, I usually hold off. I'm a procrastinator's procrastinator. It sounds better if I say; "I'm driven by deadlines," but the truth is, I just generally put things off until they absolutely have to be checked off the list. If your goal as a producer is to have a great post-Super Bowl show, don't be me, you best start working now.
There are many things that complicate booking guests for a Super Bowl reaction show. The obvious is that you have no idea who is winning the game. But, beyond that, you have no way of predicting what will be the biggest story coming out of the game. It could be anything from overtime to a blowout, halftime show debacle, officiating blunder, or even a surprise retirement announcement.
With that in mind, there are some strategies for targeting guests. With these, though, working ahead is paramount. Most anyone that is going to have enough insight to improve your show will be slammed in the hours following the end of the game.
Strategy 1: The Game Participant
This is a big risk, big reward strategy. It is also one that is only available to a select group of shows. If your show is nationally syndicated, in a very large market, or home market for one of the teams, you have a shot here. If not, the odds are not in your favor. The team's media departments are as busy as anyone during a Super Bowl run. They aren't likely to help a show they've never dealt with during that whirlwind of action.
I am reminded of a friend of mine who worked as the media relations director for a mid-major basketball team that sprung a huge round two upset and advanced to the Sweet 16. Needless to say, he was swamped overnight with interview requests for his coach. He told me every station led with "ESPN Radio" then mumbled the part about being in Puyallup, Washington. It never hurts to ask, but understand it is a long shot.
Strategy Two: Local Player Not In The Game
This can be a really solid idea for both previewing the Super Bowl and the Monday after the game. If you are in a local NFL market, or if a local college or high school star is in the NFL, consider him as an analyst. Who better knows what happens in an NFL game than an NFL player? Bonus points if he has been a Super Bowl participant in the past.
Don't underestimate how many NFL players are thinking about life after football. One of the dozens of roles as NFL analyst at a major network is an excellent retirement plan. You don't have to have a Hall of Fame jacket for those gigs, but you do need to be good on air. You might be surprised by how many players will agree to an interview with that in mind.
Strategy Three: The Trusted Analyst
Every network has all their biggest voices either In Phoenix or in the studio for the game. These are people that know the interview game and have plenty of experience. This strategy comes with some obvious hurdles; it turns out the networks paying the analysts to be on site keep them rather busy. While they might have been happy to join your show the Monday after Week Three, this is a different animal.
One other factor you should consider in this strategy is the fact that Sky Harbor airport will be one of the busiest in the world Monday morning. Many of the analysts will be scrambling home to start their off season as well. If your analyst is on the move, travel delays can wreck your whole plan.
Strategy Four: The Pop Culture Angle
Oftentimes the biggest talking point coming out of the game is one of the things happening outside the actual play on the field. If you watch Super Bowl Twitter, the biggest traffic moments are people joking about a slow starting Star Spangled Banner "hitting the over" or how bad the halftime show is. Regardless of the act, it has become the default position that the halftime show is awful, even when we all think they are pretty good. 50 Cent hanging upside down will forever be a meme.
Commercials are going to be a massive talking point after a game, especially if the game doesn't quite deliver. Who is the voice that can talk to your audience about everything from Rihanna to a Taco Bell commercial? There is the inherent risk of alienating the "talk more sports" guy with this type of guest so, as you should with any guest, make certain they are entertaining.
The Super Bowl is the biggest event in sports, no team would go in without a solid plan, your show shouldn't either. Communication between hosts and producers is critical. Have a plan, work ahead and be on the same page.
Most of all, try to enjoy the game – and take the Chiefs and the points.
Ryan Brown is a columnist for Barrett Sports Media, and a co-host of the popular sports audio/video show 'The Next Round' formerly known as JOX Roundtable, which previously aired on WJOX in Birmingham. You can find him on Twitter @RyanBrownLive and follow his show @NextRoundLive.
ESPN Burying 'Outside the Lines' Shows Little Regard for Respected Brand
Continuing to use the 'OTL' brand is likely a nod to the great work of Bob Ley, Ryan Smith, and Jeremy Schaap.
With the end of college football season and the Super Bowl marking the conclusion of the NFL season, ESPN has air time to fill on Saturday and Sunday mornings for the next six months. In past years, that opened up a window for the network to bring back its prestige news magazine program, Outside the Lines.
However, late last week, Sports Business Journal's John Ourand reported that ESPN has decided not to bring back the standalone OTL show. The program most recently aired Saturday mornings during football's offseason, typically from mid-February through August. That timeslot essentially buried a show that was once an important part of ESPN's Sunday morning programming.
Outside the Lines provided substantive, in-depth sports features, interviews, and discussions on Sunday mornings, when viewers were conditioned to expect important dialogue and commentary with weekly public affairs programs and political talk shows like Meet the Press and Face the Nation.
Originally anchored by Bob Ley, OTL was a departure from the highlights, analysis, and quips that made up most of the network's programming. This was ESPN doing journalism with a capital "J," reporting and investigating longer-form stories on pertinent issues in sports, usually off the field, and examining trends that developed through a news cycle.
Eventually, the number of stories the OTL staff worked on — and presumably, the appetite for such content from ESPN viewers — necessitated expanding the show to a daily schedule airing in mid-afternoons. After Ley retired in 2019, Ryan Smith and Jeremy Schaap hosted the show and continued its deeper look into topical sports stories.
Producing for a daily schedule probably spread the show too thin, however. Finding important stories that warranted the stronger coverage promised by the OTL brand became difficult, forcing the show to include panel discussions that resembled the sort of debate programming seen throughout the day on ESPN. As a result, OTL content was whittled down and integrated into the noon edition of SportsCenter each day.
OTL also suffered amid the inherent conflict at ESPN from having a news-gathering, journalistic operation while entering partnerships with the sports leagues it was covering. Hard-hitting reports on domestic violence issues in the NFL, particularly in light of the Ray Rice assault scandal, and player safety concerns with the rise in traumatic brain injuries gave the network's producers and reporters credibility. But such stories also rankled league officials and team owners who sought more positive promotion for their sport.
ESPN would surely balk at the idea that it throttled back on in-depth reporting and scrutinization. But the network's relationship with the NFL is obviously better than it once was, best demonstrated by getting better match-ups on the Monday Night Football schedule, Wild Card playoff games, and Super Bowl telecasts for ESPN/ABC in 2027 and 2031. Meanwhile, Outside the Lines has been effectively buried among ESPN programming.
Yet ratings ultimately decide what stays on a broadcast schedule and what doesn't. And OTL hasn't drawn a good number of viewers in quite some time. Some of that is likely influenced by an early Saturday morning timeslot that drew an average audience of 303,000. But SportsCenter AM attracts 572,000 viewers in the same timeslot, so it's apparent that fans want quicker, breezier content as they begin the weekend.
Outside the Lines simply may not stand apart in the current sports media landscape, either. Longer-form storytelling and reporting are often found in documentaries now, and we're living in the golden age of sports nonfiction films. That includes ESPN's own documentary brands E:60, 30 For 30, and ESPN Films. (E:60, in particular, seems to have replaced news magazine programming or special reports, which were once reserved for monthly specials early in OTL's life, at ESPN.)
Shuttering the Saturday OTL fortunately won't result in anyone losing a job. According to SBJ's Ourand, some staffers will be reassigned to other studio programs. And others will continue to work on OTL-branded content that runs on SportsCenter throughout the day, not just at noon, under the "OTL on SC" banner. Additionally, OTL content will run on ESPN's digital platforms such as the network's YouTube channel. So the show will go on… sort of.
ESPN obviously values the OTL brand and realizes that it carries respect among fans and media. (The show also penetrated pop culture enough to warrant a parody on Saturday Night Live.) Otherwise, the network might shelve the title entirely. Yet perhaps that's really a nod to the work of Ley, an ESPN institution, and Schaap, one of the network's best reporters (with ties to sports media royalty in Dick Schaap).
That may be Outside the Lines' true legacy. Ley created a brand (continued by Smith and Schaap) taken seriously enough that viewers knew it meant bolder sports journalism unafraid to explore stories and questions that warranted such attention. The OTL name carries enough weight that ESPN can't bear to get rid of it entirely, even if it doesn't hold the place at the network that it once did.
Ian Casselberry is a sports media columnist for BSM. He has previously written and edited for Awful Announcing, The Comeback, Sports Illustrated, Yahoo Sports, MLive, Bleacher Report, and SB Nation. You can find him on Twitter @iancass or reach him by email at iancass@gmail.com.
Chris Broussard Is No Longer Just A 'Basketball Guy'
"There's no doubt that gets attached to you and that can be good because you're seen as an 'expert' in one sport which is great."
After embarking on a career in sports, Chris Broussard made a name for himself as a writer, specifically as it pertains to covering the NBA. Whether it was covering the Cleveland Cavaliers for the Akron Beacon Journal, covering the New York Knicks and New Jersey Nets for The New York Times, or doing television hits for ESPN, Broussard had always, whether it was justified or not, been pigeon-holed as a "basketball guy".
That was the perception then, but today, the reality is different.
"There's no doubt that gets attached to you and that can be good because you're seen as an 'expert' in one sport which is great," said Broussard, the co-host of First Things First on FS1 and the co-host of The Odd Couple on FOX Sports Radio.
"But what was good for me was that at ESPN, I had done First Take with Skip Bayless a lot. There were a few years where it was a rotation and I was in that rotation. That enabled me to at least do the other sports."
Broussard has certainly made a seamless transition from print to electronic media.
After joining The New York Times in 1998, Broussard started to get television exposure doing local hits and then appearances on the various ESPN platforms would soon follow. He joined ESPN full-time in 2004 as a writer for ESPN The Magazine, but that also included regular guest appearances and fill-in hosting opportunities on shows like First Take and the opportunity to be a co-host for NBA Countdown for the 2010-11 season.
With that gig came the opportunity to work with Michael Wilbon, Jon Barry, and his childhood hero Magic Johnson.
"I think that may be have been the pinnacle because Magic is Magic," said Broussard. "He was my favorite player until Jordan came along and (with Wilbon and Barry), we just had great chemistry."
After one season, Broussard and Barry were replaced by Bill Simmons and Jalen Rose. A few years later, Broussard would make the move that would bring him to the next chapter of his career.
In 2016, Broussard left what amounted to being just a reporters role at ESPN for a new opportunity at FS1 where he would also be an analyst as well as a regular panelist for shows like Undisputed, The Herd with Colin Cowherd, First Things First and Lock It In. In 2018, he began co-hosting The Odd Couple radio show with Rob Parker on FOX Sports Radio.
And then in August of 2021, Broussard was named the full-time co-host of First Things First, something that almost had happened when the network first launched.
"When they asked me to come on as a full-time co-host, it was great and maybe a long time coming," said Broussard. "I know when Jamie Horowitz first brought all the people over from ESPN to be on FS1 in 2016, he was considering doing a show where Nick Wright and I were the co-hosts."
Broussard now co-hosts the show with Wright and Kevin Wildes.
"I thought that I really just fit right in with the chemistry and it's just been a great trio," said Broussard.
Born in Baton Rouge, Broussard and his family also lived in Cincinnati, Indiana, Syracuse, Iowa, and Cleveland. He was a star football and basketball player for Holy Name High School in Parma Heights, Ohio and went on to play basketball for Oberlin College, an NCAA Division III school in Ohio.
Believe it or not, his first love was not basketball.
"My favorite sport growing up was football," said Broussard. "I played football through high school. I played basketball at Oberlin College but they recruited for me football and basketball. I even played baseball up until I was about 16 years old."
So much for being just a basketball guy, right?
After college, Broussard had a decision to make. He knew he wanted to be a sports reporter but wasn't sure if it was going to be print or electronic media. When he was an intern at The Indianapolis Star, he spoke to people in the know about which direction to go.
"I was told that it's just easier and there are more spots in print journalism than there are in television and radio," said Broussard. "I chose print because I thought I had more opportunities."
Broussard's first taste of covering pro sports was in 1995 at the Akron Beacon Journal when he was a backup writer covering the Cleveland Indians who would go to the World Series for the first time since 1954. He shifted to covering the Cavaliers and then it was off to New York and a bit of culture shock for Broussard.
During his 2 ½ years covering the Cavaliers, Broussard typically wore a rugby shirt, jeans and sneakers at games. But he noticed that when the Knicks and Nets would come to Cleveland or when Broussard travelled to New York and New Jersey when the Cavaliers visited the Knicks and Nets, that the New York writers would typically wear suits and ties when covering the games.
So, when he interviewed for the job with The New York Times, Broussard had an important question for his future editor.
"I asked him when I was being interviewed for the job do they require that your writers dress up," said Broussard. "He said no but they do generally in New York because they know television opportunities are there. So, when I started working at The New York Times, I started dressing up wearing a suit and tie or sportscoat and tie whenever I would cover games. Ultimately that led to television."
And the rest is history.
This coming week, Broussard will be busy co-hosting his shows from the Super Bowl in Arizona. It's one thing to host a radio show or a television show from a studio but it's really something special to do it from a live event, especially on the giant stage of the Super Bowl.
And this week, Broussard will be center stage in front of a lot of ears and eyeballs.
"It's always great," said Broussard. "FOX Sports Radio always has one of the biggest and best platforms on radio row. It's always fun when you're doing these live shows at the big events and you've got an audience, it really can kind of bring out the best in you. I'm excited about it both for TV and radio."
Chris Broussard has certainly come a long way in his career in sports.
From his days as an athlete in high school in college to getting his start as a write to a transformation into a radio and television personality, Broussard has worked hard to get to where he is today.
"I haven't written a word since I went to Fox," said Broussard. "I do feel fortunate that I've been able from morph from a writer into TV and radio. What you want to do in this business is stay relevant and you want an audience and a platform. There's not that many people who get that opportunity to do it."
He's no longer just a "basketball guy". He's a "sports guy".
Peter Schwartz has been involved in New York sports media for over three decades. Along the way he has worked for notable brands such as WFAN, CBS Sports Radio, WCBS 880, ESPN New York, and FOX News Radio. He has also worked as a play by play announcer for the New Yok Riptide, New York Dragons, New York Hitmen, Varsity Media and the Long Island Sports Network. You can find him on Twitter @SchwartzSports or email him at DragonsRadio@aol.com.