Dan McNeil Q&A Part 2: It Was Going To Be Uncomfortable
"I didn't want to be around people. I was not feeling anything. There was a joylessness in almost everything."
In part two of my Q&A with Chicago Sports Radio veteran Dan McNeil, Dan talks about his second stint at The Score, dealing with mental health issues and his eight year run at ESPN 1000. You'll read about the intriguing maneuvering it took to get his show at ESPN. Plus, you'll hear inside details of the building of "Mac, Jurko, and Harry" and the show's early growing pains. It's all here in Part 2 of my three-part Q&A with Dan McNeil.
The Danny Mac Show on the Score (June 2009-June 2014)
Fishman: You return to the Score after more than eight years away at ESPN 1000…how did it feel?
McNeil: It was a very awkward return. I had decent relationships with some of the guys there, still, but I think they were very casual relationships. I think there was a mutual feeling with a few people that if we didn't work together again that would be ok with everybody. There was a lot of tension already at the station.
Before Matt (Spiegel) and I jumped back in, there was a long period of dissention among the ranks. I can't give an opinion on it because I wasn't there to absorb all the toxicity, but the combination of North, Murphy, Mulligan and Boers made for a very volatile cocktail. As there always is, there's some petty jealousies and we're all insecure to varying degrees, but based on the descriptions of those who experienced it, I came back at a time when the morale was probably as low as it ever had been in station history.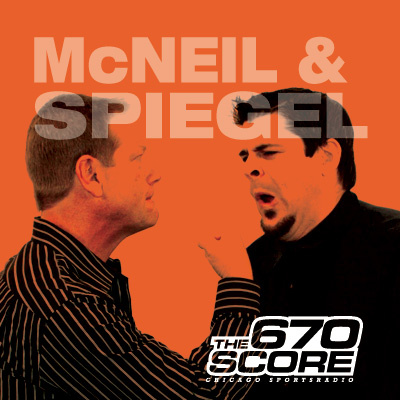 Matt (Spiegel) was not warmly received. The fact that Mitch (Score Ops Manager/PD Mitch Rosen) gave me a voice in Spiegel's hiring didn't help the situation. Mitch also gave me a voice in one of the producers. That didn't agree with several people. I get that. People who are in-house have every reason to expect that they will be examined, but I also had a track record of making some pretty good recommendations both for co-hosts and producers. I'd submit Jurko as one of those, and god damn, look at the guys who have produced my shows over the years who I've hand picked–there's some pretty talented mother f**kers on that list. If the fact that I was given that freedom was disruptive for some people, I really don't give a shit, Colonel Jessup. I earned that. I f**king earned that!
They just didn't give me that. Had Terry Boers flopped in '92 and John Jurkovic flopped I wouldn't have been given a voice, but I did get a voice. I was proven right with Matt (Spiegel) but he was not well received. So it was an awkward return.
Leaving the house at 7 o'clock in the morning to go to work didn't agree with me. I felt we had a pretty good vibe on the show. Matt and I pretty much right out of the shoot I felt pretty comfortable with and after awhile as a unit we gelled. I told Matt at the beginning I typically look at these things as "let's do five years together!" I think after five years is a lot of times a good time to reinvent yourself. And that's what I decided to do. 
The first two and half years were very good. The last (with Spiegel) was a struggle. I made it more of a struggle than I needed it to be, because I was not taking very good care of myself. I was not participating in a mental health program that somebody with as many issues as I have needs to.
Fish: I think you have to include the talent on the major decisions of co-host and producer when you're putting that team together. Otherwise I think you're asking for failure.
Mac: When I took some time off, Fish, I thought a lot about this– and I had a lot of time off in the last five or six years. I enjoyed civilian life way more than most of us would. It's incredible how among any form of entertainment that you can imagine–the movies, music, whatever–radio people and sports talk radio performers have less control of their product than any motherf**ker trying to sell a f**kin' act. I had shows blown up that none of us wanted blown up. Many others have had shows blown up. 
Howard (Stern) is a hero to me because he's the only motherf**ker who went out there and won. A lot of us have been paid well and it's a rush and you do a lot of cool things. If you're lucky you see a lot of the country and someone else pays for it–and that's all great, but when you examine the absence of power for people who have achieved a high level of competency in their craft it's remarkable how we're all just f**king pawns on a chess board. Howard has been able to go out there and pick his own crew and say "f**k you!" to management for 25 years. 
Fish: At what point did you realize that you weren't taking care of your mental health? Was it while you were working with Spiegel? Was there a seminal moment?
Mac: It was very specific. It was in the summer of 2011. The two years of foolishly letting the behaviors and attitudes of others affect my disposition–which is absolutely hideous to let others rent that space for free. I went off my psych med, Lamictal, without consulting my doctor. I had a lot of success with that product. It's not an antidepressant it's kind of a mood stabilizer. It's prescribed to people who are depressive, some people with anxiety–and I'm both of those.
I went off of it and within a month my world got black and white. I was playing free golf with three lifelong friends and I birdied the first hole. While walking back to the cart on a gorgeous summer day I remember saying to myself, "Thank God there are only 17 more of these f**king holes so I can go home, be alone, and watch Goodfellas." I withdrew from even the things I enjoyed the most. Except for my sons and a few very close friends and my wife, I didn't want to be around people. I was not feeling anything. There was a joylessness in almost everything. 
The climate at the station I let get to me more than I should have. I should have focused on what was good and what was good was the vibe on the show–with Spiegs and Jay and Shep and Miska. Then Ben Finfer rejoined me which has always been some of the best radio I have done.
So that was a rough time. I grinded it out without going back on my med and continuing to eat pain meds which dulled me. I like to stay active and I have a lot of pain and I used those things as an excuse to keep eating Narco. It was a pretty dark last couple of years. I didn't want to be there (at The Score). I wanted to try something different anyway but the climate there and how little I was respecting my conditions wasn't a good time.
But we did some killer stuff. I remember a lot of it with fondness. I mean the stuff we did with the Blackhawks–Spiegs and I went to Philly and Boston.
In '13 when the Hawks were getting to the final against Boston I felt we were being a little too "hockey-ish" on the show. I learned from my mistakes in the 90s that hockey is not as center stage as other things in Chicago, but I said to myself I'm probably walking very soon. This is my way to thank the Hawks fans who loved me all the years. F**k the ratings. If I want to talk to Mike Emrick for an hour, I will and we did. We ended up out of the money (ratings bonuses) that book and I didn't give a shit. 
I ended up leaving in the summer of '14 after the Hawks got popped by the Kings in the Western Conference Finals. If they had made it to the Final, I was going to work without a contract and finish the Hawks run but I wasn't gonna come back. I was pretty specific with Mitch (Rosen) about that. People remember it as my summer of discontent. Spiegel calls it "The Summer of Uncertainty." I corrected him on that and said "remember when I walked in that June and gave anyone parting gifts?"
Mitch called me right before I crossed the border (into Canada) and lost cell service. He said, "We gotta work this out." I said, "Mitch, it has been a month and I want to try something different. What's there to work out?"
So when I got back from Canada in mid August I met with him and Rod (Zimmermann, CBS Radio Market Manager for Chicago at the time) as a courtesy. They offered me a lot of money–more than they had offered me in the middle of June. It was a fair-enough deal. There was no indecisiveness that summer. Without another job offer I said thank you, politely, but I'm going to try something different.
Mac, Jurko and Harry (May 2001-Jan 2009)
Fish: It seemed to me like an interesting mix–you, Jurko and Harry. Can you talk about the grouping, how it all came together, and the early days of the show?
Mac: Mitch and I started talking about it right before I resigned from The Score. Bob Snyder was the GM of ESPN 1000 at the time. He was pretty committed to Bill Simonson and Lou Canellis, but Mitch told me he would work him (Snyder) and I decided I would roll dice in October of '00. I resigned from The Score with a "maybe" that Mitch would have a spot for me once Simonson and Canellis continued to struggle against The Score.
So I leave The Score and finally Bob Snyder warms up. I had to use (Mike) Greenberg to get to Len Weiner (ESPN Network PD at the time) in Bristol to backdoor my way into Chicago. I needed an ally in Bristol. Greenberg set up a meeting with Len Weiner and me at Super Bowl 35 in Tampa. (Dan remembers the game like it was yesterday saying, "SB 35 Ravens over the Giants, Ray Lewis the Super Bowl MVP. Only Super Bowl with back to back kick returns for touchdowns–Dixon and Lewis. You can look it up!")
I go down there on a recruiting trip and Len Weiner and I chew the fat for three hours talking radio after the "Mike and Mike Show" and fell in love. I started doing weekends out there to prove to the network that I'm not a crazy man for walking away from 200k at The Score with a rep for being a rabble rouser and that I'm worth hiring.
Eventually when (Ron) Gleason got fired by The Score I used that to pry my way in at ESPN. I said, "The guy who is taking over wants to hire me back." I told Len that. There was some grains of truth of that because (Jeff) Schwartz was taking over. Schwartz might have taken me back. I saw it as an opportunity to play a card that I may not have had, and I played it and immediately Bristol put the pressure on Snyder to hire me.
So "Mac, Jurko, and Harry" is born and Snyder wants to keep some of the station's DNA intact. He puts Harry (Teinowitz) on the show with me and Jurko and I had never considered a 3-man weave for a show in my life. Immediately I curled up and thought it was going to be uncomfortable, in particular because I knew Harry was going to be more of a shooting guard than he was hired to be. He was described to me by the suits as a "tip-in" guy. The funny guy. The occasional guy.
Well we know Harry. Harry grew into a role more like that, but initially, especially when Jurko started slow, Harry pounced on an opportunity to be more or a presence than I was comfortable with. So in those first few years we really suffered a LOT of growing pains as a show.
Fish: So when did it turn the corner from "growing pains" to when the show was really cooking?
Mac: It took Teinowitz several years to let this more of a desire to have a playground than a classroom sink in for me. I think Harry taught me after a number of months to lighten it up a little bit and I agreed that the easiest way to make people feel like they are welcomed warmly is to create a saloon atmosphere–so that's what we started to call it. And while we had a lot of tension and fights, it was a place where people felt compelled to hang out.
They weren't going to be lectured to. It wasn't going to be "The Sermon on the Mount." We weren't going to tackle issues that were polarizing for half of a show like steroids or anything that got us too far away from an opportunity to laugh. We've decided to plant the flag in the ground that we were going to be the goofball show. 
Fish: So you weren't going to get into Race issues and you're not getting into the Steroid issues..
Mac: (Jumping in) No, No, we're not getting into politics and we're also going to get into other forms of entertainment and make casual sports fans feel welcomed. And eventually, women even came around to that show.
Fish: So you get cooking on that show and you're a few months away from the end of a contract and you get pulled off the air? Were you surprised by that move?
Mac: I wasn't surprised. When we were told in December that we weren't going to the Super Bowl I sort of sniffed it out. Advertising dollars were drying up because of the market. Everybody was taking hits. I mean it was a f**king depression in '08.
They decide they're not sending us to the Super Bowl. I was not our literal union steward, that was Bruce (Levine), but when programming  had issues, the one who took those issues to management, Jim Pastor(GM) and Justin Craig(PD), was me. That meant being a dick to Justin. None of it was personal because I truly like him as a guy but he came in replacing (Jeff) Schwartz, shoving ESPN programming down our throats. Mandating things. In essence telling us, "Forget everything you've been doing. This is how we're gonna do it. I'm gonna mold you into another "Mike and Mike."
Now Justin did a lot of good things, too. He had an interview coach come in and do a seminar with us. My jaw dropped at how much we needed that. I've told Mitch how much we need that at the Score. He came in and did a three hour presentation on interviewing and I wish I would have had that seminar in 1992.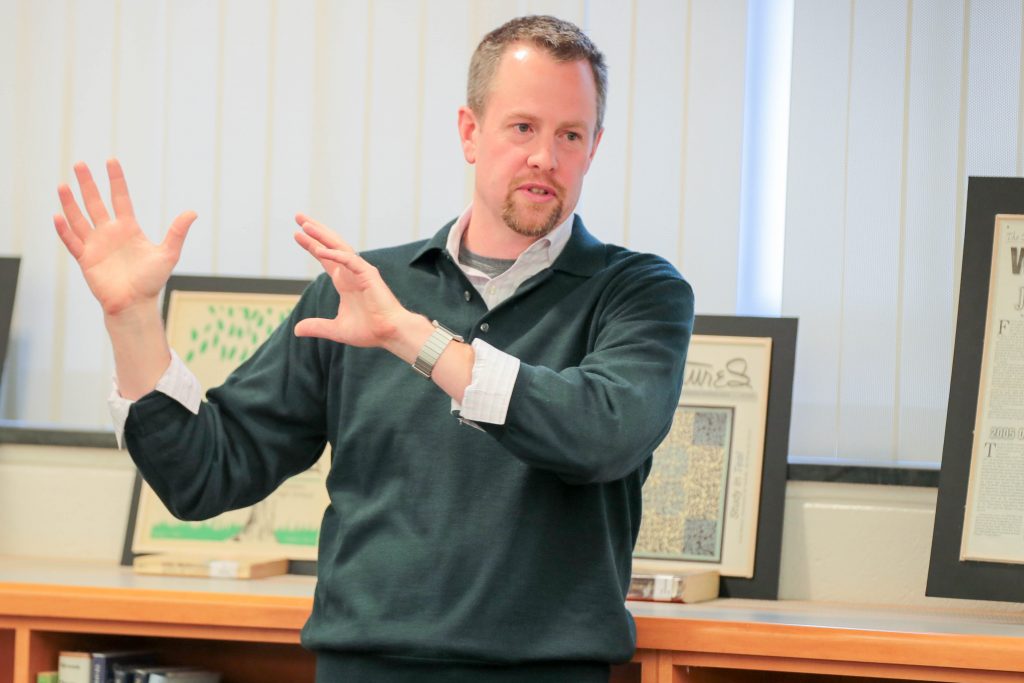 Fish: What were the biggest things you took away from that interviewing seminar?
Mac: In key interviews, not regular contributors you talk to every week, but when you get a guy on you'll only talk to 1-2 times a year, a key interview–ask short direct questions! People want to hear from him. I got the rest of the f**king show where I can give my opinion. I don't need to give him my opinion. Get his opinion. Get him talking! It's what he's going to say. It's not going to be some brilliant way I shape a question. It's what I'm going to get him to talk about. So ask a short, direct question. The biggest offense that most of us make are the double barrel and triple barrel questions-where you give your guest complete control of the interview. He picks one of the questions to answer and talks for three minutes and you've lost the time for a good follow up question.
In part three of my Q&A with Dan McNeil, Mac talks about the start of The Score in 1992, his partnership with Terry Boers and his longtime friendship with the late Doug Buffone.
Matt Fishman is a former columnist for BSM. The current PD of ESPN Cleveland has a lengthy resume in sports radio programming. His career stops include SiriusXM, 670 The Score in Chicago, and 610 Sports in Kansas City. You can follow him on Twitter @FatMishman20 or you can email him at FishmanSolutions@gmail.com.
Meet The Market Managers – Amy Crossman, Good Karma Brands Cleveland
"We don't even consider ourselves to be an AM radio station. We are content creators, and we serve it up on many platforms."
Good Karma Brands dabbles in other formats, but sports radio is its bread and butter. In Cleveland, it is Amy Crossman that is charged with making sure the staples are always in stock and of the highest quality.
This is her first foray into the world of radio, and man, what a time for it! Frankly, what a group for it.
ESPN Cleveland can be heard on 850 AM. That is the way listeners consume the station as a terrestrial broadcast product, but in 2023, no one is consuming any station in only one way. ESPN Cleveland takes the idea of going where the listeners are to an extreme and Crossman says that is why she feels confident for the station's future regardless of what car companies decide to do about the AM band.
That is one of many subjects she covers in our conversation as part of the Meet the Market Managers series presented by Point to Point Marketing. Amy Crossman also shares her thoughts on live events after Covid, how the premium content model works in radio and what she learned at the Pro Football Hall of Fame.
Demetri Ravanos: Rather than start with the broadcast product, I actually want to start with The Land On Demand. I am surprised in 2023 that the premium content model for a radio station is still a relatively uncrowded space. Not a lot of groups have followed your lead on the local level.
Amy Crossman: So true. It is really unique and it just goes back to our hosts and our talent creating content that people want to get on demand. Maybe they're at work or doing something else when The Really Big Show is on, and they want to hear what happened with Rizz and Aaron. They'll listen at the gym or on their way home.             
We found the on demand desire was really high and immediately our fans took to that model. So for us, it's it's been this really fun, interesting thing to see. It doesn't hurt that it's six figures to our bottom line, right? And it gives us an environment to test things out, podcasts and other kinds of audio and video products, with a group of really diehard loyal fans.
DR: What has been the enthusiasm for that very product from advertising partners? These shows run ad-free but you guys do have a landing page for The Land On Demand. That's plenty of space to be sold.
I do wonder though, when they look at, say, the Audacy stations, for instance, that's not behind a paywall. So what sort of conversations do you have with advertisers about that?
AC: Yeah, it's a great question. It is a commercial free environment. That's part of the play certainly for the subscriber. Our live reads still happen during programing content. We really just strip the commercials out.
We hadn't explored sponsorship as a whole until last year and then had one of our partners as a title sponsor of The Land On Demand. We were really thoughtful about how to make that a great experience for the partner but not really intrusive for the fan. We kind of rearranged the title so that the logo was locked up with the title. We had a bug on the video screen and some other kind of careful placements for that partner. It was really about reaching the most loyal fans that we have.
They also did, as part of their partnership, an open house. Leading into training camp, wih the Browns really being our biggest season all year round, we opened up The Land On Demand and lifted the paywall brought to you by this partner so that there was a lot more fan sampling.
DR: That sort of leads into my next question as we talk about fan sampling and these conversations with advertising partners. On average in the industry, we talk a lot about the common man sort of being a little bit more media savvy than ever. I wonder if that if you see that showing up in real life conversations, whether it's with listeners or advertising partners. Do they have a better grasp or at least do they think they have a better grasp of our industry a little bit?
AC: From a partner standpoint, I would say yes. I think our partners are more media savvy. Their kids are more media savvy. They really see kind of where media is evolving to and we certainly do and have invested in that here in Cleveland.
We added a digital content team at the beginning of this year who are really focused on the content that we create and taking it to every platform for every fan to consume in the way that they want to. It's a little bit of a catalyst from The Land On Demand, more focused on social video YouTube, but this content team really has created this very different energy, not only in the studio but with our partners. We are allowed to have different types of conversations with the success that we're seeing with digital content. It's literally like a TV studio around here because digital content team is running around with cameras, capturing behind the scenes in the studio, capturing what's going on quickly, editing and posting. So it creates a very different pace around the studio.
DR: It's interesting, isn't it? I just had this conversation with a doctor earlier today. I don't know how old you are. I'm 41 and she is a little bit older than me.
We were talking about popular podcasts and how some of them have blown up into TV series and movies and stuff like that. I said, "You know, as much as we talk about this being true with our kids, I genuinely start to wonder if my generation is the last one that traditional, terrestrial media really means something to." Has that idea of "I go where the great content is, regardless of platform" trickled all the way up to the oldest ends of millennials and the bottom end of Gen-X?
AC: It's a really interesting question because to your point, whether it's children or whatever the generation is, even some of the teammates that we have working here, how they consume media we talk about things like the magazine I used to work for, and it doesn't mean anything to them.
We don't even consider ourselves to be an AM radio station. We are content creators, and we serve it up on many platforms. I think that really resonates with that generation instead of kind of building all this great content on this station and asking people to come to us, we're now going to where they are. It's just a different model, but it makes it a lot more fun because we're able to approach them in different ways. We launched a YouTube show three weeks ago and we're launching a second one before Browns season. All of that is behind-the-scenes content, right?                 
We know how much our fans love our on-air teammates. And they're always curious about what happens when they go to break right or the end of the show or what happens at the beginning of the show. So we've seen a lot of success, really fantastic success, on YouTube with showing the fans a different side of our on-air teammates.
DR: Given the success of The Land On Demand, the investment in the digital side that you're talking about, also the station streams through the ESPN app, which has very reliable proliferation every single year. I wonder if you feel pretty prepared if we are indeed headed for the day that access to the AM band in new cars just isn't there anymore. That doesn't necessarily mean it is or isn't any more important to you. It's just there is a different level of preparedness, it sounds like, in Cleveland.
AC: We're trying different things and we're not going to get them all right, but that's okay. I think the fact that we are eager to test things out and most importantly, our on-air teammates are just as eager matters. If we didn't have the entire team behind the idea of "let's get our content to where our fans want it," it would be a little bit more of a struggle.
We just have an amazing group of people that come from varied backgrounds on our team. And so everybody is involved in the idea is like, "How about if we try this" or "What if we travel this way". That has certainly been a different level of energy and pace on the team, which just kind of trickles through all of the teammates, sales, marketing, production, and otherwise. I like to think we're kind of prepared.
DR: I want to talk about the part of your job that is recruiting talent, particularly on the sales side. If you had experience with radio sales at this point in 2022, you expect you're going to be selling, a portfolio of stations, right? That can be good. That can be more opportunity, but it could also mean you're stretched thin. How do they react to the idea of coming over to a place where, sure, there are many different products within ESPN 850, but it is a single umbrella that you are selling under?
AC: To be totally honest, I'm looking out at the team right now, I don't think we've hired anybody in radio sales in the past three years yet. We really have kind of a great intersection. We have some tenured salespeople here, marketing consultants who are amazing and know our assets inside and out. The newer teammates we've hired over the last three years don't come from other stations. In fact, we just hired someone who's starting at the end of May, and he's coming from Rocket Mortgage, the top seller at Rocket Mortgage. So, there is a there's a learning curve to teach and coach them in media.
I think that recruits are energized by the fact that it's not just AM radio, which is a critical part of our business in Cleveland, but there's the opportunity to test and sell and have different conversations about different products. I think it's probably an advantage for us from a selling perspective because we really are kind of trying so many new things.
DR: So you guys have a sales opportunity that is not unique to you guys. It is unique to ESPN Radio stations though – ESPN play-by-play. It's not like you don't have the Guardians. It's not like you don't have the Cavaliers. I mean, hell, they just went to the playoffs for the first time in forever and it was on your airwaves. It's just not there all the time. It's not the hometown broadcasts.
Tell me about the conversations locally you have with whether it is advertising partners or listeners when you're out at events about the fact that your teams are here, it's just we're doing it a different way and there is opportunity there for you still.
AC: Yeah, I'm glad you brought it up because, you know, we are obviously the official home of the Browns. We talk about the Browns 13 months out of the year, of course, as important in Cleveland.
DR: Can I tell you that I use your market as an example all the time. I live in Raleigh. I tell people this is a great place to live. It is a terrible sports radio market. And I always follow that up by saying, "We're not Cleveland. We don't have a team that unites us in misery like the Browns. That's what you need to be a great sports radio market."
AC: It's so true. Our content mission is Browns, drama, fun. If the content that the teammates are creating does not fall in one of those buckets, we're probably not going to be talking about it.
Matt Fishman, the director of content, has done an amazing job with adding teammates that are insiders in those other teams. Right? So Brian Windhorst is a teammate and he is our NBA insider for all things Cavs Andre Knott is a teammate, and he obviously travels with the Guardians and is an insider there. So that really is our approach.
Again, we like that it's less traditional. We don't obviously have the rights to the Guardians and the Cavs, but having an insider. Our fans really like that, right? They're getting information from the source and maybe a little bit different than it would be served up in in a traditional environment where we had play-by-play. So we feel like we've covered the bases.
Cleveland's a unique town. The Cavs went to the playoffs and people were okay with it, but they were really still talking about, "is Stefanski going to get fired in the bye week in week five?". That's really where all of the buzz is.
We liken the approach that we have to dating. We have great relationships with the Cavs' and the Guardians' front offices. They're great partners with us to try new things and different approaches and unique ways to partner together.
DR: Tell me a little bit about live events post-COVID. Do you see any lingering effects that have changed?
AC: I think Ohio just kind of forgot about the pandemic and really moved on. I'll tell you, to be honest, we really saw it in 2021 when the NFL Draft was here. It was touch and go on were they going to come or were they not going to come. They were kind of just plowing through.
Pre-pandemic, we would do up to 250 events a year and that may be anything from a small street team at a bar for Corona up to our big thousand-person draft party. So we were certainly itching to get out and create live events. Our fans were itching for it and our advertising partners were as well. So we hosted a VIP event, pre-NFL Draft, which was we we kind of laugh that maybe it was the super spreader event. I think we had 250 guests and everybody was hugging and kissing babies and just being so excited to be back together again. So that was probably the only one where we were incredibly cautious about how we were rolling that event out.
By football season, we were doing our Browns tailgate that we do every week and everything just seemed to kind of come back in Ohio. This year we're doing as many events as ever.
DR: I don't doubt the appetite is there for advertisers, but we have entered a whole new economy since the pandemic and I wonder what that does to the to the live event business or those advertisers' dedication to live events.
AC: Yeah, it really depends on the advertising partner. For so many of the businesses that partner with us on our live events, their objectives are really to have the face-to-face interaction with fans and we can provide that for them. There really aren't many that have strayed away from that because it affects their business in such a positive way. So we may have streamlined our events a little bit more just so that we could develop a best-in-class event versus just cranking out 250 events a year, but for the most part, the fans still come out.
We have a big event on June 25th, our block party. It started last year. There's just so much excitement around it in Cleveland. All of the teams are participating. It's really just a great celebration of football and of sports in Cleveland.
DR: You came to this job from a very untraditional place. You came from the Pro Football Hall of Fame. What lessons can you bring from there into running a media operation?
AC: Prior to that, I was in New York for 20-plus years in the media business. So for me, the great opportunity to work at the Hall of Fame and get into the sports marketing world was really a highlight for me, but what I really missed the most was the media component to it. Media is my currency and it's how I know to create solutions for advertising partners and great content for fans. So that was really my foray from kind of big corporate media to the Pro Football Hall of Fame in Canton and then landing here at ESPN Cleveland.
Demetri Ravanos is the Assistant Content Director for Barrett Sports Media. He hosts the Chewing Clock and Media Noise podcasts. He occasionally fills in on stations across the Carolinas. Previous stops include WAVH and WZEW in Mobile, AL, WBPT in Birmingham, AL and WBBB, WPTK and WDNC in Raleigh, NC. You can find him on Twitter @DemetriRavanos and reach him by email at DemetriTheGreek@gmail.com.
Fred Roggin Deals in LA Sports on AM Radio
"I simply want to grow and learn every single day. I want to experience new things every day. I have a philosophy, when you stop learning, you die."
Johnny Carson had a very successful run in late night TV. He was incredibly popular and received many awards as The Tonight Show Starring Johnny Carson aired from 1962 to 1992. What I always found interesting about the show was the amount of planning that went into each episode.
Carson prepared, crafted, and rehearsed scenes over and over again. During the show, it sounded like he was just having a bunch of fun and cutting loose. What's often overlooked is just how much thought and attention to detail went into each broadcast. There always was a game plan.
Fred Roggin operates very similarly. He teams up with former USC and NFL quarterback Rodney Peete each weekday. Roggin & Rodney airs on AM 570 in Los Angeles. Roggin sounds like he's having a ton of fun — and he is — but just like Johnny Carson, Roggin plans and pays close attention to detail. It's one of the reasons he's been so successful in his distinguished radio and television career.
Considering the fact that Roggin hosts a daily show on AM 570, he has some interesting opinions on the fight to preserve AM radio in cars. Roggin also talks about how the LA sports radio market differs from other places but doesn't lack passion, and what's in store for him next after an incredible 43-year run on daily TV. Enjoy!
Brian Noe: You did TV at NBC4 for over four decades. How do you feel now after signing off just a few months ago?
Fred Roggin: It's interesting, the media business has changed dramatically. And let's be really honest, television doesn't have the impact that it one time had. It really doesn't.
More things are digital than ever before. The only way to succeed, I felt, was to try to be unique and different. Always did feel that way. But it just wasn't as much fun anymore. I haven't really retired completely from television because I still may be doing some things, but I stopped doing the daily local news. That's the thing, I just stopped. It was exhausting me.
It's funny in LA, in the 43 years I've been here, I've probably done radio for 20 of them at different places. I started in radio, I'm a radio guy. I always kept my fingers in it because I really enjoyed it. We have more people listening to us on KLAC than were watching our newscast on television. Think about that. And that does not speak to the quality of work we were doing at NBC, because our work has always been impeccable; but it was like, I wanted to have fun. I just didn't want to do daily local news anymore.
BN: When you're doing a radio show, I think that you have a great feel for when to switch gears. It's time to be a little serious about this topic, and now it's time to have some fun. How would you describe your feel between times of content and times of comedy?
FR: Well, first of all, thank you for saying that. I would hope that's one of the reasons people listen to us. I think in our business what you find is, some people are all comedy, some people are all opinion. It's hard, I think, to blend them. Every show is unique. Every personality that does this is unique. Every host is unique. I've always looked at it like this, and it was the same philosophy I used in television, when I was on TV, we would change stuff an awful lot. Even if a show was successful, every year or so, I would tweak it. I would change it. The producers would say why? I would always have the same answer; because if I'm bored, I gotta tell you, the viewers will be bored. They don't even realize it yet, but they will be. So why would we allow them to feel that way?
I think the same holds true in what we do here in radio. You know when it's enough. If you went to an ice cream store, would you always order the same flavor every single time? No, you have a favorite, but you try different things, otherwise you would become bored. What we try to do, obviously we're LA based, so we're going to go hard on the LA teams as much as we can. But then you drop in things that change the pace a bit, give people a breather and a reason to smile or be mad at you. Either way we know they're going to react. Then keep moving. It's kind of a tapestry rather than a giant wall painted all one color.
BN: Do you feel like having a TV background helps with pacing and moving a radio show forward?
FR: It's funny, I think having a radio background helps you in TV. I think radio really helps you in television because if radio is the purest form of communication, you're forced to learn to talk with people. In TV, you have advantages. I can lean in. I can change my facial expression. I have video that I can narrate directly off a script. Radio you have none of that. Radio forces you to be a solid communicator and that's why people that do radio can transition to TV. But people that start in TV oftentimes have a very difficult time transitioning to radio.
When I would build TV shows, my background was really in production. I was the guy in front of the camera, but my background is in production. Pacing meant everything. Everything. Visuals meant everything. Changing the tone meant everything. The radio show is very much the same. Our producer, Kevin Figgers, is terrific. I think you know Kevin.
BN: Oh, yeah. Yep. He does a great job.
FR: I'll tell you, he's a superstar. He gets it. He's good. We always talk about the pace and where we should change things and drop things in. We invite everybody to stay for three hours. You know this as well as I do, they don't. They have lives.
We always have to be mindful of the fact that at any moment, someone could be joining us. At any moment. Our objective is when that person should find us, that we are giving them a reason to stay. Even with our bumper beds that Kevin created, they're a little different than traditional sports talk radio. They sound more like an FM music station. We stop, boom, cold, hit the music, hit the sounder, and then we tease. We try every day to be mindful of pacing.
In our medium, like Colin Cowherd who's brilliant, I think the best in the business, there are few guys like him. He distinguishes himself. How can we distinguish ourselves to stand out or attempt to stand out and give people a reason to come to us? It could be the slightest little thing. It could be the pacing of our show. Everything that Kevin does is strategized. Even the music we use for our games, it all has a feel, it all has a pace.
BN: What are your thoughts on the fight to preserve AM radio in cars?
FR: I think it's a battle worth fighting. Until you do this for a living, you don't realize how many people listen to us on the AM band, period. We have listeners that still listen on transistor radios. These are valuable human beings, they make a difference. The AM band provides information in times of distress and disaster. As technology evolves and things blend, I think it's important to realize that a lot of people still count on the AM band for their news, for their information, for their entertainment, for their companionship. And in the event of an emergency or disaster, it is necessary. I will fight that fight personally because I know how valuable it is.
Here's the thing, Brian, as we continue to evolve, you can listen to us on the iHeartRadio app. I'm sure that's what carmakers are thinking, Well, eventually, all cars will just have apps and you'll be able to listen to whatever you want to. But you're discounting a huge portion of the audience and the population. People that desperately count on their radio station on the AM band to be there for them.
I'm of the belief, and I don't manufacture cars, and I don't know what anything costs, but I do know it doesn't seem that hard to include the AM band for the millions of people that still count on it.
BN: Have you ever heard from a listener that said, man, I got a new car and it doesn't have AM. I don't listen as much as I used to. Has that ever happened?
FR: No, I haven't heard that. What we find is more and more of our listeners are transitioning to the app. But see, here's the disconnect, and here is what's so hard to understand. Just because a number of people are transitioning, doesn't also mean there aren't a number of people that still depend on it.
What you're doing is you're telling people that listen to AM, you're not very important. You don't really count. We know they desperately count, and they count on us. I honestly don't understand, as I said, the costs associated with any of this, but it just doesn't seem that difficult to me. Take care of everybody. Don't eliminate people.
BN: You reacted to a column last year claiming that no one listens to sports talk radio in LA. It's like you channeled your inner East Coast, I love how you attacked the story with some edge. What was the reaction in LA to your comments about that column?
FR: Minimal. You have to understand your market. And my point there was, yeah, if we were on the East Coast, we would have a larger listening audience, simply because of the market. In Los Angeles, if you just look at it from a business perspective, there are so many ways to spend your disposable income. There are so many teams. To say the people in Boston are more passionate, or there are more people listening in Boston, I think there's no nuance to that. Understand your market.
Are you telling me that people in this market are not passionate? Well, when you come to town, let's go see the Dodgers or the Lakers play. You tell me if they're passionate. You tell me if they are as passionate as Celtics or Red Sox fans. I'll take you to see the LA Kings, you tell me if those people are as passionate as Boston Bruins fans. I think you're going to agree they are, if not more so.
It's understanding the nuances of your market. And to make a blanket statement, and try to compare apples to oranges, that was low-hanging fruit. That was too easy. It's much more involved than that. It bothered me because I really thought in that situation, someone didn't do their homework. It could have been presented very much like the audience is bigger here, or seemingly more passionate here, but let's analyze why. If you take the time to analyze all of it, you realize that the fan bases are as passionate. We just have more things to do here.
BN: Your station, AM 570, is the home of the Dodgers. How does that relationship impact the way you present topics about the team, or any of the opinions that you share?
FR: That's a fair question. I can tell you in the years that I've worked here, if the Dodgers have performed well, or something great happens, we're on it. If they're struggling, if things aren't going well, if something had been bungled, we're on that too. Never, not one moment, not one time has anyone called myself or Rodney into the office and said back off. Never, no one has ever said don't talk about that.
I think what all the teams want, and Brian, maybe I'm wrong, and I know this with the Rams because I talk to them all the time, they always say the same thing. I've always tried to be this way, just be fair. If we deserve criticism, then we should be criticized. But don't take cheap shots. If we've done something well, that should be acknowledged. Don't go over the top. Just be fair, be honest.
BN: As you transition from daily TV, when you look at your future, what do you want the next five years to look like?
FR: I want to continue doing this and growing this. We have been working, and we actually need to accelerate the pace, but we have been working on preparing this for multiple platforms.
I simply want to grow and learn every single day. I want to experience new things every day. I have a philosophy, when you stop learning, you die. It might even be the smallest little thing. Even driving down the street and noticing a sign you hadn't noticed before, you learned something today. Interacting with someone and finding something out about them you didn't know, you learned something today. I'm very curious. My mind never stops working.
I would like to continue doing this. As I said, we're working on some things to share this on multiple platforms. We're probably 50% of the way through it at this point. But grow this, keep growing and keep learning. Then I'll be very happy. This is such a wonderful, wonderful business. You really do meet the nicest people doing this for a living. People that care, that work hard, that really take a lot of pride in what they do. That means a lot to me. I love working with people like that. I'm honored to work with them. And just keep growing this.
Look at it like this. People said, well, you stopped doing TV. I did TV going on 43 years here. As I mentioned, for 20 of those 43, I actually did radio too. I had two jobs and people would say, well, you're retiring. I'd say no, I'm stopping doing part of one job, I have another one. Another one that I truly love. It's funny, on TV, I said I'm not retiring. I'm just not doing the news anymore. That doesn't mean I won't be on LA TV. It means I'm not doing the news. I just want to keep growing and having fun to be honest with you. Maybe that's too easy of an answer, but you get to a point in life, you just really want to love what you do and have a good time. And I do, every single day.
Brian Noe is a columnist for BSM and an on-air host heard nationwide on FOX Sports Radio's Countdown To Kickoff. Previous roles include stops in Portland, OR, Albany, NY and Fresno, CA. You can follow him on Twitter @TheNoeShow or email him at bnoe@premierenetworks.com.
Robert Griffin III Wants to Tell Your Story the Right Way
"Even if I do know you personally, I'm not going to bring that to the broadcast because that's not my job."
During last season's VRBO Fiesta Bowl, Robert Griffin III was part of ESPN's alternate telecast at field level alongside Pat McAfee. Suddenly, the Heisman Trophy winner took a phone call. Once he hung up the phone, Griffin divulged that his wife had gone into labor and proceeded to sprint off of the field to catch a flight. An ESPN cameraperson documented his run and jubilation as he returned home to welcome his daughter, Gia, into the world. It encapsulated just what motivates Griffin to appear on television and discuss football, and why he is one of ESPN's budding talents with the chance to make an impact on sports media and his community for years to come.
"This was an opportunity for me to go out and be different in the way that the media covers the players and truly get to the bottom of telling the players' stories the right way," Griffin said. "I look at this as an opportunity to do that."
Griffin was a three-sport athlete as a student at Copperas Cove High School, and ultimately broke Texas state records in track and field. In addition to that, he played basketball and was the starting quarterback for the school's football team as a junior and senior, drawing attention from various schools around the country. He ended up graduating high school one semester early and quickly became a star at Baylor University in both football and track and field.
Robert Griffin III's nascent talent was hardly inconspicuous, evidenced by being named the 2008 Big 12 Conference Offensive Freshman of the Year and then, three years later, the winner of the Heisman Trophy. In the end, he graduated having set or tied 54 school records and helped the program to its first bowl game win in 19 years.
Ultimately, he transitioned to the NFL in a career with many trials and tribulations, but through it all, he never lost his sense of persistence. Nearly a decade later, he returned to college, but this time as a member of the media covering the game from afar. Unlike a majority of former players though, Griffin did not formally retire from playing football when inking a broadcasting contract with ESPN.
"I haven't retired yet at all," he said. "I tell everyone that asks me the question that I train every day [and] I'm prepared to play if that call does come. I've had some talks with teams over the past two years; just nothing has come to fruition."
While Griffin's focus as a broadcaster is undeniable, he never thought about seriously pursuing sports media until his broadcast agent pushed him to do so. He was urged to take an audition at FOX Sports. Griffin broke down highlights and called a mock NFL game alongside lead play-by-play announcer Kevin Burkhardt. He was not prepared for that second part, but impressed executives and precipitously realized a career in the space may not be so outlandish after all.
Griffin then moved to ESPN where he experienced a similar audition process, this time calling a game with play-by-play announcer Rece Davis. Once the audition concluded, it was determined that Griffin would not only begin working in the industry, but that he would be accelerated because of his ability to communicate in an informative and entertaining style.
As a player, he saw the way media members covered teams – sometimes bereft of objectivity – and therefore saw assimilating into the industry as a chance to change that. Now, he is focused on telling the stories of the players en masse while being prepared to pivot at a moment's notice.
ESPN's intention was to implement Griffin on its studio coverage, but once executives heard him in the broadcast booth, the company had a palpable shift in its thinking. He was told he was ready to go out into the field and start calling games immediately, something of a surprise to him. FOX Sports felt similarly. This led to a bidding war between the two entities, which ultimately concluded with Griffin inking a contract with ESPN. He appeared over its airwaves plenty of times as a player, and even participated on a variety of studio shows in 2018 where he was almost permanently placed on NFL Live. This time around though, Griffin was suddenly preparing to work with Mark Jones and Quint Kessenich on college football games. He did not have time to consider the implications of the decision, instead diving headfirst into the craft and remaining focused on what was to come with producer Kim Belton and director Anthony DeMarco at his side.
"These guys took me under their wing, and I'm beyond indebted to them for that," Griffin said of his colleagues. "They taught me everything that I know about the industry. They taught me everything I know about how to present things to the masses to where it can be easily digestible. They've allowed me to allow my personality to shine through."
Demonstrating his personality was a facet of his makeup Griffin felt was inhibited by playing professional football, but he knows it would have been considerably more difficult to attain a chance to cover the game had he not laced up his cleats. Calling college football games with Jones accentuated his comfort in the booth because of Jones' adept skill to appeal to the viewers and penetrate beyond the sport.
"He has the way to connect different generations of listeners to hear what he's saying and perceive it in the same way," Griffin said. "To me, that's what we all strive to do in this industry is to be able to find the connective tissue between the fan who is 60 or 70 years old, and the fan who's in their late teens or early 20s."
From the beginning, everyone told Griffin to be himself and not adopt an alternate persona in front of the camera. That advice has guided him as he approaches his third year working in the industry.
"It is so hard to maintain a character or try to be someone that you're not, but if you are who you are every single day, then every time you show up on camera you will be that person," Griffin said. "I've made sure that when I stepped foot in front of that camera, I was going to be myself."
Griffin identifies his style as pedagogical to a degree, critiquing players as if he was coaching them on the sidelines. He will never look to penetrate beyond football with his criticism, as drawing conclusions and using unrelated parlance could be viewed as indecorous. In short, Griffin III knows what it means to represent ESPN.
"We're not a gossip website. We're supposed to be critically acclaimed, prestigious journalists, and at the end of the day, that's how I try to approach the job that I do. That's why I got into the business – because I felt like there was a little of that going on, especially during my career, so I would never do to somebody else what was done to me."
Over the course of his NFL career, Griffin was subject to immense criticism that went significantly beyond the gridiron. For example, sports commentator Rob Parker suggested that Griffin was not fully representative of the Black community and proceeded to question if he was a "cornball brother." The incident resulted in Parker receiving a 30-day suspension from ESPN, and after he defended his comments and blamed First Take producers in a subsequent interview, the network decided not to renew his contract.
"My goal as a member of the media is to tell players' stories the right way, and if I don't know you personally, I'm never going to make it personal," Griffin said. "Even if I do know you personally, I'm not going to bring that to the broadcast because that's not my job."
In addition to broadcasting college football games with Jones on ESPN and ABC, he also appears on-site for Monday Night Countdown, the network's pregame show leading up to Monday Night Football. Making the decision to add NFL coverage to his slate of responsibilities meant that Griffin would be able to tell more stories and utilize his knowledge of players during their collegiate careers to enhance the broadcast.
The energy that he felt attending tailgates and interacting with fans at the college level gave him a unique skill set to translate to the NFL side, leading him to present the production team with an unparalleled idea for Week 1. He wanted to race Taima the Hawk, the live game mascot for the Seattle Seahawks who flies around Lumen Field prior to the start of each home game. It was an outlandish idea, but one that made sense for television because of the visual appeal it can present.
"If you know anything about hawks, they can fly up to 120-140 miles per hour, so they're like, 'There's no way he's going to beat this hawk in a race, but we'll do it,'" Griffin said. "To that crew's credit, they never once balked at any of the creative ideas that I brought to the table because they want to try different things and be exciting and have fun on the show."
Griffin ended up winning the race, commencing the new season of Monday Night Countdown with immediate excitement before the Seahawks' matchup against the Denver Broncos. He thoroughly enjoyed his first year on the show and having the chance to work alongside Suzy Colber, Adam Schefter, Booger McFarland, Steve Young, Larry Fitzgerald and Alex Smith.
"They always tell me, 'Hey, anything you're not comfortable with, you just let us know and we won't do that thing,'" Griffin said of the show's producers. "My answer always back to them is, 'Well, I won't know if I'm uncomfortable with it if I don't try.'"
While Griffin had what looked like a seamless assimilation into the broadcasting world, he had a difficult moment when using a racial slur on live television in discussing Philadelphia Eagles quarterback Jalen Hurts. The clip quickly gained traction across the internet, and Griffin issued an apology on his Twitter account for using the pejorative language and claimed that he misspoke.
"I was shocked that it came out in the way that it did, and I immediately jumped on it and apologized because there's no need to deny," he said. "You messed up. You move forward, and I think that's the easiest way to get over those types of things and to get back on your feet."
The football season at both the college and professional level is undoubtedly a grind, and it requires a combination of dedication, passion and persistence few people possess. Robert Griffin III has garnered the reputation of being an "overpreparer," often partaking in considerably more information than necessary to execute a broadcast. The information he consumes and conclusions he draws combined with his experience at both levels has cultivated him into a knowledgeable analyst who makes cogent, intelligible points on the air.
"I over-prepare for everything, and 70% of the information that I soak in going into a game or going into a broadcast for Monday Night Countdown, I don't use because there's just not enough air time," Griffin III said. "There's not enough opportunities to talk on it all."
At the same time, he makes a concerted effort to make the most of his time with his family and separate himself from the field, engaging in activities including playing ping pong, going to the movies and supporting his children. He also embarks in charity work through his RG3 Foundation and strives to teach his daughters the importance of giving back. The mission of the nonprofit foundation is to discover and design programs for underprivileged youth, struggling military families and victims of domestic violence, and it has made a significant impact since it was launched in 2015.
"Trying to end food insecurity; making sure that our under-resourced youth have access to the things that they need just to survive – talking about food, clothes, books, the ability to learn [and] putting on these after-school programs," Griffin elucidated in describing the organization's mission. "We want to have an impact on our community. We mean that with everything in us and have shown that to be the true case of why we do this."
Griffin's wife, Grete, serves as the executive director of the foundation and also runs her own fitness business. Staying physically and mentally in shape is something they actively try to accomplish in their everyday lives, and lessons they are passing down to their daughters.
"I'm 33 years old right now, so if I want to continue to train every single day, I can do that for the next 10 years if I need to," Griffin said. "Not taking hits and being physically fit is also a good thing for your own health, which is something me and my wife are extremely passionate about."
Although his experience is in playing football and working in sports media, Robert Griffin III does not believe in limiting himself and would consider exploring opportunities outside of sports and entertainment. He wants to become the best broadcaster possible no matter where he is working in the industry and continue finding new ways to be distinctive en masse.
"We're storytellers," he said. "We're here to break down things [and] to tell people a story the right way; things that people are interested in, and that expands across all media levels. We're not closing the door on anything from that standpoint."
While he was playing in the NFL, Griffin dealt with a variety of injuries that ultimately kept him off the football field and made it difficult to display his talents. Ranging from an ACL tear, shoulder scapula fracture and hairline fracture in his right thumb, staying healthy was a challenge for him over the time he played in the NFL.
Through surgeries and rehabilitation, he learned how to face and overcome these challenges. It has shaped him into the broadcaster and person he is today as he looks to set a positive example to aspiring football players and broadcasters everywhere.
"The eight-year career that I was able to have thus far didn't come without roadblocks in the way [and] didn't come without adversity. Learn from the adversity that you go through and learn from all the things and the lessons that you have that sports teaches you, and then go be able to present that to the masses."
Derek Futterman is a contributing editor and sports media reporter for Barrett Sports Media. Additionally, he has worked in a broad array of roles in multimedia production – including on live game broadcasts and audiovisual platforms – and in digital content development and management. He previously interned for Paramount within Showtime Networks, wrote for the Long Island Herald and served as lead sports producer at NY2C. To get in touch, find him on Twitter @derekfutterman.