Every Week Is Shark Week For Dan Rusanowsky
"You can't be that guy always looking for the next job. You have to focus on being the best you can be wherever you are."
Memory is funny. It can be difficult to recall small events in our lives that occurred last week, yesterday or even a few hours ago. Our memories can shift without our permission, painting a picture of an experience that might be different than what other people remember. Memories shape who we are, how we think, and even what we value. The cruel universal reality is that it's our darkest moments we tend to remember the clearest.
One can argue memory's greatest ally is time – not the enemy it appears to be. Like a Zamboni to ice, time has a way of healing certain scars from our past, and in the process can turn pain into wisdom. It also has a way of preserving our happiest moments through the decades.
58-year-old Dan Rusanowsky is a man not short on happy memories – and many are tied his 40 year career calling hockey games.  He can tell you in great detail about the time the Sharks snapped a 17-game losing streak in Winnipeg on Valentine's Day 1993.
"After the game," he smiles "they raised a garbage can in the visitor's locker room like it was the Stanley Cup."
His memory is well organized and cataloged. Ask him for a San Jose Sharks story and the Connecticut native would respond with "What season?"
Just about every high point in his professional career is tied to a hockey game on some level. Unfortunately, the same can be said for a very low point in his personal life.
Ask him where his love for hockey began, and Rusanowsky doesn't hesitate.
Herman Solomon, the brother of Rusanowsky's mother, sparked Dan's passion for the sport at a very young age. The two were regulars at New Haven Nighthawk home games and spent plenty of time watching the nearby Yale Bulldogs on the ice. To this day, Rusanowsky continues to honor his uncle's influence.
"I still mention him every game," beams the proud nephew. "I would always refer to him as the unofficial statistician of the broadcast, so much so that people have asked me if he's actually on the payroll."
Long before young Rusanowsky found himself in front of a microphone, he found himself on the stage. He was never far away from the opening of a new play – portraying Captain Hook in Peter Pan and the title role in a Charlie Brown Christmas production. His enthusiasm for acting faded a bit as he entered high school – but Rusanowsky still values his experience as a thespian.
"What I do professionally is, and always has been, performance art. I'm presenting my audience with the images only I can see. Every game is a performance of sorts."
Rusanowsky's reverence for his profession is clear, and it started with what he calls the "romantic" crackle of the radio dial. From his home in Milford, he recalls hearing Penguins broadcasts, Buffalo Sabres, Toronto Maple Leafs via Hamilton, and even the Montreal Canadians.
"The whole thing was in French so I couldn't understand a word," chuckles Rusanowsky.  "Every once in a while they would mention a name though, so I recognized the names!"
Understanding he wanted to pursue a career in his two passions – hockey and radio – Rusanowsky set off for college at St. Lawrence University, roughly 5 hours north of Milford.
St. Lawrence was attractive to Rusanowsky on a couple of levels. For one, it was a small school, a size that would afford him personal relationships with his professors, and two, the Saints played D1 hockey.
"My freshman year I went in there, not really with any clue what I was doing, and I introduced myself to their play by play man, Bob Vilas, and pretty much said I was interested in pursuing this as a career."
To Rusanowsky's shock, it just so happened they were in need of a fill in play by play announcer later that season. Vilas told the 18-year-old to watch some games from the booth and record some practice tapes. In time, Rusanowsky could feel Vilas' confidence growing in him, but even he couldn't have predicted what happened next.
With the Saints games being delivered on the local NPR station, Vilas didn't have the luxury of commercial breaks during intermissions.
"One game in that first season he came up to me and said 'Dan, here's your interview subject, I'll be back in 5 minutes, you're on in 30 seconds,' just like that I was on the air for the first time ever."
Rusanowsky still remembers the man he interviewed – Tom Burke, a hockey writer – but he wouldn't give himself high marks for the conversation.
"I don't have that tape. I wish I did! I'm sure it was just about the worst interview in the history of radio!"
While the thought of the tape might be cringe-worthy, he looks at that experience as a seminal moment. Not only was it his on air debut, but he was given a challenge he wasn't prepared for and didn't back down.
"In this job," Rusanowsky explains, "what you expect is often not what happens. You have to be prepared for the unexpected and find a way to make it work."
Rusanowsky made it work, and a Hall of Fame broadcast career was born.  By his Junior year, he became the voice of the Saints, a title he didn't want to lose on account of graduation after his senior year, so he enrolled in grad school at nearby Clarkson University.  He knew the next logical step towards his ultimate dream of landing in the NHL was a position in the American Hockey League.  He would check religiously, and finally – one day after his graduation from Clarkson – he got an offer from the New Haven Nighthawks.  His hometown AHL club.
He was thrilled for the opportunity, but his paycheck left a lot to be desired.
"When I got the job in June I weighed 175 lbs. The next time I stepped on the scale was when I was home for Christmas in December – I was 148 lbs."
The radio veteran laughs today when talking about his early days in the industry, as he grinded his teeth through so much uncertainty. He recalls looking forward to road trips because he could pocket a little extra per diem cash. One thing he never did was look too far ahead, and he believes that made all the difference in his career ascension.
"You can't be that guy always looking for the next job. You have to focus on being the best you can be wherever you are."
In his five years with the Nighthawks, Rusanowsky was responsible for promoting the club and selling season tickets – a side of the business that interested him greatly. For the first time in his life, Rusanowsky was learning about the business side of his craft. Understanding the intersection of art and commerce. It's that layered knowledge of the radio business that would serve him greatly in his next position.
By the late 1980s Dan was approaching 30. He knew in the next couple years, if he wanted a to buy a house or settle down with a family, he'd have to consider a career shift. He couldn't accomplish his personal goals on an AHL salary. Before he walked out of the booth entirely, he knew the NHL was expanding with a franchise in the Bay Area – a region of the world as foreign to the Connecticut kid as another country entirely. Always a realist, Rusanowsky understood his chances of becoming the radio voice of the San Jose Sharks was slim, but he submitted his tape to the powers that be regardless.
"I mailed in my tape and they asked for another one, that was a good sign. I sent another tape and they asked to fly me out for an in-person interview, that was a very good sign. I fly out to meet everyone and they tell me I'm one of a couple different people they're considering, that's a great sign."
Dan is not lost for words when you ask him about his uncle Solomon, Bob Vilas, and about a dozen other individuals who he credits with the rise of his career. However, when you ask him about the moment he was offered an NHL radio announcing job, he's efficient and humble.
"They offered me the job and I said yes almost before they could finish asking."
The San Jose Sharks played their first two seasons roughly an hour north of San Jose in the Cow Palace just south of San Francisco.  The venue was a bit of relic, even 30 years ago, but that certainly didn't bother their 30-year-old radio play by play man.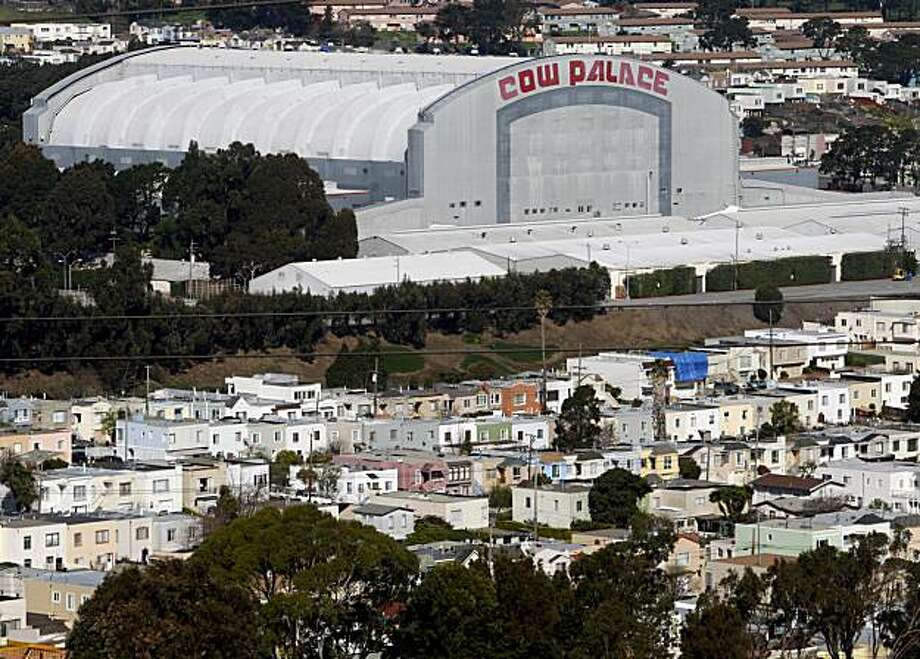 "I look back at the Cow Palace years and remember a lot of fun times," he offers with a grin, as if to say he can't begin to tell me half the stories he has locked away.
"We definitely did our fair share of losing though."
During their second season, the Sharks lost a staggering 17 consecutive games and earned just 24 points in the standings.  It was clear after two seasons, the shine of the new NHL franchise was wearing off in the Bay Area.
"A new team is like a new baby," Rusanowsky explains. "The first year, everyone wants to come and see the baby, then the 2nd year you get less visitors. Well, our circumstances were such that in year 3, despite losing so much in year 2, we had a renewed energy around the team when we finally moved to San Jose. San Jose is interesting in that it's bigger than San Francisco, but it's very much in the shadow of San Francisco. This was the first team of the major four leagues who said 'we want to be in San Jose, we want San Jose in our name,' and the community around here really embraced us for that."
In their first season in San Jose and third in existence, the Sharks made their first postseason appearance. Soon thereafter, the new franchise was much more than a novelty in the league – they were regularly playing meaningful hockey in late spring and the entire Bay Area was taking notice.
Personally, Dan couldn't have been happier. He had met his wife in his new adapted city and not only was he an NHL play by play man – he had called every game in franchise history. That streak, unfortunately, came to an unexpected end on November 25, 2000.
Like they so often are, Dan finds the details leading up to this particular bad memory very easy to recall.
"It was the Saturday after Thanksgiving. The New Jersey Devils were in town and I had just spent the morning at practice getting some interviews done for that night. My routine for home games was generally always mornings with the team, then I'd go home to work in my office before coming back for the game. That day, I was invited to a new restaurant my friends had just opened up, so I thought I'd stop by for a quick lunch, that's the only reason I was at that particular intersection on that particular day."
Rusanowsky pauses slightly, as if to apologize for the upcoming hole in his story.
"I don't remember the impact, of course, but a driver ran a red light – hit my driver's side door and I woke up in the hospital."
The then-39-year-old suffered a number of injuries, most notably a fractured femur and a ruptured diaphragm, the second of which would've been life threatening if not quickly identified by a specialist that day.  That night, the San Jose Sharks played their first game in franchise history without Dan Rusanowsky in attendance.  He would spend the next week in the hospital and would not return to the booth for 27 games.  It was a dark time for Silicon Valley's adopted son and his wife, but it's an experience in which he realized he belonged in San Jose.  
"The reception I got from the team, from the fans and from the community was overwhelming.  It truly was.  When I was healthy enough to return to work, I was presented with four long panels covered in get well messages from fans.  Those are still in my house, and they're not going anywhere."
Like his panels, Rusanowsky doesn't seem to be going anywhere either.  Last season he called his 2,000th regular season game for the Sharks.  He also has the incredibly rare distinction of calling every playoff game in franchise history – including the 2016 run to the Stanley Cup Finals.
Six years ago the East Coaster was immortalized in the Bay Area Radio Hall of Fame.  Ask him about it and he's quick to share the honor with his fellow inductees.  He points to his nearly 20 year working relationship with KFOX, the terrestrial station that has carried Rusanowsky's Shark network since 2000.  On paper, Dan has done just about all one can hope to do in the world of sports broadcasting, but he's still as enthusiastic as ever to go to work every day.
"It's a unique lifestyle, doing what I do.  It's also an honor and a privilege to be broadcasting in the National Hockey League.  Working in sports and sports broadcasting is as rewarding now as it's ever been I believe. 
"You look at a market like the Bay Area – there's people from all walks of life, from all different backgrounds.  There's different groups of people who may disagree on any number of topics – but the one thing we can all see eye to eye on is sports.  If our local teams win, we all win, and we can share that together.  If we can share that together, I think that opens up a lot of other things we can do together."

Jack Ferris writes feature stories for BSM and serves as an update anchor for iHeart Radio in San Francisco and as a freelance contributor for the PAC-12 Network. Previously he has worked as a sports anchor for KXLY-TV in Spokane and as the co-host of the Don West Show on KPQ in Central Washington. You can find him on Twitter @JFerris714 or reach him by email at FerrisJack54@gmail.com.
Disney Has One Logical Choice For The Future – Jimmy Pitaro
"If Bob Iger wants his next successor to come from the sports world, that is his guy. Hell, forget sports. Pitaro may be the best person available no matter how far and wide the search goes."
Bob Iger's latest tenure atop the Walt Disney Company fascinates me. The company begged him to come back to clean up the mess made by his handpicked successor, but it was made clear from the get-go that he has a very limited window to get this right and then go home. That is why, less than six months after Iger returned to Burbank, we are already hearing about who will be the next CEO of Disney.
There is reportedly a shortlist of candidates for the job and it is sports-heavy. Two of the four spots are occupied by NBA Commissioner Adam Silver and ESPN Chairman Jimmy Pitaro. I see the value both men could bring to the job, but I think there is a clear frontrunner and obvious choice.
Jimmy Pitaro is already inside the Disney walls. He has already learned to operate within the Disney hierarchy. He has had to answer investors' tough questions about budget and direction. If Bob Iger wants his next successor to come from the sports world, that is his guy. Hell, forget sports. Pitaro may be the best person available no matter how far and wide the search goes.
Adam Silver's tenure as NBA Commissioner is the target of all sorts of criticism, mostly from people that don't watch the NBA anyway. For all of the pissing and moaning about load management and player empowerment, people are still watching and the league is still as profitable as ever. By the metrics that matter to the people that matter (team owners), he is doing an excellent job.
On a recent episode of Meadowlark Media's Sports Business, John Skipper made it clear that he loves Silver and thinks he would make an excellent CEO for the Walt Disney Company, but that is a totally different world from the one Silver is currently thriving in.
"My advice would be to stay at the NBA," the Meadowlark Media boss said. "It's not a public company. You don't have to face shareholders. You do have to face 30 NBA owners, but you don't have activist shareholders. And I think Adam is a committed NBA commissioner. He's been for a long time."
The public posturing of Ron DeSantis will always get attention, but it doesn't always have to be taken seriously. The moment he threatened to dissolve the special district in Central Florida that Walt Disney World operates out of, legal scholars were quick to point out that the proposal would create a major burden on the state and its citizens that no politician wants to be responsible for.
DeSantis wanted his culture war. Disney wanted the problem to go away. The two sides quietly found a compromise that made it look like the governor didn't lose while Disney got to go on basically with business as usual. That is the kind of corporate policy war whoever takes over for Bob Iger will have to be ready to wage.
Disney needs a salvager in that chair, someone who knows how to diagnose the problems of business relationships and find fixes that hurt each side just enough that both can say the other really took it on the chin. Pitaro is that guy.
Look at ESPN's relationship with the NFL when he arrived versus where it is now. The company needs someone that makes stars and creators feel like this company is one that it can trust and one that they want to be in business with. Look at what Pitaro has done to bring the Manning Brothers, Pat McAfee, Joe Buck and Troy Aikman under the Disney umbrella while simultaneously finding ways to keep stars like Stephen A. Smith and Bomani Jones happy with non-exclusive deals that allow them to grow their profile with new opportunities outside of the company walls.
Most importantly, no segment of the Walt Disney Company and arguably, no network on basic cable, has had to answer as many questions about the future of distribution as often as ESPN. Jimmy Pitaro has been asked about a future where entertainment is driven solely by the needs of the audience so many times that he has undoubtedly thought about the ups and downs of the streaming landscape more than just about anyone else on Earth.
Bob Iger will be atop Disney through the end of the year and into 2024. This isn't a decision that is being made tomorrow. Even when it is made, Iger doesn't just get to write a name down on a piece of paper, slam down an "APPROVED" stamp and go home.
Everyone on that reported shortlist will be vetted by Iger, his confidants, members of the Disney board, and shareholders. Some may wince at the fact they have no idea how Jimmy Pitaro envisions running theme parks and a cruise line, but the reality is that no one checks all the boxes for any job as big as this one until they have been in it for a while.
When you know the perfect fit for a job doesn't exist, you go looking for the person that is the best fit. I think Bob Iger and Disney have already found him in Bristol, CT.
Demetri Ravanos is the Assistant Content Director for Barrett Sports Media. He hosts the Chewing Clock and Media Noise podcasts. He occasionally fills in on stations across the Carolinas. Previous stops include WAVH and WZEW in Mobile, AL, WBPT in Birmingham, AL and WBBB, WPTK and WDNC in Raleigh, NC. You can find him on Twitter @DemetriRavanos and reach him by email at DemetriTheGreek@gmail.com.
Michael Kay Couldn't Leave 98.7 ESPN New York Just Yet
"I wouldn't want to leave it the way it is right now."
When a New York Post report back in January suggested that Michael Kay was "seriously contemplating retiring from his 98.7 ESPN New York show", maybe he was in a dark room in his home thinking about his future.
In his mind, his days of hosting sports talk shows were pretty much over.
"When that story came out, I thought I was definitely not going to come back," said Kay during a phone interview with Barrett Sports Media. "I almost appreciated it a little bit when Aaron Rodgers said when he went on the dark retreat that he was 90% retired. Well, I'd say I was even more than that. I was probably 95% certain that I was going to walk away in September when my contract was up."
But between then and now, Kay had a chance of heart and he announced this past Thursday on his show that he had signed a new contract with 98.7 ESPN New York and that his show would continue for "a good long while".
The decision to stay was not an easy one and, as it turned out, it was his family that played a big role in staying at 98.7 ESPN New York.
"It was really difficult," said Kay who is also the television play-play-play voice of the New York Yankees on YES Network.
"The most difficult part of it is that my kids are 8 and 10 so you want to see important things in their life. Even during the winter when I'm off from the Yankees, I'm out of connection from 3:00 to 7:00, so I had to reconcile with that. I talked with my wife and I actually talked with my kids about it, too, and they like me doing it so I decided to keep doing it."
After initially feeling like it was time to step away after hosting The Michael Kay Show for 21 years, Kay began to reconsider but he also knew that he had to decide with his current contract expiring this September. The sales staff at the radio station needed to know because they had to inform potential advertisers who was going to host the show. Kay also owed it to his co-hosts Don La Greca and Peter Rosenberg to let them know what his plans were.
Everyone at 98.7 ESPN New York needed a decision.
"The radio station has to make contingency plans," said Kay. "What's going to happen if I, in fact, do leave? All of those people are impacted."
Speaking of La Greca and Rosenberg, Kay's sidekicks played a huge part in his decision to continue doing the show. There's a tremendous amount of chemistry on the program and Kay wasn't about to walk away from his radio family.
"Don and I have been together 21 years," said Kay. "That's a longer relationship than my wife and I have. We're really special friends. Peter is for about 8 years and I feel the same way about him."
Kay also acknowledged the people behind the scenes like Program Director Ryan Hurley, as well as executives from both ESPN and Good Karma Brands.
"They certainly tried to appeal to me to stay and after a while, it got to me," said Kay. "I said you know what I'm not done yet so I decided to re-up. The pull to stay was stronger than the pull to just kick back and relax."
These are certainly interesting times to talk about sports in New York.
Baseball season is about to get underway and both the Yankees and Mets are expected to be playoff contenders.
Future Hall of Fame quarterback Aaron Rodgers could be on his way to the Jets while the Giants are coming off of a trip to the playoffs last season.
The Knicks and Nets are heading toward the NBA Playoffs while the Rangers, Devils, and Islanders could all be going to the Stanley Cup Playoffs.
But all of the local teams' success wasn't a factor in Kay deciding to continue talking sports.
"To be honest, it didn't play any role because sometimes when teams are bad it makes for better talk radio," said Kay. "The fact that they're good and they could be playing in postseason, all of them, is intriguing but that didn't play a role."
And now that Kay has signed his new contract, he can continue his quest to regain the top spot in the afternoon drive war with WFAN. The show has been losing the ratings battle with Carton & Roberts and it would have been difficult to retire with his show in second place.
It's not the reason why Kay decided to sign a new deal, but he does now have some more time to become number one again.
"Obviously, I wouldn't want to leave it the way it is right now," said Kay. "We had beaten everybody that they put in front of us. We beat Mike (Francesa), and we beat Joe and Evan. People conveniently forget that we also beat Carton & Roberts. Carlin, Maggie, and Bart…we beat them all. Our ratings, for some reason, have not been comparable to what they were before the pandemic hit."
The ratings aside, Kay is happy with the content he, La Greca, and Rosenberg provide their listeners daily. While they have some catching up to do in the battle with WFAN, Kay is pleased with the product and that his show is good clean sports talk.
In Kay's mind, business is business but he has his way of doing a show.
"Ratings tell you one thing and that's how we keep score, but if you listen to what comes out of the speakers, in my opinion, our show is the best sports show in all the country. We not only talk about sports but we treat people with respect. We don't have to go low-brow. Ratings didn't have anything to do with (his decision) but it does give you a little more runway now to make up some ground. We have already proven that we can beat them."
Michael Kay has been a part of 98.7 ESPN New York going back to the launch of the radio station in September of 2001. Just like Aaron Rodgers, he was pretty close to calling it a career…but Kay didn't want his radio career to fade to black just yet.
Peter Schwartz has been involved in New York sports media for over three decades. Along the way he has worked for notable brands such as WFAN, CBS Sports Radio, WCBS 880, ESPN New York, and FOX News Radio. He has also worked as a play by play announcer for the New Yok Riptide, New York Dragons, New York Hitmen, Varsity Media and the Long Island Sports Network. You can find him on Twitter @SchwartzSports or email him at DragonsRadio@aol.com.
Xperi & Joe D'Angelo Are Ready For Radio's Future
"I want this audience to see how they can leverage the technology that is nine times out of ten already going to be at their radio station."
In October 2022, Xperi Senior Vice President of Global Radio and Digital Audio Joe D'Angelo hosted the single most impressive radio presentation I've ever seen at the NAB Show in New York.
I wrote about my takeaways from the presentation after returning from New York, which essentially boiled down to: Xperi is looking out for the future of radio like no one else is. I don't think that's hyperbole. The company is making sure FM radio is in the best place to succeed as the audio space continues to evolve and see more and more emphasis placed on on-demand digital offerings.
D'Angelo will continue the conversation in a panel at the 2023 BSM Summit titled "How Radio Can Compete and Win in the Connected Car" on Tuesday, which will focus on the company's DTS AutoStage platform. The offering from Xperi will revolutionize broadcast radio as automobiles become more and more technologically advanced.
"So many other platforms are much more crowded — mobile phones, smart TVs, smart speakers — there's very low barriers of entry to building a brand, and getting content on those platforms," D'Angelo said. "But broadcast radio has the unique advantage in the car and it's incumbent on the publishers — the producers of content — to look for every opportunity to sustain and exploit that branding and that relationship with the car driver.
"We also allow and deliver internet-only radio — so streaming services for broadcasters — as well as catch-up content. So if you wanna make yesterday's morning show available today, we create all the linkages there, as well as podcasts. If you're creating podcasts, we create those linkages that aid in the discovery of that content and serve it up on your behalf on the dash of the car."
DTS AutoStage will allow drivers to continue listening to radio stations even after leaving the broadcast range of a station, utilizing the station's stream to continue a seamless audio delivery. Additionally, it will provide real-time analytics weekly to stations about the time spent listening, and a "heat map" of where your listeners live, work, and travel.
D'Angelo noted that the sports radio space is ripe with opportunity to promote and utilize the technology Xperi has worked on, adding that music has been co-opted by brands like Apple and Amazon to sell you more products, while sports radio is simply looking to share opinions and content with passionate audiences.
"The real opportunities now are accruing to the talk formats and sports is such a ripe opportunity with a passionate audience, and I'll tell you from personal experience, finding sports programming on a platform like TuneIn is nearly impossible," D'Angelo continued. "If you've ever used it and tried to search for a live event, you're going to get a catalog of a hundred different things that might related to the team but have nothing to do with the live event.
"I'm coming here because we're at a unique opportunity where I want to explain to this audience how what they do can benefit from the technology we've deployed…clearly, sports programming — live sports, sports talk, sports betting, local sports — is a really unique category for local radio and I want this audience to see how they can leverage the technology that is nine times out of ten already going to be at their radio station."
At the BSM Summit, D'Angelo will showcase the real-time analytics available to stations who opt to share data with the platform, and will give attendees a look at a sample of what information is supplied to stations and companies by using data gathered by listeners of Washington D.C.'s 106.7 The Fan. BSM Summit attendees will get a first look at the information, before it's released worldwide at Radiodays Europe on March 28th.
Garrett Searight is the Editor of Barrett Sports Media and Barrett News Media. He previously was the Program Director and Afternoon Co-Host on 93.1 The Fan in Lima, OH. He is also a play-by-play announcer for TV and Radio broadcasts in Western Ohio. Reach him at garrettsearight@gmail.com.