Ric Bucher Is Just A Storyteller
"I've always been able to adapt in my career, to change" declares Bucher. "It's served me well."
Over the last decade or so – we've seen the rise of the "insider" in sports media.
The title adorns the names of respected reporters like a military rank.  It's a bit of a buzz word that demands the attention of the casual sports fan.  After all, insiders don't just grow on trees, theirs is a title that was earned – forged after years of conference calls and locker room interviews.  While he'd never describe himself as such – it can't be denied that Ric Bucher is one of the first journalists to earn an "NBA Insider" distinction.
"I don't even know what that means," shrugs Bucher. "I'm just a storyteller."
The truth is – labeling the media veteran as an NBA Insider is probably selling the first generation American short. While he's certainly earned all the stripes necessary to becoming an insider – the national columnist, radio host and sideline reporter would best be described as a renaissance man.
Born to German immigrants, Bucher started playing piano at the age of 6.
"By the time I was 12 I hated it," recalls the Cincinnati native. "At that point it just wasn't cool."
Fortunately for 12-year-old Bucher, his attitude toward the ivories changed thanks to one of his earliest role models.
"9 year old Joel – I'll never forget it!"
Though three years his younger – it was Bucher's fellow student Joel who opened his eyes to the world of jazz piano.
"I was so used to classical sheet music. Jazz you got a couple chords, maybe a key and you go from there. There's so much creativity involved, so much freedom – you can make anything your own. Kind of like writing a column – I loved that."
To this day, the former Baldwin Music Company student still plays.
Bucher's ability to make proverbial lemonade would become a bit of a theme in his life.  No matter the circumstances presented – he would always find a way to make things work for him.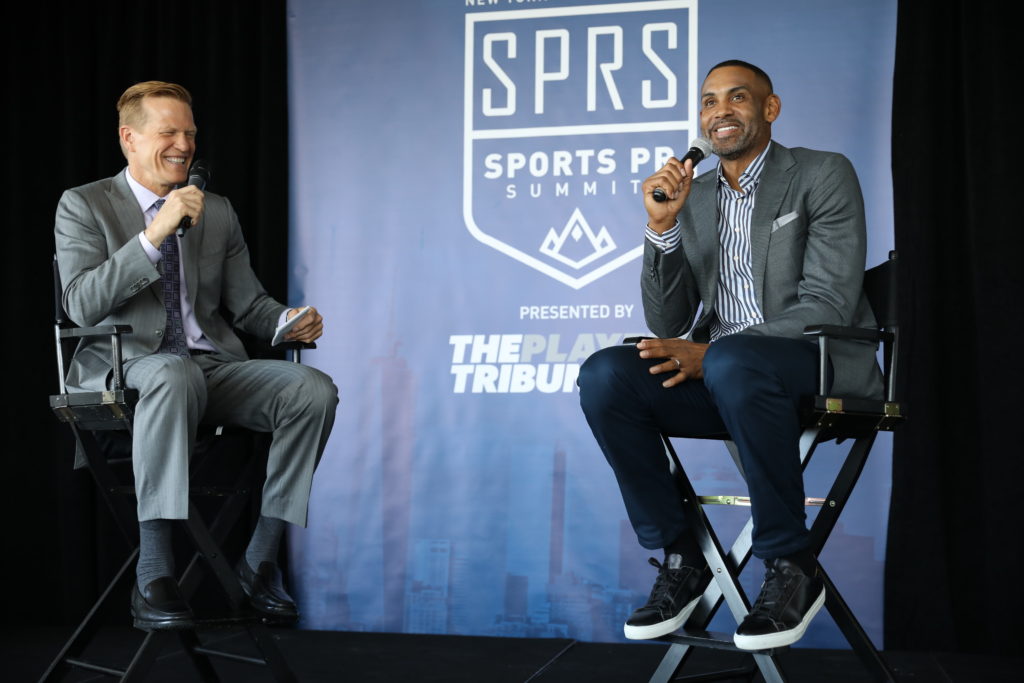 If you ask the 6'3″ athlete today, he'd say if he was born 15-20 years later he would've pursued a collegiate basketball career. As it was growing up the son of German immigrants in the 70s, soccer was just about all he knew. A lifelong player, he was always the goal scorer in high school – a mindset he was forced to shift when he began playing at Dartmouth.
"The Dartmouth coach was a former goalkeeper – so his philosophy was certainly defensive. In order to get on the field I had to change how I played, so I shifted to kind of a defensive midfielder."
Bucher's compromise earned him a spot on the varsity soccer side as a freshman, a roster position he held for four years.
After college, it was an internship with Sports Illustrated that allowed the English major to realize what he wanted to do with the rest of his life.
"I was surrounded by all these writers who would just parachute into these huge events and write great pieces. I couldn't wait to get started on my own somewhere."
Up until that point, Bucher thought he would put his communication skills to work as a lawyer or an advertising executive. Whatever it was – he wanted to be sure his working class parents were proud given their tremendous sacrifice putting him through college.
"There weren't scholarships for soccer players, I was able to earn a bit of an academic scholarship but my annual tuition was half of what my dad's annual salary was. I don't know how they did it."
His first position landed him at the San Diego Tribune, a job he was happy to have, but he couldn't help but compare his choices to that of his friends.
"That was a bit of a tough time for me," admits Bucher. "I was looking around at all my Dartmouth classmates who were working for Lehman Brothers or Leo Burnett, and I was at high school football games. It was hard, but it was probably the best thing that could've happened to me."
Bucher's early days in Southern California turned the eager young professional into a journalist. He began sniffing out stories himself, developing resources and making the calls. He learned how to find the story and, more importantly, how to tell the story.
"After San Diego, I knew I could work for just about anyone."
The resilience of the writer was eventually rewarded with a position on the San Jose Mercury News staff covering the San Francisco 49ers. Bucher liked football – but not like he loved his basketball. Undeterred, he made the most of his position. He continued to plug away until he found himself as the paper's Warriors writer four years after his initial hiring.
10 years removed from graduating Dartmouth – Bucher had his dream job. Most stories would wrap up there – the son of immigrants who defied the odds to earn himself a place in the NBA media landscape. However, as Bucher remembers it, this is where the road got even tougher.
As a minority owner, team Vice President and Head Coach – Don Nelson was the Warriors in 1993, and he wasn't trying to make any new friends in the media.
"I arrive on the scene and I was already way behind all my competitors. Every other writer had been covering the team for years and had a relationship with Nelly. I had no shot at getting any kind of exclusive information."
Rather than raise his arms in defeat and blame his "unfair" circumstances, Bucher went to work. He knew if he couldn't develop Nelson, he'd try to strike up a relationship with their new draft pick out of Michigan – Chris Webber.
"When Chris landed in Oakland for the first time there were two people there to greet him – myself and a real estate agent."
In no time, Webber and Bucher had a bond. Both were new on the job and trying to make a name for themselves. At the time, Bucher was just developing a source he thought would help him through his first year. He had no idea this source would produce the biggest story of his young career.
On the court, the Warriors were having a great season. Webber was working on a Rookie of the Year campaign and Nelson was guiding the team back to the postseason. From an outsider's perspective, all seemed well in Oakland – but that was far from the case.
"Chris and Nelly weren't getting along, and Chris used to tell me all about it. How he wasn't sure if he could keep playing for him," remembers Bucher in such clarity it feels as if the conversations happened last season.
"I told him I would keep everything under wraps, but as soon as it became apparent during games that there's a problem I would have to write it. That's the understanding we had."
By February, it had become evident there was absolutely an issue between the Warriors head coach and their star player, and Bucher wrote the piece. Before publishing, he offered Nelson a chance to comment, a chance Nelson dismissed.
Writing a story that sheds negative light on a subject you cover every day is never easy for a journalist – especially when that subject is an NBA legend and you're a first year beat reporter. Unfortunately for Bucher, mother nature and the scheduling gods stepped in to make matters even worse.
"We were on the road in Chicago when I was putting together the story. We had an off day before our next game in Cleveland so a lot of the older beat writers travelling decided to spend an extra day in Chicago. Being the new guy, I caught the first plane I could to Cleveland – and that's when the story was published," he pauses, the trauma of the moment still audible in his tone.
"That day, there was a huge storm in Chicago and all the other writers were snowed in, which meant they would miss Nelly's next media availability and I would be there to face him all by myself!"
With almost 30 years covering the NBA, Bucher doesn't seem to take much personally. Emotions are all part of the business. That's why when he describes the colorful insults the Hall of Famer hurled at him that day he does so with an admirable sense of humor.
"It was tough for a while, I was under some scrutiny and it felt like I was on an island by myself but eventually everything turned out to be true."
Unknown to him at the time, Bucher's courage to pen the piece earned him a favorable reputation around the league. Not only did he write the tough story, he faced the music and refused to backpedal.
The budding insider's next gig sent him to the Washington Post in 1997. It was here he had a preview of what would become iconic sports programming just a few years later.
"I used to walk into Kornheiser's office and pose a question on whatever happened the night before, then pass the word onto Wilbon and just sit back and watch them go at it."
After just a year in Washington, Bucher was approached about a position with ESPN the Magazine as it launched in 1998.
When asked about his transition from a daily paper to a national magazine – Bucher's almost lost for words.
"It was awesome!"
In 1998, Sports Illustrated was still king, but ESPN the Magazine was the cooler, younger and edgier competitor.
Not only was he able to build his brand and readership on a national stage, but for the first time he had the opportunity to be on television. It wasn't the medium he set out to conquer, but the piano playing soccer star was never one to back down from a new challenge. In time he was able to hone his on air skills as he became a regular contributor to studio shows. He didn't realize it at the time, but by branching out as a multimedia personality, Bucher was preparing himself for the seismic shifts that would slowly upend the industry.
"If you look at my career, I saw the end of newspapers. I saw it a little bit at a time, decision makers not seeing that everything was moving toward digital."
In 2012, Bucher thought it was time to cut down on the travelling and focus on being around his kids in the Bay Area. With years of television experience now on the resume, he took a job with CSN Bay Area and the Warriors as a sideline reporter. He also joined the Bay Area's new sports station 95.7 the Game as a morning show host. However, the move that raised the most eyebrows was his eventual agreement to work for Bleacher Report.
"I'll admit – that was kind of dumb luck," reflects Bucher today.
It's hard to imagine, but just five years ago the idea of a national writer as well-known as Bucher working for a website was relatively unheard of. 
"I wasn't so sure at the time when they approached me, I actually told them they didn't have the best reputation – but I liked the plan they had for themselves and I agreed to give it a shot. My role with them was changing all the time at the beginning, but I stuck with it and they remained true to their word."
Five years later Bleacher Report's platform is undeniable, and digital outlets the likes of The Athletic and The Ringer have become sought after destinations for national writers and media personalities alike.
"I've always been able to adapt in my career, to change" declares Bucher.  "It's served me well."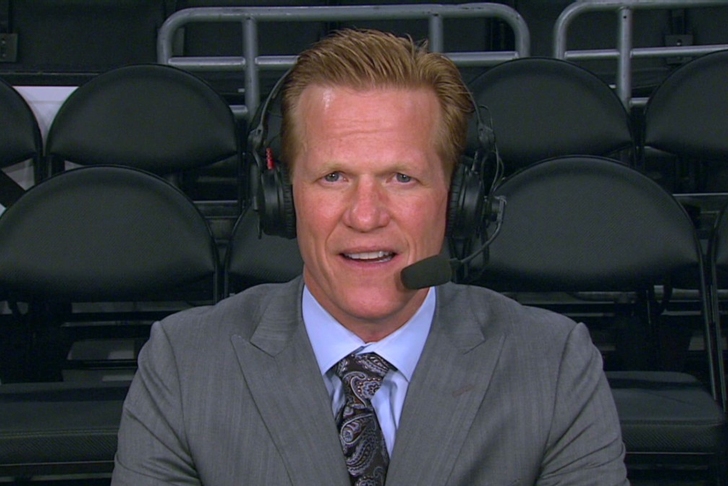 Ric Bucher has seen his career evolve from a high school sports writer in San Diego to the lofty position of NBA Insider for both ESPN and now Fox Sports.  He doesn't claim to have predicted the evolution of the sports media landscape, but he always seems to be slightly ahead of the curve.  
Like turning classic piano chords into jazz – Bucher's never been afraid to improvise.

Jack Ferris writes feature stories for BSM and serves as an update anchor for iHeart Radio in San Francisco and as a freelance contributor for the PAC-12 Network. Previously he has worked as a sports anchor for KXLY-TV in Spokane and as the co-host of the Don West Show on KPQ in Central Washington. You can find him on Twitter @JFerris714 or reach him by email at FerrisJack54@gmail.com.
Twitter Blue Debacle Showcases Company's Ongoing Concerns
"If you start giving away blue badges to everyone, then it has no value. It's the equivalent of a currency. if you start printing more, it gets devalued. Same for verified badges."
For years, a blue "verified" check mark on Twitter has long been considered a symbol of status. Anyone — entrepreneurs, journalists, business executives — could potentially end up in the same exclusive space as celebrities like Taylor Swift and Tom Brady. 
Perhaps the one quality that the blue check mark represented that had been overlooked was its authenticity stamp. The badge has been used all across social media platforms to signal an account's authenticity — a verification that recently has proven to be of significant importance to not only people, but brands as well.
Shortly after Elon Musk's $44-billion takeover of Twitter, the billionaire swiftly made his mark which, among many things, included a democratization of the app's verification system. With a $7.99 monthly subscription to Twitter Blue, which launched last year as the company's first subscription service, users could now possess what had long evaded them: a blue check mark.
"Theoretically, this would have made it easier for some brands or influencers to get verified than it has been in the past," Galen Clavio, director of undergraduate studies for the Media School at Indiana University Bloomington, wrote in an email about the possible benefits of Twitter Blue's verification accessibility.
"From an algorithmic perspective, that would have made sense to pursue under the Twitter setup that everyone had come to know," he added.
While perhaps not a surprise to Musk or Twitter executives, everyday people were paying for the newly revamped Twitter Blue to boast their social media clout. Whether Twitter leadership knew it or not, though, those same subscribers took the opportunity to verify themselves using the alias of actual people.
Very quickly, Twitter Blue created an abundance of impersonators masquerading as verified celebrities and companies. Misinformation was hard to identify, making it tougher to find information in an era already plagued by discrepancies between fact and fiction.
"If you start giving away blue badges to everyone, then it has no value," Alessandro Bogliari, CEO of the Influencer Marketing Factory, an influencer marketing agency, wrote in an email. "It's the equivalent of a currency. if you start printing more, it gets devalued. Same for verified badges."
Shortly after the Twitter Blue re-launch, a tweet was sent from an account using the same logo and name of Eli Lilly, a pharmaceutical company. It read, "We are excited to announce insulin is free now." The tweet seemed legit — the branding seemed real, as did the company name. It also boasted a blue-check mark, so it had to be true.
As just one of many misrepresentations that succeeded it, the Eli Lilly tweet was a fake. Even when Twitter finally removed the tweet, more than six hours later, the fraudulent account had more than 1,500 retweets and 10,000 likes. The pharma company's stock also plummeted $368 a share to $346 a share, reportedly erasing billions in market cap, according to several economic reports. Eli Lilly's stock price currently sits at roughly $352 as of Nov. 16th.
"I can only imagine the damage a tweet like that made for the company, its employees, stakeholders, shareholders and anyone really related to their offering," Bogliari said. "Some were able to tweet from their official accounts and restore it a bit. Others, I imagine, used PR and reputation firms to get to a solution fast. But it's not that easy for all of them… for others it could be potentially a damage so big they won't be able to survive, not just in terms of market cap/stock value, but also in terms of reputation and customers love."
The verification mishap affected not only Eli Lilly's reputability and profitability, but could also spell trouble for Twitter's revenue stream.
"It's making it really easy for advertisers to say: 'You know what, I don't need to be here anymore,' and walk away," Jenna Golden, who previously ran Twitter's political and advocacy ad sales team, said in an interview with The Washington Post. "People are not just providing inaccurate information but damaging information, with the ability to look legitimate. That is just not a stable place for a brand to invest."
Sports personalities were also hurt by the preponderance of fake users across Twitter. Basketball star LeBron James trended on the platform after a tweet from someone with the user handle, @KINGJamez, claimed that the 37-year-old was leaving the Los Angeles Lakers to join his former club, the Cleveland Cavaliers.
Adam Schefter, a notable football analyst at ESPN, also trended after someone with the user handle, @AdamSchefterNOT, revealed that Las Vegas Raiders head coach Josh McDaniels lost his job. While the user handle clearly indicates that it didn't come from the actual Adam Schefter, the fact that it was quote tweeted could have led many people to assume it was really Schefter, since many were unlikely to take the time to click and confirm the tweet — and tweeter's — validity.
These are just a few specific instances where, while a more open verification system could have helped Twitter users, the idea did not lead to a successful implementation.
"Being verified would have given those brands more credibility and be marked as the official brand — impersonation happens also for smaller brands and not just for Fortune 100 companies," Bogliari said. "So the idea was theoretically good — I would say only for brands and certain individuals and not just for everyone… documents and proof (are still) required but the execution showed us all the flaws."
Verification issues aside, Twitter faces an uncertain future under Musk's leadership. As much as 50% of the company's 7,500 employees predating Musk's ownership have been laid off under his tenure. The billionaire also revealed that Twitter's cost-cutting methods are a result of the company losing upwards of $4 million daily. He's even announced potential bankruptcy if Twitter doesn't correct its financial woes.
"I see the Twitter Blue controversy as one of several items that are likely to just make brands and creators look elsewhere in the social media landscape," Clavio said. "Twitter offers minimal exposure for creators and brands to the public when compared to other networks, and a much higher risk of doing or saying something that can cause a crisis."
As more people grow skeptical about Twitter, alternatives have started to emerge. More people are visiting platforms like Discord, Reddit, even Tumblr. Others are joining Mastodon, a free and open-source microblogging site that has drawn comparisons to Twitter for its timeline of short updates arranged chronologically rather than algorithmically.
As recently as Nov. 12th, Mastodon boasted approximately 6.63 million accounts, a 17% increase from the 5.65 million users it had on October 28th.
From internal struggles to increased competition, Musk inherited a Twitter that, for better or worse, might be on a continual spiral to irrelevancy.
"It's clear that the Twitter platform is pretty fractured right now," Clavio said. "At the end of it all, I think a lot of brands will just opt out of having a presence on Twitter, paid or otherwise. It's just not big enough of a platform to justify the potential negative exposure."
Eddie Moran is a sports media reporter for Barrett Sports Media. He  is a graduate of Boston University's College of Communication, and has previously written for Front Office Sports, The Basketball Tournament, the USGA, and BU's independent student newspaper, The Daily Free Press. He can be reached on Twitter @EddieMorannn.
Christian Arcand Returns To Where It All Started At WEEI
"Going to WEEI was a no-brainer for me. I started there. That's my radio home."
Since the turn of the century alone, Boston has hosted 12 ticker tape parades to celebrate championships. Christian Arcand has had the opportunity to experience that success firsthand, initially as a diehard Boston sports fan and then as a voice of the fan. Now as he begins his second stint at the WEEI — this time as a producer and weekend host — he aims to ensure a seamless transition for both the Merloni, Fauria, & Mego afternoon drive show and his career in sports media.
Returning to a station where his Boston radio career began, Arcand enters the same building where he started his last sports media job with 98.5 The Sports Hub. Once the station moved to Dorchester, Massachusetts, WEEI moved its studios to the location – and it is where its shows are broadcast from today. Arcand's time at 98.5 The Sports Hub ended in being laid off last month; despite that though, going to work evokes feelings of nostalgia and déjà vu.
"Walking back in there for the first time was pretty wild," Arcand said, who returned to WEEI earlier this week. "I was laid off from The Sports Hub and it was a big surprise to me and to, I think, everybody that [it] happened."
After graduating from the University of Colorado, Arcand moved back east to work for WDIS AM 1170 in Norfolk, Massachusetts, which he says isn't really an option for those entering the business today.
"These little stations are all gone," Arcand expressed. "Those were pipelines to places like WEEI and WFAN and other places in the area. You'd work in Connecticut or you'd work in Rhode Island or whatever and these places all just disappeared."
Just over a year later, Arcand made the move to ESPN New Hampshire, initially co-hosting Christian and King with Tom King, a sportswriter for the Nashua Telegraph covering the New England Patriots, Boston Bruins and other college and high school sports. The show was broadcast during the midday time slot from noon to 3 p.m. and sought to entertain the audience while informing them about the day's action.
After nearly four years on the air, Arcand transitioned to work with Pete Sheppard, a former member of the heralded WEEI program The Big Show hosted by Glenn Ordway, on Arcand and Sheppard. Additionally, Arcand was named as the show's executive producer, meaning that while the show was going on, he was often focused on many different tasks. Once Christian and King was brought back, he continued working in this dual role before the show ended in January 2017, six months before the format flipped from ESPN-branded sports to oldies.
"It was a lot – cutting up all the audio you want to play, then playing it during the show, then cutting the commercial [and] trying to answer the phone," Arcand said. "It was this whole thing, but I really loved it; we had a lot of fun up there."
While Arcand currently works at WEEI, it is his second stint with the station – and this time, he is working in a brand new role. He initially joined the station in 2013 as a sports anchor and co-host of the evening program Planet Mikey featuring Mike Adams. Shortly thereafter, he helped launch WEEI Late Night, airing from 10 p.m. to 2 a.m. where he became known in the Boston marketplace going on the air after the conclusion of Boston Red Sox live game broadcasts.
Unlike his time in New Hampshire though, he was solely hosting and not producing – requiring him to adjust to not having as much oversight regarding the inner workings of each program.
"I'm not a control freak, but I remember [thinking], 'Wow, this is different. I'm not running the board anymore. I'm not playing my own stuff,'" Arcand said. "….That was kind of jarring at first [but] I ended up working with a lot of great producers and I still am today."
Mike Thomas, who currently serves as the senior vice president and market manager for Audacy Boston, was integral in building 98.5 The Sports Hub from its launch in August 2009. He was responsible for signing Arcand away from WEEI to join the brand as co-host of The Adam Jones Show airing weeknights.
Working alongside show producer Jeremy Conley, he gained an in-depth understanding of what it entails to produce a sports talk radio show in a major market, helping broaden his knowledge of the craft and position him for his current job with WEEI.
"I really had a good opportunity to learn from some of, I think, the best [producers] in the business," Arcand said. "….It's cool being a fan of these guys and then getting to work with them and learn from them and all that other stuff…. It's really a job that requires a lot, and the guys who are really good at it, I think, are just top-notch."
Over the last several years, 98.5 The Sports Hub has earned massive wins across the Nielsen ratings, recently finishing number one in the summer book across all dayparts in the men 25-54 demographic. Days later though, the station's parent company Beasley Media Group made budget cuts, resulting in Arcand and Toucher and Rich producer Mike Lockhart's employment being terminated.
While Lockhart has since been re-hired after Fred Toucher and Rich Shertenlieb lobbied for the decision to be reversed, Arcand was in the job market quickly mulling over his future in the industry. In fact, it was reported that Arcand was on the verge of signing a three-year contract that would have kept him at the station before the termination of his employment.
"I was so shocked that it had happened and it was sort of hard to deal with it," Arcand expressed. "Then I was angry about it and then I sort of channeled that into, 'Okay, what am I going to do next here?' You start thinking, 'Is this it? Is this the end of the career? Are you going to even continue doing this?,' and that was a thought I had a couple of times."
Arcand's abrupt departure from 98.5 The Sports Hub and Boston sports radio was short-lived though, as there was a substantial market for his services. In the end, he communicated with Thomas and WEEI operations manager Ken Laird, utilizing industry connections and his own versatility to return to the place where he began working professionally in Boston.
"Seeing that WEEI was in the market for someone on-air and to produce [the afternoon] show, I was right there and willing to try out something I hadn't done in a while," Arcand said. "It was a no-brainer, really. Going to WEEI was a no-brainer for me. I started there. That's my radio home."
As someone once again "new" to the station, Arcand is looking to foster a working chemistry with afternoon hosts Lou Merloni, Christian Fauria and Meghan Ottolini, along with radio producer Ryan Garvin. Arcand enters the role replacing show executive producer Tyler Devitte who left the station to pursue other opportunities and feels that the composition of the show is unique in the sports radio landscape. In short, it gives them an opportunity to further differentiate themselves from other afternoon programs across multiple platforms of dissemination.
"It's an interesting show because Lou and Christian are both ex-jocks," Arcand explained. "It's rare that you sort of see shows where it's just two guys like that and it was just them for a while but then with [Glenn] Ordway and then they brought in Meghan [Ottolini]."
Arcand had been listening to the afternoon drive program long before the offer to return to WEEI was made to him and now looks to offer his insight and expertise when necessary. He does not want to enter his new role with insolence or by coming off as dogmatic when expressing his opinions about the show.
"I'm sort of taking the approach of observing more than maybe I would in a couple of weeks from now or something," he said. "I want to sort of make sure I get the rhythm of the show and the clock and everything like that. Those are all things that you have to be more aware of when you're behind the glass as opposed to on the air."
Arcand will be hosting a solo radio program on WEEI every Saturday afternoon, reminiscent of Sunday Service, a weekend show he used to host on 98.5 The Sports Hub. He is excited to be able to return to the Boston airwaves and connect with his audience once a week to bring them the latest sports news and entertaining talk – all while bringing his trademarks of sarcasm and congeniality.
"I'm really comfortable just sitting in the room, cracking the mic and talking with the callers or putting out my points and getting to certain things that I want to touch on," Arcand said. "….I think my style is one that you just sort of tune in and you're hanging out with me for a couple of hours."
Ultimately, Christian Arcand has made the move back to what he refers to as his radio home. As he concludes his first week back at WEEI, he is focused on producing the afternoon drive program and complimenting that with his solo show on Saturdays, the first of which will take place tomorrow from noon to 2 p.m. Through all of his endeavors, he will talk about Boston sports with his listeners no matter the season, giving them a platform to engage with the hyperlocal coverage.
"Being back at WEEI is something that I'm really happy about," Arcand expressed. "I was excited to get started, [and] now that I'm there, I'm excited to see where we can take this show."
Derek Futterman is a features reporter for Barrett Sports Media. In addition, he serves as the production manager for the New York Islanders Radio Network and lead sports producer at NY2C. He has also worked on live game broadcasts for the Long Island Nets and New York Riptide. He previously interned for Paramount within Showtime Networks and wrote for The Long Island Herald. To get in touch, find him on Twitter @derekfutterman.
What Twitter Alternatives Exist For Sports Media?
Sports Twitter is a major vehicle that has helped establish the platform's reputation for accurate and authentic up to the minute information.
The reality of Twitter dying as a platform was looked at as a bit hyperbolic when Elon Musk first took over the social media network. Now though, it is slowly coming closer and closer to potential reality.
Musk has been on a quest to salvage Twitter's economic stability but has done so in an irrational and unplanned fashion. The actions he has taken include publicly criticizing his employees and firing them after pushback and firing essential engineers who literally keep the platform from crashing. Developers have even warned Twitter users with two factor authentication to either remove the feature or to remain logged in because the function that handles that process no longer works.
Sports Twitter is a major vehicle that has helped establish the platform's reputation for accurate and authentic up to the minute information. It has helped establish the careers of insiders such as Adrian Wojnarowski, Shams Charania and Adam Schefter. In case Twitter does actually come to an end, what should reporters who rely so much on the platform do?
Establish an email list through Substack
With permission from their employers, I would suggest starting a newsletter list that they would be able to carry with them in case they decided to leave their employer at some point (all three of the mentioned journos recently signed extensions). Posting on Substack through a mobile device is just as easy as posting on Twitter and it gives users an almost similar experience to what they had with using Twitter in the sense that they could have their email notifications turned on and they could interact with other basketball lovers through Substack's comments section.
Create a live blog that always exists on your employer's page
A running page of information that was sponsored and existed on ESPN or Stadium's page would make digestible, quick hit commentary monetizable for the networks that employ Shams, Woj and Schefter. It brings people back to their employer's page and establishes even more of a bond between consumers and apps/websites – a connection that has been taken away from many due to the existence of social media.
Establish a Mastodon server
With over a million users, Mastodon has become the closest thing to a Twitter alternative that's available. Even though signing up for an account is a little confusing and the ability to search for unique users and takes isn't fully established in comparison to Twitter – Mastodon has a similar look and feel to Elon's platform and it gives employers more control over who is and isn't interacting with their employees and what they are able to see. It would make it easier on ESPN or Stadium's part to constantly promote links to their pages for viewers and readers to consume.
It's the closest thing that is available to establishing your own social media network without the startup costs, hiring of engineers and figuring out tech issues. An advertising mechanism hasn't been established yet but ESPN or Stadium could be in the forefront (because of the credibility they bring to the table) of establishing the revenue side of things alongside Mastodon.
Stick it out with Elon
NBC Universal's advertising head recently told AdAge that NBC is sticking it out with Twitter. Twitter's ad program has faced setback since Elon's takeover but it is still much more established and streamlined that anything else available out there that is similar to Twitter. She also said that Twitter is the biggest host of NBC content on the internet (besides NBC owned platforms of course).
If a major company like NBC is standing with Twitter and if most major advertisers haven't left yet, maybe sports reporters should also stay put for now. Twitter is not a startup. Despite the disarray we read about everyday, it's still an established company that is up and running. We are all using Twitter itself to talk smack about its mismanagement but the reality is we are all still using Twitter. Even those who have gone away from the platform still come back more often than not to check in on what is happening directly on Twitter.
Maybe the grass will eventually be greener on the other side and Elon will have Twitter on more established ground. Maybe Elon files for bankruptcy and sells it to bankers who create an environment of stability for the company.
The reality is there is no other platform as good at real time reaction than Twitter so maybe sticking it out and keeping status quo is the best thing for everyone to do. See you later on Twitter (follow me @JMKTVShow).
Jessie Karangu is a columnist for BSM and graduate of the University of Maryland with a bachelor's degree in journalism. He was born and raised in Baltimore, Maryland but comes from Kenyan roots. Jessie has had a passion for sports media and the world of television since he was a child. His career has included stints with USA Today, Tegna, Sinclair Broadcast Group and Sightline Media. He can be found on Twitter @JMKTVShow.