Marques Eversoll Can Talk Packers 24/7/365
"We get a ton from all over, we even get some from overseas. There's a guy in London that calls as well. There's some regulars like John in Atlanta, Derik in upstate New York, Big Al in New Jersey they are all over, just like Packers fans are."
You could make a pretty compelling argument Green Bay is the most unique professional sports market in the United States. For starters, with a population of just 105,000, it's the smallest city with a pro team in the country. But as small it may be, it's home to one of the biggest brands in all of the NFL.
There's a small town charm to Green Bay, but inside the city and the surrounding towns, there's a passion for football that's unmatched. When it comes to sports radio in the area, 107.5 The Fan has to fill that passion that exists with the Packers on a daily basis.
Marques Eversoll is one of the hosts that's tasked with this every day challenge. No matter what's going on in sports, every show must revolve around what's going on with the Packers. Year round, that's what the listeners are coming for. Obviously, Green Bay isn't New York, Chicago or Boston, but it has a football team that creates just as much content, if not more, than the football teams in those major markets. 
So how does such a small market revolve around a franchise that extends from coast to coast?
TYLER MCCOMAS: You're in the prime spot of the calendar. Are you even thinking about talking anything but the Packers during this time? 
MARQUES EVERSOLL: Well right now, it's pretty much Packers from start to finish. There's always exceptions, of course, like last year when the Milwaukee Bucks were in the Eastern Conference Finals. It was the first time they even won a playoff series since 2001. There was tension. Now, Bucks talk doesn't play up in Green Bay like it does Milwaukee, but it was still a big story. But normally it's Green Bay Packers 24-7/365.
It can be the middle of June and the NFL Draft is in the books and we're not even to training camp yet, and still every single day I have to come up with a Packers topic idea to start the show. There may be a wide receiver in some other city that said something and I'll try to figure out a way to work that back into the Packers. Nothing in Green Bay plays like the Packers, any time of the year.
TM: How much do things change, programming wise, when football season arrives? Do you change from a small market mentality to a large market mentality?
ME: I would say so. We'll start putting our heads together and planning out the year and the thing we keep coming back to, and you see it in the ratings, more people are listening during football season, because it's football and it's a unique market where it's all about the Packers.
With the promotions and everything, we'll do way more things during football season than we do during the off-season. We always try to get together and put together a road trip or airfare depending where it is. This year it's in San Francisco for the game on November 24, so basically the entire first part of the season, we'll be qualifying people to get invited to the giveaway party. At the giveaway party, someone wins that trip. We did a road trip to Chicago for the season opener, and it was the same type of thing.
We do a Super Bowl party every year, regardless of who's in it, and we're giving away a man cave makeover of some kind. But you can just tell interest in the Packers is unlike any interest in any other sport. It is so unique in a city of roughly of 100,000 people. You can basically fit all of Green Bay into Lambeau Field. As a result of that, everything we do really does center on football season.
TM: Seeing as the Packers fan base extends all over the country, are your online numbers higher than your terrestrial numbers?
ME: To be honest I don't know. During football season we will peak, as I understand it, the mid-morning on Monday after a game or the day before a game. At least in terms of streaming numbers, the day before and the day after a game are really big for us. 
TM: Not only are you covering one of the iconic teams in America, you're also covering one of the faces of the sport. Aaron Rodgers' personal life has been documented so much that everyone seems to know about it. How much is that a talking point for you guys?
ME: That's such a unique situation. We feel like we need to address it because you turn on the TV and every talking head is discussing it. There's rumors about his personal life or behind the scenes anonymous sources on his relationship with the head coach. Well, we're a sports radio station in Green Bay and as much as we might want to move on and talk about something else, we can't do that. Honestly, most times that's probably how we feel because anonymous sources only carry so much weight.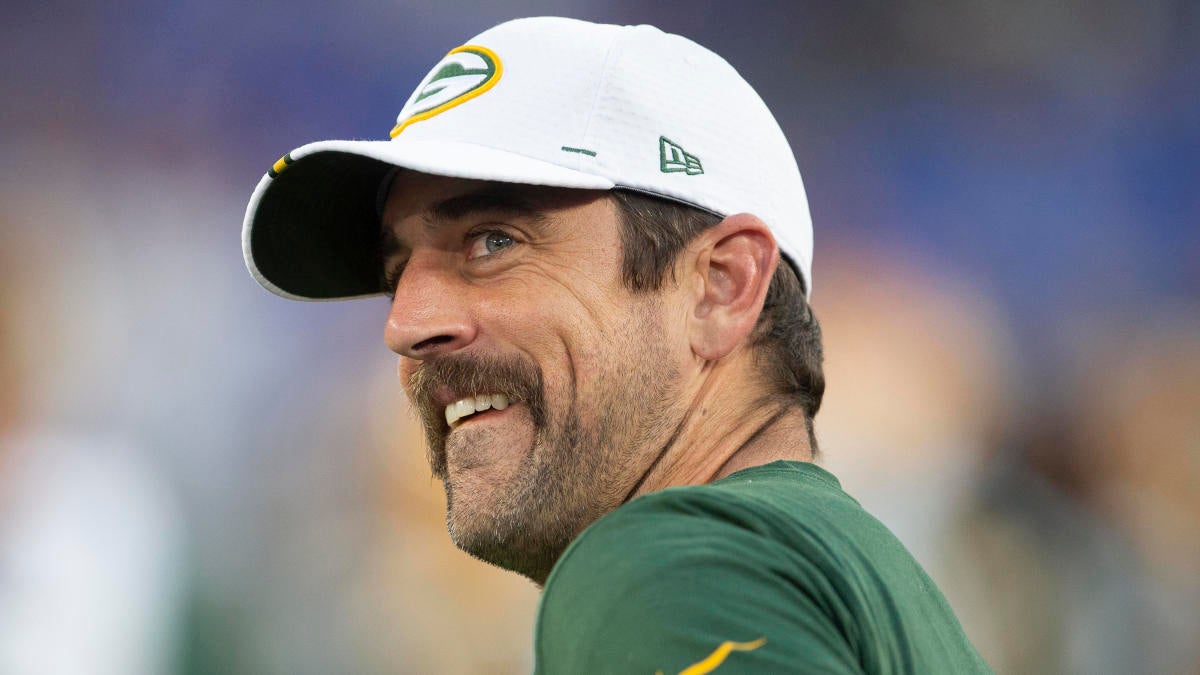 What plays nationally is always, "okay, he's a headstrong guy that's not going to get along with his head coach, because he couldn't even get along with Mike McCarthy." Well, he also worked with McCarthy for more than a decade so let's not act like it was all that bad. The proof was in the pudding, they won a Super Bowl together. Being together for a decade is an eternity in the NFL. It's something you need to address but it's been kind of funny to track the national narrative with Aaron Rodgers because it's the only coaching change of his career.
We just have to find that middle ground on the air. Sometimes he is so hard to work with because he's competitive but nationally is covered so much differently than locally. 
TM: Do you pay attention to the Wisconsin Badgers? They have a loyal and passionate fan base, so do you acknowledge them at all during football season?
ME: I actually grew up a big Badgers fan and lived 10 minutes away from Camp Randall Stadium. But I noticed in the eight years I've been in Green Bay that it depends where you're at in the state for how big the Badgers are. It's way bigger in Madison than it is in Green Bay and the same could be said in Milwaukee. It's more Badger-centric in Madison, whereas the Packers, I don't care if you're in Milwaukee, Madison, La Crosse or even Superior, the Packers are a big deal everywhere.
We are a Badgers affiliate and still pay attention to them. You have to. We do a weekly segment as well as the ins-and-outs of what's going on. You do have to devote some time to the Badgers, because there are people who care more about them than the Packers. They're few and far between, but they're out there. But if I had to gauge how many segments we spend on them, I would measure per week, rather than per day. You just have to spend the majority of your time on the Packers. 
TM: Are your phone callers more apt to be like: Mark in Chicago or Ron from Omaha who are big Packers fans, compared to Chris from Appleton who lives 10 minutes from the station, seeing as the Packers are so national?
ME: We get a ton from all over, we even get some from overseas. There's a guy in London that calls as well. There's some regulars like John in Atlanta, Derik in upstate New York, Big Al in New Jersey they are all over, just like Packers fans are.
We hear from these guys every day but I've never thought about what the breakdown would be as far as local callers versus people from around the country. But now that I think about it, it's more even than what I would have thought. We still get a lot of calls from the guys down the street in Appleton and Oshkosh, but the hard cores could be anywhere across the country. 
TM: How directly dependent is the station on what happens to the Packers? How much can one team influence sales, ratings and everything else?
ME: Really interesting question, because I'm sure there's something to that. Let me put it this way: Before I got into radio, I'm in high school and a big Packers fan, if they lost a tough game, I always tried to just tune it out. I didn't need to hear the talking heads ripping the Packers saying they're terrible and the season is over. I'm going to tune it out and by Tuesday I'll be over it. Then, maybe I'll turn into the sports programming and check back into it. I'm sure there's other people out there that feel that way, but when I got into the business that was a question of mine, like, ok, my first year was 2014 and the team was great. They went 12-4 and ended up in the NFC Championship Game. I just remember thinking, what are we going to do when they start to lose? What are we going to talk about?
Since I've been doing it it's been part of a daily routine and not a problem at all. The Packers have either been good or really disappointing, because the standards are so high. It's still content, whether you like it or not.
Everyone would love to go to the Super Bowl and radio row, but even if they're bad, sometimes that content is even better because you still have something to talk about. The worse thing would be an 8-8 team where we can't figure out if they're good or bad. 

Tyler McComas is a columnist for BSM and a sports radio talk show host in Norman, OK where he hosts afternoon drive for SportsTalk 1400. You can find him on Twitter @Tyler_McComas or you can email him at TylerMcComas08@yahoo.com.
Mike Tirico Has 'Never Pretended to Be Friends' With Athletes
"I like having a healthy relationship where if I need something, I can ask whether it's for on-air or for background and build trust."
Mike Tirico has been covering sports on network television for 32 years. Over those 3+ decades, he has made it a point to not be so close with the athletes he covers in whichever sport he is broadcasting.
Tirico was a guest on the most recent episode of the GOLF's Subpar podcast with Colt Knost and Drew Stoltz. While Tirico knows he is not doing extensive journalism work, he wants to make sure that he can be able to ask the hard questions if he has to any athlete.
"I never pretend to be friends with the athletes I cover. I like having a healthy relationship where if I need something, I can ask whether it's for on-air or for background and build trust. I'm not in a position where I'm working for Outside the Lines at my old place, ESPN. It's not a knock. It's just you're not in a position where you have to do these journalistic-type interviews all the time, but there are times you have to ask hard questions. I always try to keep a little bit of a buffer or a distance."
The context of that question came when Tirico was asked about how good of a relationship he has with Tiger Woods.
"It's good….If I reach out, he will usually get back to me. He's been really good and really nice along the way."
As for broadcasting sports in this day and age of social media, Tirico believes that it can make a broadcaster better whether or not the complaint from someone on Twitter is real or not.
"It makes us better because you know that people are going to catch you. If something is artificial or not, real or not, embraced or not, it forces you to be better at what you do."
For that same reason, Tirico thinks that LIV Golf is going to make the PGA Tour have to be better going forward because now they have another tour to go up against.
"I think LIV Golf, and we all have our own opinions on it, is going to force the PGA Tour to be better. Competition is good. Checks and balances are really good."
Even though Tirico doesn't feel nervous about many broadcasts anymore, there was one event in the last decade where the nerves kicked in when he was hosting his first Olympics at NBC.
"The only time in the last 10 years that I've been nervous was coming on for the first time hosting the Olympics because Bob Costas has done that since most of us have been alive and most people had never seen anyone but Bob Costas host the Olympics in primetime…2 minutes before, I'm like 'should I be this? Should I have fun?' and then the minute before, I cracked a joke in the studio."
Ricky Keeler is a reporter for BSM with a primary focus on sports media podcasts and national personalities. He is also an active podcaster with an interest in pursuing a career in sports media. You can find him on Twitter @Rickinator555 or reach him by email at RickJKeeler@gmail.com.
Kyle Brandt's Rant a Reminder to Consider the Messenger
This doesn't mean Brandt is wrong or even that he is being told to echo the NFL's position, it's to note that he took a very powerful stance on a very powerful platform and they both matter.
This week, a massive announcement was made in the National Football League regarding the immediate future of Deshaun Watson. Judge Sue L. Robinson recommended a six -game suspension with no additional monetary fine for the quarterback. While the NFL mulls what it will say further, most others didn't, including a really prominent personality: Kyle Brandt.
Brandt, a co-host on Good Morning Football, reacted like a lot of people did upon hearing the decision: forcefully. On Monday, Brandt denounced the decision to limit Watson's suspension to six games, saying in part, "…I look at six and I find it very light. I hope it doesn't stay that way personally. I think that Deshaun Watson leveraged his status as an NFL player against women. In my opinion. And I think it happened more than one time and I think it was was in closed doors in small rooms against women who were probably intimidated. And it pisses me off to even talk about it. And frankly it pisses me off to see the number six. And I don't think it's going to stay that way and I hope it doesn't."
Those words resonated. Once they were said, the clip was grabbed from the show and then distributed on Brandt's Twitter account which reaches 333,000+ followers and on his Instagram which speaks to 96,000+ followers. That video has been seen over two million times. Viral, they say. Here it is if you did happen to miss it. Passionate stuff from Brandt.
If you believe in the message, it's an easy to like, retweet or share idea. It's not a hot take, frankly, because there is a large section of those that have been following this story that agree. Deshaun Watson is settling cases because people believe he did something bad. Something bad enough that judge did seem fit to point it out and recommend what is generally speaking, a strong suspension. The only problem here is the platform hosting the message.
This is not a Kyle Brandt-bashing piece. He isn't the platform. If anything, he's the vessel of this message he wants out. He also, very likely, feels exactly the way he said he did in the above tweeted video. In fact, the next day, Tuesday, Brandt doubled down on his opinion. The newer video was viewed over 400,000 times. You can check it out right below these words.
The distinction needs to be noted that the message Brandt is delivering, is the NFL's message. It is what Roger Goodell wants to be the prevailing wisdom regarding how we feel about the current state of Watson's suspension. That message is being amplified by a very popular co-host, on a very popular morning television show that is seen by a lot of people and that is owned by the National Football League.
Again, I am here waving to you wildly to say that I have no reason to believe that Brandt is being told this particular messaging needs to be voiced. But, I do know that the NFL has until Thursday to appeal the decision. Three days is a lot of time to gather data on whether or not the public might support you appealing for more games, something that the league most certainly will look into judging by their statement released shortly after the ruling.
I also know that the NFL was seeking a much longer suspension as well as a hefty fine to be issued to Watson. The NFL has taken a lot of hits for how it has handled players violating league rules and the player conduct policy. No matter which case you look at, comparing it to the one previous or the one right after is an exercise is madness. The one common theme seems to be is that when the NFL feels like it is delving out punishment, it wants to be severe, no matter the consistency. Remember, Tom Brady was a short 'yes' answer away from appealing his case to the Supreme Court. The NFL isn't particularly interested in just letting things go.
It is well within the realm of possibility that the NFL is getting what it rarely gets: an overwhelming opinion that actually sides with it in terms of punishment. For the majority of the modern cases I can remember, more fans than not disagreed with the NFL's stance on a case. This time, they might have the court of public opinion on their side. I hear far more 'kick him outs' in reference to Watson than I do 'no suspensions'.
We might have the perfect storm for the NFL in terms of support and Kyle Brandt's message lines up exactly with the leagues desires, no matter how they may have gotten there. Both want more punishment for the Cleveland quarterback. Brandt can hope, the NFL can fight.
This doesn't mean Brandt is wrong or even that he is being told to echo the NFL's position, it's to note that he took a very powerful stance on a very powerful platform and they both matter.
Arky Shea serves as BSM's evening editor, a daily news writer, and a weekly media columnist. He has previously worked for Outkick, 97.7 The Zone, 740 Sports Radio, and 730 The Ump where he held roles as the station's program director, afternoon host, and producer. To connect, find Arky on Twitter @ArkyShea.
Producers Podcast Episode 6: Jackson Safon, The Volume
Brady Farkas is a sports radio professional with 5+ years of experience as a Program Director, On-Air Personality, Assistant Program Director and Producer in Burlington, VT and Albany, NY. He's well versed in content creation, developing ideas to generate ratings and revenue, working in a team environment, and improving and growing digital content thru the use of social media, audio/video, and station websites. His primary goal is to host a daily sports talk program for a company/station that is dedicated to serving sports fans. You can find him on Twitter @WDEVRadioBrady and reach him by email at bradyfarkas@gmail.com.