Tra Thomas Is Going 'In The Trenches' To Educate Football Fans
"This might not be for casual viewers. If you want to be somebody that just goes ahead and has a couple drinks and watches the game, then do that. But if you really want to learn the game, I can teach you something."
Two months after being let go by Beasley Media and Philadelphia's 97.5 The Fanatic due to COVID-19-caused cutbacks, former morning host Tra Thomas launched a YouTube channel and is back to creating content.
In the Trenches with Tra Thomas gives fans a chance to learn from a three-time pro bowl offensive tackle, who played the position at a high level for a decade. Fans are more intelligent now than ever thanks to the wealth of stats and information available at their fingertips. But offensive line play from inside the trenches is rarely detailed.
Most of his 11-year NFL career was spent protecting Donovan McNabb's blindside. For two seasons, Thomas was also an assistant coach with the Eagles under Andy Reid. Away from the field, his media credits feature TV and radio work including co-hosting Farzetta and Tra in the Morning on 97.5 The Fanatic up until March 31, 2020.
Thomas' knowledge of the game and his experiences as both an NFL coach and a broadcaster are on full display in the YouTube series. He's an entertaining personality with a great ability to explain the intricate details of football. If Thomas wants to get back into broadcasting, networks should be knocking on his door, if he'd rather return to coaching, teams should get on the phone.
Thomas spoke about his time with The Fanatic, his desire to coach, Drew Brees and much more in our conversation.
Brandon Contes: In the Trenches, was this a new idea you had, or something someone brought to you?
Tra Thomas: It's something I've been tossing around for a while, to teach people what really happens on the offensive line. When you watch a game, you see the jumble and then the running back gets through. You see a big pass and great catch, but you don't get a chance to see how the play develops. What happened once the center came up and made the right call, why did the hole open? I've always wanted to get into teaching and showing the game from an offensive lineman's perspective.
BC: Sometimes the game gets dumbed down to reach a larger audience and for offensive lineman, you pretty much only hear their name on a broadcast if they do something wrong. But sports fans have such a hunger for information, do you see a niche for this type of show?
TT: I think so. I don't want to just show a play and have you say, 'look at what he did, that's awesome!' I want to show you it was a slide protection, so he took this particular stance and shot his hands at this particular time. Like you said, for offensive linemen, if you don't hear their name, then they're doing a good job. Offensive lineman get pointed out for messing up.
This might not be for casual viewers. If you want to be somebody that just goes ahead and has a couple drinks and watches the game, then do that. But if you really want to learn the game, I can teach you something.
BC: Do you have a medium preference, radio or TV?
TT: I like radio because you can show more of your personality with less restrictions. But when it comes to football, I also like to show the visual part. For me to just talk about it, you don't really understand it. Being able to show the film is the aspect I prefer about TV and that's where In The Trenches aligns.
BC: Would you like to return to broadcasting full-time? Did you enjoy the daily grind of morning radio?
TT: Oh yeah, it was a lot of fun. Radio was cool because I could relax and really enjoy being around and listening to the fans.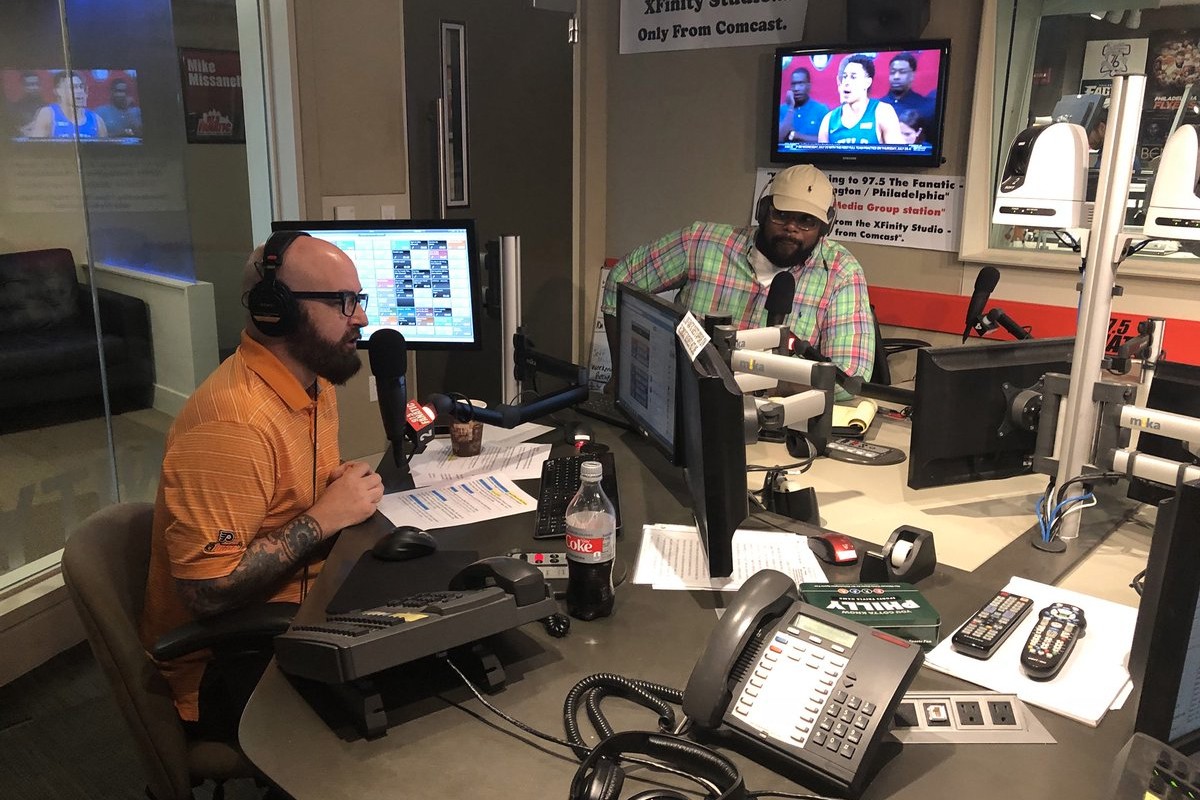 I enjoyed the daily process of it. Building the show, building the fan base, bringing energy and different stories. I could also branch out and experience other sports. Even though I don't know much about hockey, I was able to learn the game, and the fans helped me gain a better appreciation for it.
BC: And the bottom line is, you were a professional athlete, you can relate to other athletes and what they're thinking no matter what sport they're playing.
TT: That was always my angle because I can't sit up there and give you a bunch of stats. My memory is a little jacked up from football, so I won't know everybody's name and history. But I can give the perspective of athletes, their mindset and what they should be thinking at the time.
BC: Did you find that radio filled a competitive void as a retired pro athlete? Especially being an underdog in Philly, going up against Angelo Cataldi and WIP.
TT: Of course, you never want to get into something and suck at it. You want to build a show and do your part. I wanted to come in with energy, but I also wanted to get a lot of reps. Just like getting ready for a game, you need reps in radio to get better and I enjoyed getting better with each show and learning something new every day.
BC: Obviously a global pandemic is hard to predict or anticipate and the financial impacts were felt all over sports radio, but were you blindsided by being let go from The Fanatic?
TT: I was. I didn't expect it. I get it, I understand it, I don't hold any hurt feelings about it. But my name was on that morning show, so I was a little shocked. A lot of people lost their jobs, you just take it in stride and keep moving.
BC: I know you were in mornings and he's on afternoons, but did you have any interaction with Mike Missanelli? I don't know if you saw, but he just recently made a lot of headlines with his headphones.
TT: Any time I saw Mike in the studio he was always a cool cat, we never had any issues. At the station's anniversary I did a few segments with him and it was a great experience. I always enjoyed getting to sit down and talk to him every now and then because he's been in the game for so long.
BC: I saw your 'I just got fired painting' that you posted on Twitter, it was really impressive! How long have you been painting?
TT: [Laughs] I've been painting for about three years. I own a business called Pinot's Palette in Cherry Hill, and earlier this month was our three-year anniversary. But painting is something I like to do. It's relaxing and takes my mind off whatever is going on.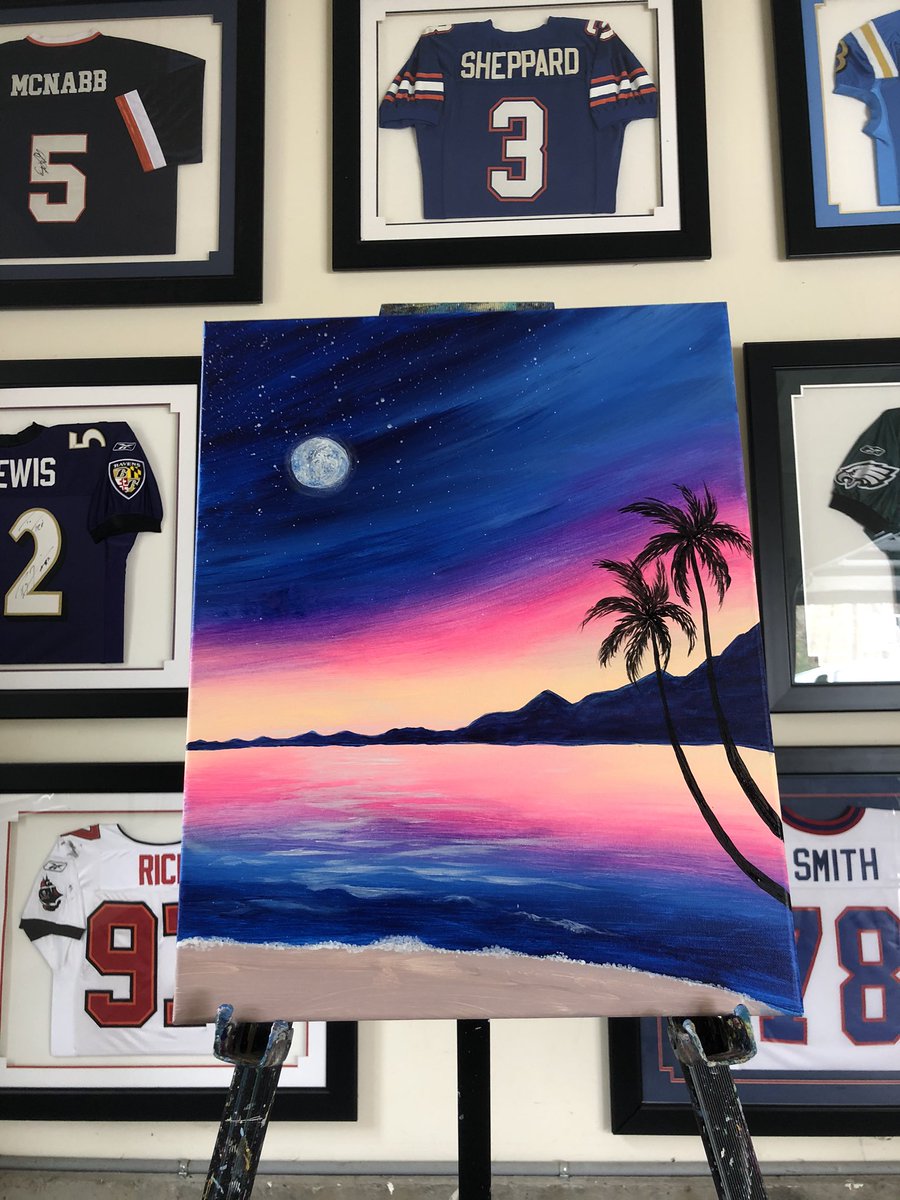 BC: How is that, being a small business owner right now with everything having been shut down for a few months?
TT: Yea it's like everything else. Everybody's feeling the crunch right now. This isn't 'woe is me' because a lot of people can't open their doors. One thing my wife's great at is coming up with different ways to bring in business. We do paint kits for people to do at home and we deliver them. We also did a virtual class with Zach Ertz and his wife for the Ertz Foundation. So we've been keeping busy, but like anything, if you can't get people in your door, you're going to feel it.
BC: Do you wish you still had that bigger radio platform right now with everything going on in the world and especially in our country. The pandemic, the president, the social unrest and social injustices, do you wish your voice was louder and still had a daily platform?
TT: [Deep Sigh] Right now – with the way things are for me – I think it's best that I'm not out there in front of a microphone. I know how I get about this stuff. There's a lot of pain, a lot of anger, a lot of frustration. And I'm not one that can voice it well without it being a problem. Everything happens for a reason. Right now, I'm good where I am and then we just take it from there.
BC: Years ago, when Chip Kelly was with the Eagles, you commented on some players feeling a hint of racism and the lack of Black coaches on his staff, which is really an inherent problem throughout the NFL. What did you think of the NFL's recent idea of incentivizing teams for hiring Black coaches?
TT: Should you have to do that? That's the sad part about it. You feel like that's what you have to do to get ownership or other coaches to go and hire Black coaches. I get why you would want to do it, it's just frustrating knowing that's what you have to do.
You have so many coaches out there who are extremely good at what they do, but it's hard to break in. I'm not that familiar with how the NBA does it, but to me, from the outside looking in, it looks like they're more accepting of giving their own players the opportunity to gain experience and get a job. I understand there's a process to it, but you see sometimes coaches are what they're perceived to be, and you wonder why you aren't getting that opportunity.
I think everything going on right now will open a lot of people's eyes and hopefully those opportunities will also open up. Personally, I love coaching. I would much rather get back into coaching before doing more broadcasting if presented both opportunities. My wife always said I'm a coach doing radio. I love being in the trenches, I love teaching people and one of the biggest things I really appreciated during my time coaching was watching what you teach actually work. There's no better feeling to be able to say, 'I helped mold this, helped create this and look at it work.' I love the process.
BC: How about similarly, the lack of minorities in broadcasting. It's a white male dominated industry.
TT: Yea, and it's important to have different people who can see things from different perspectives. And that goes for anybody in broadcasting, you need to be able to offer different perspectives and make it relatable. Especially as an athlete, you're going to see the game differently. To be able to explain it to people so fans can understand it, and they walk away from the game having learned, that's great, that's something you can carry with you.
BC: Did you experience racism at all as a player and in the locker room? As a 32-year old white fan, I've learned that I was naïve to a lot, but I've always been made to feel that sports is unifying.
TT: Once you get in the locker room and by the time I got to the professional level, I didn't really experience any of that. That's not to say we were all sitting around singing Kumbaya, going to each other's house for sleepovers. But you have a mutual respect for each other, especially everyone I played with. You might have someone who said something slick, but it never created a huge issue in the locker room. I was extremely fortunate as a player that I really didn't have to go through a situation where I felt like I was being mistreated because of my race.
BC: What does Drew Brees's comments do to the Saints' locker room? Will players accept his multiple apologies as genuine or will it have a lasting negative impact this season?
TT: I think they're going to accept his apology and move forward. Sometimes within a team, an incident like this can even make them a tighter group. You never know how it's going to be perceived.
Drew just said how he felt, he went out and apologized for it and I think the team will receive that. As time moves on and guys get to the locker room and around each other, it can start to heal a lot of things. Being around each other more and being able to voice whatever is going on, will help the locker room move forward.
BC: What about the league flipping on the anthem, Goodell admitting they were wrong for not encouraging peaceful protests and essentially saying it's OK to kneel during the anthem.
TT: It was much needed. Especially with everything going on, it's right there in your face. It was extremely needed, and he made the right call. So now, what's the next step? Yes, you apologized, you said 'hey man, I'm sorry we weren't looking at it that way. Now it's right here in our face and we see what it's really all about.' But what's the next step? Who's going to give Kaep an opportunity?
BC: Was Emmanuel Acho on the Eagles while you were coaching?
TT: Yes he was.
BC: Did you have interaction with him? Did he show the entertainment qualities and even the leadership qualities that we're seeing?
TT: That was my first year of coaching with the offensive line, so I didn't have that interaction with him to really get to know this side of him. But I could tell he was very well-spoken and it seemed like he was extremely aware of himself.
BC: Was there a player or coach during your career that you looked at as potentially being a good sportscaster?
TT: You know what? John Harbaugh. I would sit in his meetings and he would give the best pre-game speeches with a story or something to get you inspired and motivated. And he explains things well, I think he could get into broadcasting.
BC: Are you surprised the NFL hasn't been stunted much by the COVID-19 pandemic? Pretty much every other sport was hit hard, but the NFL moved right along with free agency, the draft, it looks like they'll do the same with training camp and the regular season.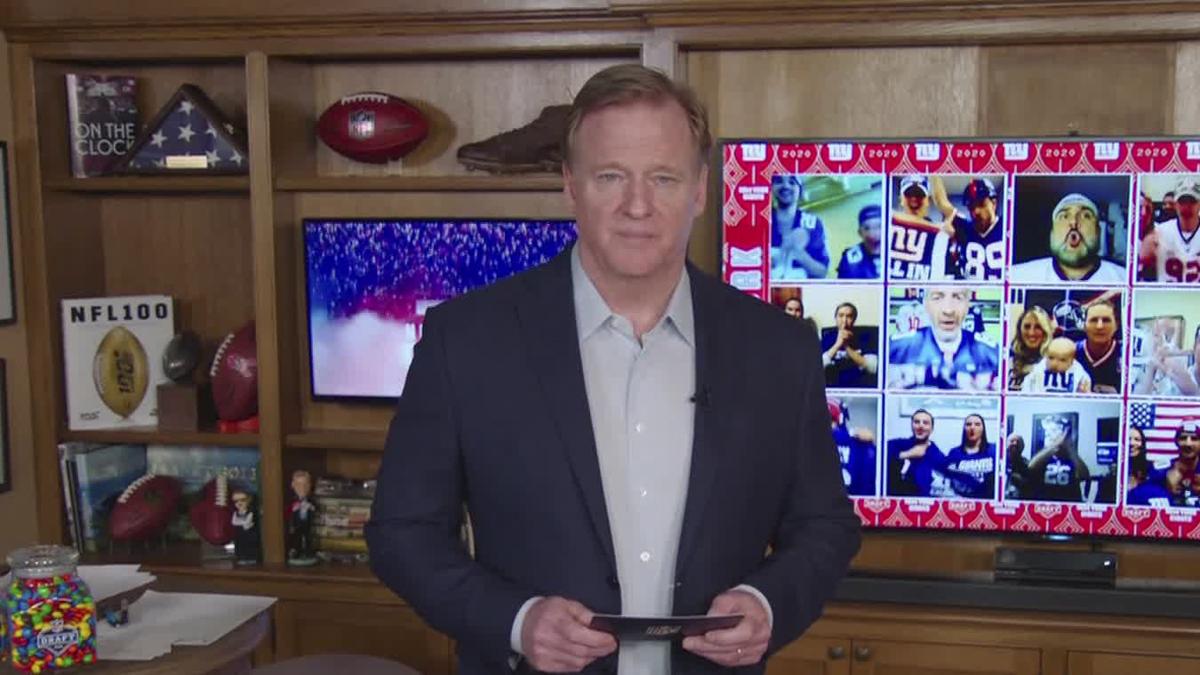 TT: Not at all. Let's just keep pushing, let's go. That's what football players are – you put your head down and go. We don't really think about it. A lot of people always ask, 'did you ever question what was going on with a play call?' And the answer is no.
Whatever play you call, my job is to go out there and try to execute it. If I don't agree with it, who cares, we don't have time for that. Call the play, let's go to work. In football you have guys that are programmed – these are our days to work? OK cool, let's go. I'm not surprised by that at all.
Brandon Contes is a former reporter for BSM, now working for Awful Announcing. You can find him on Twitter @BrandonContes or reach him by email at Brandon.Contes@gmail.com.
The Chiefs & Eagles Have Super Bowl Game Plans, How About You?
"The Super Bowl is the biggest event in sports, no team would go in without a solid plan, your show shouldn't either."
When it comes to preparation, I usually hold off. I'm a procrastinator's procrastinator. It sounds better if I say; "I'm driven by deadlines," but the truth is, I just generally put things off until they absolutely have to be checked off the list. If your goal as a producer is to have a great post-Super Bowl show, don't be me, you best start working now.
There are many things that complicate booking guests for a Super Bowl reaction show. The obvious is that you have no idea who is winning the game. But, beyond that, you have no way of predicting what will be the biggest story coming out of the game. It could be anything from overtime to a blowout, halftime show debacle, officiating blunder, or even a surprise retirement announcement.
With that in mind, there are some strategies for targeting guests. With these, though, working ahead is paramount. Most anyone that is going to have enough insight to improve your show will be slammed in the hours following the end of the game.
Strategy 1: The Game Participant
This is a big risk, big reward strategy. It is also one that is only available to a select group of shows. If your show is nationally syndicated, in a very large market, or home market for one of the teams, you have a shot here. If not, the odds are not in your favor. The team's media departments are as busy as anyone during a Super Bowl run. They aren't likely to help a show they've never dealt with during that whirlwind of action.
I am reminded of a friend of mine who worked as the media relations director for a mid-major basketball team that sprung a huge round two upset and advanced to the Sweet 16. Needless to say, he was swamped overnight with interview requests for his coach. He told me every station led with "ESPN Radio" then mumbled the part about being in Puyallup, Washington. It never hurts to ask, but understand it is a long shot.
Strategy Two: Local Player Not In The Game
This can be a really solid idea for both previewing the Super Bowl and the Monday after the game. If you are in a local NFL market, or if a local college or high school star is in the NFL, consider him as an analyst. Who better knows what happens in an NFL game than an NFL player? Bonus points if he has been a Super Bowl participant in the past.
Don't underestimate how many NFL players are thinking about life after football. One of the dozens of roles as NFL analyst at a major network is an excellent retirement plan. You don't have to have a Hall of Fame jacket for those gigs, but you do need to be good on air. You might be surprised by how many players will agree to an interview with that in mind.
Strategy Three: The Trusted Analyst
Every network has all their biggest voices either In Phoenix or in the studio for the game. These are people that know the interview game and have plenty of experience. This strategy comes with some obvious hurdles; it turns out the networks paying the analysts to be on site keep them rather busy. While they might have been happy to join your show the Monday after Week Three, this is a different animal.
One other factor you should consider in this strategy is the fact that Sky Harbor airport will be one of the busiest in the world Monday morning. Many of the analysts will be scrambling home to start their off season as well. If your analyst is on the move, travel delays can wreck your whole plan.
Strategy Four: The Pop Culture Angle
Oftentimes the biggest talking point coming out of the game is one of the things happening outside the actual play on the field. If you watch Super Bowl Twitter, the biggest traffic moments are people joking about a slow starting Star Spangled Banner "hitting the over" or how bad the halftime show is. Regardless of the act, it has become the default position that the halftime show is awful, even when we all think they are pretty good. 50 Cent hanging upside down will forever be a meme.
Commercials are going to be a massive talking point after a game, especially if the game doesn't quite deliver. Who is the voice that can talk to your audience about everything from Rihanna to a Taco Bell commercial? There is the inherent risk of alienating the "talk more sports" guy with this type of guest so, as you should with any guest, make certain they are entertaining.
The Super Bowl is the biggest event in sports, no team would go in without a solid plan, your show shouldn't either. Communication between hosts and producers is critical. Have a plan, work ahead and be on the same page.
Most of all, try to enjoy the game – and take the Chiefs and the points.
Ryan Brown is a columnist for Barrett Sports Media, and a co-host of the popular sports audio/video show 'The Next Round' formerly known as JOX Roundtable, which previously aired on WJOX in Birmingham. You can find him on Twitter @RyanBrownLive and follow his show @NextRoundLive.
ESPN Burying 'Outside the Lines' Shows Little Regard for Respected Brand
Continuing to use the 'OTL' brand is likely a nod to the great work of Bob Ley, Ryan Smith, and Jeremy Schaap.
With the end of college football season and the Super Bowl marking the conclusion of the NFL season, ESPN has air time to fill on Saturday and Sunday mornings for the next six months. In past years, that opened up a window for the network to bring back its prestige news magazine program, Outside the Lines.
However, late last week, Sports Business Journal's John Ourand reported that ESPN has decided not to bring back the standalone OTL show. The program most recently aired Saturday mornings during football's offseason, typically from mid-February through August. That timeslot essentially buried a show that was once an important part of ESPN's Sunday morning programming.
Outside the Lines provided substantive, in-depth sports features, interviews, and discussions on Sunday mornings, when viewers were conditioned to expect important dialogue and commentary with weekly public affairs programs and political talk shows like Meet the Press and Face the Nation.
Originally anchored by Bob Ley, OTL was a departure from the highlights, analysis, and quips that made up most of the network's programming. This was ESPN doing journalism with a capital "J," reporting and investigating longer-form stories on pertinent issues in sports, usually off the field, and examining trends that developed through a news cycle.
Eventually, the number of stories the OTL staff worked on — and presumably, the appetite for such content from ESPN viewers — necessitated expanding the show to a daily schedule airing in mid-afternoons. After Ley retired in 2019, Ryan Smith and Jeremy Schaap hosted the show and continued its deeper look into topical sports stories.
Producing for a daily schedule probably spread the show too thin, however. Finding important stories that warranted the stronger coverage promised by the OTL brand became difficult, forcing the show to include panel discussions that resembled the sort of debate programming seen throughout the day on ESPN. As a result, OTL content was whittled down and integrated into the noon edition of SportsCenter each day.
OTL also suffered amid the inherent conflict at ESPN from having a news-gathering, journalistic operation while entering partnerships with the sports leagues it was covering. Hard-hitting reports on domestic violence issues in the NFL, particularly in light of the Ray Rice assault scandal, and player safety concerns with the rise in traumatic brain injuries gave the network's producers and reporters credibility. But such stories also rankled league officials and team owners who sought more positive promotion for their sport.
ESPN would surely balk at the idea that it throttled back on in-depth reporting and scrutinization. But the network's relationship with the NFL is obviously better than it once was, best demonstrated by getting better match-ups on the Monday Night Football schedule, Wild Card playoff games, and Super Bowl telecasts for ESPN/ABC in 2027 and 2031. Meanwhile, Outside the Lines has been effectively buried among ESPN programming.
Yet ratings ultimately decide what stays on a broadcast schedule and what doesn't. And OTL hasn't drawn a good number of viewers in quite some time. Some of that is likely influenced by an early Saturday morning timeslot that drew an average audience of 303,000. But SportsCenter AM attracts 572,000 viewers in the same timeslot, so it's apparent that fans want quicker, breezier content as they begin the weekend.
Outside the Lines simply may not stand apart in the current sports media landscape, either. Longer-form storytelling and reporting are often found in documentaries now, and we're living in the golden age of sports nonfiction films. That includes ESPN's own documentary brands E:60, 30 For 30, and ESPN Films. (E:60, in particular, seems to have replaced news magazine programming or special reports, which were once reserved for monthly specials early in OTL's life, at ESPN.)
Shuttering the Saturday OTL fortunately won't result in anyone losing a job. According to SBJ's Ourand, some staffers will be reassigned to other studio programs. And others will continue to work on OTL-branded content that runs on SportsCenter throughout the day, not just at noon, under the "OTL on SC" banner. Additionally, OTL content will run on ESPN's digital platforms such as the network's YouTube channel. So the show will go on… sort of.
ESPN obviously values the OTL brand and realizes that it carries respect among fans and media. (The show also penetrated pop culture enough to warrant a parody on Saturday Night Live.) Otherwise, the network might shelve the title entirely. Yet perhaps that's really a nod to the work of Ley, an ESPN institution, and Schaap, one of the network's best reporters (with ties to sports media royalty in Dick Schaap).
That may be Outside the Lines' true legacy. Ley created a brand (continued by Smith and Schaap) taken seriously enough that viewers knew it meant bolder sports journalism unafraid to explore stories and questions that warranted such attention. The OTL name carries enough weight that ESPN can't bear to get rid of it entirely, even if it doesn't hold the place at the network that it once did.
Ian Casselberry is a sports media columnist for BSM. He has previously written and edited for Awful Announcing, The Comeback, Sports Illustrated, Yahoo Sports, MLive, Bleacher Report, and SB Nation. You can find him on Twitter @iancass or reach him by email at iancass@gmail.com.
Chris Broussard Is No Longer Just A 'Basketball Guy'
"There's no doubt that gets attached to you and that can be good because you're seen as an 'expert' in one sport which is great."
After embarking on a career in sports, Chris Broussard made a name for himself as a writer, specifically as it pertains to covering the NBA. Whether it was covering the Cleveland Cavaliers for the Akron Beacon Journal, covering the New York Knicks and New Jersey Nets for The New York Times, or doing television hits for ESPN, Broussard had always, whether it was justified or not, been pigeon-holed as a "basketball guy".
That was the perception then, but today, the reality is different.
"There's no doubt that gets attached to you and that can be good because you're seen as an 'expert' in one sport which is great," said Broussard, the co-host of First Things First on FS1 and the co-host of The Odd Couple on FOX Sports Radio.
"But what was good for me was that at ESPN, I had done First Take with Skip Bayless a lot. There were a few years where it was a rotation and I was in that rotation. That enabled me to at least do the other sports."
Broussard has certainly made a seamless transition from print to electronic media.
After joining The New York Times in 1998, Broussard started to get television exposure doing local hits and then appearances on the various ESPN platforms would soon follow. He joined ESPN full-time in 2004 as a writer for ESPN The Magazine, but that also included regular guest appearances and fill-in hosting opportunities on shows like First Take and the opportunity to be a co-host for NBA Countdown for the 2010-11 season.
With that gig came the opportunity to work with Michael Wilbon, Jon Barry, and his childhood hero Magic Johnson.
"I think that may be have been the pinnacle because Magic is Magic," said Broussard. "He was my favorite player until Jordan came along and (with Wilbon and Barry), we just had great chemistry."
After one season, Broussard and Barry were replaced by Bill Simmons and Jalen Rose. A few years later, Broussard would make the move that would bring him to the next chapter of his career.
In 2016, Broussard left what amounted to being just a reporters role at ESPN for a new opportunity at FS1 where he would also be an analyst as well as a regular panelist for shows like Undisputed, The Herd with Colin Cowherd, First Things First and Lock It In. In 2018, he began co-hosting The Odd Couple radio show with Rob Parker on FOX Sports Radio.
And then in August of 2021, Broussard was named the full-time co-host of First Things First, something that almost had happened when the network first launched.
"When they asked me to come on as a full-time co-host, it was great and maybe a long time coming," said Broussard. "I know when Jamie Horowitz first brought all the people over from ESPN to be on FS1 in 2016, he was considering doing a show where Nick Wright and I were the co-hosts."
Broussard now co-hosts the show with Wright and Kevin Wildes.
"I thought that I really just fit right in with the chemistry and it's just been a great trio," said Broussard.
Born in Baton Rouge, Broussard and his family also lived in Cincinnati, Indiana, Syracuse, Iowa, and Cleveland. He was a star football and basketball player for Holy Name High School in Parma Heights, Ohio and went on to play basketball for Oberlin College, an NCAA Division III school in Ohio.
Believe it or not, his first love was not basketball.
"My favorite sport growing up was football," said Broussard. "I played football through high school. I played basketball at Oberlin College but they recruited for me football and basketball. I even played baseball up until I was about 16 years old."
So much for being just a basketball guy, right?
After college, Broussard had a decision to make. He knew he wanted to be a sports reporter but wasn't sure if it was going to be print or electronic media. When he was an intern at The Indianapolis Star, he spoke to people in the know about which direction to go.
"I was told that it's just easier and there are more spots in print journalism than there are in television and radio," said Broussard. "I chose print because I thought I had more opportunities."
Broussard's first taste of covering pro sports was in 1995 at the Akron Beacon Journal when he was a backup writer covering the Cleveland Indians who would go to the World Series for the first time since 1954. He shifted to covering the Cavaliers and then it was off to New York and a bit of culture shock for Broussard.
During his 2 ½ years covering the Cavaliers, Broussard typically wore a rugby shirt, jeans and sneakers at games. But he noticed that when the Knicks and Nets would come to Cleveland or when Broussard travelled to New York and New Jersey when the Cavaliers visited the Knicks and Nets, that the New York writers would typically wear suits and ties when covering the games.
So, when he interviewed for the job with The New York Times, Broussard had an important question for his future editor.
"I asked him when I was being interviewed for the job do they require that your writers dress up," said Broussard. "He said no but they do generally in New York because they know television opportunities are there. So, when I started working at The New York Times, I started dressing up wearing a suit and tie or sportscoat and tie whenever I would cover games. Ultimately that led to television."
And the rest is history.
This coming week, Broussard will be busy co-hosting his shows from the Super Bowl in Arizona. It's one thing to host a radio show or a television show from a studio but it's really something special to do it from a live event, especially on the giant stage of the Super Bowl.
And this week, Broussard will be center stage in front of a lot of ears and eyeballs.
"It's always great," said Broussard. "FOX Sports Radio always has one of the biggest and best platforms on radio row. It's always fun when you're doing these live shows at the big events and you've got an audience, it really can kind of bring out the best in you. I'm excited about it both for TV and radio."
Chris Broussard has certainly come a long way in his career in sports.
From his days as an athlete in high school in college to getting his start as a write to a transformation into a radio and television personality, Broussard has worked hard to get to where he is today.
"I haven't written a word since I went to Fox," said Broussard. "I do feel fortunate that I've been able from morph from a writer into TV and radio. What you want to do in this business is stay relevant and you want an audience and a platform. There's not that many people who get that opportunity to do it."
He's no longer just a "basketball guy". He's a "sports guy".
Peter Schwartz has been involved in New York sports media for over three decades. Along the way he has worked for notable brands such as WFAN, CBS Sports Radio, WCBS 880, ESPN New York, and FOX News Radio. He has also worked as a play by play announcer for the New Yok Riptide, New York Dragons, New York Hitmen, Varsity Media and the Long Island Sports Network. You can find him on Twitter @SchwartzSports or email him at DragonsRadio@aol.com.