NBA Positioned To Win The Pandemic….And It Better
"The importance of completing a season in the celebrated Bubble can't be overstated, as Adam Silver knows his league faces massive challenges if the coronavirus prevails."
This is not about you, me or the millions who watch sports in America. At its core, the resumption of games is about powerful and wealthy men, accustomed to winning in life, knowing their legacies depend on how they manage the coronavirus. Nothing much is at stake, only the future survival of leagues and the scrutiny of history: which commissioners and owners pivoted successfully in a health crisis, and which lost the swab war.
In this athletic Game of Thrones, Adam Silver is best positioned to win the pandemic. And it should be said, here and now, that he'd better win, as a shutdown of the NBA's celebrated bio-Bubble would throw the league into financial chaos and bring more attention to its troubles in China. An ESPN investigation — shocker, I know, the broadcast partner reporting dirt on its business bedfellow — revealed human rights concerns at the NBA's China-based youth academies, raising questions about a league that rushed too quickly to tap the vast sports economy of a Communist country.
All of which adds even more urgency to the most audacious undertaking in league history, a controlled basketball environment at Walt Disney World. No sports organization has embraced the technical explosion and social complexity of the 21st century like the NBA, and if any commissioner has a chance of conquering a fraught mission — completing a season while keeping 1,500 human beings safe from COVID-19 — it is Silver.
"The world `anxious' would describe how I feel,'' he said.
Frightened would work, too.
As sure as Charles Barkley is round, the NBA restarts its season with only minimal talk about the virus. That's because Silver, in collaboration with Disney Company chief executive Bob Iger, hatched a grand design that made medical sense from its infancy: Protect 22 teams and more than 350 players from the world's infectious ravages by placing them in isolation, in a community of hotels and glammed-up gyms, and having them test for the virus daily with rapid results from a private laboratory. In basketball, an 0-for-344 percentage sounds like another bad week for the Knicks, but inside the Silverdome, it's the most recent sign that the experiment is working so far: zero positives among players for the second consecutive testing period.
Juxtaposed against the life-threatening chaos of Major League Baseball, which already is losing a Whack-a-mole game of outbreaks and frantic re-scheduling, the NBA again presents itself as a forward-thinking trailblazer. While MLB irresponsibly paints the Miami Marlins as a rogue, protocol-breaking team and refuses to stop its season amid virus hell, Silver was typically practical when asked on ABC's "Good Morning America'' how he'd respond if 17 members of an NBA franchise were infected like the Marlins.
"If we had any significant spread at all, we'd immediately stop — and what we'd try to do is track and determine where they're coming from,'' Silver said. "I would say, ultimately, we would cease completely if we saw this was spreading around the campus and something more than an isolated case was happening.''
As so-called MLB commissioner Rob Manfred is now painfully aware, a season is not sustainable in 2020 without an NBA-like Bubble. The almighty NFL and college football soon will reach that conclusion, with likely dire consequences, while the NHL, WNBA and Major League Soccer remain optimistic — all after adopting the NBA's isolationist lead. If Manfred is the predictable early misfit in the swab war, Silver looks like the visionary.
"From my standpoint, it's going very well, and I'm cautiously optimistic that we're on the right track," Silver told the New York Times this week. "But I also recognize what we're doing has not been done before, and the competition is just beginning. The real test will come when players are commingling, playing basketball without masks and without physical distancing."
Never lose sight of that: So much still could go wrong, even when so much has gone right — especially when COVID-19 remains out of control beyond the Bubble in Florida. We should avoid calling it a Bubble, Silver warns, because it isn't "hermetically sealed.'' It's his way of saying the controlled environment is neither fool-proof nor Lou-proof, as shown by the protocol violations of three players, including Lou Williams of the title-contending Clippers, who was excused by the league for a family funeral but also strayed to an Atlanta strip club for dinner. I don't care if Magic City is known for its chicken wings; did Williams ever think about the Magic Kingdom, the potential virus exposure throughout a league? He has been confined to quarantine — the new NBA term for jail — for 10 days, missing two games that could cost his team in the playoff seeding race. But in the bigger scope, Williams' pit stop is what keeps Silver up at night. It's the blueprint for disaster: players tiring of being confined to life with each other, in a season that won't end until October, and sneaking off to who-knows-where at the risk of contracting the virus and sabotaging the plan.
No doubt the attention to detail in this vast undertaking is staggering. But one fluky quest for chicken wings is exactly the foolishness that could burst the Bubble. "The league does such a good job of being hypercautious when they bring them back to the bubble, that I don't really feel like that's where our jeopardy is. I don't think we have any kind of real opportunity to sort of pop the bubble," said David Griffin, basketball operations boss of the Pelicans, on a Zoom call with reporters. "I think the real issue is going to be, as this goes along further and further: Is there more and more pull to sort of break rank and just walk off campus? That's when you're really going to see how well this is insulated."
A collapse of the Silverdome would be devastating to a league that has its own existential issues. The NBA is investing more than $180 million in Orlando with hopes of finishing a postseason and recouping lost broadcast revenues. If not? With no vaccine or cure in immediate sight, chances are slim of inviting fans into arenas during a 2020-21 season scheduled to tip off — ready? — on Dec. 1. With ticket sales and corporate sponsorships amounting to 40 percent of total revenues, the league is facing a financial crisis. Even the most well-heeled team owners, such as Golden State's Joe Lacob, are raising capital with a murky future in mind. Houston's Tilman Fertitta (restaurants), Miami's Micky Arison (cruise lines) and Indiana's Herb Simon (malls) have taken massive hits in accompanying businesses. Put it this way: The Timberwolves won't be the only franchise up for sale if fans can't return next season. Meaning, as National Basketball Players Association executive director Michele Roberts said, the NBA might be back in the Bubble mere weeks after a champion is crowned.
Unless, of course, the players don't want to return, which is possible.
Then, you have no NBA.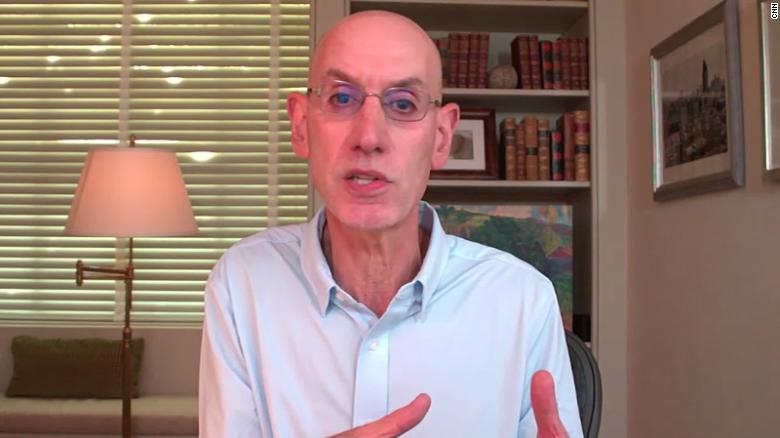 But for now, Silver can consider it a small victory that the virus is not front and center on Opening Night. We'll be watching to see how many, if not all players, decide to kneel during the national anthem, a gesture Silver will support despite a longstanding NBA rule requiring players to stand for "The Star-Spangled Banner.'' Said the commissioner: "I respect peaceful protest. … I understand these are unusual times.'' And unlike MLB, where an immature meathead such as Joe Kelly prioritized purpose-pitch revenge on the trash-can-beating Astros during a pandemic, the NBA is talking … story lines!
Will LeBron James win his fourth championship, the most daunting ever attempted by a superstar, while advancing his social justice platform like never before? Is it Giannis Antetokounmpo's turn to rule the sport and sign long-term in Milwaukee? Are the smallball Rockets a sleeper pick with a rested James Harden and Russell Westbrook? Are the Clippers deep enough to deal with a revolving door of players coming in and out of the Bubble?
Yes, the NBA has its own loons, such as Denver's Michael Porter Jr., who thinks COVID-19 is a conspiracy to control the global population. "I think the coronavirus is being used obviously for a bigger agenda," he said. "I mean, because of the virus, the whole world is being controlled. You're required to wear masks. And who knows what will happen when this vaccine comes out? You might have to have the vaccine in order to travel. Like, that would be crazy."
Like, shut up, dude. And wear a damned mask.
Adam Silver can't do anything about free speech, even the weird stuff, when he heartily endorses such liberties. What he can do is try to steer his basketball league through a raging, unprecedented storm without risking lives. None of this should be happening, of course, and sports should not have resumed in America until next year. But if you're going to try, at least be smart about it.
Rob Manfred is letting the coronavirus control him. Adam Silver, a wiser man, will try to control the coronavirus.
Until he can't.
Being Wrong On-Air Isn't A Bad Thing
…if you feel yourself getting uncomfortable over the fact that you were wrong, stop to realize that's your pride talking. Your ego. And if people call you out for being wrong, it's actually a good sign.
In the press conference after the Warriors won their fourth NBA title in eight years, Steph Curry referenced a very specific gesture from a very specific episode of Get Up that aired in August 2021.
"Clearly remember some experts and talking heads putting up the big zero," Curry said, then holding up a hollowed fist to one eye, looking through it as if it were a telescope.
"How many championships we would have going forward because of everything we went through."
Yep, Kendrick Perkins and Domonique Foxworth each predicted the Warriors wouldn't win a single title over the course of the four-year extension Curry had just signed. The Warriors won the NBA title and guess what? Curry gets to gloat.
The funny part to me was the people who felt Perkins or Foxworth should be mad or embarrassed. Why? Because they were wrong?
That's part of the game. If you're a host or analyst who is never wrong in a prediction, it's more likely that you're excruciatingly boring than exceedingly smart. Being wrong is not necessarily fun, but it's not a bad thing in this business.
You shouldn't try to be wrong, but you shouldn't be afraid of it, either. And if you are wrong, own it. Hold your L as I've heard the kids say. Don't try to minimize it or explain it or try to point out how many other people are wrong, too. Do what Kendrick Perkins did on Get Up the day after the Warriors won the title.
"When they go on to win it, guess what?" He said, sitting next to Mike Greenberg. "You have to eat that."
Do not do what Perkins did later that morning on First Take.
Perkins: "I come on here and it's cool, right? Y'all can pull up Perk receipts and things to that nature. And then you give other people a pass like J-Will."
Jason Williams: "I don't get passes on this show."
Perkins: "You had to, you had a receipt, too, because me and you both picked the Memphis Grizzlies to beat the Golden State Warriors, but I'm OK with that. I'm OK with that. Go ahead Stephen A. I know you're about to have fun and do your thing. Go ahead."
Stephen A. Smith: "First of all, I'm going to get serious for a second with the both of you, especially you, Perk, and I want to tell you something right now. Let me throw myself on Front Street, we can sit up there and make fun of me. You know how many damn Finals predictions I got wrong? I don't give a damn. I mean, I got a whole bunch of them wrong. Ain't no reason to come on the air and defend yourself. Perk, listen man. You were wrong. And we making fun, and Steph Curry making fun of you. You laugh at that my brother. He got you today. That's all. He got you today."
It's absolutely great advice, and if you feel yourself getting uncomfortable over the fact that you were wrong, stop to realize that's your pride talking. Your ego. And if people call you out for being wrong, it's actually a good sign. It means they're not just listening, but holding on to what you say. You matter. Don't ruin that by getting defensive and testy.
WORTH EVERY PENNY
I did a double-take when I saw Chris Russo's list of the greatest QB-TE combinations ever on Wednesday and this was before I ever got to Tom Brady-to-Rob Gronkowski listed at No. 5. It was actually No. 4 that stopped me cold: Starr-Kramer.
My first thought: Jerry Kramer didn't play tight end.
My second thought: I must be unaware of this really good tight end from the Lombardi-era Packers.
After further review, I don't think that's necessarily true, either. Ron Kramer did play for the Lombardi-era Packers, and he was a good player. He caught 14 scoring passes in a three-year stretch where he really mattered, but he failed to catch a single touchdown pass in six of the 10 NFL seasons he played. He was named first-team All-Pro once and finished his career with 229 receptions.
Now this is not the only reason that this is an absolutely terrible list. It is the most egregious, however. Bart Starr and Kramer are not among the 25 top QB-TE combinations in NFL history let alone the top five. And if you're to believe Russo's list, eighty percent of the top tandems played in the NFL in the 30-year window from 1958 to 1987 with only one tandem from the past 30 years meriting inclusion when this is the era in which tight end production has steadily climbed.
Then I found out that Russo is making $10,000 per appearance on "First Take."
My first thought: You don't have to pay that much to get a 60-something white guy to grossly exaggerate how great stuff used to be.
My second thought: That might be the best $10,000 ESPN has ever spent.
Once a week, Russo comes on and draws a reaction out of a younger demographic by playing a good-natured version of Dana Carvey's Grumpy Old Man. Russo groans to JJ Redick about the lack of fundamental basketball skills in today's game or he proclaims the majesty of a tight end-quarterback pairing that was among the top five in its decade, but doesn't sniff the top five of all-time.
And guess what? It works. Redick rolls his eyes, asks Russo which game he's watching, and on Wednesday he got me to spend a good 25 minutes looking up statistics for some Packers tight end I'd never heard of. Not satisfied with that, I then moved on to determine Russo's biggest omission from the list, which I've concluded is Philip Rivers and Antonio Gates, who connected for 89 touchdowns over 15 seasons, which is only 73 more touchdowns than Kramer scored in his career. John Elway and Shannon Sharpe should be on there, too.
Money Isn't The Key Reason Why Sellers Sell Sports Radio
I started selling sports radio because I enjoyed working with clients who loved sports, our station, and wanted to reach fans with our commercials and promotions.
A radio salesperson's value being purely tied to money is overrated to me. Our managers all believe that our main motivation for selling radio is to make more money. They see no problem in asking us to sell more in various ways because it increases our paycheck. We are offered more money to sell digital, NTR, to sell another station in the cluster, weekend remotes, new direct business, or via the phone in 8 hours.
But is that why you sell sports radio?
In 2022, the Top 10 highest paying sales jobs are all in technology. Not a media company among them. You could argue that if it were all about making money, we should quit and work in tech. Famous bank robber Willie Sutton was asked why he robbed twenty banks over twenty years. He reportedly said," that's where the money is". Sutton is the classic example of a person who wanted what money could provide and was willing to do whatever it took to get it, BUT he also admitted he liked robbing banks and felt alive. So, Sutton didn't do it just for the money.
A salesperson's relationship with money and prestige is also at the center of the play Death of a Salesman. Willy Loman is an aging and failing salesman who decides he is worth more dead than alive and kills himself in an auto accident giving his family the death benefit from his life insurance policy. Loman wasn't working for the money. He wanted the prestige of what money could buy for himself and his family. 
Recently, I met a woman who spent twelve years selling radio from 1999-2011. I asked her why she left her senior sales job. She said she didn't like the changes in the industry. Consolidation was at its peak, and most salespeople were asked to do more with less help. She described her radio sales job as one with "golden handcuffs". The station paid her too much money to quit even though she hated the job. She finally quit. The job wasn't worth the money to her.
I started selling sports radio because I enjoyed working with clients who loved sports, our station, and wanted to reach fans with our commercials and promotions. I never wanted to sell anything else and specifically enjoyed selling programming centered around reaching fans of Boise State University football. That's it. Very similar to what Mark Glynn and his KJR staff experience when selling Kraken hockey and Huskies football.
I never thought selling sports radio was the best way to make money. I just enjoyed the way I could make money. I focused on the process and what I enjoyed about the position—the freedom to come and go and set my schedule for the most part. I concentrated on annual contracts and clients who wanted to run radio commercials over the air to get more traffic and build their brand.
Most of my clients were local direct and listened to the station. Some other sales initiatives had steep learning curves, were one-day events or contracted out shaky support staff. In other words, the money didn't motivate me enough. How I spent my time was more important.
So, if you are in management, maybe consider why your sales staff is working at the station. Because to me, they'd be robbing banks if it were all about making lots of money.
Media Noise: BSM Podcast Network Round Table
Demetri Ravanos welcomes the two newest members of the BSM Podcast Network to the show. Brady Farkas and Stephen Strom join for a roundtable discussion that includes the new media, Sage Steele and Roger Goodell telling Congress that Dave Portnoy isn't banned from NFL events.
Podcast: Play in new window | Download
Subscribe: RSS