Is Anyone Not Selling Out In Sports Media?
"The pandemic has created a crisis for media companies trying to stay in business, but cutting financial deals with sports leagues and ignoring big stories to protect bosses and paychecks are corrupting the profession."
Only three sports franchises on Planet Earth are worth more than the Los Angeles Lakers, home of Hollywood gold, LeBron James, celebrity fans, the Laker Girls, a $3-billion local broadcast deal and 16 NBA title banners. Just last week, Forbes estimated the team valuation at $4.4 billion, trailing only the Dallas Cowboys and New York's Yankees and Knicks. Think about it: The Lakers are more valuable than all but one NFL franchise and all the world's soccer clubs, including those in hallowed hubs Madrid, Barcelona and Manchester.
None of which stopped team controlling owner Jeanie Buss, beloved in southern California, from applying for and receiving a $4.6-million federal loan from the Paycheck Protection Program, a system purportedly designed for small businesses needing coronavirus relief. Not until the Lakers were outed by the Trump administration, which threatened criminal action against large companies trying to trick the program, did they return the money in April.
"I never expected in a million years that the Los Angeles Lakers, which I'm a big fan of the team — but I'm not a big fan of the fact they took a $4.6 million loan," Treasury Secretary Steven Mnuchin said on CNBC. "I think that's outrageous."
I expected scathing commentary from the Los Angeles Times, armed with some of the best sports and news columnists in the business. But all I saw was a basic news story and scant letters to the sports editor, one from angry reader William Ford, who wrote what Bill Plaschke, Dylan Hernandez, Steve Lopez, Robin Abcarian and other Times voices did not write: "The Los Angeles Lakers just became the Los Angeles Takers in my book. Would you have returned the $4.6 million without the public shame caused by social media? You have shamed Elgin, Jerry, Kareem, James and Kobe and every player who has worn purple and gold, as well as an entire city.''
Why the absence of similar biting words from Times regulars and the editorial page? Oh, let's just say the billionaire who signs their checks might not have enjoyed anti-Lakers opinions from those on the payroll. Patrick Soon-Shiong, owner and executive chairman of the Times, has been a minority stakeholder in the Lakers since 2010. Back when they were playing games at Staples Center and not in the Disney World Bubble, Soon-Shiong often was seen courtside, high-fiving and hugging fellow fans after victories. Sometimes, Buss herself received his joyful congratulations. If there was no official edict to avoid the topic at the Times, there was a tacit understanding: To stay on good footing, do not criticize Buss in this matter, especially when Soon-Shiong — as part-owner — could be considered complicit in the failed loan-grab.
Such are the unethical invasions that are corrupting, if not killing, sports media in America. As the power and influence of rich leagues and owners continue to swallow fierce independence, too many editorial decisions are made with money in mind — such as, ignoring the boss' conflict of interest to protect one's regular paycheck. In some entanglements, cross-ownership of a sports franchise and media outlet means Plaschke and LeBron are in effect paid by the same person, which also impacts Boston Globe sports columnist Dan Shaughnessy, a hard-hitter whose checks are signed by John Henry, who also owns the Red Sox. All of which puts some local columnists — the last vestiges of watchdog commentary about an industry staggered by a pandemic and numerous recent scandals — in the same boat as ESPN and Fox Sports on-air talent and local-market talk show hosts.
If you're working for The Man, how can you comment negatively about The Man? And if you can't comment about The Man, why should any media consumer read, watch or listen when your credibility is compromised? The pandemic-driven upheaval of sports, in which no one is sure when and if leagues will return to some semblance of normalcy, has created a media culture of self-preservation and content suppression poisonous to a craft that has been softening for years.
Hear nothing, see nothing, check direct deposit on the 15th and 1st.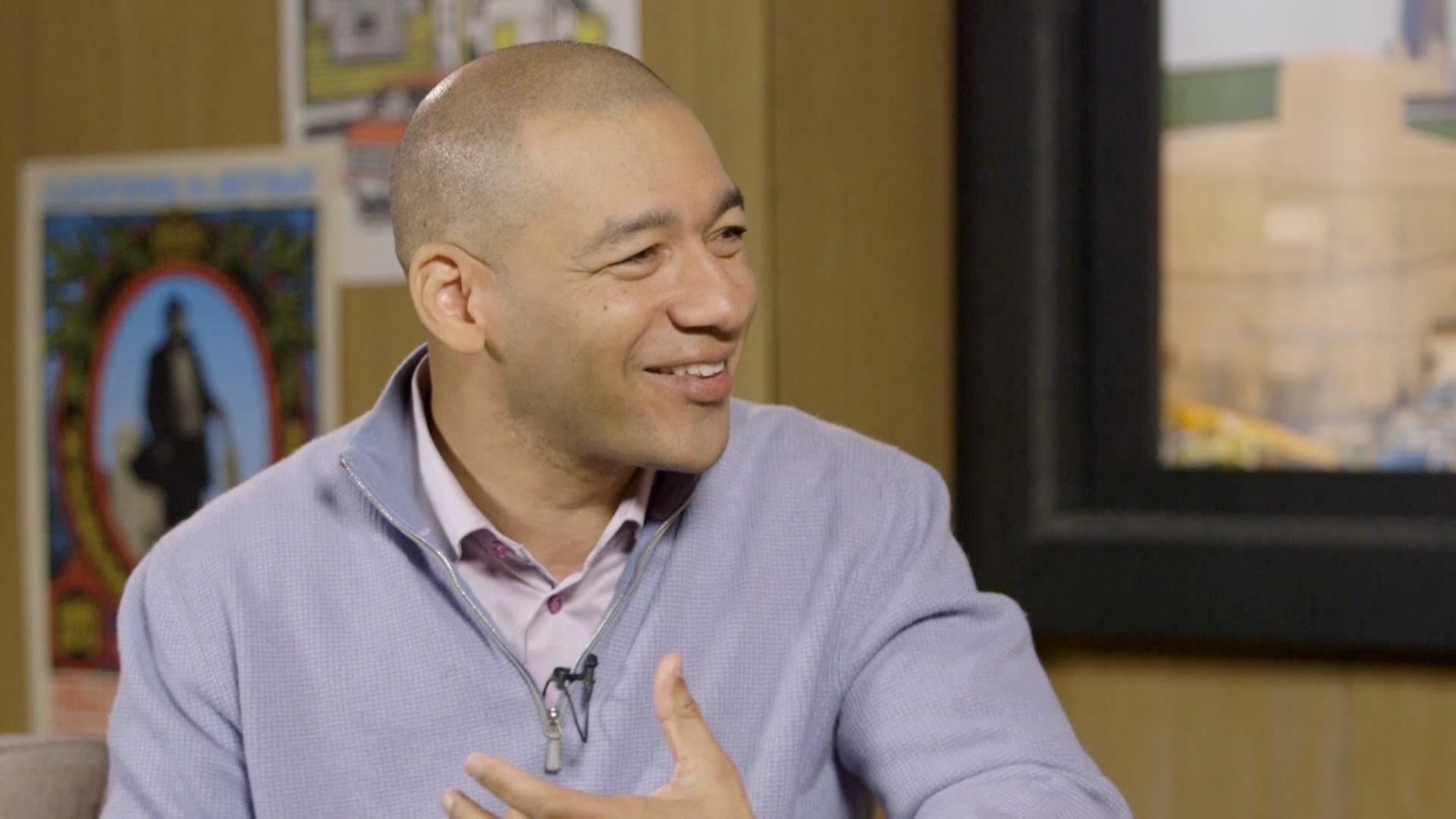 Tell J.A. Adande to add a new class — How To Kiss Ass And Keep Your Job 101 — to his curriculum in Northwestern's sports journalism initiative.
I don't need to rehash my existential concerns about ESPN, which long ago sold out to Big Sports — and the accompanying billions — and has been predictably giddy in covering a sports restart fraught with COVID-19 doubt and fallout. It might as well be renamed the NBA/NFL/MLB/NCAA Channel, and anyone who watches should realize the programming is an extension, in too many cases, of what the leagues want and want Bristol is only happy to give them. If you wonder why ESPN continues to pretend college football is around the corner, consider the company literally owns and operates the sport, to the point it will lose almost $1 billion in advertising alone if the season is canceled. Ethically, ESPN is a lost cause.
No, I'm focused on The Athletic, maybe the last-gasp option for those aspiring to write sports as a long-term livelihood. Struggling to support a subscription-based model while sports was on pause for months, the site has resorted to its own form of desperation. First, it laid off dozens despite raising $139.5 million in funding. Then, it sought sponsorships … within the very industry it is supposed to be covering independently and aggressively. The business site Front Office Sports reported Evan Parker, The Athletic's general manager of business and editorial operations (job descriptions that shouldn't be in the same title), has "set out to find sports teams, leagues and promotional partners who understood The Athletic brand'' in hopes of boosting "image and subscriber count.''
Next thing you knew, The Athletic was partnering with Major League Baseball and T-Mobile on a cringeworthy promotional giveaway — free one-year subscriptions to The Athletic and MLB.TV to T-Mobile/Sprint customers in the U.S.
The Athletic has sold out, too.
Even when Ken Rosenthal and Evan Drellich are breaking news about baseball — information often handed to them because MLB has a vested interest in The Athletic's success — I've yet to see a word demanding, say, the cancellation of the season. Or doubting commissioner Rob Manfred's competence, as some of us are doing, in the wake of virus outbreaks that have blitzed the Cardinals and Marlins. The dire situation cried for harsh commentary. What you initially got from Rosenthal was this: "MLB's shifting approach raises questions around the sport.'' He came back with a piece urging Manfred to cooperate with players, in their navigation of COVID-19, for the sport's greater good.
That's as good as he can do?
No, that's all he's allowed to do under the business parameters.
And do you honestly think legends such as Jayson Stark and Peter Gammons, who've served MLB to the degree they've been inducted in the Hall of Fame, are going to excoriate Manfred when they'd be biting the ownership hand that has fed them for decades?
When MLB returned late last month, followed by the NBA and NHL, The Athletic excitedly introduced a 40-part series called "The Comeback.'' The idea: Wrap the resumption of sports around the greatest comebacks in sports history — as if a level-headed person would lump the pandemic in the same thought process as a Miracle at the Meadowlands.
Wrote Seth Davis, a college basketball guy with else nothing to do: "Anyone who thought sports wasn't coming back probably doesn't watch a lot of sports. Sure, things were looking bleak for a while. We were facing long odds, and in many ways we still do. But we've seen big comebacks before, haven't we? A 3-0 deficit in the playoffs. A 25-point hole in the fourth quarter of a Super Bowl. Trailing by three goals at halftime of a Champions League final. We've seen other examples of people beating long odds. Athletes re-emerging from retirement, recovering from serious injuries, winning games and tournaments when they were supposedly well past their primes. Each time, the prospects for success seemed bleak. Each time, sports reminded us of the art of the possible. This is what we need from sports, now more than ever.''
What we need, from sports, is for the outbreaks to stop. What we need, from The Athletic, is to call for an MLB shutdown. And what we need, from life, is for people to stop getting sick and dying. But, see, the sports world operates in a parallel universe in which a $4.4-billion basketball franchise thinks it can justify a PPP loan. The Lakers didn't get their $4.6 million, and if anyone feels sorry for them, they'll still reap $12 million from a Spectrum SportsNet deal because players and coaches spent extra weeks in Florida confinement — when they could have been with their families — so eight seeding games could be played.
The L.A. Times could have been all over that, too. Instead, an Oregonian report was accusing the Times of accepting $100,000 in advertising money from the Pac-12 in exchange for favorable and additional coverage of the conference. A 2018 e-mail from the league to Blake Richardson, a young Times staffer, promised him "all the access and info to become the best Pac-12 reporter out there.''
I wonder how the late, great Jim Murray would be lampooning his own bosses for these sins. Just a guess: His column would be spiked.
Not that these pressures didn't exist before the pandemic. I've faced numerous warnings from on high not to cover certain stories. A Cincinnati editor-in-chief discouraged us, when I was 26, from probing the beginnings of the Pete Rose gambling scandal because, hey, Pete was a local hero. A Chicago editor-in-chief, who had front-row Bulls tickets during the Michael Jordan Era, was upset when I broke a story that Scottie Pippen felt like "a statue'' during one of Jordan's playoff point binges. Another set of Chicago bosses, a publisher and editor-in-chief, chastised me for questioning why White Sox owner Jerry Reinsdorf was in the bottom half of MLB payrolls, relenting only when they told me one day in the hallway, "Jerry didn't buy a table for our event.'' Another editor-in-chief asked if I was "anti-Semitic'' as he tried to soften my coverage of Reinsdorf, only the most prominent owner in U.S. sports at the time. They often tried to intimidate and fire me, to no avail, and when Sox manager Ozzie Guillen called me "a f—— fag,'' the bosses didn't have my back, not surprising after they'd pulled my column condemning Sox fans for harassing wives of the Houston Astros during a World Series game in Chicago. When I asked one of the conflicted editors, who'd wanted me to wear a Sox cap in my column logo during that World Series, if he was a fan of the team, he nodded. 
Sometimes, the official scoreboard clock in the United Center would stop — for several seconds — in the final minutes of Bulls games. Once, I could understand. Twice, three times, four? Given the immersive nature of gambling in the NBA culture, it was time to investigate. I was prepared to run a powerful, corroborated column; the editors were not because, you know, the NBA had called. Few of these people are anywhere near the media business today. Some are dead, figuratively if not literally.
I'll never forget the words of Larry Wert, a major broadcasting executive who became a big shot at NBC, when he ran me off his radio station: "Jay, some of us go to business school and others go to journalism school.'' This was followed a decade later by the story I love telling: An ESPN Chicago program director, Len Weiner, took me to an Arby's near the station and demanded I sign documents that I wouldn't criticize Reinsdorf's White Sox and Bulls. When I refused, the station fired me a day after Christmas and claimed publicly that I had bad ratings, only to look downright fraudulent when the ratings were terrific. I'd like to say Reinsdorf and that station have flourished since then. In truth, both have been mostly in the dumper.
So, yes, if I were an L.A. Times columnist, I'd have criticized the Lakers. And the next day, after the piece was killed, I'd have been downsized if not pushed out the way a snidely irreverent Times columnist, T.J. Simers, was dumped years ago. Which explains why I'm here today, writing proudly for a media industry site that prioritizes independence over dirty business deals, and why I'm donating my compensation to journalism-related sites that hopefully hear what I'm saying.
But probably don't.
Jay Mariotti, called "the most impacting Chicago sportswriter of the past quarter-century,'' writes a weekly media column for Barrett Sports Media and regular sports columns for Substack while appearing on some of the 1,678,498 podcasts in production today. He's an accomplished columnist, TV panelist and radio talk host. Living in Los Angeles, he gravitated by osmosis to film projects. Compensation for this column is donated to the Chicago Sun-Times Charity Trust.
Beyond The Mask: Henrik Lundqvist Embraced 2nd Career in Sports Media
"It's not a coincidence you see a lot of goalies working [on] panels and analyzing the game because that's a huge part of playing in goal."
Plucking the strings of an acoustic guitar, Henrik Lundqvist found himself beneath the bright lights once again, poised to put on a worthy performance. Just as he aimed to stop pucks from going in the net as the star goaltender of the New York Rangers for 15 seasons, Lundqvist sought to captivate viewers as half of a musical duo featuring former NHL forward Paul Bissonnette.
Their performance of "Good Riddance" by Green Day was in tribute to Rick Tocchet, a former NHL on TNT studio analyst who recently departed the network to serve as head coach of the Vancouver Canucks.
Lundqvist serves as a studio analyst for TNT's coverage of the NHL, breaking down players and teams throughout the broadcast and bringing his own unique style to the set. His pursuit of a post-playing career in sports media was no guarantee from the moment he retired in August 2021; in fact, he never intended to stop playing the game and competing for a Stanley Cup championship at that time.
During the 2019-20 season, Lundqvist had lost playing time to young goaltenders Igor Shesterkin and Alexandar Georgiev, and by the year's end, his deal was bought out by the team. In an effort to continue playing, Lundqvist signed a contract with the Washington Capitals – marking the first time in his NHL career that he would not step between the pipes for the Rangers.
Lundqvist never played a game for the team though, as it was discovered in a medical exam that he would need open-heart surgery to replace his aortic valve while also having an aortic root and ascending aortic replacement. Less than two months after the successful five-hour operation, he was back on the ice rehabbing and attempting to make a full recovery – but a few months in, he began to feel unexpected chest pain. Following a medical checkup, Lundqvist was told he had inflammation around his heart. It was a significant setback that required him to step off the ice, take off his goaltender equipment and rest for several months.
After discussions with his family and friends, Lundqvist determined that the risk of taking the ice outweighed the rewards and officially stepped away from the game. Rather than conjuring hypothetical scenarios wherein he did not experience the misfortune and played for the Capitals, Lundqvist looked to the future amid the ongoing global pandemic and thought about how he could best enjoy his retirement.
"I was just mentally in a very good place," Lundqvist said. "I didn't have a choice; I guess that makes it easier sometimes when the decision is made because you can't go back-and-forth – 'Should I?' 'Should I not?' Yeah, I wanted to play but it was just not meant to be for me."
Before any definitive resolution on his future endeavors was made though, the Rangers announced that the team would retire Lundqvist's No. 30 in a pregame ceremony during the 2021-22 season, making him just the 11th player bestowed that honor in franchise history. As a five-time NHL All-Star selection, 2011 Vezina Trophy winner, and holder of numerous franchise records, Lundqvist had the accolades to merit this profound distinction.
Moreover, he was an important component in growing the game of hockey and contributing to the greater community, serving as the official spokesperson for the Garden of Dreams Foundation and founder of the Henrik Lundqvist Foundation. He also was a two-time recipient of the organization's prestigious Steven McDonald Extra Effort Award, honoring the player "who goes above and beyond the call of duty."
Throughout the night, attendees regaled Lundqvist with chants of "Hen-rik!" and were treated to flashbacks of some of his memorable career moments. The night was of monumental importance for Lundqvist, during which he expressed his gratitude to the Rangers' organization, former teammates and fans. Then, Lundqvist — referred to as "The King" — promptly took his place among team legends beneath the concave ceiling of "The World's Most Famous Arena."
"When I look back at my career, I know, to me, it was all about preparation; how I practiced and how I prepared for each game at practice," Lundqvist said. "There's no regrets, and I hope people, when they think about how I played, [know] that it was 100% heart and commitment to the game."
Before this ceremony though, Lundqvist and Rangers owner James Dolan had held several meetings with one another. The purpose of these conversations was to determine the best way for Lundqvist to remain involved with the team, its fans, and the community. In the end, he was named as a lead studio analyst on MSG Networks' broadcasts of New York Rangers hockey before the start of the 2021-22 season: the start of his foray in sports media.
This past summer, Lundqvist negotiated a new deal with Madison Square Garden Sports and Madison Square Garden Entertainment in which he maintained his in-studio responsibilities while increasing involvement in other areas of its sports and entertainment ventures. In this new role, Lundqvist supports the business operations for both companies, assisting in digital content development, alumni relations, and partner and sponsor activities.
When Lundqvist is not in the studio or the office, he can often be found at Madison Square Garden taking in New York Rangers hockey, New York Knicks basketball, or one of the arena's renowned musical performances. Usually, when he is in attendance, he is shown on the arena's center-hung video board as an "NYC Celebrity" and receives a thunderous ovation from the crowd.
"The network is just part of it, but it feels great to come there," Lundqvist said of Madison Square Garden. "Every time I go there – to see the people that I've known for so long – but also I love that place; I love The Garden. I think the energy [and] the variety of things that happen there is something I really appreciate. It feels really good to be a part of that."
Sitting alongside former teammate and studio analyst Steve Valiqutte and sportscaster John Giannone, Lundqvist appears in the MSG Networks studios, located across the street from the arena, for select New York Rangers games. From the onset, he brought his allure and expertise to the set and appealed to viewers – so much so that national networks quickly began to take notice.
"I enjoy watching hockey [and] talking hockey, but the main thing to me is the team; the people that you work with," Lundqvist said. "The guys on the panel [and the] crew behind. I really enjoy that part of it and having a lot of fun off-camera."
One month later, Lundqvist was on his first national broadcast for the NHL on TNT where he and Bissonnette famously performed a cover of "Nothing Else Matters" by Metallica that went viral on social media. It had been known that Lundqvist was a musician, famously performing on Late Night with Jimmy Fallon in his Rangers uniform to celebrate the end of the 2012-13 NHL lockout.
In fact, during his retirement ceremony, the Rangers gifted him with a custom-made guitar painted by David Gunnarsson, the same artist who used to paint Lundqvist's goalie masks.
Aside from occasional music performances, Lundqvist brings an esoteric base of knowledge to the NHL on TNT panel as its only goaltender. Whether it be through player breakdowns, interviews, or dialogue with other analysts, Lundqvist has a perspective to which few professional hockey players can relate. There are various goaltenders among local studio panels surrounding live hockey game broadcasts, and Lundqvist is in a unique situation with MSG Networks in that he and Valiquette are both former goaltenders. Yet on Turner Sports' national coverage, he is the only voice speaking to this different part of the game.
"It's not a coincidence you see a lot of goalies working [on] panels and analyzing the game because that's a huge part of playing in goal," Lundqvist explained. "Yes, you need to stop the puck, but a huge part of being a goalie is analyzing what's going on. We can never really dictate the play so you need to analyze what's happening right in front of you."
In broadcasting at both the local and national level, Lundqvist is cognizant of the differences in each network's studio programs. Lundqvist says appearing on the MSG Networks studio panel is more about being direct with the viewer, whereas the NHL on TNT views its panel as being conversational in nature. With Turner Sports, Lundqvist also asks his colleagues about the different teams around the league since he is most familiar with the Rangers both as a former player and studio analyst.
"I'm closer to the Rangers; I see more of what's going on," Lundqvist stated. "When you work [national] games, maybe you focus in on teams on the West Coast or [part] of the league you don't see as often. You try to talk to the other guys on the panel and the crew and figure out things that are interesting about those teams."
Hockey is a team sport, and Lundqvist felt grateful to play with his teammates and face his competitors over the years. Now as an analyst though, it is his job to analyze their games and critique them when necessary; however, he does not try to be excessively critical.
Lundqvist knows the trials and tribulations associated with the sport and can relate to scenarios many players face on a nightly basis. Therefore, he thinks about his own experience before giving an opinion, especially a critique, instantiating it with comprehensible, recondite knowledge and/or by recounting a similar situation.
"I'd much rather give them positive feedback obviously because I know it is a tough game," Lundqvist said, "and sometimes it might look like an easy mistake, but if you can give the viewer a better explanation of why he did that, they might have a different view of that mistake."
Now metaphorically being beyond the goalie mask, Lundqvist's vision of the game has evidently shifted. He discerns just how intense the schedule is and the rapid pace of the game, axioms he was aware of while playing but inherently avoided thinking about. He has implemented his refined viewpoint of the game accordingly into his analysis, simultaneously utilizing the mindset and savvy he cultivated on the ice. It is, quite simply, a balancing act.
"I think people can be pretty quick to jump on guys and critique them," Lundqvist said. "That's where maybe you take an extra look and try to understand why it happened and give those reasons. I think that's where it helps if you played the game [for] a long time and just love the game [because] you have a pretty good understanding of why guys react a certain way."
The challenge tacitly embedded in the jobs of most studio analysts – Lundqvist's included – is in presenting the information to the audience in a manner through which it learns without being confused. It is a delicate craft that takes time and genuine understanding to master, especially related to promulgating hockey analytics as Valiquette does on MSG Networks and within his company, Clear Sight Analytics.
"There's a lot of educated viewers out there, but there's also a lot of people that maybe don't watch as much hockey," Lundqvist said, "so you want to find that middle ground where you kind of educate both sides."
By broadcasting both locally and nationally in addition to working in a specially-designed business operations role, Lundqvist is staying around the rink in his retirement while facilitating the growth of hockey. Despite the profusion of young talent, dynamic action and jaw-dropping plays, viewership of the sport on ESPN and TNT's linear channels has dropped 22% from last season, according to a report by Sports Business Journal.
For Lundqvist though, he does not feel much has changed from playing regarding his responsibility to advance the reach and appeal of the sport. He played professionally for 20 years, beginning his career in his home country of Sweden, primarily in the Swedish Elite League (SEL). In the 2004-05 season, his final campaign before arriving in New York City, Lundqvist had won the award for most valuable player. Furthermore, he was recognized as the best goalie and best player, leading Frölunda HC to its second Elitserien championship in three seasons.
His NHL debut came five years after he was selected in the seventh round of the 2000 NHL Entry Draft by the New York Rangers but unlike many rookies over the years, he came polished and prepared to embrace the lights of Broadway. Following an injury to starting goaltender Kevin Weekes, Lundqvist was inserted into the starting lineup and, from that moment on, virtually never came out.
By the end of his first year, he had been named to the NHL All-Rookie Team and was a Vezina Trophy finalist for best goaltender. Additionally, he remains the only goaltender to begin his NHL career with seven consecutive 30-plus win seasons.
"I think the league is doing a great job of growing the game," Lundqvist said. "In the end, it comes down to the product and right now, it's a great product. I feel really good about, the best way I can, to promote the game [by] talking about it, but… it feels like I've been doing that for 20 years."
One means through which Lundqvist attempts to grow the game is within the studio demos he performs with the NHL on TNT, displaying different facets of the game in a technical manner. The show also embraces the characteristics of their analysts and implements them in lighthearted segments, such as zamboni races, putting competitions, Swedish lessons and, of course, musical performances.
"I'm huge on mindset and the pressure," Lundqvist said. "I love to talk about that type of stuff and give the viewer a better understanding of what goes through their heads. In terms of personality, I don't know if I can say [that] I'm a serious guy because I love to have fun and laugh and do fun things."
Lundqvist thoroughly enjoys what he is doing both locally and nationally, and he ensures he surrounds himself with people he wants to be around. There are plenty of other broadcast opportunities for former hockey players, such as moving into the booth as a color commentator or between the benches as a rinkside reporter. At this moment though, he is more focused on being immersed in his current roles, performing them to the best of his ability while ensuring he allocates time to spend with friends and family.
"I see myself more as an analyst in the studio more than traveling around and being in the rink," he said. "I think that's another thing with the schedule; it works really well with my schedule to have one or two commitments with the networks, but then I have other things going on in my life that I commit to."
Plenty of comparisons can be drawn between playing professional hockey and covering the sport from the studio in terms of preparation and synergy. Yet the end result is not as clearly defined since "winning" in television is quantifiably defined as generating ratings and revenue. Undoubtedly, Lundqvist is focused on doing what he can to bolster hockey's popularity; however, he also wants to enjoy this new phase of his career being around the game he loves.
"In sports, you win or you lose," Lundqvist explained. "With TV, you want to be yourself [and] you want to get your point out – but at the same time, if you do it at the same time you're having a good time, I feel like that's good TV."
Once their careers conclude, many athletes think about pursuing a post-playing career and oftentimes end up taking on a role in sports broadcasting. On MSG Networks alone, there are plenty of former players who take part in studio coverage on live game broadcasts, such as Martin Biron of the Buffalo Sabres, Bryce Salvador of the New Jersey Devils, and Matt Martin of the New York Islanders. At the national level, Turner Sports employs Paul Bissonnette, Anson Carter, and Wayne Gretzky for its studio broadcasts, while ESPN's top studio crew includes Mark Messier and Chris Chelios.
All of these former professional hockey players had an obligation to regularly speak with media members, answering questions about games and the season at large. Lundqvist maintained a professional relationship with journalists and beat reporters, and he most enjoyed taking questions when the team was doing well. Regardless of what the end result of a game was though, he had a responsibility to divulge his thoughts and, in turn, be subject to criticism and/or negative feedback.
His stellar career and persona all came from emanating a passion for the game – and it continues to manifest itself beyond the television screen. Listening to those passionate about the game discuss it usually engenders euphony and lucidity to viewers, analogous to the sound of the puck hitting the pads or entering the glove. It is a timbre Lundqvist created 27,076 times throughout his NHL career (regular season and playoffs) in preventing goals, and one he now aims to explain en masse.
"The reason why I kept going to the rink and put all the hours in was because I really enjoyed it," Lundqvist said. "If you decide to go into media or whatever it might be, I think the bottom line is [that] you have to enjoy it and make sure you have good people around you."
Derek Futterman is a features reporter for Barrett Sports Media. In addition, he serves as the production manager for the New York Islanders Radio Network and lead sports producer at NY2C. He has also worked on live game broadcasts for the Long Island Nets and New York Riptide. He previously interned for Paramount within Showtime Networks and wrote for The Long Island Herald. To get in touch, find him on Twitter @derekfutterman.
Should the NBA Nationalize Local TV Rights Like MLS?
The NBA's upcoming rights negotiations will be this transformational idea's first testing grounds.
Diamond Sports has been anything but a diamond in the sports world. As subscribers leave cable and satellite for streaming services, companies are dropping RSNs nationwide because they are too expensive to carry. This has caused an impending bankruptcy for the company, which owns the local rights to dozens of sports teams nationwide. It is also putting the NBA, NHL, and MLB at major financial risk.
In the short term, it is known that teams will still broadcast on their RSNs even if they aren't getting the paychecks they were promised in previous rights deals. This will affect teams' ability to pay players and could even create an unfair advantage among the haves of the sports world like the Yankees and Lakers and the have-nots. The NFL doesn't face the same problems that the other leagues are facing because its rights have been nationalized.
With the NFL's continued television dominance, college conferences also bundling up games together for more money, and the MLS guaranteeing themselves television revenue after packaging local and national rights together, could we see the other leagues follow suit? It is an option that is much easier said than done but it seems like we are moving closer to it becoming reality.
The NBA's upcoming rights negotiations will be this transformational idea's first testing grounds.
The biggest problem the NBA and other leagues would face are that the local rights to all of its teams don't expire at the same time. If the league were to sign a deal that included giving all local rights to a streamer, the amount which the league was getting paid would be very unique year after year. It would be crazy for a streamer to pay a huge chunk of money to the NBA all at once if the number of teams they have local rights to changes every year.
It would also be insane to pay an astronomical amount if the streamer is only getting the local rights to small-market teams like the Cavs and the Pistons. A major market team like the Lakers doesn't renew their local rights until 2032. We're still in 2023. How does that affect the league's operating costs?
The NBA would also have to figure out whether teams whose rights don't expire yet deserve to be included in the pot of money garnered from selling local rights to a streamer. Whether they are or they aren't, does it put each team at different competitive advantages and/or disadvantages when trying to acquire free agents or front-office personnel?
One of the most interesting puzzles to figure out is what influence a league owner like Washington's Ted Leonsis has in this potential measure when all is said and done. Leonsis just acquired complete control of the regional sports network — currently named NBC Sports Washington — that broadcasts Wizards and Capitals games for millions of dollars, although the exact amount remains undisclosed.
What does Leonsis do with his network if his team's games can no longer air there? Can his team opt out of participating in a potential league offering? Or if the games continue to air on his network but are simulcasted locally on the streamer that wins local rights on a national scale, does the streamer have the ability to pay less money for rights?
If so, does that make the deal as lucrative for the NBA? And what does that mean for retransmission fees that cable companies like Comcast pay to Leonsis and other RSNs they're still carrying?
The league will face a similar problem with the Lakers, Bulls, Knicks and other franchises that either wholly own or partially own a part of the RSNs where they broadcast their games.
I don't have the answers to any of these questions which is why they are written here in this column. Unfortunately for the leagues, they don't have the answers either. But if the NBA figures out a way to nationalize their product even more and make streaming games more appealing by ending local blackouts, it'll benefit the game more than it hurts the game.
NBA, NHL, and MLB games are still some of the highest-rated programs locally in many markets when you look at how they rate vs. other cable and broadcast offerings. But at this point, the ability to charge everyone for a program that only ten percent of subscribers are watching is a losing business proponent.
The leagues should start from scratch and sell a mass package of games for maximum profit. It gives fans a more centralized location to watch their favorite teams and puts the leagues on a much more steady path than where they could be headed sooner rather than later.
Diamond in the rough to sparkling jewel of light? Only time will tell.
Jessie Karangu is a columnist for BSM and graduate of the University of Maryland with a bachelor's degree in journalism. He was born and raised in Baltimore, Maryland but comes from Kenyan roots. Jessie has had a passion for sports media and the world of television since he was a child. His career has included stints with USA Today, Tegna, Sinclair Broadcast Group and Sightline Media. He can be found on Twitter @JMKTVShow.
Do You Have Affirmations Of Gratitude?
"We are told to be grateful for what we have and remember it could be worse. That feels like a really low bar, right?"
Having gratitude for your life is all the rage. If you, like me, have trouble starting your day with positive affirmations and maintaining a positive outlook about your job, read on!
We are told to be grateful for what we have and remember it could be worse. That feels like a really low bar, right? Here is another version. Try a few affirmations of gratitude instead.
"I HAVE A JOB."
With interest rates rising, inflation increasing, and spending down; corporations are laying people off. PayPal laid off 7% of its entire workforce. Amazon let 18,000 go. Alphabet (Google) said goodbye to 12,000 jobs. Radio sales managers need to hire people like you – experienced sellers with a track record of bringing home the bacon.
"I AM A PROBLEM SOLVER."
You solve a problem for your company when it comes to revenue. You know people, and you sell advertising better than anything they can come up with…so far.
Yes, they are trying to replace you, but Zoom Info reports iHeart's self-serve spot buying service, AdBuilder, is doing under 5 million in business. You have time to solidify your value. Be happy you are the rainmaker.
"I WORK IN THE PEOPLE BUSINESS."
Sports talk radio is the ultimate companion to millions of listeners. They aren't robots, and your stations improve their lives by talking about what they care about 24/7. Celebrate selling access to callers, Twitter followers and FANS who go to games. You also get to work with local celebrities that everybody knows but you know best. We all need a connection to other people and want to be seen and heard.
"I GET TO CHANGE HOW I FEEL ABOUT MYSELF."
In this job, you determine your value, feelings about your work, and who you work with. You get to set a strategy and talk to the businesspeople you want to help and do business with. It's like running your own business with a tremendous support staff. Try to do it independently, and you will appreciate accounting, traffic, production, and sales assistance. Those wins produce deposits in your bank account.
"I HAVE COMPETITION!"
That format competitor across the street does things differently and sometimes better than you or tries to imitate you and looks terrible. They motivate you to beat them to a new account or put a moat around your best clients so they can't be touched. They keep you sharp and willing to try new things. Good competition schemes to take money from your station, and your management needs you to protect them. And they also provide a place for you to work one day. The FTC wants to eliminate non-competes so you can walk across the street this year.
Jeff Caves is a sales columnist for BSM working in radio, digital, hyper-local magazine, and sports sponsorship sales in DFW. He is credited with helping launch, build, and develop SPORTS RADIO The Ticket in Boise, Idaho, into the market's top sports radio station. During his 26 year stay at KTIK, Caves hosted drive time, programmed the station, and excelled as a top seller. You can reach him by email at jeffcaves54@gmail.com or find him on Twitter @jeffcaves.