Kayce Smith Has Never Had More Freedom
"A lot of times when people say they hate Barstool, I can guarantee they've never actually consumed what we do."
Barstool Sports star Kayce Smith signed an extension with the sports and entertainment media hub, announcing the news alongside Dave Portnoy early this year. The announcement of Smith's future with the online powerhouse has been met with excitement (of all ways, shapes, and forms) from Barstool's fanbase and crew, alike. 
Smith was an immediate favorite with fans and the innovative content creators, producers, directors and fellow hosts/analysts that she works with. The Stoolie team have become some of the best follows on social media and most relatable personalities in the industry as they follow the blueprint laid out by Dave Portnoy. That is transparency. 
She's also been one of the most dynamic and wonderful people I've had the pleasure of working with since her TexAgs days. The star that you hear daily on Clancy and Carribis with Kayce Smith shines just as brightly off the air which is a depreciating asset. 
I spoke with the Texas native and Barstool Babe for a Q&A about her experience in sports media, finding the perfect fit with her career and what she thinks about her Barstool colleagues.
Chrissy Paradis: With a résumé including ESPN/SEC Network, SB Nation, Gridiron Now, NBC Sports, now Barstool—Your journey has involved a lot of hard work in stakes environments in various capacities- what advice have you learned in your career that has been most helpful?
Kayce Smith: I think the best advice I can give is that when you're pursuing a job, the worst thing you can hear is "no." And more importantly, that doesn't mean you will always hear "no." This industry can be brutal to crack into and a lot of people give up if an opportunity doesn't come immediately or if it's not exactly what they envisioned doing.
If this is your dream, it's worth the grind. You may have to take a different job to get your foot in the door, but you never know where that door will lead you. And always be yourself. That's how you stand out. Nobody wants a clone of something that already exists.
CP: You also hosted a podcast with Johnny Manziel—what was it like working with a Heisman Trophy Winner from your alma mater?
KS: It was a total full circle moment for me. My first job out of college was covering A&M for TexAgs and it happened to be Johnny's Heisman year, which as you can imagine was WILD. Actually, my only ESPN audition was a live TV hit talking about covering him on the local level. He won the trophy, I got the job and then we did a podcast together and became friends. Very cool career storyline.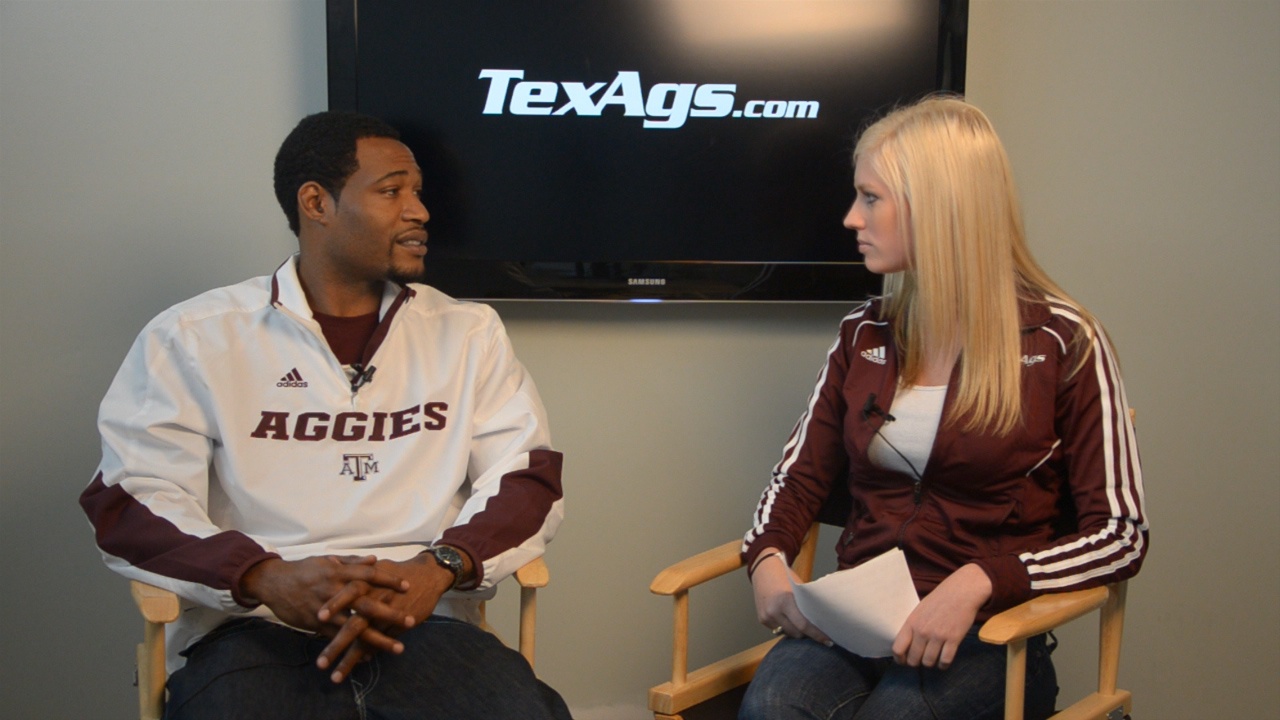 CP: Dave Portnoy said "Barstool is the best place in media at building stars and building personalities. If you are funny, interesting and opinionated we let you flourish. Kayce is all of the above." Which I couldn't agree more with, and in terms of highlighting talented men and women, Barstool truly offers a variety of shows/columns/podcasts including Chicks In The Office, and your shows, Clancy & Carrabis with Kayce Smith & Unnecessary Roughness. What do you want people to know about Barstool?
KS: If you can't find content that entertains you on our platforms, I'm convinced that you just can't be entertained. Between the blogs, the podcasts, video and radio shows…. there is something for EVERYBODY. A lot of times when people say they hate Barstool, I can guarantee they've never actually consumed what we do. Oh and also, as a woman in this company, I feel very safe and have never been treated better. So that whole "Barstool treats their women employees poorly" narrative is just flat out incorrect.
CP: What are some highlights from your time working with the team at Barstool Sports?
KS: By far my favorite moment is my first live College Football Show in 2018. We were on the road at Michigan for the Wisconsin game and when I walked up on stage and saw the gigantic crowd cheering for us, I realized I was exactly where I wanted to be.
Our fans are INSANE and honestly, those live shows give us life. Getting to sit next to Dave, Dan and Brandon every week – and be the one who gets to host the entire thing – is a dream come true. It mixes my TV background with the Barstool flavor covering my favorite sport… and maybe a beer or two thrown on us.
CP:I know that you're great friends with ESPN's Laura Rutledge outside of work—There is a stereotype about women not necessarily being supportive of other women, given the competition in the sports broadcasting industry. How has Laura been as an ally/resource in your career?
KS: Laura and I became FAST friends. Sure we were both trying to climb the same ladder at the time, but it's not like there's only ONE job for women in sports. There are plenty of jobs!! I've never understood why people play into that stereotype.
The way I see it is why wouldn't I want to become close to someone who loves the same things that I do and is in the same industry and understands what I go through on a day-to-day basis?? Fun fact that not many people know: when I left ESPN, Laura was my biggest cheerleader and it was actually her idea to start my own radio show which ended up landing me a job with NBC Sports in Boston. I'm forever thankful for her and she's absolutely KILLING it at ESPN. I'm so proud of her and vice versa.
CP: Who else has had a significant influence on your career, as a whole?
KS: Gabe Bock at TexAgs has been one of the most important people to me – not only for my career but in my personal life as well. He gave me my first shot on radio when I graduated college and has helped me create a brand that I never would've known I wanted. I always thought being a sideline reporter was my end goal, but Gabe helped me fall in love with radio and I've clearly never looked back. The show I did in Boston was three hours long, five days a week. Without my radio background, there's zero chance that I could've succeeded the way that I did. Radio is something I think everybody in sports should do at some point in your career. If you can talk for hours on air about sports and be interesting/entertaining, I think you can make it anywhere.
CP: With a beginning in college sports, was it difficult to make the choice to transition into covering all sports, especially in the middle of Patriots Nation?
KS: It actually wasn't because I took on the challenge head on and treated it like I was going back to school and studied like CRAZY. I fell in love with Boston immediately. I spent my days listening to local radio, reading every book I could and leaning on my coworkers. It's the best sports city in the world and it's not close. I just wish they liked college football a little more!
CP: Working in a predominantly male industry, in a predominately male demographic at Barstool, what's the biggest misconception(s) that you've seen/heard about Barstool that you would like to set straight?
KS: I mentioned it earlier, but anyone who thinks that Barstool treats women who work here poorly is just flat out wrong. I know we can't change everybody's minds – nor do we try to – but I promise being a woman at this company is not what the headlines tell you it is. I've never had more freedom to create content AND been treated with more respect than I have here.
Sure there are certain things that have been said in the past that I definitely don't agree with, but as far as how I'm treated, I have no complaints. I love these guys and I'll defend them until kingdom come, both as coworkers and friends. Erika Nardini has been an unbelievable piece of that as well. She's amazing to work for and is just flat out a boss at everything she does.
CP: What would people be most surprised to know about you?
KS: I grew up playing the harp! I started taking lessons in kindergarten and have played dozens of weddings and parties. Weird hidden talent of mine.
CP: Co-worker word association: one to four words, whatever comes to your mind first, about the following Barstool teammates…
CP:Big Cat?
KS: Best In The Game
CP: Dave Portnoy?
KS: Unapologetically authentic
CP: KFC / Kevin Clancy?
KS: A MISERABLE sports fan (but incredibly talented)
CP: Jared Carrabis?
KS: One of a kind
CP: Brandon Walker?
KS: A hilarious walking encyclopedia
CP: Feits?
KS:My idiot best friend (but really… a weird, super creative brain)
CP: What's your favorite thing about Barstool listeners/fans?
KS: How ridiculously diehard they are! We get recognized everywhere we go. It still seems weird when I'm walking on the streets of Manhattan and someone stops me. I've always said that Dave is a cult leader because of the following we have. We are basically a reality TV show at this point and that's not something we take for granted.
CP: What's your favorite thing about being a part of the Barstool team?
KS: The freedom to do and say whatever I want. Dave and Erika don't put rules on us as personalities. They also don't care if we publicly disagree with them, which is incredibly rare. Where else can you argue with the CEO or President of the company you work for without being worried about losing your job?? We are a gigantic, f***ed up family and I love being a part of it.
Chrissy Paradis is a BNM columnist and veteran sports radio producer. She's worked in Las Vegas, Washington DC, Raleigh and Hartford helping personalities such as Rob Dibble, Tim Brando, Steve Cofield, Adam Gold and Joe Ovies. You can contact her on Twitter @ChrissyParadis or by email at Chrissy.Paradis@gmail.com.
BSM's Black Friday SALE on BSM Summit Tickets is Underway!
Each year I'm asked if there are ways to save money on tickets to the 2023 BSM Summit. I always answer yes but not everyone takes advantage of it. For those interested in doing so, here's your shot.
For TODAY ONLY, individual tickets to the 2023 BSM Summit are reduced by $50.00. Two ticket and four ticket packages are also lowered at $50 per ticket. To secure your seat at a discounted price, just log on to BSMSummit.com. This sale ends tonight at 11:59pm ET.
If you're flying to Los Angeles for the event, be sure to reserve your hotel room. Our hotel partner this year is the USC Hotel. It's walking distance of our venue. Full details on hotel rooms can also be found via the conference website.
Jason Barrett is the owner and operator of Barrett Sports Media. Prior to launching BSM he served as a sports radio programmer, launching brands such as 95.7 The Game in San Francisco and 101 ESPN in St. Louis. He has also produced national shows for ESPN Radio including GameNight and the Dan Patrick Show. You can find him on Twitter @SportsRadioPD or reach him by email at JBarrett@sportsradiopd.com.
Media Noise: What Does The Return of Bob Iger Mean to ESPN?
Podcast: Play in new window | Download
Subscribe: RSS
Demetri Ravanos is the Assistant Content Director for Barrett Sports Media. He hosts the Chewing Clock and Media Noise podcasts. He occasionally fills in on stations across the Carolinas. Previous stops include WAVH and WZEW in Mobile, AL, WBPT in Birmingham, AL and WBBB, WPTK and WDNC in Raleigh, NC. You can find him on Twitter @DemetriRavanos and reach him by email at DemetriTheGreek@gmail.com.
Mina Kimes, Bruce Gilbert, Mitch Rosen, and Stacey Kauffman Join the 2023 BSM Summit
"By the time we get to March, we should have somewhere between 40-60 participants involved in the conference."
The 2023 BSM Summit is returning to Los Angeles on March 21-22, 2023, live from the Founders Club at the Galen Center at the campus of the University of Southern California. Information on tickets and hotel rooms can be found at BSMSummit.com.
We've previously announced sixteen participants for our upcoming show, and I'm excited today to confirm the additions of four more more smart, successful professionals to be part of the event. Before I do that, I'd like to thank The Volume for signing on as our Badge sponsor, the Motor Racing Network for securing the gift bag sponsorship, and Bonneville International for coming on board as a Session sponsor. We do have some opportunities available but things are moving fast this year, so if you're interested in being involved, email Stephanie Eads at Sales@BarrettSportsMedia.com.
Now let's talk about a few of the speaker additions for the show.
First, I am thrilled to welcome ESPN's Mina Kimes to the Summit for her first appearance. Mina and I had the pleasure recently of connecting on a podcast (go listen to it) and I've been a fan of her work for years. Her intellect, wit, football acumen, and likeability have served her well on television, podcasts, and in print. She's excelled as an analyst on NFL Live and Rams preseason football games, as a former host of the ESPN Daily podcast, and her appearances on Around The Horn and previously on Highly Questionable and the Dan Le Batard Show were always entertaining. I'm looking forward to having Mina join FS1's Joy Taylor and ESPN LA 710 PD Amanda Brown for an insightful conversation about the industry.
Next is another newcomer. I'm looking forward to having Audacy San Francisco and Sacramento Regional Vice President Stacey Kauffman in the building for our 2023 show. In addition to overseeing a number of music brands, Stacey also oversees a dominant news/talk outlet, and two sports radio brands. Among them are my former station 95.7 The Game in San Francisco, and ESPN 1320 in Sacramento. I'm looking forward to having her participate in our GM panel with Good Karma's Sam Pines, iHeart's Don Martin, and led by Bonneville's Executive Vice President Scott Sutherland.
From there, it's time to welcome back two of the sharpest sports radio minds in the business. Bruce Gilbert is the SVP of Sports for Westwood One and Cumulus Media. He's seen and done it all on the local and national level and anytime he's in the room to share his programming knowledge with attendees, everyone leaves the room smarter. I'm anticipating another great conversation on the state of sports radio, which FOX Sports Radio VP of programming Scott Shapiro will be a part of.
Another student of the game and one of the top programmers in the format today is 670 The Score in Chicago PD, Mitch Rosen. The former Mark Chernoff Award recipient and recently appointed VP of the BetQL Network juggles managing a top 3 market sports brand while being charged with moving an emerging sports betting network forward. Count on Mr. Rosen to offer his insights and opinions during another of our branding and programming discussions.
By the time we get to March, we should have somewhere between 40-60 participants involved in the conference. My focus now is on finalizing our business and digital sessions, research, tech and sports betting panels, securing our locations and sponsorships for the After Party and Kickoff Party, plus working out the details for a few high-profile executive appearances and a couple of surprises.
For those looking to attend and save a few dollars on tickets, we'll be holding a special Black Friday Sale this Friday November 25th. Just log on to BSMSummit.com that day to save $50 on individual tickets. In addition, thanks to the generosity of voice talent extraordinaire Steve Kamer, we'll be giving away 10 tickets leading up to the conference. Stay tuned for details on the giveaway in the months ahead.
Still to come is an announcement about our special ticket rate for college students looking to attend the show and learn. We also do an annual contest for college kids to attend the event for free which I'm hoping to have ready in the next few weeks. It's also likely we'll give away a few tickets to industry professionals leading up to Christmas, so keep an eye out.
If you work in the sports media industry and value making connections, celebrating those who create an impact, and learning about the business from folks who have experienced success, failure, and everything in between, the Summit is worth your time. I'm excited to have Mina, Bruce, Mitch and Stacey join us for the show, and look forward to spending a few days with the industry's best and brightest this March! Hope to see you there.
Jason Barrett is the owner and operator of Barrett Sports Media. Prior to launching BSM he served as a sports radio programmer, launching brands such as 95.7 The Game in San Francisco and 101 ESPN in St. Louis. He has also produced national shows for ESPN Radio including GameNight and the Dan Patrick Show. You can find him on Twitter @SportsRadioPD or reach him by email at JBarrett@sportsradiopd.com.