Sports Radio Program Director's React To ESPN Radio Changes
"Dan is incredibly committed to his way of doing things and he and the network were clearly heading in opposite directions."
News broke last week that Dan Le Batard would soon be leaving ESPN and the ESPN Radio weekday lineup. As a result, changes were required to ESPN Radio's programming schedule, the second major change in less than six months. Mike Greenberg will now slide into Le Batard's old timeslot, and the team of Alan Hahn and Bart Scott will occupy Greenberg's previous show time of Noon to 2pm ET.
To nobody's surprise, the changes produced a ton of reaction. I spent much of my weekend swapping emails and texts with more than ten sports radio program directors who partner with ESPN Radio across the country to take their pulse on The Dan Le Batard Show with Stugotz going away, Greeny changing time slots, and 98.7 ESPN NY's Bart & Hahn, moving into the national lineup in middays. The majority of the feedback I received was a combination of frustration, disappointment, and confusion of how much the worldwide leader values it's radio affiliate partners.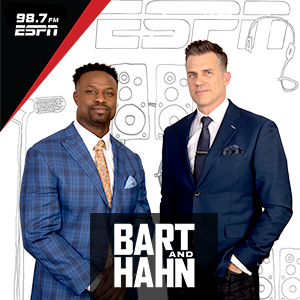 To assure that we received honest and candid feedback, I offered each program director anonymity. Some readers and industry professionals may have an issue with that, but I'd rather have decision makers offer true sentiments instead of platitudes.
One sports radio insider I spoke with told me that he wasn't at all surprised by Le Batard and ESPN cutting ties. In fact, he says everyone he spoke to close to the situation said they expected the announcement to come much sooner than it did.
"I was actually surprised that his show was a part of the new lineup when it was announced this summer. By keeping him while also taking away an hour of his show, you knew the end was near and there would be another lineup fairly soon."
One PD out West told me that he is surprised ESPN didn't find a way to try and keep Le Batard in the family somehow.
"I think Dan is a great talent that resonates with a younger demographic. Those people are not easy to find, and I am curious which direction ESPN is going in moving forward with their daily television product."
One PD in the Midwest said he suspects Le Batard has been thinking about his future with ESPN for well over a year now, since he caught heat for criticizing the network's unwillingness to let talent address social issues.
"I think Dan is incredibly committed to his way of doing things and he and the network were clearly heading in opposite directions. But there is a deeper issue here and it's really about sports radio trying to come to terms with today's political climate," the PD said.
"Dan is not shy with his opinions and is not afraid to share them, a staple of any successful radio program in the past. This is great if you're a conservative oriented talk station with a clear identity. People are coming to that station specifically to hear that viewpoint. But if you're a station whose identity is tied up in talking about the local baseball, football or basketball team in interesting and entertaining ways – why should a listener come back tomorrow if they think they're just going to get a "sports guy" trying to do his Sean Hannity or Jake Tapper bit? This terrifies a sports network who just doesn't have listeners or margins to lose right now. They are afraid of dividing and losing the somewhat niche audience they are able to attract."
Another Midwestern PD told me it is that willingness to make people, particularly the bosses, uncomfortable that allowed The Dan Le Batard Show to stand out.
"The other shows seem pretty formulaic, but Le Batard and his crew were original; and not wholly dependent on the 'news of the day' in creating memorable and compelling segments. They looked at sports, pop culture, and current events thru a different lens, and I appreciated the originality."
A PD in the South agreed with the idea that the ESPN Radio lineup is a lot less special without Dan Le Batard in the mix.
"His exit just furthers the homogenization of ESPN's lineup. For the most part, it's dull by design. As far as Dan's replacement? Come on, let's just say I have very low expectations for it's longevity on my station. ESPN is still a brand that carries cache locally, but the apple isn't as shiny as it was. Fortunately for the network, those four letters still open doors."
That brings up another interesting question. What is the value of the ESPN brand to local affiliates now? Without Le Batard, everything during prime hours originates out of the Northeast and all of the shows in mid days, when stations may elect to air syndicated programming, have a very distinct New York flavor.
One PD I spoke with in the Northeast says the shows don't add much value to his station, even though he's not far from the big apple. The lineup may mean less, but the four letters still carry weight.
"I still think the ESPN brand means something. Maybe not what it once meant, but it's still synonymous with sports and being the top sports brand out there. I still think the power of saying ESPN to clients is more powerful than any other name available."
"I have no reason for optimism," a West Coast programmer said when I asked how he felt about airing Bart & Hahn. "It reinforces every negative stereotype about the East Coast centricity of ESPN Radio. You can never be all things to all people (which is the inherent challenge of a network model), but the combination of a longtime New York writer and a player best known for his days with the Jets is an extraordinarily narrow area of interest and expertise. So, I'm sure it will continue to be a good show for 98.7 in NYC."
I asked several programmers to offer their perspective on the network changing big parts of their weekday lineup twice in the span of a little more than just four months. One PD in the Midwest said that it certainly isn't ideal, but affiliates likely won't view it as detrimental as they would if it was local talent being shuffled multiple times within half of a calendar year.
"It begs the bigger question—where does ESPN Radio or any national network or show fit with local radio stations? If I want to listen to any ESPN Radio show, I can listen to it on my phone, watch it on ESPN+, listen to it on SiriusXM, TuneIn, or on my smart speaker. Why do we need any of these shows on a local radio station?"
"ESPN has bent over backwards to help localize the relationship as much as possible – namely offering their talent as guests regularly on our local shows, but in reality, LOCAL content is what drives attention and revenue," another programmer added in agreement. "I don't know that ESPN Radio's programming is going to have mass appeal to local markets outside of New York, LA and possibly a handful of other big cities."
It reminds me of a conversation I once had with a PD down south that said he didn't see the need to pay the exorbitant rights fees the local college football team was asking for to be an affiliate of their radio network because there are dozens of ways to consume any one game now. Nothing that has multiple broadcast homes can be that special.
Another PD told me that given the value in the ESPN brand name, the network shouldn't rule out continuing to shuffle the deck until they hit on multiple shows that are truly special.
"The ESPN brand still universally means sports – and the play-by-play rights that the network offers are very valuable. But they should continue exploring and looking for transcendent talent to be a part of their regular lineup. Another run at a Pat McAfee? Try to get Katie Nolan more involved in daily radio? Peyton Manning? Hell, put Brett Favre on a show…something that moves the needle. Use weekends to grow up-and-coming personalities, but think about dynamic ensembles for daily radio that creates more 'juice' and interest."
I asked two major market programmers their thoughts on the lineup and where ESPN stands in the national network landscape. Both acknowledged they were unhappy with where things stood, but they each gave a very different answer in terms of where the network ranks against its competitors.
"If we could get out of our contract today, we would. I think that says a lot about how things have changed," one told me. When I asked if he felt the network valued his station and any of the feedback they'd provided on how the changes were affecting business, he added "Unfortunately, many of the line-up changes are inferior to previous shows on the network once offered. We have voiced our opinion, especially on the morning show but don't feel we are being heard. Our complaints are usually met with research on where they say the show "is working."
Another programmer also felt the network's lineup had lost its luster but tried to relay the positives. "I think ESPN's roster – albeit not as good as it was a few years ago with Mike & Mike – is still the best option. Fox Sports Radio has closed the gap but ESPN's play-by-play pushes their package over the top. If you want your brand to be relevant in the future though, worrying about Bart & Hahn's ratings should be secondary to building out LOCAL content."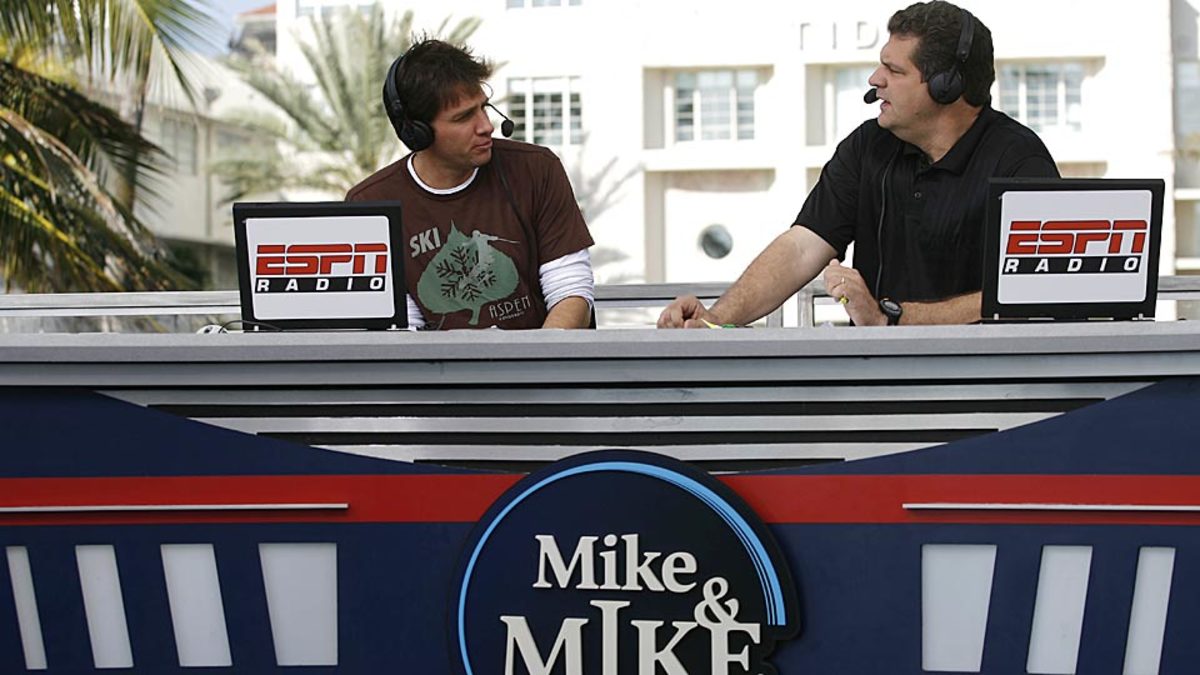 In trying to diagnose the new ESPN Radio approach, one PD pointed to an issue that drives local programmers crazy and is seen as "a huge problem". There's a collective belief that ESPN is insistent on turning their TV stars into radio hosts, a strategic decision which differs from how the network attained its initial success. ESPN Radio became part of the fabric of radio stations across the country because their talent valued the medium and understood how to create great radio content.
"ESPN Radio needs its hosts to be FULLY invested in the radio show," he said. "TV is full of beautiful people, amazing graphics packages and strong info, but in radio you need to make an authentic connection over time with individual listeners. To be able to do that with large swaths of individual listeners is what will ultimately make a successful radio show. If a host can't make that connection to its audience it just won't work and it's a very difficult thing to do. Also, as a programmer, if it's obvious to me that the radio show is just another thing they do at the network, why should I invest fully in them on the other side?"
There are going to be mixed responses anytime major changes are made at a national outlet like ESPN Radio. Stations in August adjusted their lineups to feature Le Batard and/or Greenberg in specific timeslots, and now less than five months later they have to explore changing yet again. That's difficult for not only maintaining audience, but it creates problems for sales departments too who are trying to convince clients to buy commercials inside of a certain show, only to have them not be there less than a half a year later.
The big question that ESPN has to answer moving forward is how important is radio to their business? The network lost well respected executive Traug Keller earlier this year, a huge advocate internally for ESPN Radio and someone who worked hard to keep relationships strong with local stations. Less than a full year into a new regime, and the network already has two talent overhauls on its hands, including a poorly managed situation involving former morning man Mike Golic.
Station programmers are hoping ESPN Radio executives continue to work on improving the network's talent and lineup. It shouldn't be lost on anyone in Bristol that the majority of respondents to this story felt the lineup has gotten worse. They cited play by play and the brand name as the key reasons why they continue partnering with the network. But if the shows themselves aren't exciting station programmers or local audiences, and play by play airs mostly at night thus generating less local revenue, eventually those four letters will matter less to operators who are paying rights fees and giving up large chunks of inventory.
ESPN Radio has been an important part of the national/local sports radio landscape for decades. Stations have valued their relationship and enjoyed a lot of ratings and revenue success with the network. But if those two areas struggle more as a result of frequent lineup shuffling, local partners could be forced to explore new relationships, and give up on four important letters that have been a large part of their identity.
Demetri Ravanos is the Assistant Content Director for Barrett Sports Media. He hosts the Chewing Clock and Media Noise podcasts. He occasionally fills in on stations across the Carolinas. Previous stops include WAVH and WZEW in Mobile, AL, WBPT in Birmingham, AL and WBBB, WPTK and WDNC in Raleigh, NC. You can find him on Twitter @DemetriRavanos and reach him by email at DemetriTheGreek@gmail.com.
Who Handled the Tua Concussion Discussion Best?
Rex Ryan, Rodney Harrison, and Boomer Esiason stood out with their commentary on the Tagovailoa story.
The major story going into the bulk of Week 4's NFL action on Sunday was the concussion suffered by Miami Dolphins quarterback Tua Tagovailoa in Thursday's game versus the Cincinnati Bengals.
Amazon's Thursday Night Football telecast, particularly its halftime show, faced heavy criticism for neglecting to mention that Tagovailoa had been tested for a concussion in his previous game just four days earlier. Additionally, the NFL Players Association called for an investigation into whether or not the league's concussion protocols were followed properly in evaluating Tagovailoa.
In light of that, how would the Sunday NFL pregame shows address the Tagovailoa concussion situation? Would they better inform viewers by covering the full story, including the Week 3 controversy over whether or not proper protocols were followed?
We watched each of the four prominent pregame shows — ESPN's Sunday NFL Countdown, Fox NFL Sunday, CBS's The NFL Today, and NBC's Football Night in America — to compare how the Tagovailoa story was covered. With the benefit of two extra days to research and report, did the Sunday shows do a better job of informing and engaging viewers?
Here's how the pregame studio crews performed with what could be the most important NFL story of the year:
Sunday NFL Countdown – ESPN
ESPN's pregame show is the first to hit the air each Sunday, broadcasting at 10 a.m. ET. So the Sunday NFL Countdown crew had the opportunity to lead the conversation for the day. With a longer, three-hour show and more resources to utilize in covering a story like this, ESPN took full advantage of its position.
The show did not lead off with the Tagovailoa story, opting to lay out Sunday's schedule, which included an early game in London between the Minnesota Vikings and New Orleans Saints. But the Countdown crew eventually got to issue on everyone's minds approximately 28 minutes into the program.
Insider Adam Schefter provided the latest on the NFL and NFLPA's investigation into the matter, particularly the "gross motor instability" Tagovailoa displayed in stumbling on the field and how the Dolphins initially announced that the quarterback had suffered a head injury, but later changed his condition to a back injury.
Schefter added that the NFL and NFLPA were expected to interview Tagovailoa and pass new guidelines for concussion protocols, including that no player displaying "gross motor instability" will be allowed to play. Those new rules could go into effect as early as Week 5.
"This is an epic fail by the NFL," said Matt Hasselbeck to begin the commentary. "This is an epic fail by the medical staff, epic fail by everybody! Let's learn from it!"
Perhaps the strongest remarks came from Rex Ryan, who said coaches sometimes need to protect players from themselves.
"I had a simple philosophy as a coach: I treated every player like my son," Ryan said. "Would you put your son back in that game after you saw that?
"Forget this 'back and ankle' BS that we heard about! This is clearly from head trauma! That's it. I know what it looks like. We all know what it looks like."
Where Sunday NFL Countdown's coverage may have stood out the most was by bringing injury analyst Stephania Bell into the discussion. Bell took a wider view of the story, explaining that concussions had to be treated in the long-term and short-term. Science needs to advance; a definitive diagnostic tool for brain injury doesn't currently exist. Until then, a more conservative approach has to be taken, holding players out of action more often.
Grade: A. Countdown covered the story thoroughly. But to be fair, it had the most time.
The NFL Today – CBS
CBS's pregame show led off with the Tagovailoa story, going right to insider Jonathan Jones to report. He cited the key phrase "gross motor instability" as a significant indication of a concussion.
Jones also clarified that the unaffiliated neurotrauma consultant who helped evaluate Tagovailoa made "several mistakes" in consulting with the Dolphins' team doctor, leading to his dismissal by the NFL and NFLPA.
The most pointed remarks came from Boomer Esiason, who said any insinuation that the Dolphins, head coach Mike McDaniel, or the team medical staff put Tagovailoa back in the game in order to win was "off-base." Phil Simms added that the concussion experts he spoke with indicated that Tagovailoa could miss four to six weeks with this injury.
Grade: B-. The opinions from the analysts were largely bland. Jones's reporting stood out.
Fox NFL Sunday
The Fox NFL pregame show also led off with the Tagovailoa story, reviewing the questions surrounding how the quarterback was treated in Week 3 before recapping his injury during Week 4's game.
Jay Glazer reported on the NFL's investigation, focusing on whether or not Tagovailoa suffered a concussion in Week 3. And if he did, why was he allowed to play in Week 4? Glazer noted that Tagovailoa could seek a second, maybe a third medical opinion on his injury.
Jimmy Johnson provided the most compelling commentary, sharing his perspective from the coaching side of the situation. He pointed out that when an injured player comes off the field, the coach has no contact with him. The medical team provides an update on whether or not the player can return. In Johnson's view, Mike McDaniel did nothing wrong in his handling of the matter. He has to trust his medical staff.
Grade: B. Each of the analysts shared stronger opinions, particularly in saying a player failing "the eyeball test" with concussion symptoms should be treated seriously.
Football Night in America – NBC
Sunday Night Football was in a different setting than the other pregame shows, with Maria Taylor, Tony Dungy, and Rodney Harrison broadcasting on-site from Tampa Bay. With that, the show led off by covering the aftermath of Hurricane Ian, its effects on the Tampa area, and how the Buccaneers dealt with the situation during the week.
But after 20 minutes, the show got into the Tagovailoa story with Mike Florio reporting what his peers told viewers earlier in the day regarding pending changes to the NFL's concussion protocol and "gross motor instability" being used as a major indicator.
Florio emphasized that the NFLPA would ask how Tagovailoa was examined and treated. Was he actually examined for a back injury in Week 3? And if he indeed suffered a back injury, why was he still allowed to play?
When the conversation went back to the on-site crew, Dungy admitted that playing Thursday night games always concerned him when he was a coach. He disclosed that teams playing a Thursday game needed to have a bye the previous week so they didn't have to deal with a quick, four-day turnaround. That scheduling needs to be addressed for player safety.
But Harrison had the most engaging reaction to the story, coming from his experience as a player. He admitted telling doctors that he was fine when suffering concussion symptoms because he wanted to get back in the game. Knowing that was wrong, Harrison pleaded with current players to stay on the sidelines when hurt because "CTE takes you to a dark place."
"It's not worth it. Please take care of yourself," said Harrison. "Don't depend on the NFL. Don't depend on anybody. If something's wrong with your head, report it."
Grade: B+. Dungy and Harrison's views of the matter from their perspective as a coach and player were very compelling.
Ian Casselberry is a sports media columnist for BSM. He has previously written and edited for Awful Announcing, The Comeback, Sports Illustrated, Yahoo Sports, MLive, Bleacher Report, and SB Nation. You can find him on Twitter @iancass or reach him by email at iancass@gmail.com.
Jason Barrett Podcast – Terry Dugan & Adam Delevitt, BetRivers
Jason Barrett is the owner and operator of Barrett Sports Media. Prior to launching BSM he served as a sports radio programmer, launching brands such as 95.7 The Game in San Francisco and 101 ESPN in St. Louis. He has also produced national shows for ESPN Radio including GameNight and the Dan Patrick Show. You can find him on Twitter @SportsRadioPD or reach him by email at JBarrett@sportsradiopd.com.
Joe Rogan Betting Admission Reveals Gray Area
Rogan's admission raises a question as to just how ethical it is to place bets with insider information, and whether it should be legal or not.
For nearly a decade, I've been fortunate enough to cover the football and basketball programs for the University of Kentucky in some form or fashion. Whether writing for blogs or working with ESPN Louisville as co-host of the post-game show, I've gotten to know people around the program I grew up supporting, and other individuals in the media doing the same. I've made some terrific friendships and cultivated quite a few relationships that provide me with "inside information" about the teams.
As an avid sports bettor, that information has sometimes put me into some difficult personal situations. There have been times when I've been alerted to player news that wasn't public, such as a player dealing with an injury or suspension. It's often been told to me off-the-record, and I've never put that information out publicly or given it to others.
I wish I could also say I've never placed a wager based on that information, but that would be a lie. While it's been a long time since I've done so, I've ventured into that ethical gray area of betting on a team that I'm covering. I've long felt uncomfortable doing so, and I'd say it's been a few years since I last did it.
At least I know I'm not alone. On his latest episode of The Joe Rogan Experience, Rogan told guest Bert Kreischer that earlier in his UFC broadcasting career he regularly bet on fights. He claims to have won nearly 85% of the time (which I highly doubt but that's another discussion for another time), either via bets he made or ones he gave to a business partner to place on his behalf.
From his comments, Rogan doesn't seem to have been using sensitive information to gain an edge with the books, but he also didn't state that he didn't. He indicates that much of his success stemmed from knowing quite a bit more about fighters coming from overseas, and he said he "knew who they were and I would gamble on them."
But Rogan undoubtedly has long been in a position where he knows which fighters might be dealing with a slight injury, or who are struggling in camp with a specific fighting style. It's unavoidable for someone whose job puts him into contact with individuals who tell him things off-the-record and divulge details without perhaps even realizing it.
But let's say Rogan did get that information, and did use it, and was still doing so today. The fact is…there's nothing illegal about it, not in the United States at least. While it's against the rules of some entities — the NFL, for example, has stated they could suspend or ban for life individuals who use inside information or provide it to others — it's not against any established legal doctrine. Unlike playing the stock market, insider betting is not regulated by any central body or by the government.
However, Rogan's admission raises a question as to just how ethical it is to place bets with insider information, and whether it should be legal or not. Many of the after-the-fact actions that have been taken in the realm of legalized sports betting in this country, or those being discussed currently (such as advertising limitations), fall in line with changes made in Great Britain following their legalization.
One of their big changes was making it illegal to utilize insider information, with very specific definitions about the "misuse of information" and what steps the Gambling Commission may take. It lays out what information can be used, the punishments that may be levied, and at what point it might venture into criminality.
Sportsbooks do have recourse in some instances to recoup money on insider betting, but not many. If they can prove that a wage was influenced, they can cancel the bet or sue for the money. The most well-known instance is the individual who bet $50,000 at +750 odds that someone would streak on the field during Super Bowl LV –which he did– and then was denied the payout when he bragged about his exploits. But unless someone foolishly tells the books that they've taken them with information that the public wasn't privy to, they have little to no chance of doing anything about it.
There are ramifications to insider betting that raise truly ethical dilemmas. Just like stock trading, information can be immeasurably valuable to those with stakes large enough to change prices. If I'm placing a $20 prop bet with the knowledge that a team's starting running back might be out for a game, or dealing with an ankle injury, I'm not going to harm anybody else playing that line. But if I give that information to a shark, who places a $20,000 wager on that same line, I've now enabled someone to move a line and impact other bettors.
Online sports betting in this country continues to grow, and every day we are reminded that there are still aspects of the space that can feel like the wild west. As individuals in the media, we have to decide personally what our ethical stances are in situations like this. We also have to keep in mind the impact that betting can have on our biases–especially if we've bet using inside information. A prime example is Kirk Herbstreit, who won't even make a pick on College Gameday for games he is going to be doing color commentary for lest he possibly appears biased on the call.
At one end of the spectrum, you have someone like Herbstreit, and on the other end, you have folks like Rogan who, while he no longer does so, was more than happy to not only wager on fights himself but gave the information to others. And in the middle, you have hundreds of people in similar situations, who might lean one way or another or who, like me, may have found themselves on either side of that ethical line.
There is no black or white answer here, nor am I saying there's necessarily a right or wrong stance for anybody in the sports media industry to take. I would say that each person has to take stock of what they're comfortable doing, and how they feel about insider information being used. Rogan didn't break any rules or laws by gambling on the UFC, but his admission to doing so might be the catalyst towards it no longer being accepted.
Jason Ence resides in Louisville, KY and is fully invested in the sports betting space. Additionally, he covers Premier League and Serie A soccer, college football, and college basketball for ESPN Louisville 680 including serving as the station's University of Kentucky correspondent, and co-host of the UK football and basketball post-game shows. He can be found on Twitter @JasonUK17 and reached by email at jason.ence17@gmail.com.