Once Crisis-Addled, NFL Thrives In New Riches And Buzz
Surviving racial upheaval, a concussion crisis and a pandemic, the league will rule American sport into the next decade, pivoting around issues to command a $100-billion-plus TV payout while generating a 365-day news cycle.
Wasn't football supposed to be ghosted by now, a victim of cancel culture? Allow me to jog America's convenient amnesia from, say, four years ago. If the concussion crisis and a continuous flurry of personal conduct cases wouldn't kill the NFL, then the Colin Kaepernick backlash certainly would. That's what the media were doomcasting then, mainstream and social alike.
Book it: A league lorded by old, white, tone-deaf billionaires had no chance of surviving the onslaught of the people.
So why is it, people, that the NFL in 2021 is more prominent, prosperous and almighty than ever? Deftly surviving those existential challenges AND a global pandemic that didn't cancel a single game, the league is successfully doubling its media rights bonanza, commanding a collective $100 billion-plus from networks and streamers beholden to the owners like never before. Not only will the NFL remain king, it will stay atop the throne into the next decade, with 17-game regular seasons stretching to 18. And if it didn't do so without selling out — Roger Goodell, meet the grimy casino world — the league has maintained cross-demographic relevance while Major League Baseball is battered by crippling crises and the NBA struggles amid internal upheaval.
You don't have to like how the NFL avoided its so-called demise, politicizing and scheming all the way. I'm not a fan of the Jerry Jones grandstand and the Robert Kraft rub-and-tug, a crime he got away with, of course. But if we once looked at Goodell and thought he was the world's biggest idiot, who's saying that now? Ray Rice forced the league to look inward and crack down on off-field crime. Safety rules were installed to protect brains. Quarterbacks were surrounded by impenetrable force fields, or so it seemed, and maximized for optimum starpower and importance. Offenses exploded, giving rise to Patrick Mahomes, Deshaun Watson and magicians friendly to TV audiences, fantasy geeks and millions of thrill-seekers lapping up the league's new embrace of legalized gambling.
And when the Kaepernick fallout could have led to labor ruin, Goodell finally expressed what he should have said years before, showing up in his home den — was he in pajamas with giraffes? — and declaring, "We, the National Football League, condemn racism and the systematic oppression of black people. We, the National Football League, admit we were wrong for not listening to NFL players earlier and encourage all to speak out and peacefully protest. We, the National Football League, believe black lives matter."
Crisis averted, the NFL was restored as the epicenter of American sports, the last remaining form of premium appointment media in an evolving culture of cord-cutting, Gen-Z indifference and relentless life problems — COVID-19, racial protests, political madness, deadly Capitol Hill riots and who in God's name knows what else. Sports doesn't matter to the masses as it once did.
Football still matters.
Flip on the TV. Check out the websites. Tune to sports radio. What is the dominant topic in March, as America slowly tries to vaccinate itself out of a corona-nightmare? It isn't college basketball, which might have brackets but lacks the usual passion and interest heading inside an Indiana bubble where only smatterings of fans will be permitted for a sport reliant on energy. The NBA? The All-Star Game was a COVID-distracted bore, and wake us up when the playoffs start and the Brooklyn Nets realize they can't win a title without a defensive stop, regardless of unprecedented offensive machinery. Baseball, careening toward a devastating labor impasse, is appropriately drawing more attention for sexual harassment than anything happening on the fields of spring training. Are they even playing hockey?
Here's what America is talking about: the NFL. Through the postseason and another Ageless Tom Brady coronation, the buzz somehow hasn't stopped. Now it's all about quarterback-o-rama, the mobility of nobility, non-stop debates on where Watson and Russell Wilson might be headed as they demand their way to preferred destinations. As I've written, this get-me-out-of-here-ism isn't healthy for the league's competitive integrity or balance, but it's great for media traffic. Which explains why every legitimate development is met with an enormous headline: Ben Roethlisberger is staying in Pittsburgh … Matthew Stafford finally fled a loser in Detroit for a chance to win in Los Angeles … Carson Wentz, who could play Prince Harry in the movie if this football thing doesn't work out, has a rehab shot in Indianapolis.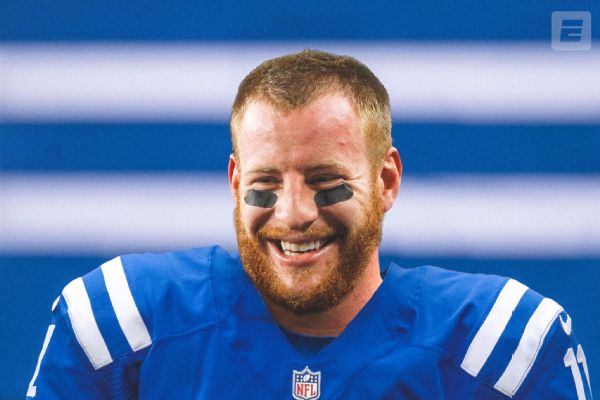 The drama is only beginning, sure to extend through an April 29 draft night that will include teams jumping the line with trade-ups. Don't be shocked, after Trevor Lawrence joins Urban Meyer in Jacksonville and Zach Wilson's life is ruined with the Jets, that the Panthers trade up to take Justin Fields and the Falcons select Trey Lance — yep, quarterbacks with the first four picks — with the 49ers potentially moving up to No. 9 to snag Mac Jones. But those calls are weeks away. As long as Wilson and Watson aren't tethered to their current situations, the hum will grow louder.
If the Seahawks now are listening to Wilson offers, does that mean the four teams on his agent's stated wish list — Cowboys, Bears, Saints, Raiders — now have legitimate shots? Shouldn't Wilson push hard for New Orleans and do his best to avoid Boss Jerry, Jon Gruden and Chicago's QB dead end? And what if the Saints don't land Watson or Wilson? Is that why Drew Brees, supposedly being fitted for an NBC blazer, was working out furiously on a video posted by his trainer? If the Saints don't want him anymore, might Bill Belichick take a one-year flyer? Or might he trade up for Jones, who's being compared to Brady, though he's more likely a byproduct of having DeVonta Smith in his daily radar at Alabama? Maybe Jerry tires of Dak Prescott's contractual demands — the guy has more commercial endorsements than playoff appearances — and trades him for Derek Carr … or Wilson.
Might the Bears be best served, given their dismal history at the position, playing an entire season without a quarterback? Will anyone opt for a feel-good triumph in Alex Smith? And who wants Sam Darnold? Maybe the Washington Football Team, which could make something of the misfit after extracting a decent playoff showing from Taylor Heinicke. And will Lamar Jackson, still a postseason straggler, become the next star to enter the get-me-out-of-here derby if the Ravens don't extend his contract to his wishes?
Know how crazy it's getting? Baker Mayfield — entrenched in Cleveland, at least until his next four-turnover game — tweeted something about seeing "a UFO drop straight out of the sky" on his way home from dinner. Fox Sports Radio host Colin Cowherd, who still would bash Mayfield if he won a Super Bowl, said, "I would prefer of all the qualities of a franchise quarterback … I want to know your arm. Are you good pre-snap? Are you mobile? The ability to see UFOs in the offseason is nowhere near my top 10 qualifications. Joe Montana, Troy Aikman, Terry Bradshaw, Tom Brady have never seen aliens. I would prefer my guys don't talk about it."
You'll never guess who stepped out of his Super Bowl hangover to respond. "How do you know I've never seen aliens Colin?" tweeted Brady.
With the Kardashians fading from mass TV consumption — may Kanye rest in peace — QB Chitter-Chatter is the new American gossip obsession. Whether it's a scam created by agents or a natural outgrowth of the most glamorous position in team sports, the rage is just another reason why Fox, CBS and NBC have no choice but to ante up, soon to announce 11-year deals at roughly $2 billion each to renew current packages. And why ESPN, with the promise of a long-coveted spot in the Super Bowl rotation, will pay more than $2 billion for "Monday Night Football" after initially balking at the NFL's demand of a fee increase. And why Jeff Bezos is an expected part of the mix, buying "Thursday Night Football" for his Amazon Prime Video platform and forcing Baby Boomers to figure out this streaming thing.
The post-pandemic media landscape will look like a war-torn battlefield, leaving uncertainty across the entertainment industry. Turns out the NFL was disruption-proof, its ratings holding reasonably steady when 2020 ratings were tumbling throughout sports, making football the surest investment bet for the networks. The league did lose $5 billion in 2020 revenue, yet still topped out near $10 billion, according to Forbes — while MLB was falling to $4 billion and the NBA, over two seasons, to $7.9 billion. With the new media jackpot, the NFL is the only major sports league without financial concerns, with the 32 teams assured of sharing added multiple billions per year.
If anyone has a crystal ball about where the world will be in 2031, please show me. It's possible a different collection of NFL bidders takes shape, from platforms we don't know about yet. Jones and Kraft likely won't be involved, and perhaps Bezos will have ascended to the ownership of the Washington Football Team. Maybe virus variants lead to another pandemic that forces sports into movable bubbles without spectators, designed by Elon Musk. My guess is your guess, much depending on whether the NFL retains the eyeballs of teenagers as they grow into disposable-income adulthood.
Until then, I just want to know where the doomcasters went.
Probably debating where Russell Wilson ends up, I suppose.
Jay Mariotti, called "the most impacting Chicago sportswriter of the past quarter-century,'' writes a weekly media column for Barrett Sports Media and regular sports columns for Substack while appearing on some of the 1,678,498 podcasts in production today. He's an accomplished columnist, TV panelist and radio talk host. Living in Los Angeles, he gravitated by osmosis to film projects. Compensation for this column is donated to the Chicago Sun-Times Charity Trust.
What Does a Sweep Mean For The Guy Calling the Games?
"These situations can put some pressure on the broadcasters, no matter if your team is the sweeper or the one getting swept."
This year in the NBA and NHL playoffs there have been a good number of sweeps. While it's always a possibility, the leagues and their broadcast partners cringe at these short series. There's very little drama, hence very little reason to tune in, unless you're a fan of the team on the right end of the sweep. 
Of course, monetarily, the television networks hate the sweeps. Most of them have already sold advertising for the "if necessary" games that they won't be able to cash in on. Sometimes a sweep will eliminate not just a marquee team, but some top tier players. For example, the Lakers and LeBron James were shown the door by the Nuggets in 4 games. Like him or not, LeBron is a draw.
"Definitely not ideal! Lakers–Celtics is the gold standard for an NBA Finals Matchup," Adam Schwartz, senior VP, video investment, sports at Horizon Media, told Yahoo. "Nothing can compare from a ratings standpoint. You hope for a long series between Heat-Nuggets. Playoff ratings have been great but the shortened series will have an impact overall," Schwartz said.
There are sweeps setting up in the Stanley Cup Playoffs as well, short series in hockey have the same effect on TNT and ESPN as they do in hoops. It's all about the money and what could be lost if the series only goes 4 games.
These situations can put some pressure on the broadcasters, no matter if your team is the sweeper or the one getting swept. Local play-by-play announcers have it a little tougher than the national broadcasts. Hometown crews are expected to deliver the call geared towards their fans. These announcers have built up trust and credibility in their market and have to play it as such. They are still expected to provide an entertaining and informative broadcast, but it has to be professional.
Nationally, play-by-players and studio shows can get away with a little more, because, the main goal is to entertain. These telecasts can be a little more critical and sometimes a little out of control. Take for example the exchange on Inside the NBA after Miami beat Boston in Game 3. The Heat went up 3-0 and all bets were off. Ernie Johnson, Charles Barkley, Shaquille O'Neal and Kenny Smith were on the set.
The crew couldn't wait to rip the Celtics. "I'm embarrassed as a Celtics' fan right now," said Barkley. O'Neal agreed, "Yeah, that was bad." Barkley says "That's bad, man," and O'Neal responds "Beatdown. Beatdown at the beach." Smith asks Barkley "You're a Celtics' fan?" and Barkley responded with "I say, if you're a Celtics' fan, I don't think you even mind losing. but that was humiliating." Johnson then goes "We welcome you to Inside The NBA, presented by Kia, even though it feels a lot more like a Forensic Files episode after watching that."
That's certainly one way to handle it, but it would not work for a local broadcast.
The problems for broadcasters of the team winning and losing are very similar actually. Creating drama and storylines and keeping games interesting. It is the playoffs, so that last point should be able to take care of itself. There is one thing broadcasters that are experiencing the playoffs or significant games for the first time have to watch out for – getting too amped yourself.
It happened to me when I called my first NCAA Tournament game in 2008, when covering the University of San Diego team. It took me most of the pregame show and until the first media timeout to ease back into my comfort zone.
To me, the best way to approach the playoffs is to realize that each game should stand on its own. Each game is like a separate battle within the total fight. If treated correctly it should appease both sides of the series. Game 4 is its own entity. Whether one team is up 3-0 of 2-1, the result is not a foregone conclusion, so make sure it is treated as such. You have the ability to build up optimism if your team is in the hole. At the same time, if your team is up in the series, you as the announcer, can keep things at a level so the fans don't get too far ahead of themselves. 
I know this can be difficult at times. After all as the team's play-by-play announcer, you've been with the club from training camp, through the ups and downs of the season and now into the playoffs. Human beings are emotional creatures and control of said emotions isn't easy in these situations.
I'm not suggesting making this broadcast sound just like a normal November NBA or NHL broadcast. Give it the reverence that it deserves but in a controlled way. Get excited when warranted and when things aren't going well, reflect that in your voice. Big games should be treated as such. But, the difficulty in keeping your edge without going too far one way or the other is a real challenge. 
I think of some of the best to ever do it and how easy they made things sound. They all stayed in that moment and rode the wave of emotion seamlessly. Guys like Marv Albert, Chick Hearn, Jim Durham and Joe Tait knew how to rise to the big game occasion. You could just tell by the tone and pace how their team was doing. They were always in control of their instrument, but still were able to deliver the message and meaning of each playoff game they called.
Professional announcers are able to adapt to the situation, whether or not their team is winning. The stress is the same, ahead or behind, to bring the fans a detailed account of what is happening on the court.
The good ones understand this implicitly and are up to the challenge. Remember what's important give the fans the information and be honest. It's what your audience has come to expect, win, lose or draw.
Andy Masur is a columnist for BSM and works for WGN Radio as an anchor and play-by-play announcer. He also teaches broadcasting at the Illinois Media School. During his career he has called games for the Chicago Cubs, San Diego Padres and Chicago White Sox. He can be found on Twitter @Andy_Masur1 or you can reach him by email at Andy@Andy-Masur.com.
Meet The Market Managers – Amy Crossman, Good Karma Brands Cleveland
"We don't even consider ourselves to be an AM radio station. We are content creators, and we serve it up on many platforms."
Good Karma Brands dabbles in other formats, but sports radio is its bread and butter. In Cleveland, it is Amy Crossman that is charged with making sure the staples are always in stock and of the highest quality.
This is her first foray into the world of radio, and man, what a time for it! Frankly, what a group for it.
ESPN Cleveland can be heard on 850 AM. That is the way listeners consume the station as a terrestrial broadcast product, but in 2023, no one is consuming any station in only one way. ESPN Cleveland takes the idea of going where the listeners are to an extreme and Crossman says that is why she feels confident for the station's future regardless of what car companies decide to do about the AM band.
That is one of many subjects she covers in our conversation as part of the Meet the Market Managers series presented by Point to Point Marketing. Amy Crossman also shares her thoughts on live events after Covid, how the premium content model works in radio and what she learned at the Pro Football Hall of Fame.
Demetri Ravanos: Rather than start with the broadcast product, I actually want to start with The Land On Demand. I am surprised in 2023 that the premium content model for a radio station is still a relatively uncrowded space. Not a lot of groups have followed your lead on the local level.
Amy Crossman: So true. It is really unique and it just goes back to our hosts and our talent creating content that people want to get on demand. Maybe they're at work or doing something else when The Really Big Show is on, and they want to hear what happened with Rizz and Aaron. They'll listen at the gym or on their way home.             
We found the on demand desire was really high and immediately our fans took to that model. So for us, it's it's been this really fun, interesting thing to see. It doesn't hurt that it's six figures to our bottom line, right? And it gives us an environment to test things out, podcasts and other kinds of audio and video products, with a group of really diehard loyal fans.
DR: What has been the enthusiasm for that very product from advertising partners? These shows run ad-free but you guys do have a landing page for The Land On Demand. That's plenty of space to be sold.
I do wonder though, when they look at, say, the Audacy stations, for instance, that's not behind a paywall. So what sort of conversations do you have with advertisers about that?
AC: Yeah, it's a great question. It is a commercial free environment. That's part of the play certainly for the subscriber. Our live reads still happen during programing content. We really just strip the commercials out.
We hadn't explored sponsorship as a whole until last year and then had one of our partners as a title sponsor of The Land On Demand. We were really thoughtful about how to make that a great experience for the partner but not really intrusive for the fan. We kind of rearranged the title so that the logo was locked up with the title. We had a bug on the video screen and some other kind of careful placements for that partner. It was really about reaching the most loyal fans that we have.
They also did, as part of their partnership, an open house. Leading into training camp, wih the Browns really being our biggest season all year round, we opened up The Land On Demand and lifted the paywall brought to you by this partner so that there was a lot more fan sampling.
DR: That sort of leads into my next question as we talk about fan sampling and these conversations with advertising partners. On average in the industry, we talk a lot about the common man sort of being a little bit more media savvy than ever. I wonder if that if you see that showing up in real life conversations, whether it's with listeners or advertising partners. Do they have a better grasp or at least do they think they have a better grasp of our industry a little bit?
AC: From a partner standpoint, I would say yes. I think our partners are more media savvy. Their kids are more media savvy. They really see kind of where media is evolving to and we certainly do and have invested in that here in Cleveland.
We added a digital content team at the beginning of this year who are really focused on the content that we create and taking it to every platform for every fan to consume in the way that they want to. It's a little bit of a catalyst from The Land On Demand, more focused on social video YouTube, but this content team really has created this very different energy, not only in the studio but with our partners. We are allowed to have different types of conversations with the success that we're seeing with digital content. It's literally like a TV studio around here because digital content team is running around with cameras, capturing behind the scenes in the studio, capturing what's going on quickly, editing and posting. So it creates a very different pace around the studio.
DR: It's interesting, isn't it? I just had this conversation with a doctor earlier today. I don't know how old you are. I'm 41 and she is a little bit older than me.
We were talking about popular podcasts and how some of them have blown up into TV series and movies and stuff like that. I said, "You know, as much as we talk about this being true with our kids, I genuinely start to wonder if my generation is the last one that traditional, terrestrial media really means something to." Has that idea of "I go where the great content is, regardless of platform" trickled all the way up to the oldest ends of millennials and the bottom end of Gen-X?
AC: It's a really interesting question because to your point, whether it's children or whatever the generation is, even some of the teammates that we have working here, how they consume media we talk about things like the magazine I used to work for, and it doesn't mean anything to them.
We don't even consider ourselves to be an AM radio station. We are content creators, and we serve it up on many platforms. I think that really resonates with that generation instead of kind of building all this great content on this station and asking people to come to us, we're now going to where they are. It's just a different model, but it makes it a lot more fun because we're able to approach them in different ways. We launched a YouTube show three weeks ago and we're launching a second one before Browns season. All of that is behind-the-scenes content, right?                 
We know how much our fans love our on-air teammates. And they're always curious about what happens when they go to break right or the end of the show or what happens at the beginning of the show. So we've seen a lot of success, really fantastic success, on YouTube with showing the fans a different side of our on-air teammates.
DR: Given the success of The Land On Demand, the investment in the digital side that you're talking about, also the station streams through the ESPN app, which has very reliable proliferation every single year. I wonder if you feel pretty prepared if we are indeed headed for the day that access to the AM band in new cars just isn't there anymore. That doesn't necessarily mean it is or isn't any more important to you. It's just there is a different level of preparedness, it sounds like, in Cleveland.
AC: We're trying different things and we're not going to get them all right, but that's okay. I think the fact that we are eager to test things out and most importantly, our on-air teammates are just as eager matters. If we didn't have the entire team behind the idea of "let's get our content to where our fans want it," it would be a little bit more of a struggle.
We just have an amazing group of people that come from varied backgrounds on our team. And so everybody is involved in the idea is like, "How about if we try this" or "What if we travel this way". That has certainly been a different level of energy and pace on the team, which just kind of trickles through all of the teammates, sales, marketing, production, and otherwise. I like to think we're kind of prepared.
DR: I want to talk about the part of your job that is recruiting talent, particularly on the sales side. If you had experience with radio sales at this point in 2022, you expect you're going to be selling, a portfolio of stations, right? That can be good. That can be more opportunity, but it could also mean you're stretched thin. How do they react to the idea of coming over to a place where, sure, there are many different products within ESPN 850, but it is a single umbrella that you are selling under?
AC: To be totally honest, I'm looking out at the team right now, I don't think we've hired anybody in radio sales in the past three years yet. We really have kind of a great intersection. We have some tenured salespeople here, marketing consultants who are amazing and know our assets inside and out. The newer teammates we've hired over the last three years don't come from other stations. In fact, we just hired someone who's starting at the end of May, and he's coming from Rocket Mortgage, the top seller at Rocket Mortgage. So, there is a there's a learning curve to teach and coach them in media.
I think that recruits are energized by the fact that it's not just AM radio, which is a critical part of our business in Cleveland, but there's the opportunity to test and sell and have different conversations about different products. I think it's probably an advantage for us from a selling perspective because we really are kind of trying so many new things.
DR: So you guys have a sales opportunity that is not unique to you guys. It is unique to ESPN Radio stations though – ESPN play-by-play. It's not like you don't have the Guardians. It's not like you don't have the Cavaliers. I mean, hell, they just went to the playoffs for the first time in forever and it was on your airwaves. It's just not there all the time. It's not the hometown broadcasts.
Tell me about the conversations locally you have with whether it is advertising partners or listeners when you're out at events about the fact that your teams are here, it's just we're doing it a different way and there is opportunity there for you still.
AC: Yeah, I'm glad you brought it up because, you know, we are obviously the official home of the Browns. We talk about the Browns 13 months out of the year, of course, as important in Cleveland.
DR: Can I tell you that I use your market as an example all the time. I live in Raleigh. I tell people this is a great place to live. It is a terrible sports radio market. And I always follow that up by saying, "We're not Cleveland. We don't have a team that unites us in misery like the Browns. That's what you need to be a great sports radio market."
AC: It's so true. Our content mission is Browns, drama, fun. If the content that the teammates are creating does not fall in one of those buckets, we're probably not going to be talking about it.
Matt Fishman, the director of content, has done an amazing job with adding teammates that are insiders in those other teams. Right? So Brian Windhorst is a teammate and he is our NBA insider for all things Cavs Andre Knott is a teammate, and he obviously travels with the Guardians and is an insider there. So that really is our approach.
Again, we like that it's less traditional. We don't obviously have the rights to the Guardians and the Cavs, but having an insider. Our fans really like that, right? They're getting information from the source and maybe a little bit different than it would be served up in in a traditional environment where we had play-by-play. So we feel like we've covered the bases.
Cleveland's a unique town. The Cavs went to the playoffs and people were okay with it, but they were really still talking about, "is Stefanski going to get fired in the bye week in week five?". That's really where all of the buzz is.
We liken the approach that we have to dating. We have great relationships with the Cavs' and the Guardians' front offices. They're great partners with us to try new things and different approaches and unique ways to partner together.
DR: Tell me a little bit about live events post-COVID. Do you see any lingering effects that have changed?
AC: I think Ohio just kind of forgot about the pandemic and really moved on. I'll tell you, to be honest, we really saw it in 2021 when the NFL Draft was here. It was touch and go on were they going to come or were they not going to come. They were kind of just plowing through.
Pre-pandemic, we would do up to 250 events a year and that may be anything from a small street team at a bar for Corona up to our big thousand-person draft party. So we were certainly itching to get out and create live events. Our fans were itching for it and our advertising partners were as well. So we hosted a VIP event, pre-NFL Draft, which was we we kind of laugh that maybe it was the super spreader event. I think we had 250 guests and everybody was hugging and kissing babies and just being so excited to be back together again. So that was probably the only one where we were incredibly cautious about how we were rolling that event out.
By football season, we were doing our Browns tailgate that we do every week and everything just seemed to kind of come back in Ohio. This year we're doing as many events as ever.
DR: I don't doubt the appetite is there for advertisers, but we have entered a whole new economy since the pandemic and I wonder what that does to the to the live event business or those advertisers' dedication to live events.
AC: Yeah, it really depends on the advertising partner. For so many of the businesses that partner with us on our live events, their objectives are really to have the face-to-face interaction with fans and we can provide that for them. There really aren't many that have strayed away from that because it affects their business in such a positive way. So we may have streamlined our events a little bit more just so that we could develop a best-in-class event versus just cranking out 250 events a year, but for the most part, the fans still come out.
We have a big event on June 25th, our block party. It started last year. There's just so much excitement around it in Cleveland. All of the teams are participating. It's really just a great celebration of football and of sports in Cleveland.
DR: You came to this job from a very untraditional place. You came from the Pro Football Hall of Fame. What lessons can you bring from there into running a media operation?
AC: Prior to that, I was in New York for 20-plus years in the media business. So for me, the great opportunity to work at the Hall of Fame and get into the sports marketing world was really a highlight for me, but what I really missed the most was the media component to it. Media is my currency and it's how I know to create solutions for advertising partners and great content for fans. So that was really my foray from kind of big corporate media to the Pro Football Hall of Fame in Canton and then landing here at ESPN Cleveland.
Demetri Ravanos is the Assistant Content Director for Barrett Sports Media. He hosts the Chewing Clock and Media Noise podcasts. He occasionally fills in on stations across the Carolinas. Previous stops include WAVH and WZEW in Mobile, AL, WBPT in Birmingham, AL and WBBB, WPTK and WDNC in Raleigh, NC. You can find him on Twitter @DemetriRavanos and reach him by email at DemetriTheGreek@gmail.com.
Fred Roggin Deals in LA Sports on AM Radio
"I simply want to grow and learn every single day. I want to experience new things every day. I have a philosophy, when you stop learning, you die."
Johnny Carson had a very successful run in late night TV. He was incredibly popular and received many awards as The Tonight Show Starring Johnny Carson aired from 1962 to 1992. What I always found interesting about the show was the amount of planning that went into each episode.
Carson prepared, crafted, and rehearsed scenes over and over again. During the show, it sounded like he was just having a bunch of fun and cutting loose. What's often overlooked is just how much thought and attention to detail went into each broadcast. There always was a game plan.
Fred Roggin operates very similarly. He teams up with former USC and NFL quarterback Rodney Peete each weekday. Roggin & Rodney airs on AM 570 in Los Angeles. Roggin sounds like he's having a ton of fun — and he is — but just like Johnny Carson, Roggin plans and pays close attention to detail. It's one of the reasons he's been so successful in his distinguished radio and television career.
Considering the fact that Roggin hosts a daily show on AM 570, he has some interesting opinions on the fight to preserve AM radio in cars. Roggin also talks about how the LA sports radio market differs from other places but doesn't lack passion, and what's in store for him next after an incredible 43-year run on daily TV. Enjoy!
Brian Noe: You did TV at NBC4 for over four decades. How do you feel now after signing off just a few months ago?
Fred Roggin: It's interesting, the media business has changed dramatically. And let's be really honest, television doesn't have the impact that it one time had. It really doesn't.
More things are digital than ever before. The only way to succeed, I felt, was to try to be unique and different. Always did feel that way. But it just wasn't as much fun anymore. I haven't really retired completely from television because I still may be doing some things, but I stopped doing the daily local news. That's the thing, I just stopped. It was exhausting me.
It's funny in LA, in the 43 years I've been here, I've probably done radio for 20 of them at different places. I started in radio, I'm a radio guy. I always kept my fingers in it because I really enjoyed it. We have more people listening to us on KLAC than were watching our newscast on television. Think about that. And that does not speak to the quality of work we were doing at NBC, because our work has always been impeccable; but it was like, I wanted to have fun. I just didn't want to do daily local news anymore.
BN: When you're doing a radio show, I think that you have a great feel for when to switch gears. It's time to be a little serious about this topic, and now it's time to have some fun. How would you describe your feel between times of content and times of comedy?
FR: Well, first of all, thank you for saying that. I would hope that's one of the reasons people listen to us. I think in our business what you find is, some people are all comedy, some people are all opinion. It's hard, I think, to blend them. Every show is unique. Every personality that does this is unique. Every host is unique. I've always looked at it like this, and it was the same philosophy I used in television, when I was on TV, we would change stuff an awful lot. Even if a show was successful, every year or so, I would tweak it. I would change it. The producers would say why? I would always have the same answer; because if I'm bored, I gotta tell you, the viewers will be bored. They don't even realize it yet, but they will be. So why would we allow them to feel that way?
I think the same holds true in what we do here in radio. You know when it's enough. If you went to an ice cream store, would you always order the same flavor every single time? No, you have a favorite, but you try different things, otherwise you would become bored. What we try to do, obviously we're LA based, so we're going to go hard on the LA teams as much as we can. But then you drop in things that change the pace a bit, give people a breather and a reason to smile or be mad at you. Either way we know they're going to react. Then keep moving. It's kind of a tapestry rather than a giant wall painted all one color.
BN: Do you feel like having a TV background helps with pacing and moving a radio show forward?
FR: It's funny, I think having a radio background helps you in TV. I think radio really helps you in television because if radio is the purest form of communication, you're forced to learn to talk with people. In TV, you have advantages. I can lean in. I can change my facial expression. I have video that I can narrate directly off a script. Radio you have none of that. Radio forces you to be a solid communicator and that's why people that do radio can transition to TV. But people that start in TV oftentimes have a very difficult time transitioning to radio.
When I would build TV shows, my background was really in production. I was the guy in front of the camera, but my background is in production. Pacing meant everything. Everything. Visuals meant everything. Changing the tone meant everything. The radio show is very much the same. Our producer, Kevin Figgers, is terrific. I think you know Kevin.
BN: Oh, yeah. Yep. He does a great job.
FR: I'll tell you, he's a superstar. He gets it. He's good. We always talk about the pace and where we should change things and drop things in. We invite everybody to stay for three hours. You know this as well as I do, they don't. They have lives.
We always have to be mindful of the fact that at any moment, someone could be joining us. At any moment. Our objective is when that person should find us, that we are giving them a reason to stay. Even with our bumper beds that Kevin created, they're a little different than traditional sports talk radio. They sound more like an FM music station. We stop, boom, cold, hit the music, hit the sounder, and then we tease. We try every day to be mindful of pacing.
In our medium, like Colin Cowherd who's brilliant, I think the best in the business, there are few guys like him. He distinguishes himself. How can we distinguish ourselves to stand out or attempt to stand out and give people a reason to come to us? It could be the slightest little thing. It could be the pacing of our show. Everything that Kevin does is strategized. Even the music we use for our games, it all has a feel, it all has a pace.
BN: What are your thoughts on the fight to preserve AM radio in cars?
FR: I think it's a battle worth fighting. Until you do this for a living, you don't realize how many people listen to us on the AM band, period. We have listeners that still listen on transistor radios. These are valuable human beings, they make a difference. The AM band provides information in times of distress and disaster. As technology evolves and things blend, I think it's important to realize that a lot of people still count on the AM band for their news, for their information, for their entertainment, for their companionship. And in the event of an emergency or disaster, it is necessary. I will fight that fight personally because I know how valuable it is.
Here's the thing, Brian, as we continue to evolve, you can listen to us on the iHeartRadio app. I'm sure that's what carmakers are thinking, Well, eventually, all cars will just have apps and you'll be able to listen to whatever you want to. But you're discounting a huge portion of the audience and the population. People that desperately count on their radio station on the AM band to be there for them.
I'm of the belief, and I don't manufacture cars, and I don't know what anything costs, but I do know it doesn't seem that hard to include the AM band for the millions of people that still count on it.
BN: Have you ever heard from a listener that said, man, I got a new car and it doesn't have AM. I don't listen as much as I used to. Has that ever happened?
FR: No, I haven't heard that. What we find is more and more of our listeners are transitioning to the app. But see, here's the disconnect, and here is what's so hard to understand. Just because a number of people are transitioning, doesn't also mean there aren't a number of people that still depend on it.
What you're doing is you're telling people that listen to AM, you're not very important. You don't really count. We know they desperately count, and they count on us. I honestly don't understand, as I said, the costs associated with any of this, but it just doesn't seem that difficult to me. Take care of everybody. Don't eliminate people.
BN: You reacted to a column last year claiming that no one listens to sports talk radio in LA. It's like you channeled your inner East Coast, I love how you attacked the story with some edge. What was the reaction in LA to your comments about that column?
FR: Minimal. You have to understand your market. And my point there was, yeah, if we were on the East Coast, we would have a larger listening audience, simply because of the market. In Los Angeles, if you just look at it from a business perspective, there are so many ways to spend your disposable income. There are so many teams. To say the people in Boston are more passionate, or there are more people listening in Boston, I think there's no nuance to that. Understand your market.
Are you telling me that people in this market are not passionate? Well, when you come to town, let's go see the Dodgers or the Lakers play. You tell me if they're passionate. You tell me if they are as passionate as Celtics or Red Sox fans. I'll take you to see the LA Kings, you tell me if those people are as passionate as Boston Bruins fans. I think you're going to agree they are, if not more so.
It's understanding the nuances of your market. And to make a blanket statement, and try to compare apples to oranges, that was low-hanging fruit. That was too easy. It's much more involved than that. It bothered me because I really thought in that situation, someone didn't do their homework. It could have been presented very much like the audience is bigger here, or seemingly more passionate here, but let's analyze why. If you take the time to analyze all of it, you realize that the fan bases are as passionate. We just have more things to do here.
BN: Your station, AM 570, is the home of the Dodgers. How does that relationship impact the way you present topics about the team, or any of the opinions that you share?
FR: That's a fair question. I can tell you in the years that I've worked here, if the Dodgers have performed well, or something great happens, we're on it. If they're struggling, if things aren't going well, if something had been bungled, we're on that too. Never, not one moment, not one time has anyone called myself or Rodney into the office and said back off. Never, no one has ever said don't talk about that.
I think what all the teams want, and Brian, maybe I'm wrong, and I know this with the Rams because I talk to them all the time, they always say the same thing. I've always tried to be this way, just be fair. If we deserve criticism, then we should be criticized. But don't take cheap shots. If we've done something well, that should be acknowledged. Don't go over the top. Just be fair, be honest.
BN: As you transition from daily TV, when you look at your future, what do you want the next five years to look like?
FR: I want to continue doing this and growing this. We have been working, and we actually need to accelerate the pace, but we have been working on preparing this for multiple platforms.
I simply want to grow and learn every single day. I want to experience new things every day. I have a philosophy, when you stop learning, you die. It might even be the smallest little thing. Even driving down the street and noticing a sign you hadn't noticed before, you learned something today. Interacting with someone and finding something out about them you didn't know, you learned something today. I'm very curious. My mind never stops working.
I would like to continue doing this. As I said, we're working on some things to share this on multiple platforms. We're probably 50% of the way through it at this point. But grow this, keep growing and keep learning. Then I'll be very happy. This is such a wonderful, wonderful business. You really do meet the nicest people doing this for a living. People that care, that work hard, that really take a lot of pride in what they do. That means a lot to me. I love working with people like that. I'm honored to work with them. And just keep growing this.
Look at it like this. People said, well, you stopped doing TV. I did TV going on 43 years here. As I mentioned, for 20 of those 43, I actually did radio too. I had two jobs and people would say, well, you're retiring. I'd say no, I'm stopping doing part of one job, I have another one. Another one that I truly love. It's funny, on TV, I said I'm not retiring. I'm just not doing the news anymore. That doesn't mean I won't be on LA TV. It means I'm not doing the news. I just want to keep growing and having fun to be honest with you. Maybe that's too easy of an answer, but you get to a point in life, you just really want to love what you do and have a good time. And I do, every single day.
Brian Noe is a columnist for BSM and an on-air host heard nationwide on FOX Sports Radio's Countdown To Kickoff. Previous roles include stops in Portland, OR, Albany, NY and Fresno, CA. You can follow him on Twitter @TheNoeShow or email him at bnoe@premierenetworks.com.