The Biggest Pandemic Lesson: Fans Have The Power Now
Many remained doggedly loyal as sports struggled to survive the last 365 days — now, an industry known for greed and corruption must pay back the people with a responsible, fan-friendly future.
Bet you didn't know it before March 11, 2020. But YOU, the fans, are the stars of sports. Yes, YOU — the diehards, the gamblers, the casual followers, the season-ticket holders, the sabergeeks, the tavern revelers, the bracket pickers, the jersey buyers, the trading-card hoarders, the website readers, the radio-show listeners, the Stephen A. Smith devotees, the social-media loons, the kids who still want bobbleheads.
Not Tom Brady and Patrick Mahomes. Not Fernando Tatis Jr. and Mike Trout. Not LeBron James and Steph Curry. Not the Dodgers and Nets and Lightning. Not Nick Saban. Not Gonzaga. Not Russell Wilson, Deshaun Watson and the mobility of quarterbacking nobility. Not Tiger Woods in his hospital bed. Not Trevor Bauer and his Twitter trollery. Not Novak Djokovic and his reluctance to take a vaccine.
YOU.
And if professional leagues, college conferences and broadcast networks have learned nothing else these last 365 days and nights, it's that the people who support their industry and collective livelihoods never, ever should be undersold, mistreated or ripped off again. When team owners, star athletes and coaches used to cite the standard tribute, "I want to thank the greatest fans in the world," they didn't really believe it.
Now, they must not only embrace it as sport's new existential mantra, they should be prepared to worship at your feet. The old script — taking the fans for granted — has been flipped by a profound appreciation for your mass interest, your in-venue energy and, of course, your annual multi-billion-dollar financial infusion. It took a global pandemic, the most disruptive health catastrophe in more than 100 years, for the sports behemoth to finally realize who holds the power and operates the on-off switch.
Because if YOU wanted to shut down sports, you could have these last 12 months. You could have stopped watching, stopped betting, stopped paying attention — and the beast would have fallen. Instead, with limited or no access to stadiums and arenas, millions still kept an eyeball on the games while trying to survive life. Never mind that a lack of crowd noise, the fluctuating roars and groans, made for awkward and often dull viewing experiences. Never mind that cardboard cutouts and canned sound created insulting TV caricatures. Never mind that some events, especially in the NBA and Major League Baseball and college sports, were unwatchable. Many folks kept tuning in anyway, and if the ratings were low and in some cases rock-bottom, having a game on was better for the industry than a test pattern. It was the American fan who prevented the American sports foundation from crumbling. Got it?
Notice how Curry — a man with seemingly everything, from immense wealth and family grounding to worldwide popularity — spoke reverently of the 2,000 or so folks allowed into Madison Square Garden for a recent Warriors-Knicks game. "There were some fans heckling, which was awesome," he said. "Me and Draymond (Green) were talking about it. There's no better feeling, I don't care if it's 19,000 or 2,500 or whatever it is: You love silencing a road crowd."
See the newfound power YOU'VE accrued in COVID-19 absentia? Let's hope this understanding will lead to a host of healthy lessons moving forward in sports. The operative word is perspective. Meaning, rather than transforming the games that people love into a perpetual money grab, it's time the industry considers the fans first when making landmark business decisions.
Start with vaccinations. As I write this, only 9.9 percent of Americans are fully vaccinated, but that hasn't stopped leagues from ramping up their latest mad money rush: recklessly filling empty seats to generate ticket, concession, merchandise and parking revenues. I want to hurl. Let's not advance the folly that sports events can resume in stadiums and arenas, with packed houses, while taking a half-assed approach to coronavirus vaccines — not requiring athletes and spectators to be inoculated. Otherwise, the virus will continue to endanger people and disrupt schedules, and the pandemic still will be with us. While understanding personal concerns about vaccines, particularly among Blacks and Hispanics, the thought of a locker room divided by vaxxers and anti-vaxxers only invites more infections, more quarantine periods, more missed games — and the possibility of internal dissension, if not a crippling postseason outbreak. As for the fans, a hopelessly split America means spectators in wide-open, mask-off states — such as Texas, which is whipping doors open to a potential 40,500 bodies for the Rangers' home opener on April 5 — could be walking into superspreader events for months ahead.
Why would MLB allow this? Are the owners, most billionaires, so hard up for ballpark revenues after a dry 2020 that they're prematurely risking the health of human beings? While 25 of the 30 teams have been approved to welcome fans, including five in California, most are being responsible, such as the 20 percent capacity allowed by Chicago Mayor Lori Lightfoot for the Cubs and White Sox. "As a diehard sports fan myself," Lightfoot said, "I'm personally excited to have Chicago take its first, cautious steps toward safely reopening our beloved baseball stadiums to fans this season."
That's the proper approach. Same with California, which works off a tier system based on COVID-19 spread. If rates continue to decline, San Diego's Petco Park might host 10,000 fans for Opening Day while Dodger Stadium, in Los Angeles, might have 11,000. The Rangers are being grossly irresponsible. "We're very confident we won't be a super-spreader event," said team CEO Neil Leibman, referencing Texas Gov. Greg Abbott's decision to fully open the state. "With all the protocols that we're following, we'll be extremely responsible and provide a very comfortable environment for somebody to enjoy a game without worrying we're going to be a spreader event." Excuse me, but where's the so-called MLB commissioner, Rob Manfred? Oh, he's monitoring the outcry in hopes it won't be too robust, so other franchises can invite capacity crowds and owners can begin to recoup $3.1 billion in lost revenues. The Baltimore Orioles received state approval to allow 50 percent capacity, or about 23,000 fans, at Camden Yards. The Colorado Rockies can have 21,000 at Coors Field.
Not safe.
Not yet.
But then, no one is forcing a fan to go. Remember, YOU'VE got the power. Watch it on TV. Save the money. Avoid the hassle. Elude the superspread.
Just as it's uncertain how many MLB players will be inoculated, even as vaccines become readily available to all groups later this year, the NBA has a bigger problem. Some of the sport's elite stars aren't committed to taking vaccines, which could influence large percentages of players to follow suit. That would leave an indefinite pandemic cloud over the league.
"That's a conversation that my family and I will have," James said. "Pretty much keep that to a private thing."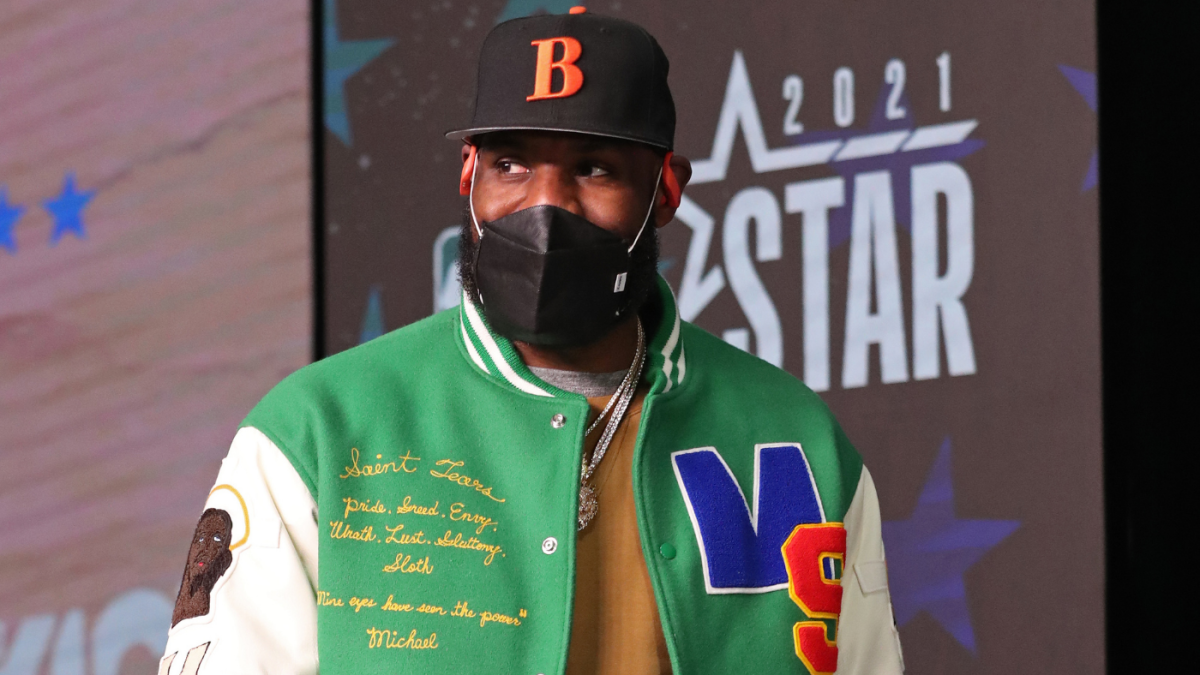 "That's something that I am still thinking about, and I think every individual player, they're their own person so they can decide if they're going to get the vaccination or not," James Harden said.
"I haven't come to a decision yet," Donovan Mitchell said. "I'm just trying to learn as much as I can about this vaccine first before I go ahead and make this decision."
While family comes first, the fans aren't far behind in the vaccine equation, either. For the NBA to keep producing an optimum product, COVID-19 infections must subside. That won't happen if non-vaxxers are prevalent on rosters. Have the players considered who made them rich and famous — the fans — and that the league would be best served if they all were vaccinated and basketball life can carry on safely? Commissioner Adam Silver, coming off an ill-advised All-Star Game with dreadful ratings, knows a lingering virus could bury his league. "My hunch is that most players ultimately will choose to get vaccinated," he said, wishfully. "They have to make personal decisions at the end of the day — and I take that very seriously; I take concerns very seriously. But my sense is most players will, ultimately, decide it is in their interest to get vaccinated."
If they don't, look no further than March Madness, where a team hit by an outbreak must forfeit and go home — Gonzaga, Baylor, any team — if it doesn't have five healthy players for an NCAA tournament game. The NBA postseason, which was peculiar enough last year in the Disney World Bubble, doesn't need more virus unpredictability.
Then there's the abominable concept of tanking. When the fans stood by sports amid a crisis, how can any franchise have the gall to quit and impugn competitive integrity?
Or raise ticket prices?
Or, worse, how can a league become so preoccupied by a labor fight that it leads to a work stoppage? Can you imagine MLB, with maybe 10 of its 30 clubs interested in October success this season, asking fans to care anyway — then shutting down the sport in 2022?
I was on a radio show when Rudy Gobert tested positive, put the NBA on pause and changed sports forever. That was one year ago tonight. Since then, sports simply hasn't mattered as much as it once did, and rightly so. Maybe it never will matter as much again. What does it all mean when you're trying to get your arm jabbed while staying employed, keeping your family together and making sure your kids are schooled?
The sports industry is challenged, then, to stop thinking it's all about them — athletes and owners and executives — and realize the mission is completely about the fans and how to respectfully turn them into paying customers again. They did sports an extraordinary favor by not drifting away when their lives were disrupted. It was a gesture of good faith that a corrupt, greedy industry didn't fully deserve.
And if sports screws up again?
It's your ball now. Take it and go home.
Jay Mariotti, called "the most impacting Chicago sportswriter of the past quarter-century,'' writes a weekly media column for Barrett Sports Media and regular sports columns for Substack while appearing on some of the 1,678,498 podcasts in production today. He's an accomplished columnist, TV panelist and radio talk host. Living in Los Angeles, he gravitated by osmosis to film projects. Compensation for this column is donated to the Chicago Sun-Times Charity Trust.
When Will NFL Studio Shows See Fresh Faces?
Having a Hall of Fame lineup certainly lends credibility to any group of analysts, that said credibility can't outweigh entertainment.
It seemed NFL coaches were so old when I was a kid. Don Shula, Marv Levy, Bill Parcells, Dan Reeves, they all looked so old. Maybe I was just young and all those guys were just in their 40's (which now, I might add, is quite young). No doubt, NFL coaching seemed like an old man's game.
No longer is that the trend. The following NFL coaches are in the 40-or-younger crowd: Mike McDaniel, Kevin Stefanski, Brandon Staley, Sean McVay, Kevin O'Connell, ZacTaylor, Nick Sirianni and Arthur Smith. That's one quarter of the head coaches in the NFL that are 40-years-old or younger. The NFL coaching youth movement is a very real thing.
When will that move to the NFL studio shows? That remains to be seen. Those shows are massive money makers for FOX and CBS but they have also started to trend a bit older. The networks are doing all they can to hook younger viewers to guarantee a long term viewership of games they pay billions to air. Need I remind you of the CBS/Nickelodeon simulcast of NFL Playoff games? The Over 50 crowd doesn't know what it meant to "get slimed"; shoutout, Marc Summers.
It is startling to look at the cast of each studio show and the last time they were active in the NFL. Start with the desk of The NFL Today on CBS:
Bill Cowher – 2006
Boomer Esaiason – 1997
Phil Simms – 1993
Nate Burleson – 2013
The FOX numbers are even more startling. Look at the last active years of the analysis on FOX NFL Sunday:
Terry Bradshaw- 1983
Howie Long – 1993
Jimmy Johnson – 1999
Michael Strahan – 2007
If you are a 20-year-old NFL viewer, the only person of those eight analysts you can reasonably be expected to remember playing or coaching is Nate Burleson. This is not to say these shows don't serve their purpose, to entertain and inform, not at all. Those shows can be very entertaining and the combined Hall of Fame knowledge on those two desks is unparalleled. But, in an entertainment world that is trending younger, when does the youth movement start?
Here's one major issue, that list of players and coaches above have a lot of mustard jackets among them. Having a Hall of Fame lineup certainly lends credibility to any group of analysts, that said credibility can't outweigh entertainment. If any show isn't entertaining, it will not last long. These shows have found a way to weave in humor with the Pro Football Hall of Fame level of analysis.
But humor to some generations is not humor to all generations. What is funny to a guy in his 60's may not reel in the 20-30's crowd. Don't tell me FOX and CBS are not interested in that group, they know it is crucial to long term success. FOX is so interested in that group they spent time using Snapchat filters on their hosts during the Thanksgiving studio shows. Make no mistake, that day brings a massive audience for FOX and CBS.
In fact, according to FOX Sports, the Dallas Cowboys-New York Giants game was watched by 42 Million viewers, the most-watched regular season game on any network on record. This is as big as it gets until the NFL reaches the postseason. It was on that stage FOX chose to use the Snapchat angle, knowing families were gathered across the nation watching that game. That meant an entryway to the younger demographic looking for anything to watch to get away from the conversation with their elderly aunt.
According to Omnicore Agency, Snapchat has 319,000,000 users and 65% of 18-29-year-olds in the United States use Snapchat. This is the audience FOX was trying to reach on their Thanksgiving studio show. It is the audience they would love to reach every Sunday.
Peyton Manning and Tom Brady have shown even the biggest names will walk straight from the most successful of careers to an NFL telecast. Manning is part of his production company's Manning Cast during Monday Night Football and Tom Brady is slated for the main FOX booth after his retirement. If those two guys see value in it, you can bet most any player would.
FOX's hand will soon be forced, Jimmy Johnson is 79 and Terry Bradshaw is 74. Those two can't work forever and there will need to be a plan in place for the sake of continuity. The difficult thing is identifying which players or coaches have the gravitas to sit on that desk with those Hall of Famers.
Age comes for all of us and there isn't a Snapchat filter that can change that. If they do invent one, maybe my kids will tell me about it…and show me how to use it.
Ryan Brown is a columnist for Barrett Sports Media, and a co-host of the popular sports audio/video show 'The Next Round' formerly known as JOX Roundtable, which previously aired on WJOX in Birmingham. You can find him on Twitter @RyanBrownLive and follow his show @NextRoundLive.
Can Tom Brady Realistically Be the Critical NFL Broadcaster He Envisions?
If Brady frequently harped on players and the level of performance on the field, would he risk becoming the NFL's John Smoltz?
Tom Brady and his presumed future as a broadcaster has been viewed with some skepticism. After 23 seasons of playing in the NFL, and considering what this season has apparently cost him personally, will he still want to devote so much time to football calling games each week?
Naturally, this is under the presumption that the 2022-23 NFL season will be his final one as an active player. And it's easy to draw such a conclusion. Would he really want to put himself through another season like this one?
Ending his brief retirement to play another season with the Tampa Bay Buccaneers may have been the breaking point for his marriage. The Bucs aren't playing well, compiling a 5-6 record going into Week 13. Yet in an NFC South division in which no team currently has a winning record, Tampa Bay could still make the playoffs.
Joe Buck recently expressed doubt to Jimmy Traina on the Sports Illustrated Media Podcast as to whether or not Brady will ever join Fox Sports and the 10-year, $375 million contract reportedly waiting for him. It's one thing for football fans and sports media observers to speculate on Brady's future. But it's quite another for people in the industry — and in this case, someone who still has close ties to decision-makers at Fox Sports — to ask questions.
Last week on his Let's Go podcast, however, Brady sounded like he'd already put some thought into how he'll approach broadcasting — or as he put it, his second career. Perhaps he was influenced by having the famously outspoken Charles Barkley as a guest on the show, but Brady believes he would be candid in his analysis and commentary.
"I'm going to be on TV and have the opportunity to be more critical than what I've been as a player," Brady said to Barkley and Let's Go host Jim Gray.
He then explained that whenever he had a problem with a teammate or coach, he addressed it directly and the issue stayed between them. That would obviously be different on television, where Brady is talking to the viewing audience.
"As I think forward… I've had 23 seasons professionally, when I watch football now, the only thing I see — nine out of 10 — is 'Man, that was a really bad play,'" Brady added. "As opposed to the really spectacular play that [Patrick] Mahomes made or the spectacular play Josh Allen made. Now, it's like, 'Man, what a bad defensive play, what a bad play by the quarterback.'"
In Brady's view, playing with exceptional athletes like Randy Moss, Wes Welker, Rob Gronkowski, Julian Edelman, and Mike Evans set a standard in his mind. But expecting a high level of play from teammates is quite different than applying such a measure to players he's watching and scrutinizing as a broadcaster.
As a quarterback and team leader, Brady can directly affect the outcome of events. He can help inspire greater effort and achievement. Or as we've seen during Brady's career with the New England Patriots, he can break a player's spirit (especially rookie wide receivers) by grinding them against the diamond wheel of expecting perfection.
The first thought is that Brady could be enormously popular with viewers and media if he was critical of players or coaching decisions. That's often the first flaw fans will point out in a broadcaster. "Ah, he never rips anybody. Protects his buddies."
It's why Barkley is so popular. We want to hear what he's going to say. We don't know what he's going to say. But it will likely be sharp and funny. Yet is that too much to expect from a game analyst? Brady cites golf analyst Johnny Miller ("scathing") as a model. But he also seems to understand that there's a risk in being too negative.
Barkley warned against that earlier in the conversation with Brady and Gray when sharing advice that he received from Dick Ebersol upon his entry into broadcasting.
"People always tell you they want to hear the truth. They really don't, Jim," Barkley said. "[Ebersol] said, 'Fans want you to tell them two things: Their favorite player is great and their team is great. If you tell them their favorite player isn't great or their team sucks, they automatically don't like you.'"
If Brady frequently harped on players and the level of performance on the field, would he risk becoming the NFL's John Smoltz? Smoltz is frequently criticized for acting as if he does not like baseball in its current form. And viewers get tired of listening to that.
But to be fair, Smoltz was excellent during this year's National League Championship Series and World Series in explaining how pitchers execute a game plan versus batters. And if Brady had the ability to quickly explain what he was seeing and the reason for his criticism, rather than just heavy sighing or huffing, that could be compelling commentary.
Yet that would have to be balanced with some healthy admiration too. Maybe not Tony Romo-level gushing, but some insight into how spectacular a play is would balance a broadcast out nicely.
It's encouraging that Brady has some idea of what kind of broadcaster he'd like to be. When news of Fox essentially reserving Brady for his post-playing career was reported, the sentiment was that he was taking an offer that couldn't be turned down ($375 million!) and might end up as more of a corporate shill ("brand ambassador," etc.) than a broadcaster of substance.
Judging from his remarks to Barkley, Brady has put some thought into this. Maybe he's been thinking about it for years. Perhaps it crystallized during his one-month retirement. But is Brady being naive about what's realistic for a broadcaster? Would a Johnny Miller work in an NFL booth? Players might not clap back at Brady and his seven Super Bowl championships as they do to Barkley and his zero NBA titles.
Ultimately, however, fans would hold Brady to the high standard he's envisioned for himself in broadcasting. The possibility of a must-watch analyst in an NFL broadcast booth is certainly enticing. Maybe he's created some anticipation and intrigue for his career after football. Tom Brady has never shied away from expectations as a player. Perhaps the same will apply to him as a broadcaster.
Ian Casselberry is a sports media columnist for BSM. He has previously written and edited for Awful Announcing, The Comeback, Sports Illustrated, Yahoo Sports, MLive, Bleacher Report, and SB Nation. You can find him on Twitter @iancass or reach him by email at iancass@gmail.com.
Jac Collinsworth Has Learned From The Best
"The way he would take all of the young people, myself included, under his wings. You couldn't get this anywhere else."
Jac Collinsworth got his first taste of Notre Dame football while watching his brother Austin play for the Fighting Irish. There was his brother playing on special teams and getting a chance to return kicks.
"I remember sitting in the stands for his first football game inside Notre Dame Stadium thinking this is the coolest thing I've been a part of," said Collinsworth. "The history of this building and my brother is out there in a Notre Dame jersey."
Not only did Jac eventually go to Notre Dame as well, but he just completed his first season as the play-by-play voice for Notre Dame Football on NBC. As a student, Jac was part of the NBC sideline production team during his four-year education at South Bend from 2013 to 2017 and he was the sideline reporter for the NBC broadcast of the Blue/Gold spring game in 2016 and 2017.
"To work on the broadcasts for four years — as an intern really — with Alex Flanagan and then with Kathryn Tappen for three years down there on the sideline and being in all those production meetings, it was such an invaluable piece of the journey for me."
And now, the 27-year-old is the television voice of the Fighting Irish.
"To see it all come full circle and be up there in the booth, it was really a special experience every single game," said Collinsworth.
After graduating from Notre Dame, Collinsworth joined ESPN where he was a correspondent for NFL Live and Sunday NFL Countdown while also hosting the ESPN-owned ACC Network's football show The Huddle.
Jac then returned to NBC in 2020 and was part of the Notre Dame telecasts during the pregame show and halftime show for two seasons. Collinsworth had the opportunity to learn under veteran play-by-play voice Mike Tirico, especially during the production meetings.
Tirico became a mentor to Collinsworth.
"I felt like I was getting a graduate degree watching him handle those meetings," said Collinsworth. "The way he would take all of the young people, myself included, under his wings. You couldn't get this anywhere else. To be able to do that for two years and still have him as a close friend and somebody I can text…I text with him before every single game."
Another huge mentor to Collinsworth has been the legendary Al Michaels, the former play-by-play voice for Sunday Night Football who is now calling the Thursday night package for Amazon.
"I talk to him all the time," said Collinsworth. "I've had dinner with him. He invites me out to play golf. We just get on the phone and spent 45 minutes just breaking down everything. Every time that phone rings I don't care what I'm in the middle of, I walk outside and I take that call."
Collinsworth, the son of former Bengals wide receiver and current NFL Sunday Night Football analyst Cris Collinsworth, first felt the broadcasting itch growing up in Ft. Thomas, Kentucky. It goes without saying that his father was a huge influence, but Jac remembers when Highlands High School was being renovated when he was in 7th and 8th grade.
The first part of the renovation was a brand-new broadcast facility.
"It was a studio that had these amazing cameras, a desk, lights and two sets," recalled Collinsworth. "To this day, I've never seen a high school setup…I mean this is better than most college setups…a state of-the-art facility."
The class was called "Introduction to Filmmaking" and Collinsworth started out wanted to be a cameraman.
"I became obsessed with running around the school and filming all this stuff whatever students were doing," said Collinsworth.
From there, Jac gained experience in editing and producing but deep down inside he thought he wanted to be a cameraman…that was until his first taste of on-air experience.
"They started a rotation where everybody in the class had to try hosting the announcements live right before the final period of the day," said Collinsworth.
And the rest is history.
An important part of Jac's growth as a play-by-play announcer came last spring working NBC's coverage of the United States Football League. Paired with Jason Garrett, Collinsworth was able to continue the learning process before taking over the Notre Dame duties. He appreciated the fact that these were really good football players that were among the best players on their college teams and could very well be in the NFL.
And just like for the players, the USFL was an opportunity for Jac to get better at his craft.
"Just continuing to learn the art form of calling a game," said Collinsworth. "The timing and getting out of the way sometimes and letting the broadcast breathe and rising for those big moments."
An incredibly big moment for Jac would be if the opportunity to work a game with his father ever presented himself. It's something that he's thought about and would love to see come to fruition somewhere down the road.
But if that happens, there could be a problem for the viewers.
"Would anybody be able to tell who is talking?" joked Jac.
Jac and his father sound so much alike it's scary. In fact, during our twenty-minute phone conversation, I really had to pay attention to listen for any discernable difference between Jac and his dad and it was very hard to find any.
But it would still be fascinating to hear them work together.
"I think it would be a very cool experience," said Jac. "We would have so much chemistry that it would be a crazy experience. I would love to do it. I'd be getting out of his way and let him make points and I wouldn't be afraid to take a couple of shots at him. I think it would be damn entertaining."
While their on-air roles are different, Jac has been able to learn a lot about broadcasting from his father. While he does — for the most part — give his son some space when it comes to work, Cris leaves Jac a note prior to each broadcast, mainly has it pertains to a specific aspect of a telecast like coming back from a break or the flow of a telecast.
But there's one valuable lesson that Jac learned from his dad years ago that he has adopted for himself.
"Probably the biggest thing I've learned from him is, he is a worker man," said Collinsworth. "He just works at this stuff."
Jac would constantly see his father going through film at various hours during the day, but Cris would still pay close attention to his son's studies at school and would let Jac know about it if he saw something wasn't right.
Like when Jac would be having some difficulty with a math assignment.
"I'm like 'Dad, this is calculus, I can't figure out how to do this equation'," said Jac. "He would put that clicker down and come up and he would be deep in the math book going through the chapters learning all this calculus that he hasn't done in 40 years. I'd come down at six in the morning and he'd still be flipping through the math book while I'm eating breakfast and he's teaching me the lesson to make sure I got it for the quiz.
"That's how he was…just the work element is the biggest thing that I still use every day and I definitely got it from him."
Aside from his football duties, Collinsworth has also been a NASCAR studio analyst for NBC and he's also been the voice of Atlantic Ten Men's Basketball and the Atlantic Ten Tournament. There's something to be said for getting experience in multiple sports because each sport has its own pace and its own flow.
Some play-by-play voices specialize in one sport and some can handle multiple assignments. In Jac's case, there's one sport that stand above all the others.
"The rhythm, feel and flow of a football game is my favorite," said Collinsworth. "Football has always been my first love and grew up around it. Basketball happens fast not to mention you're on the court and you're right there in the middle of it. I've called baseball games too and that's a very slow game."
Jac Collinsworth is still very early in his broadcasting career but he has great talent and he's been rewarded with some amazing opportunities like Notre Dame Football and being part of NBC's NFL coverage.
But he knows that he's had some help along the way and he's very grateful for it.
"I feel like I'm living out a dream and I feel like I'm standing on a lot of people's shoulders that helped me get there," said Collinsworth. "I think about a lot of people who didn't need to but chose to help me when I was a kid. I feel like I have a great responsibility to take that advice and take it as far as I can and that's what I'm trying to do."
And it all started with a high school television studio and his willingness to try all different aspects of the business.
Peter Schwartz has been involved in New York sports media for over three decades. Along the way he has worked for notable brands such as WFAN, CBS Sports Radio, WCBS 880, ESPN New York, and FOX News Radio. He has also worked as a play by play announcer for the New Yok Riptide, New York Dragons, New York Hitmen, Varsity Media and the Long Island Sports Network. You can find him on Twitter @SchwartzSports or email him at DragonsRadio@aol.com.