Anything Weirder Than A-Rod Buying The Timberwolves?
Matching baseball's impetuous bon vivant with a failed basketball franchise — in Minnesota, of all places — is so bizarre that Alex Rodriguez should think twice about the $1.5 billion purchase.
So here we have the non sequitur of all sports non sequiturs: Alex Rodriguez finalizing a deal to purchase the Minnesota Timberwolves. If there is even one common denominator between these parties, please speak up. At least Donald Trump was swinging in the same state when he tried to buy the Buffalo Bills.
A-Rod? The land of 10,000 lakes meets the man of 10,000 lies. He comes from baseball, a sport he scandalized with steroids usage and cover-ups and now butchers as an analyst on ESPN and Fox. He has led a glamorous life, in New York and Miami and points between, cold-calling Warren Buffett to be his mentor in what has become a relentless, post-career entrepreneurial whirl. He is still with entertainment megastar Jennifer Lopez, I believe, and they tried to buy the Mets in the city where both were born, which made sense.
The Timberwolves? They are a nondescript, unglamorous basketball team in MinneSOOOOOOOODA, home of ice fishing, county fairs, venison jerky, the headquarters of Target and that creepy, cult-like Skol chant/horn blow before Vikings games. I remember covering a Yankees-Twins playoff series, in the inflatable Metrodome, when the locals heartily booed Rodriguez, even when they're known as nice folks. It's safe to assume they don't like him because, you know, America doesn't like Alex Rodriguez.
Feelings aside, he's the new front man of a franchise owned dubiously the last 27 years by Glen Taylor, a native Minnesotan, and coached to its only Western Conference finals by the late Flip Saunders, who oozed Minnesota. I, for one, cannot imagine Rodriguez moving to Minneapolis, though it would present an opportunity to wear an extravagant fur coat for photo ops. Nor can I see Lopez joining him there unless she seeks a Paisley Park seance with Prince. A-Rod's partner in the proposed $1.5 billion deal is a close pal, e-commerce king Marc Lore, who sold his first major web project — which included Diapers.com (an A-Rod joke in there somewhere) — to Amazon for $545 million, then got Walmart to pay $3.3 billion for another startup.
Resources? Check. Starpower? Check. But in what is quite possibly the most provincial state in all the land, the disconnect is overwhelming. I would suggest Rodriguez hold his first press conference not at Target Center and not in a Gucci suit, but in a flannel shirt and jeans at Loon Cafe, down the street, where he can start with the Minnesota Wild Rice Soup before diving into the Crusted Walleye Sandwich.
Order and guzzle a Grain Belt Premium on draft. Then go blow the Gjallarhorn, which is what they call the Skol horn, even if they have to transport it from U.S. Bank Stadium. Then burst into "Little Red Corvette."
That way, maybe the boos aren't as nasty.
The positive angle, of course, is that Rodriguez brings his Latino heritage to a pro sports industry that sorely needs diversity in the upper ranks. Another real-world responsibility looms: Once the transaction is completed within a 30-day exclusive negotiating window, Rodriguez and Lore immediately assume roles as civic leaders amid ongoing racial tensions in Minneapolis. As the prospective owners were preparing their visit, clashes between police and hundreds of protesters followed the fatal shooting of a black man Sunday, with the National Guard called in not far from where George Floyd was choked to death by police. The NBA is a predominantly Black league. Ready or not, Rodriguez has to be involved in all community issues as Timberwolves owner.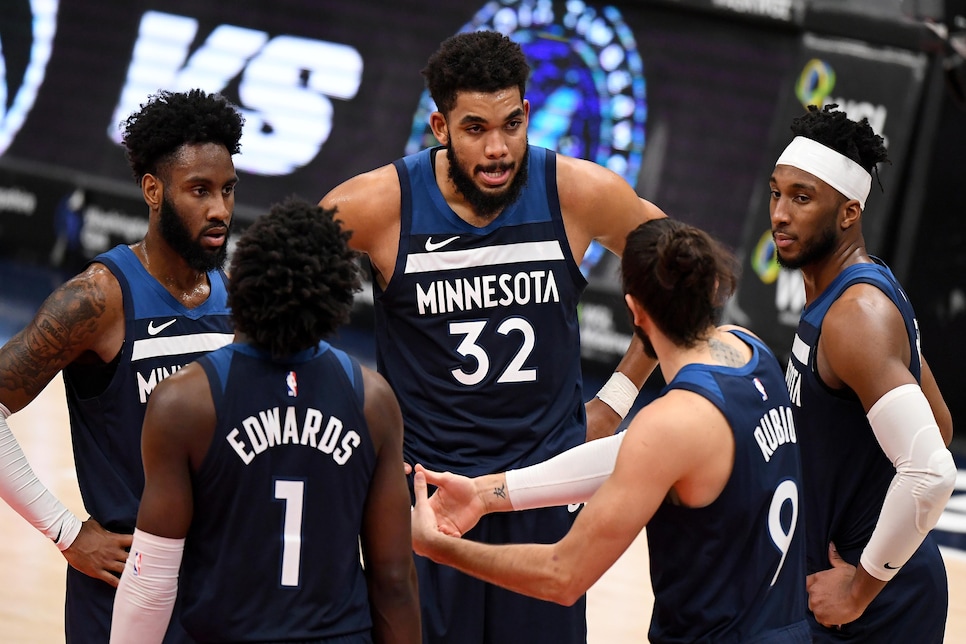 As a sportsman, he's determined to succeed, meaning he won't stand for losing. But it's a massive stretch to think A-Rod, despite his three MVP awards and World Series title ring, is the magical corporate leader who will repair the underachievement and dysfunction that has relegated the Wolves to the NBA dregs. What does he know about basketball when he makes mistakes in the booth every baseball broadcast? He'd better learn quickly, because at 14-40, the Wolves are plunging toward the NBA's worst record for the third time in 11 years while assured of their 15th losing season in 16 tries. Not that there aren't valuable pieces on the roster — a prized big man in Karl-Anthony Towns, a former All-Star guard in D'Angelo Russell, a rising scorer in Anthony Edwards, a young two-way stud in Jaden McDaniels. Hell, Cade Cunningham or Jalen Suggs could arrive in the draft.
But there's something about this operation that seems eternally unfixable. Assuming the deal goes through, Rodriguez and Lore — who already have been disappointed once in losing the Mets to Steve Cohen — don't assume complete control of the franchise from Taylor until 2023. By then, who knows what the wreckage will look like? If the Wolves don't finish in the top three of the lottery, they lose the pick entirely. Towns, never happy in Minnesota, continues to be the subject of trade talks. I know little about the coach, Chris Finch, and I do this for a living.
If the fans stop caring — and in the Twin Cities, the Wolves rank behind the Vikings, Twins, Wild, college football and maybe college hockey in interest — might A-Rod want to move the franchise? He can't go to New York, where the market has two teams. He can't go to Miami, home of the Heat. But he could take the Wolves to … Seattle, where he played seven seasons for the Mariners and where an arena renovated for the NHL's expansion Kraken — as in crack, the substance the nickname-chooser had to be using — awaits a breathlessly missed NBA team.
Taylor told the Star Tribune, the newspaper he owns, that language in the pending paperwork will require Rodriguez and Lore to keep the Wolves and WNBA Lynx in Minnesota. "They will keep the team here, yes. We will put it in the agreement," Taylor said. "At this point we have a letter of intent, but when we make up the contract we'll put that in there. That's no problem. That won't be a problem."
Try telling the courts. Taylor, 79, says he trusts A-Rod and Lore anyway. "When I met them and talked to them and just in the conversation what they were after — they're bright people, very bright people, very competitive," he said. "I could see them challenging me which I liked to have. … They said, `We got to learn about basketball. We'd like you to stay around and help us run it for a while.' Then we'll switch over. Those meet all of my goals."
The agreement materialized in a matter of days, with Rodriguez and Lore approaching Taylor in early April and quickly flying to meet him and his wife at their winter home in Naples, Fla. Evidently, A-Rod is no more enamored of his broadcasting career than we are; he couldn't wait to jump at this chance, and the networks will need new baseball voices. Is it possible A-Rod, impulsive to a fault, suddenly will pull out because he's getting scorched in columns such as this? Or because a wiser business opportunity presents itself? For now, he's all in, awaiting approval by league owners. "We look forward to entering this phase of the process with Glen Taylor," Rodriguez and Lore said in a joint statement. "Our respect for him and the legacy he has built lays an amazing foundation for what's to come. We are excited by the prospect of getting to know the Timberwolves organization."
The players, who grew up watching Rodriguez on ballfields, were as startled as anyone by the news. Towns went so far to tell a shoplifting story from his childhood, revealing that his mother — one of seven members of his family to die from COVID-19 the past year — helped him pilfer an A-Rod jersey from a New Jersey Walmart store when times were lean and money was tight. When he tried on the jersey and told her it fit, she said, "Great. Leave it on."
"I have that jersey still to this day in my house. That jersey meant everything," Towns said. "I wouldn't recommend doing that to the young kids watching this. Don't do that. But if you're struggling and really like a player, I'm not going to say anything."
Now, A-Rod is positioned as his boss. "Just to have his charisma and his aura, it's going to make a lot of people gravitate toward here," Towns said. "The fans, to be able to have such a star like that as an owner, is going to bring an awareness to this team."
Finch can't wait to meet the new boss. "I'm sure he understands sports at a very high level," he said. "It certainly will bring some sex appeal to the organization, the city, to the team. I think the more skill sets and personality types you can bring to any kind of leadership group, the more it's going to be reflected in the overall mission."
If A-Rod wants to watch practice, will Finch kick him out? "You want them to feel intimately involved with the process, the team and everything else that goes around it. You want them to be an active partner," he said. "I'm not the type that's going to try to exclude them from their own team. And again, that's super high level. My job is to coach the team and make the players as best as possible. That's my day job, and that's what I focus 99 percent of my time on."
Wasn't Kevin Garnett, greatest player in franchise history, supposed to be part of a group buying the Wolves? Oh, he didn't get along with Taylor, and a bid never materialized. If I'm Alex Rodriguez, I'm thinking twice about spending two years of the Life Of A-Rod learning the ropes under an all-time NBA loser. Then I'm wondering about that walleye sandwich and how quickly I'd tire of it.
Then I'm wondering about distressed franchises in Major League Baseball and thinking, yep, I have a better chance of fixing the Pittsburgh Pirates than the Minnesota Timberwolves.
Or, he can just huddle his new players in a meeting and give them PEDs.
Being Wrong On-Air Isn't A Bad Thing
…if you feel yourself getting uncomfortable over the fact that you were wrong, stop to realize that's your pride talking. Your ego. And if people call you out for being wrong, it's actually a good sign.
In the press conference after the Warriors won their fourth NBA title in eight years, Steph Curry referenced a very specific gesture from a very specific episode of Get Up that aired in August 2021.
"Clearly remember some experts and talking heads putting up the big zero," Curry said, then holding up a hollowed fist to one eye, looking through it as if it were a telescope.
"How many championships we would have going forward because of everything we went through."
Yep, Kendrick Perkins and Domonique Foxworth each predicted the Warriors wouldn't win a single title over the course of the four-year extension Curry had just signed. The Warriors won the NBA title and guess what? Curry gets to gloat.
The funny part to me was the people who felt Perkins or Foxworth should be mad or embarrassed. Why? Because they were wrong?
That's part of the game. If you're a host or analyst who is never wrong in a prediction, it's more likely that you're excruciatingly boring than exceedingly smart. Being wrong is not necessarily fun, but it's not a bad thing in this business.
You shouldn't try to be wrong, but you shouldn't be afraid of it, either. And if you are wrong, own it. Hold your L as I've heard the kids say. Don't try to minimize it or explain it or try to point out how many other people are wrong, too. Do what Kendrick Perkins did on Get Up the day after the Warriors won the title.
"When they go on to win it, guess what?" He said, sitting next to Mike Greenberg. "You have to eat that."
Do not do what Perkins did later that morning on First Take.
Perkins: "I come on here and it's cool, right? Y'all can pull up Perk receipts and things to that nature. And then you give other people a pass like J-Will."
Jason Williams: "I don't get passes on this show."
Perkins: "You had to, you had a receipt, too, because me and you both picked the Memphis Grizzlies to beat the Golden State Warriors, but I'm OK with that. I'm OK with that. Go ahead Stephen A. I know you're about to have fun and do your thing. Go ahead."
Stephen A. Smith: "First of all, I'm going to get serious for a second with the both of you, especially you, Perk, and I want to tell you something right now. Let me throw myself on Front Street, we can sit up there and make fun of me. You know how many damn Finals predictions I got wrong? I don't give a damn. I mean, I got a whole bunch of them wrong. Ain't no reason to come on the air and defend yourself. Perk, listen man. You were wrong. And we making fun, and Steph Curry making fun of you. You laugh at that my brother. He got you today. That's all. He got you today."
It's absolutely great advice, and if you feel yourself getting uncomfortable over the fact that you were wrong, stop to realize that's your pride talking. Your ego. And if people call you out for being wrong, it's actually a good sign. It means they're not just listening, but holding on to what you say. You matter. Don't ruin that by getting defensive and testy.
WORTH EVERY PENNY
I did a double-take when I saw Chris Russo's list of the greatest QB-TE combinations ever on Wednesday and this was before I ever got to Tom Brady-to-Rob Gronkowski listed at No. 5. It was actually No. 4 that stopped me cold: Starr-Kramer.
My first thought: Jerry Kramer didn't play tight end.
My second thought: I must be unaware of this really good tight end from the Lombardi-era Packers.
After further review, I don't think that's necessarily true, either. Ron Kramer did play for the Lombardi-era Packers, and he was a good player. He caught 14 scoring passes in a three-year stretch where he really mattered, but he failed to catch a single touchdown pass in six of the 10 NFL seasons he played. He was named first-team All-Pro once and finished his career with 229 receptions.
Now this is not the only reason that this is an absolutely terrible list. It is the most egregious, however. Bart Starr and Kramer are not among the 25 top QB-TE combinations in NFL history let alone the top five. And if you're to believe Russo's list, eighty percent of the top tandems played in the NFL in the 30-year window from 1958 to 1987 with only one tandem from the past 30 years meriting inclusion when this is the era in which tight end production has steadily climbed.
Then I found out that Russo is making $10,000 per appearance on "First Take."
My first thought: You don't have to pay that much to get a 60-something white guy to grossly exaggerate how great stuff used to be.
My second thought: That might be the best $10,000 ESPN has ever spent.
Once a week, Russo comes on and draws a reaction out of a younger demographic by playing a good-natured version of Dana Carvey's Grumpy Old Man. Russo groans to JJ Redick about the lack of fundamental basketball skills in today's game or he proclaims the majesty of a tight end-quarterback pairing that was among the top five in its decade, but doesn't sniff the top five of all-time.
And guess what? It works. Redick rolls his eyes, asks Russo which game he's watching, and on Wednesday he got me to spend a good 25 minutes looking up statistics for some Packers tight end I'd never heard of. Not satisfied with that, I then moved on to determine Russo's biggest omission from the list, which I've concluded is Philip Rivers and Antonio Gates, who connected for 89 touchdowns over 15 seasons, which is only 73 more touchdowns than Kramer scored in his career. John Elway and Shannon Sharpe should be on there, too.
Money Isn't The Key Reason Why Sellers Sell Sports Radio
I started selling sports radio because I enjoyed working with clients who loved sports, our station, and wanted to reach fans with our commercials and promotions.
A radio salesperson's value being purely tied to money is overrated to me. Our managers all believe that our main motivation for selling radio is to make more money. They see no problem in asking us to sell more in various ways because it increases our paycheck. We are offered more money to sell digital, NTR, to sell another station in the cluster, weekend remotes, new direct business, or via the phone in 8 hours.
But is that why you sell sports radio?
In 2022, the Top 10 highest paying sales jobs are all in technology. Not a media company among them. You could argue that if it were all about making money, we should quit and work in tech. Famous bank robber Willie Sutton was asked why he robbed twenty banks over twenty years. He reportedly said," that's where the money is". Sutton is the classic example of a person who wanted what money could provide and was willing to do whatever it took to get it, BUT he also admitted he liked robbing banks and felt alive. So, Sutton didn't do it just for the money.
A salesperson's relationship with money and prestige is also at the center of the play Death of a Salesman. Willy Loman is an aging and failing salesman who decides he is worth more dead than alive and kills himself in an auto accident giving his family the death benefit from his life insurance policy. Loman wasn't working for the money. He wanted the prestige of what money could buy for himself and his family. 
Recently, I met a woman who spent twelve years selling radio from 1999-2011. I asked her why she left her senior sales job. She said she didn't like the changes in the industry. Consolidation was at its peak, and most salespeople were asked to do more with less help. She described her radio sales job as one with "golden handcuffs". The station paid her too much money to quit even though she hated the job. She finally quit. The job wasn't worth the money to her.
I started selling sports radio because I enjoyed working with clients who loved sports, our station, and wanted to reach fans with our commercials and promotions. I never wanted to sell anything else and specifically enjoyed selling programming centered around reaching fans of Boise State University football. That's it. Very similar to what Mark Glynn and his KJR staff experience when selling Kraken hockey and Huskies football.
I never thought selling sports radio was the best way to make money. I just enjoyed the way I could make money. I focused on the process and what I enjoyed about the position—the freedom to come and go and set my schedule for the most part. I concentrated on annual contracts and clients who wanted to run radio commercials over the air to get more traffic and build their brand.
Most of my clients were local direct and listened to the station. Some other sales initiatives had steep learning curves, were one-day events or contracted out shaky support staff. In other words, the money didn't motivate me enough. How I spent my time was more important.
So, if you are in management, maybe consider why your sales staff is working at the station. Because to me, they'd be robbing banks if it were all about making lots of money.
Media Noise: BSM Podcast Network Round Table
Demetri Ravanos welcomes the two newest members of the BSM Podcast Network to the show. Brady Farkas and Stephen Strom join for a roundtable discussion that includes the new media, Sage Steele and Roger Goodell telling Congress that Dave Portnoy isn't banned from NFL events.
Podcast: Play in new window | Download
Subscribe: RSS