Once The Heartbeat Of Newspapers, Chicago Is Death Row
After no well-heeled savior emerged to save the Tribune from a job-slashing hedge fund, the local news industry in America never has been closer to extinction. Wasn't it thriving not too long ago?
"SPORTS WITH AN ATTITUDE!" came the blast from the billboards. The slogan was etched in tattoo graffiti, part of a campaign to hype my arrival in Chicago, and I guess the ad agency wanted me to terrorize fans in the No. 3 market with perpetual vitriol. Every time I drove past my smiling, 31-year-old mug near Wrigley Field, Soldier Field and sites throughout the metropolis, I laughed … and cringed … and all but peed my pants.
What the hell was the Sun-Times doing to me? Setting me up to fail before I'd started? Ensuring that my body parts would be found in the lake? Was I hired just to fit some absurd campaign? And who decided I had an attitude, anyway? As it was, the cantankerous columnist Mike Royko was taking shots at me, and Chet Coppock was introducing me on his talk show by asking when I'd win a Pulitzer Prize. Before long, Mike Ditka was calling me "Dummy-otti," Michael Jordan was eyeing me like Craig Ehlo, and an alderman named Brian Doherty was grabbing the back of the neck at my post-work hangout, O'Callaghan's on Hubbard Street, and not letting go for about 20 seconds.
Wasn't this absolute madness?
Actually, looking back, this was the newspaper business at its best — never more vibrant, impactful or fun. Chicago was the heartbeat of print's dominance in America, and I was the new hired gun, slung like a Billy Goat cheeseburger onto a two-paper downtown griddle that instantly heated up. The hard-working tabloid, headquartered in a tugboat-shaped building on the river, was dropping a bomb on the Tribune, at the time a stuffy, nose-in-the-air broadsheet in a neo-Gothic tower where sports columnists liked playing with words. I preferred playing with minds, a game made easier by the Tribune's clumsy ownership of the Cubs. And the Tribsters didn't like being uncomfortable, from the top of the Tower to the sports department, where NBA reporter Sam Smith wrote a best-seller called "The Jordan Rules" and charged his bosses a price for excerpts he'd gathered on their dime — which got Smith in trouble when I was fed excerpts by his book publicist and rushed news items into the paper, at no charge to my employer, before the Trib could publish its purchased material.
Sports With An Attitude, baby.
If you'd said then that the Chicago newspaper business would be gutted in 2021 — barely breathing, lacking impact and doomed to continued irrelevance and eventual extinction — I'd have let the alderman keep choking me. But the situation is as real and gnarly as ink on fingers. Just as that city was the head of the industry snake in the 20th century, the demise of the Tribune and Sun-Times symbolizes the death of print — and local news — only three decades later.
Now owned by the evil hedge-fund vultures at Alden Global Capital, which acquired Tribune Publishing despite pleas from employees for deep-pocketed civic saviors to step in, the Tribune newsroom is braced for mass layoffs and a severing of whatever editorial quality remains. This is what Alden does, killing journalism to lift profits, and the Tribune, New York Daily News, Baltimore Sun and Orlando Sentinel are among nine new papers who've joined dozens of other dailies on death row. Many familiar bylines will be sacrificed at the Trib, replaced by young and inexpensive content providers, or robots if available. And much as I'd like to think my old paper will seize an opportunity, the Sun-Times has been hooked to intensive-care machines for much too long, without an editor-in-chief since September and unable to send even one staffer to Indianapolis — 3 1/2 hours away by car, with a $4.50 fast-food stop on the way — for an Illinois-Loyola showdown in the NCAA basketball tournament.
We could ask Sister Jean Schmidt, Loyola's 101-year-old sideline inspiration, to pray for Chicago's papers. But rosary beads are best used for causes that still have fighting chances.
"Alden ownership," wrote Tribune reporter and union leader Gregory Pratt, "would be a disaster for Chicago, democracy and society at large."
Tweeted veteran Tribune media writer Phil Rosenthal, boldly risking his job by adding Alden to the company's missteps: "Tribune's 1st self-inflicted wound was merger with L.A. Times parent in 2000. Deal added Chandler family reps to board. They agitated for a sale to unwind their trusts and get their money. Then came Sam Zell, bankruptcy, TV/real estate split from print, Michael Ferro & now Alden."
And this from Tribune humor columnist Rex Huppke, not in the joking mood: "This is terrible news for the Chicago Tribune and all our sister newspapers. It's also terrible news for the communities these papers cover and, I'd argue, for the country. … I can't be bothered with people who view newspapers as businesses to be squeezed for profit, or as disposable investments. None of us got into this to make money."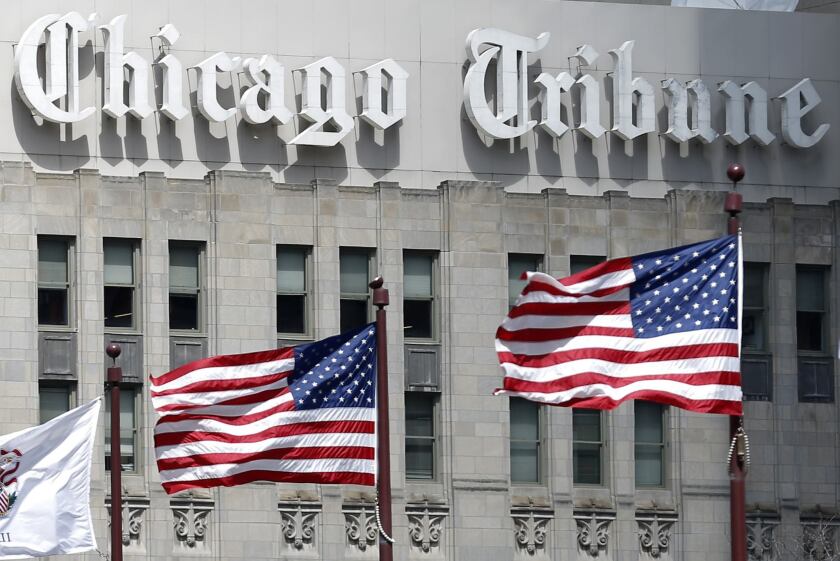 It's nothing short of an American tragedy, really. In a city of considerable wealth and corporate influence, not one heavy-hitter thought the Tribune was salvageable. Jeff Bezos energized the Washington Post. Patrick Soon-Shiong bailed out the Los Angeles Times. John Henry, the Red Sox owner, preserved the Boston Globe. Glen Taylor, the Minnesota Timberwolves owner, rescued the Star-Tribune in Minneapolis. But no one wanted the Chicago Tribune — not the Pritzkers, not the Wirtzes, not Ken Griffin and his $22 billion net worth, not Boeing or Walgreens, not Oprah Winfrey and her Chicago pedigree and not even White Sox/Bulls owner Jerry Reinsdorf, who already meddles in editorial operations without having to spend a penny. Soon-Shiong, a prominent Tribune shareholder, could have voted no and slowed Alden but chose to abstain. In its heyday, the Tribune was as prestigious as any U.S. newspaper. But while the New York Times and Wall Street Journal were prescient in recognizing the future of news — a digital transformation, followed by subscriptions — the Chicago dailies were asleep at the switch in the 2000s, thrust into turmoil by crooked, profit-skimming owners at both shops.
This is where I enter again, more than a decade into my 17-year run there. Frustrated by a primitive website, I repeatedly asked Sun-Times executives when they might embrace the technological advances of a new millennium to ensure long-term viability. "We're a print operation," came the reply, every time. They either couldn't see the future — free-falling circulation, vanishing print advertising — or didn't want to invest in it. More likely, the latter.
Knowing that I drove traffic in a voracious sports town and continued to view the Tribune the way Aaron Rodgers treats the Bears, the Sun-Times offered me yet another three-year extension in 2008. But though the financial numbers far exceeded my dreams in a labor of love, I was reluctant to sign. The bosses had jumped into bed with team owners I was trying to cover — I needed three showers a day, removing all the dirt — and the sports staff was a dissension-torn mess. I was sick of breaking up fights between writers, sick of in-house lies told about me to junk websites, sick of resentment about my daily role on ESPN's "Around The Horn" — sick of the sickness. I wanted the editors to take charge of their debacle, starting with a stronger commitment to digital.
I agreed to sign the extension with a caveat: We would have a competitive website presence at the Beijing Olympics, where our staff of two would try our damndest against the Tribune's legions. Next thing I knew, as if being pranked, our pieces from China weren't being posted for hours. Then things got dirty: Because of so-called deadlines that couldn't be stretched even a few minutes, I was asked by editors to write two fictional pieces — one with Michael Phelps winning, another with him losing — that were filed before his race for plug-in purposes. All the while, Dave Morgan and Yahoo! Sports had set up shop near us in the media center, showcasing the future of digital journalism — no fake stories, just a professional coverage plan executed with precision by several writers and editors over a couple of hours.
Eventually, I found myself on the Great Wall of China, having an epiphany. A year after dealing with heart pain on assignment, I was not about to let this god-awful operation kill me. We finished the three-week job. On the plane ride home, I crafted a polite, peaceful resignation letter to the publisher, who, of course, didn't inform an editor-in-chief who was caught by surprise when the Tribune found out. Reporter Jim Kirk, who wound up running the newsrooms of the Sun-Times and L.A. Times, was the first to tell Michael Cooke that I was opting out and handing back about a million bucks. Cooke asked Kirk if it was a joke.
In truth, it was the day the Sun-Times began to fade.
This wasn't considered good form, telling the competition that I refused to "go down with the ship." The editors urged the great Roger Ebert — I'd met him only once — to crucify me the next day and call me "a rat." But screw the Sun-Times. I'd devoted my life to the place, writing more pieces during those 17 years than any sports columnist on Earth, and the people on high had no interest in anything but extracting profits and cashing out. Sure enough, the paper was in deep trouble within a year. And since then, a frighteningly thin, hard-to-find product is published with a few dozen staffers from rented offices near a Goodwill donation store, kept from its funeral by periodic contributions via Blackhawks owner Rocky Wirtz and other locals. The Sun-Times finally got around to upgrading its site, then inexplicably attached it to a paywall. If few were reading the online content when it was free, who's going to pay for it?
Today, the two sports sections are run by amateurs who kowtow to owners such as Reinsdorf and, of course, Wirtz. Observes Chicago media critic Jim O'Donnell, among those who've remained independent in a market of sellouts in his seat at the suburban Daily Herald: "The entrenched sports power people are controlling the market and the message to a degree they could only have dreamed of as recently as 15 years ago."
Shortly after I entered the digital ranks as a national sports columnist, my journey slipped into the surreal. One of my writing heroes, Frank Deford, was interviewing me on a Wrigleyville rooftop for an HBO "Real Sports" segment. Topic: The demise of newspapers. When I pointed to a nearby Starbucks and said several people inside were reading news on laptop computers, Deford was incredulous, holding up a copy of the Sun-Times in protest as I dismissed the print paper as obsolete.
Frank passed away four years ago. "One of my favorite segments," Patrick Byrne, HBO's media relations director, told me in a note. "You were spot on."
On a recent podcast, a host asked me if it was "ironic" what has happened to the print industry since my declaration. I corrected him on his word usage. "I was RIGHT," I said, remembering how I was ripped by media people after the HBO show, as if I'd divulged the industry secret no one wanted to face.
I take no glee from my foresight. But I will realize, to my own dying day, that the Deford interview happened only a pop fly from where a "SPORTS WITH AN ATTITUDE" billboard once was perched.
Being Wrong On-Air Isn't A Bad Thing
…if you feel yourself getting uncomfortable over the fact that you were wrong, stop to realize that's your pride talking. Your ego. And if people call you out for being wrong, it's actually a good sign.
In the press conference after the Warriors won their fourth NBA title in eight years, Steph Curry referenced a very specific gesture from a very specific episode of Get Up that aired in August 2021.
"Clearly remember some experts and talking heads putting up the big zero," Curry said, then holding up a hollowed fist to one eye, looking through it as if it were a telescope.
"How many championships we would have going forward because of everything we went through."
Yep, Kendrick Perkins and Domonique Foxworth each predicted the Warriors wouldn't win a single title over the course of the four-year extension Curry had just signed. The Warriors won the NBA title and guess what? Curry gets to gloat.
The funny part to me was the people who felt Perkins or Foxworth should be mad or embarrassed. Why? Because they were wrong?
That's part of the game. If you're a host or analyst who is never wrong in a prediction, it's more likely that you're excruciatingly boring than exceedingly smart. Being wrong is not necessarily fun, but it's not a bad thing in this business.
You shouldn't try to be wrong, but you shouldn't be afraid of it, either. And if you are wrong, own it. Hold your L as I've heard the kids say. Don't try to minimize it or explain it or try to point out how many other people are wrong, too. Do what Kendrick Perkins did on Get Up the day after the Warriors won the title.
"When they go on to win it, guess what?" He said, sitting next to Mike Greenberg. "You have to eat that."
Do not do what Perkins did later that morning on First Take.
Perkins: "I come on here and it's cool, right? Y'all can pull up Perk receipts and things to that nature. And then you give other people a pass like J-Will."
Jason Williams: "I don't get passes on this show."
Perkins: "You had to, you had a receipt, too, because me and you both picked the Memphis Grizzlies to beat the Golden State Warriors, but I'm OK with that. I'm OK with that. Go ahead Stephen A. I know you're about to have fun and do your thing. Go ahead."
Stephen A. Smith: "First of all, I'm going to get serious for a second with the both of you, especially you, Perk, and I want to tell you something right now. Let me throw myself on Front Street, we can sit up there and make fun of me. You know how many damn Finals predictions I got wrong? I don't give a damn. I mean, I got a whole bunch of them wrong. Ain't no reason to come on the air and defend yourself. Perk, listen man. You were wrong. And we making fun, and Steph Curry making fun of you. You laugh at that my brother. He got you today. That's all. He got you today."
It's absolutely great advice, and if you feel yourself getting uncomfortable over the fact that you were wrong, stop to realize that's your pride talking. Your ego. And if people call you out for being wrong, it's actually a good sign. It means they're not just listening, but holding on to what you say. You matter. Don't ruin that by getting defensive and testy.
WORTH EVERY PENNY
I did a double-take when I saw Chris Russo's list of the greatest QB-TE combinations ever on Wednesday and this was before I ever got to Tom Brady-to-Rob Gronkowski listed at No. 5. It was actually No. 4 that stopped me cold: Starr-Kramer.
My first thought: Jerry Kramer didn't play tight end.
My second thought: I must be unaware of this really good tight end from the Lombardi-era Packers.
After further review, I don't think that's necessarily true, either. Ron Kramer did play for the Lombardi-era Packers, and he was a good player. He caught 14 scoring passes in a three-year stretch where he really mattered, but he failed to catch a single touchdown pass in six of the 10 NFL seasons he played. He was named first-team All-Pro once and finished his career with 229 receptions.
Now this is not the only reason that this is an absolutely terrible list. It is the most egregious, however. Bart Starr and Kramer are not among the 25 top QB-TE combinations in NFL history let alone the top five. And if you're to believe Russo's list, eighty percent of the top tandems played in the NFL in the 30-year window from 1958 to 1987 with only one tandem from the past 30 years meriting inclusion when this is the era in which tight end production has steadily climbed.
Then I found out that Russo is making $10,000 per appearance on "First Take."
My first thought: You don't have to pay that much to get a 60-something white guy to grossly exaggerate how great stuff used to be.
My second thought: That might be the best $10,000 ESPN has ever spent.
Once a week, Russo comes on and draws a reaction out of a younger demographic by playing a good-natured version of Dana Carvey's Grumpy Old Man. Russo groans to JJ Redick about the lack of fundamental basketball skills in today's game or he proclaims the majesty of a tight end-quarterback pairing that was among the top five in its decade, but doesn't sniff the top five of all-time.
And guess what? It works. Redick rolls his eyes, asks Russo which game he's watching, and on Wednesday he got me to spend a good 25 minutes looking up statistics for some Packers tight end I'd never heard of. Not satisfied with that, I then moved on to determine Russo's biggest omission from the list, which I've concluded is Philip Rivers and Antonio Gates, who connected for 89 touchdowns over 15 seasons, which is only 73 more touchdowns than Kramer scored in his career. John Elway and Shannon Sharpe should be on there, too.
Money Isn't The Key Reason Why Sellers Sell Sports Radio
I started selling sports radio because I enjoyed working with clients who loved sports, our station, and wanted to reach fans with our commercials and promotions.
A radio salesperson's value being purely tied to money is overrated to me. Our managers all believe that our main motivation for selling radio is to make more money. They see no problem in asking us to sell more in various ways because it increases our paycheck. We are offered more money to sell digital, NTR, to sell another station in the cluster, weekend remotes, new direct business, or via the phone in 8 hours.
But is that why you sell sports radio?
In 2022, the Top 10 highest paying sales jobs are all in technology. Not a media company among them. You could argue that if it were all about making money, we should quit and work in tech. Famous bank robber Willie Sutton was asked why he robbed twenty banks over twenty years. He reportedly said," that's where the money is". Sutton is the classic example of a person who wanted what money could provide and was willing to do whatever it took to get it, BUT he also admitted he liked robbing banks and felt alive. So, Sutton didn't do it just for the money.
A salesperson's relationship with money and prestige is also at the center of the play Death of a Salesman. Willy Loman is an aging and failing salesman who decides he is worth more dead than alive and kills himself in an auto accident giving his family the death benefit from his life insurance policy. Loman wasn't working for the money. He wanted the prestige of what money could buy for himself and his family. 
Recently, I met a woman who spent twelve years selling radio from 1999-2011. I asked her why she left her senior sales job. She said she didn't like the changes in the industry. Consolidation was at its peak, and most salespeople were asked to do more with less help. She described her radio sales job as one with "golden handcuffs". The station paid her too much money to quit even though she hated the job. She finally quit. The job wasn't worth the money to her.
I started selling sports radio because I enjoyed working with clients who loved sports, our station, and wanted to reach fans with our commercials and promotions. I never wanted to sell anything else and specifically enjoyed selling programming centered around reaching fans of Boise State University football. That's it. Very similar to what Mark Glynn and his KJR staff experience when selling Kraken hockey and Huskies football.
I never thought selling sports radio was the best way to make money. I just enjoyed the way I could make money. I focused on the process and what I enjoyed about the position—the freedom to come and go and set my schedule for the most part. I concentrated on annual contracts and clients who wanted to run radio commercials over the air to get more traffic and build their brand.
Most of my clients were local direct and listened to the station. Some other sales initiatives had steep learning curves, were one-day events or contracted out shaky support staff. In other words, the money didn't motivate me enough. How I spent my time was more important.
So, if you are in management, maybe consider why your sales staff is working at the station. Because to me, they'd be robbing banks if it were all about making lots of money.
Media Noise: BSM Podcast Network Round Table
Demetri Ravanos welcomes the two newest members of the BSM Podcast Network to the show. Brady Farkas and Stephen Strom join for a roundtable discussion that includes the new media, Sage Steele and Roger Goodell telling Congress that Dave Portnoy isn't banned from NFL events.
Podcast: Play in new window | Download
Subscribe: RSS