Anatomy Of An Analyst: John McEnroe
Andy Masur looks at what makes John McEnroe one of the best broadcasters in tennis.
"You cannot be serious!" Who could forget that line, which is so synonymous with John McEnroe berating an on-court official? So synonymous that it became the title of his autobiography. The famous line was part of a memorable moment at Wimbledon in 1981. It was in his opening round match, when he approached chair umpire Edward James yelling, "You cannot be serious, man. YOU CANNOT BE SERIOUS! That ball was on the line, chalk flew up. It was clearly in. How could you possibly call that out!" McEnroe walked away saying, "You guys are the absolute pits of the world." The outburst cost him a point in that match. Some consider that the top Wimbledon moment of all-time. McEnroe doesn't agree, admitting later that he felt "terrible" about the incident.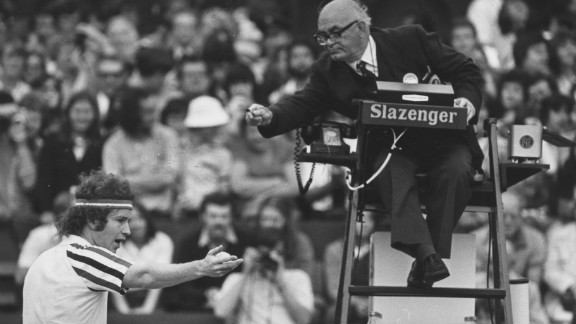 McEnroe never seemed to agree with umpires or linesmen, but it didn't stop him from becoming one of the best tennis players of his era. The late 70's and early 80's belonged to the headband wearing boisterous left-hander. McEnroe was truly one of the most colorful players during his professional career and he's parlayed that into a successful post-playing career as a television analyst.
TENNIS CREDENTIALS
McEnroe earned induction into the International Tennis Hall of Fame in 1999 based on his illustrious career on the court. He finished with 77 singles and 78 doubles titles. McEnroe won seven grand slam singles titles, four at the US Open and three at Wimbledon, and nine men's Grand Slam doubles titles. His singles match record of 82–3 in 1984 remains the best single season win rate of the Open Era. 
McEnroe became the top-ranked singles player in the world on March 3, 1980. He was the top-ranked player on 14 separate occasions between 1980 and 1985 and finished the year ranked No. 1 four straight years from 1981 through 1984. He spent a total of 170 weeks at the top of the rankings.
As an 18-year-old amateur in 1977, McEnroe won the mixed doubles at the French Open with Mary Carillo. He then made it through the qualifying rounds of Wimbledon, working his way into the field. McEnroe would lose to Jimmy Connors in four sets. At the time it was the best performance by a qualifier at a Grand Slam tournament.
He played collegiately at Stanford and in 1978, McEnroe won the NCAA Singles title and led the Cardinal to the NCAA team title. Later that year, he turned pro and made it to the semifinals of the US Open, losing to Jimmy Connors. McEnroe won 5 titles that year, including the Masters Grand Prix in which he beat legend Arthur Ashe in straight sets. The lefty would finish '78 as the fourth ranked player in the world.
NOT THE MOST POPULAR PLAYER
McEnroe didn't stand out for his popularity. He didn't really seem to care either. He played with a fire that burned, a competitiveness that was palpable but he was always arguing. Constantly putting down game officials for what he considered bad calls.
"I know I can see the ball better than the officials," he said early in his career. "I can 'feel' when a ball is out or not. What's so frustrating is to know you're right and not be able to do anything about it."
When he was just 20, he was nicknamed "Superbrat" by the British tabloids in 1979. "He is the most vain, ill-tempered, petulant loudmouth that the game of tennis has ever know," The Sun wrote.
BROADCASTING
McEnroe started his broadcasting career with NBC in 1992 as an analyst on the network's French Open coverage.  In June of '92 he made his debut as a commentator on NBC's Wimbledon telecasts. McEnroe has also spent time with CBS, USA, the BBC and now ESPN.
As we've seen it a million times, a person's unpopularity making them popular in the booth, because you never know what might be said. Controversy sometimes makes for great television. Someone willing to "tell it like it is" usually is a fan favorite. Enter McEnroe.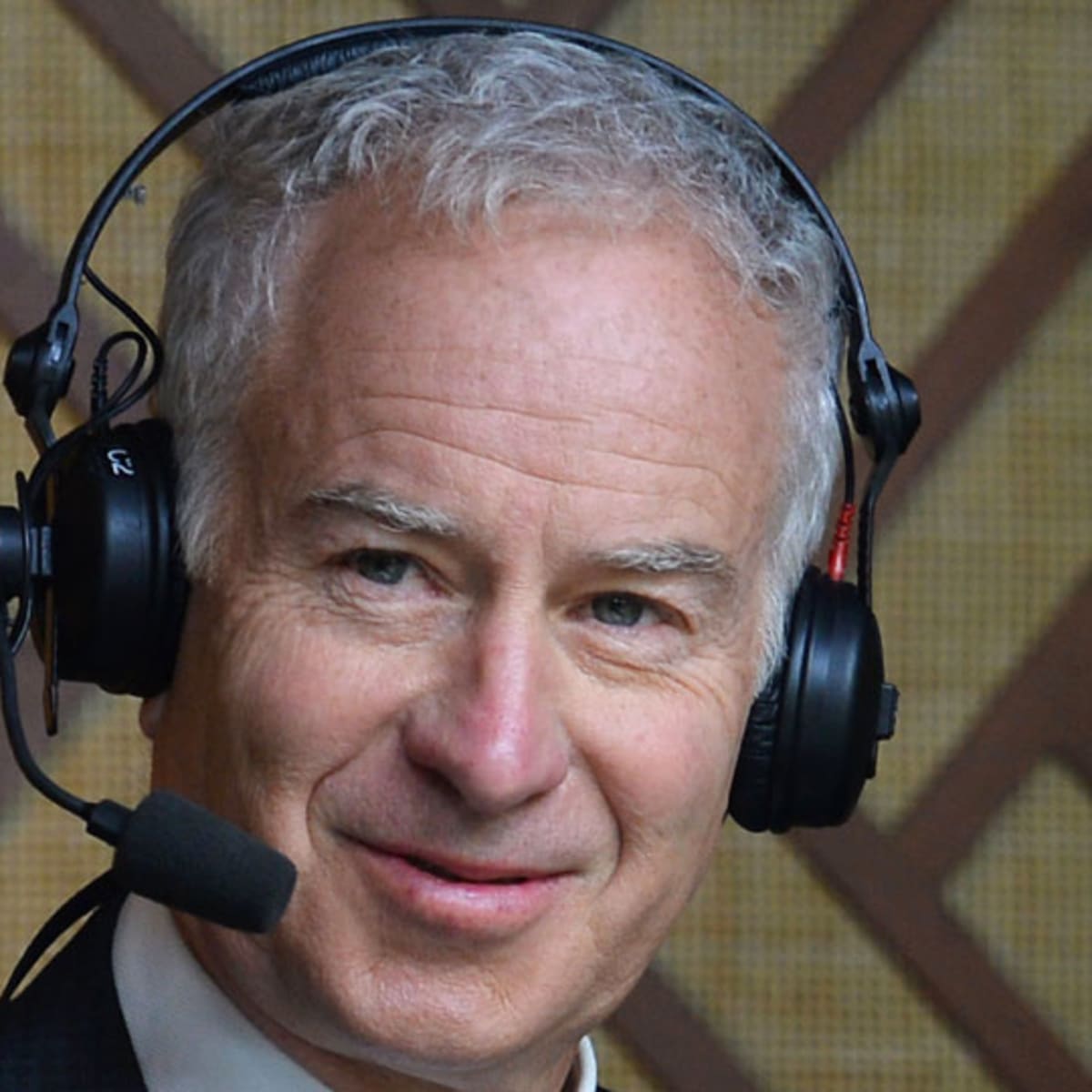 While the reputation for being the "bad boy" on the court, his on-air persona is a little bit different. The man knows the game of tennis and he's used the knowledge to gain a reputation for being good at what he does. The combination of insightfulness and some outspoken commentary is working for him. He's often making his point with the natural wit and cynicism he's been blessed with. I know this will come as a shock, but he's often willing to say what is on his mind. The only difference between McEnroe the broadcaster and the "Johnny Mac" of tennis fame, he's much calmer when delivering his commentary in the booth. That makes him a lot easier to listen to and view.
Many that were able to play the game, whatever sport it might be, at a high level, have a hard time accepting today's athletes. Some don't like the way the game is played now, because it isn't what it used to be. McEnroe is the exception to that rule. He has been known to appreciate and accept the way the game has changed since his era. It's a quality that isn't lost on viewers. Who really wants to hear that former great tell you that these athletes of today are "this or that" and not as good as they were when he played? It's kind of a tired way of commentating. It's lazy and not entertaining. Good on McEnroe for being "bigger" than that. 
According to an "Awful Announcing" article in 2012, McEnroe is one of the top analysts regardless of sport. It goes on to say, and I'm paraphrasing here, McEnroe gives the broadcast credibility and enhances the coverage of tennis greatly. 
WORKING WITH HIS BROTHER
McEnroe's brother Patrick was quite the tennis player himself, but was constantly overshadowed by big brother John. Patrick has carved out a nice niche for himself in tennis broadcasting and is so versatile, he's done commentary, hosting and play-by-play. The latter allowed him to be paired with John on many occasions.
The New York Times did a piece on the younger McEnroe in 2017 at the US Open in Flushing, NY.
The brothers were ecstatic to work together again on a broadcast. Patrick told the paper that the producers were initially worried about their similar Queens cadence. With Patrick doing the play-by-play and John doing the color commentary, their words often do the job of letting the viewer know who is talking.
The story looked at the two on opening night of the Open, they called a hard-fought match between Alexander Zverev and Darian King that stretched well past midnight. As the 2 a.m. hour approached, something shocking occurred. John seemed to agree with an umpire. Patrick wanted to make sure he heard his brother correctly. "I figured no one was watching," John shot back.
Pretty cool that they get to work together, listening back to a few of their matches, I'm struck by how at ease both the brothers are. They should be after growing up together, but sometimes that brotherly competitiveness can rear its head. Not in the case of the McEnroe brothers.
OTHER APPEARANCES 
John is obviously best known for his play, but he's recognized for other things as well. McEnroe has been an author and actor in various roles including appearances on 30 Rock, CSI NY, Curb Your Enthusiasm, Saturday Night Live, Anger Management, Jack & Jill, and Mr. Deeds to name a few. His memoir that I alluded to earlier, You Cannot Be Serious reached #1 on the New York Times nonfiction best-seller list in 2001, and was also ranked #1 on the London Times best-seller list.
CONCLUSION
McEnroe has done a nice job of using his past experiences as a dominant tennis player to move into an analyst role and explain the game to his audience. He offers personality and wit, things his fans are expecting of him, in a conversational and expert way. McEnroe could easily be that screaming and angry guy he was on the court, but he realizes that too much of that would turn an audience off. He is able to strike that delicate balance between the player he was and the broadcaster he is, which is not an easy thing to do. 
Andy Masur is a columnist for BSM and works for WGN Radio as an anchor and play-by-play announcer. He also teaches broadcasting at the Illinois Media School. During his career he has called games for the Chicago Cubs, San Diego Padres and Chicago White Sox. He can be found on Twitter @Andy_Masur1 or you can reach him by email at Andy@Andy-Masur.com.
Anatomy of an Analyst: David Cone
"You can tell immediately how well-suited he is for a role in the booth. Not that it should come as a surprise. He was always thought of as one of the more cerebral players during his career."
He's authored a book and a perfect game. Now, David Cone is continuing to write the story of his broadcasting career.
He was blessed with a long baseball career. He pitched for five teams after making his Major League debut for Kansas City in 1986. Cone has extended his association with baseball in his role as an analyst for the New York Yankees on the YES Network and for ESPN's Sunday Night Baseball.
Cone was a World Series Champion 5 times in his career, won the 1994 AL Cy Young Award, struck out 19 hitters in a game, was an All-Star 5 different times and won 20 games twice. Quite a resume for one of the game's most clutch postseason pitchers (8-3 in 21 playoff games).
David Cone was born in Kansas City, Missouri, and was drafted in the third round of the 1981 MLB Draft by the hometown Royals. He wound up pitching for Kansas City twice in his career. But after debuting for the team, he was traded to the Mets before the 1987 season. In 1988 he went 20-3 with a 2.22 ERA and yet wound-up finishing third in the Cy Young balloting.
He finished his career with a 194-126 record and with 2,688 strikeouts.
ROAD TO YES/ESPN
Cone has flourished as a broadcaster with the Yankees, but it was almost a short-lived stint in the Bronx.
When Cone retired from baseball in 2001, he became a color commentator on YES during the network's inaugural season (2002). All was good until he attempted a comeback with the crosstown Mets in 2003. The move infuriated Yankees owner George Steinbrenner and Cone was told he would not be welcomed back. After his second retirement from baseball, Cone was offered a broadcasting position with the Mets, but declined.
In 2008, Cone rejoined the YES Network as an analyst and host of Yankees on Deck. He left the network during the 2009–10 offseason in order to spend more time with his family. But a year later, Cone returned to the Yankees broadcast booth in Toronto, working as analyst for a Yankees-Blue Jays series along with Ken Singleton. He has been with the network ever since.
David Cone is currently the Yankees' lead color commentator, alongside former teammate Paul O'Neill. The two are paired with Michael Kay as the Yankees' regular broadcast team. His work with YES has earned him four New York Emmy Awards.
In 2022 he added to his busy schedule when it was announced he would be part of the Sunday Night Baseball broadcast team. David Cone works alongside Eduardo Perez, Karl Ravech and Buster Olney.
In addition to all the broadcasting, Cone hosts a pitching podcast for Jomboy Media called Toeing the Slab with David Cone.
AS AN ANALYST
The first thing I notice about David Cone is just how smooth he is. Even experienced analysts are at a loss for words from time to time, but Cone's thoughts are usually quite complete. It's not like he's a rookie, after all.
You can tell immediately how well-suited he is for a role in the booth. Not that it should come as a surprise. He was always thought of as one of the more cerebral players during his career. When you listen to his analysis you are immediately struck by his vast knowledge of the game. Not only does he know the game, he can explain things in a way that makes them understandable to the average fan. 
For example. After the recent ejection of Mets' pitcher Max Scherzer for using a foreign substance on his hand that made it 'too sticky'. Cone, going along with the pitchers' explanation that it was only rosin, washed off with alcohol, conducted an on-air experiment.
During the Sunday Night Baseball broadcast, Cone put rosin from an MLB rosin bag on his fingers and said they got sticky just from that. After his fingers became discolored from the rosin, Cone, like Scherzer claimed he did, used alcohol to wash it off. Cone then showed how his thumb, index finger, and middle finger on his right hand were sticking together.
"The alcohol sort of activates what's left of the rosin," Cone said. Finally, he went back to the rosin bag once more and grabbed a baseball, showing the ball hanging from his index and middle fingers due to the stickiness. ESPN Tweeted out the video and it's amazing to see.
It may not have been his idea to perform the experiment, but Cone, nonetheless, made it work effectively. Based on his experience as a quality big league pitcher, it was more than credible. No tricks, no smoke, no mirrors, just facts for the viewer to plainly see.
For a guy that pitched in the era before analytics took over the game, he's pretty knowledgeable about the "inside" numbers. He seems at ease sharing the numbers, mainly as they relate to pitching. Spin rate, release point, and vertical and horizontal movement are a few that he regularly talks about. It almost seems as though he is jealous that he didn't have access to these stats while he pitched. But he turns that jealousy into a feeling like he's a little kid in a candy store, with eyes wide open. That's a good thing.
David Cone is a rare breed in the analyst world. His ability to combine the numbers with the vast experience he has as a former MLB pitcher keeps a good balance to his commentary. In other words, he's not solely reliant on that information. Cone has the ability to reach back into his career and apply things he experienced to complement the analysis. Viewers love it when former players can tell a story from their time in baseball and make sense of it in the context of today's game. 
He's had to adjust on the fly, because of his national work with ESPN. In the YES booth, he can be more of a "hometown" analyst. He doesn't go over the top, but he is known as a Yankees broadcaster. Because of that, Cone has had to change his commentary when working on Sunday nights, especially when he had to cover the Yankees/Red Sox game last April.
"I was really conscious of it there because I knew on the Red Sox side I had to be careful and make sure that I presented it in a fair way, a balanced way, or at least tried to," Cone told The Athletic last year.
He's done an admirable job.
DID YOU KNOW?
Cone pitched the sixteenth perfect game in baseball history in 1999. It happened to take place at Yankee Stadium on Yogi Berra Day at the ballpark. Throwing out the ceremonial first pitch that afternoon? None other than Don Larsen, the author of one of the most famous perfect games, in Game 5 of the 1956 World Series. The catcher, of course was Berra. Cone remembered a conversation he and Larsen had before that game. It centered on the famous picture of Larsen and Berra in an embrace after the perfecto.
"Don came out, he threw out the first pitch and I said, 'Are you going to go run and jump in his arms again?' And he said, 'Kid, you got it wrong. He jumped in my arms.' I messed that one up," Cone recalled to MLB.com in 2019. "I thought I was pretty good at history. Apparently not."
Cone remembered leaving the field after the perfect game.
"I got out to the tunnel and there's Don Larsen. I went up to him and hugged him like he was my father. Nothing needed to be said."
Andy Masur is a columnist for BSM and works for WGN Radio as an anchor and play-by-play announcer. He also teaches broadcasting at the Illinois Media School. During his career he has called games for the Chicago Cubs, San Diego Padres and Chicago White Sox. He can be found on Twitter @Andy_Masur1 or you can reach him by email at Andy@Andy-Masur.com.
Anatomy of a Broadcaster – Boog Sciambi
"While Sciambi excels at every sport he does, I think his voice best lends itself to baseball."
In the sports broadcasting industry, if you say "I saw Boog today", nobody looks at you funny. They know immediately who you are talking about.
Jon "Boog" Sciambi is one of the more recognizable people in the world of play-by-play. He currently serves as the voice of the Chicago Cubs on the Marquee Sports Network. Sciambi is also the voice of Sunday Night Baseball on ESPN Radio. He'll add World Series duties on ESPN Radio this fall.
Sciambi grew up in Philadelphia as a huge Phillies fan. Strange that he got a job with the Cubs, because it was a Cubs/Phillies game in 1976 that he got his first exposure to the Friendly Confines of Wrigley Field. When Sciambi was six years old, he was visiting his grandparents and got to watch the game on TV.
The Cubs took a 12-1 lead after three innings. He wasn't leaving and in fact predicted the Phillies would come back and win it. He was right, thanks to his favorite player Mike Schmidt hitting four home runs in the game for an 18-16 extra inning win.
As is the case with some of us that get into baseball broadcasting, our first choice would be to play the sport. Sciambi went to Boston College with that intent, but that dream ended when he was cut from the team as a freshman. He started bar tending and dabbling in radio, with a weekly talk show with two of his good friends, who we'll talk more about in a bit.
ROAD TO MARQUEE/CUBS
On January 4, 2021, Marquee Sports Network named Sciambi as the play-by-play announcer for its Cubs telecasts.
"When you look at the signature franchises in baseball, you're talking about the Yankees, the Dodgers, the Red Sox, and the Cubs," Sciambi said at the time in a Marquee Sports Network release. "Chicago has always been one of the special places to go broadcast the game. Baseball matters there." It was quite a road in getting there.
Sciambi got his first real taste of broadcasting at BC's 1000-watt FM radio station. He would host a weekly talk show with fellow classmates, Joe Tessitore and Bob Wischusen, both of whom have their success stories in the industry.
In 1996, Sciambi, worked for the Boise Hawks, an Angels' farm club in a short-season A league. One day, he decided to ask broadcaster Dave O'Brien to review his play-by-play.
"A few days after I gave him the tape, he stares at me for a second, holds up the tape and says 'When you gave me this tape, I thought it would stink. It didn't.'" Sciambi told the Sports Broadcast Journal in 2019.
Sciambi's first break in Major League Baseball was getting into the play-by-play chair for the then Florida Marlins from 1997-2004. While in Miami, he hosted talk shows in the city on 790 The Ticket and WQAM. He left the former in 2008 to focus on his new main job, with the Atlanta Braves.
Boog joined the Braves broadcast team on SportSouth and FSN South in 2007. He was paired with Joe Simpson. Late in the 2009 season Sciambi announced he was leaving the Braves to join ESPN's Major League Baseball and college basketball coverage full-time. Sciambi is the network as the play-by-play voice for MLB on ESPN Radio, while continuing the same role for college basketball and MLB on ESPN, which he had done since 2005.
At ESPN, Sciambi served as one of the play-by-play voices of Wednesday Night Baseball telecasts for the network beginning with the 2014 season. Sciambi had contributed to ESPN Radio's World Series coverage as the on-site studio host since 2007 and provided post-game, on-field interviews for SportsCenter. Additionally, he had done play-by-play for both the College and Little League World Series and in 2020, served as a play-by-play commentator for ESPN's KBO League coverage. It was announced last season, that Sciambi would take over the broadcasts of the World Series on ESPN Radio, starting with this year's Fall Classic.
Sciambi was also tabbed to replace Matt Vasgersian as the play-by-play voice of MLB: The Show video game series, starting with MLB The Show 22. He's paired with Chris Singleton who used to be part of the Chicago White Sox's broadcast.
Sciambi said that he recorded over 200 hours of audio to get in all the player names, types of plays, and other sorts of commentary that might typically be in a game broadcast.
PLAY-BY-PLAY
While Sciambi excels at every sport he does, I think his voice best lends itself to baseball. He's smooth and polished, but not to the extreme that it sounds forced in any way. Sciambi's style is all his own. That's a compliment.
There are many voices out there today that sound the same, like machines, very 'announcer-y'. Fake effected voices are a dime a dozen, but ones like Sciambi's are in a class of their own. He doesn't try to sound like anyone else. In fact, I've had multiple conversations with him over the years and the way he talks off air is the way he talks on air.
Sciambi has a booming voice that he controls very well. He's very conversational in between the action, but rises to the occasion when the play warrants excitement, enthusiasm or disappointment. Then there's his sense of humor. I love the fact that Sciambi isn't afraid to poke a little fun at himself. Self-deprecation goes a long way with a viewer, especially if a mistake gets made. Everyone is human, so own it right?
I like how Sciambi is able to simplify some of the more complicated details of the new stats and numbers in the game of baseball. He is able to explain them in terms that even those who don't follow closely can understand. For example, on a Tuesday night broadcast from Cincinnati, Boog was talking about the importance of Exit Velocity. He started by saying something to the effect of "I know this frustrates some people to hear about how hard a ball is hit. But, last year in the Major Leagues, if you hit the ball 95 miles an hour or above you hit .488, that's why exit velocity matters." His broadcast isn't riddled with analytics, but there's enough there to keep the interested parties happy without driving those that aren't away.
I'm a big fan of Sciambi's work. I've known him for a while and he's as good a person as he is a broadcaster.
DID YOU KNOW?
Sciambi is passionate about raising awareness for and supporting people who live with Amyotrophic Lateral Sclerosis, or ALS. His friend, Tim Sheehy, died of ALS in 2007. Sciambi is on the board of directors of Project Main St., which works to improve the quality of life for those affected by the disease. The organization, which has raised over $1 million, hosts an annual Tim Sheehy Gala and Softball Classic support their mission.
Remember that I told you, Sciambi's favorite Phillies player growing up was Mike Schmidt? How about this? The night that the Cubs announced Sciambi had taken the job as their broadcaster, he got a call from an unfamiliar number, and low and behold, it was Schmidt himself.
Sciambi's nickname, "Boog," was given to him owing to his physical resemblance to former major league player Boog Powell.
Andy Masur is a columnist for BSM and works for WGN Radio as an anchor and play-by-play announcer. He also teaches broadcasting at the Illinois Media School. During his career he has called games for the Chicago Cubs, San Diego Padres and Chicago White Sox. He can be found on Twitter @Andy_Masur1 or you can reach him by email at Andy@Andy-Masur.com.
Anatomy of an Analyst: Doris Burke
"Doris Burke has an ease about her. A quiet confidence if you will."
Basketball and Doris Burke have been synonymous for many years. At the age of 7, she started to play the game that would eventually get her to the top of her profession. Along the way she's recorded many firsts for women in this field which I'll detail later. Burke has also become an inspiration to other women already in broadcasting and those thinking about a career in media. Pretty impressive.
Burke was raised in Manasquan, New Jersey. She was the youngest of eight children, and started playing basketball in the second grade. She starred at Providence, where she was the team's point guard all four of her years there and made an impact immediately.
During her freshman year, Doris Burke led the Big East in assists. She was a second-team All-Big East player once and twice made the all-tourney team of the Big East Women's basketball tournament. Burke held seven records upon graduation, including finishing her career as the school and conference's all-time assists leader, a record that has since been broken. She served as an assistant coach for her alma mater for two years from 1988-90.
From there it was time to embark on a Hall of Fame career.
ROAD TO ESPN/ABC
Burke began her broadcasting career in 1990 as an analyst for women's games for Providence on radio. That same year, she began working in the same role on Big East Women's games on television, and in 1996 she began working Big East men's games.
Doris Burke has been working for ESPN covering basketball in different roles since 1991. It has also allowed her to do other things along the way that were unchartered for women in the business. In 2000, Burke became the first woman to be a commentator for a New York Knicks game on radio and on television; she is also the first woman to be a commentator for a Big East men's game, and the first woman to be the primary commentator on a men's college basketball conference package. In 2017, Burke became a regular NBA game analyst for ESPN, becoming the first woman at the national level to be assigned a full regular-season role.
If that wasn't enough, from 2009 to 2019 she served as the sideline reporter for the NBA Finals on ABC. I mentioned it was a Hall of Fame career and it was officially deemed as such in 2018. Burke was selected to enter the Basketball Hall of Fame as the Curt Gowdy Media Award winner.
AS AN ANALYST
"Doris Burke has an ease about her. A quiet confidence if you will." Relying on her past experiences in the game as a player and coach, the information she brings her audience is relatable. Some analysts struggle to bring home a point in a way that a casual fan will understand. Burke has no trouble with this. Her ability to spell it out, concisely and conversationally sets her apart from most analysts, male or female. 
Burke attacks her job, knowing that some will question her authority when it comes to commentary on the NBA. She doesn't mind steering into the skid.
"I am mindful of the fact that I have not played or coached in the NBA," Burke said to Sportscasting.com last year. "It doesn't mean that I can't do a very competent job. I think I try to do that every single night, and I'm never afraid to ask questions."
It's all about the information to Burke, and has nothing to do with the fact she's a woman covering the NBA.
"If you enhance a viewer's experience, it doesn't matter what your gender is," she said. "As long as you are competent and put in the work … you're going to be accepted."
Doris Burke learned the ropes so to speak from several women that came before her. In an NBA.com piece from January of last year, she outlined how much she enjoyed watching former ESPN SportsCenter anchor Gayle Gardner. Early on in her career at ESPN, Burke got to work with Robin Roberts on WNBA and women's college basketball broadcasts along with Ann Meyers Drysdale and Nancy Lieberman. Roberts was Burke's inspiration as she started her career path. She admired the professionalism that each displayed.
"Working alongside Robin Roberts … the one thing I would tell you is the most powerful means to change or impact somebody is by your actions," Burke said. "She was the epitome of professionalism and competency and garnered the respect of the people around her because of the work habits she had. Watching Robin early on let me know that the basis for everything is the work you put into something."
While Roberts may have been influential to Burke, Burke has been a beacon for other woman that are getting opportunities in broadcasting. When asked about their role model, YES Network analyst Sarah Kustok, 76ers play-by-play broadcaster Kate Scott and former WNBA player and current Miami Heat studio analyst Ruth Riley Hunter all mentioned Burke by name.
"Burke is the best example for anyone — male or female," Hunter told NBA.com. "I love the way she describes the game. She adds so much to every broadcast, and when I was playing in the WNBA I was always really inspired by her work."
Burke is popular amongst her colleagues at ESPN/ABC, thanks to a tireless work ethic an ability to adapt to whichever sport she may be calling that day. Count Jeff Van Gundy among her biggest fans.
"She's the best, most-versatile analyst and commentator at ESPN," Van Gundy said of Doris Burke in 2017 via Deadspin. "She does it all—great interviewer, commentator, studio analyst—everything. And she is an expert at it all—women's and men's college basketball, the NBA and the WNBA. She's the LeBron James of sportscasters. There's no better broadcaster out there right now."
Burke is equally a big fan of Van Gundy and the top broadcast crew for ESPN/ABC's NBA coverage. That includes Mike Breen and Mark Jackson as well.
"We are talking about three of the best to ever do it. Mark, Jeff and Mike have held down the NBA Finals for over a decade with commentary that is the best of the best. Hubie Brown is a living legend. All of those men have been nothing but gracious and supportive of me," Burke told the Athletic.
Doris Burke is considered one of the best NBA analysts around. Her bosses at ESPN made sure to re-sign her to a multi-year deal and promised she will be involved in "high profile" NBA games in both the regular season and playoffs. Burke will also call finals games on ESPN Radio and appear on the NBA Sunday Showcase program on ABC.
Good for her and good for fans of the NBA on ESPN/ABC.
DID YOU KNOW?
In 2010, she was featured as the new sideline reporter for 2K Sports 'NBA 2K11' video game. She has appeared in every version since, including the latest 'NBA 2K23'.
As a senior at Providence in 1987 she was the school's Co-Female Athlete of the Year.
Her basketball idols growing up were Kyle Macy, Kelly Tripucka and Tom Heinsohn.
Andy Masur is a columnist for BSM and works for WGN Radio as an anchor and play-by-play announcer. He also teaches broadcasting at the Illinois Media School. During his career he has called games for the Chicago Cubs, San Diego Padres and Chicago White Sox. He can be found on Twitter @Andy_Masur1 or you can reach him by email at Andy@Andy-Masur.com.