Mike Golic Is Only Looking Forward
"For the most part, yeah, it does me no good to look back. At this point it's like okay, what's next?"
Looking forward can be easier said than done. It's easy to dwell on a divorce instead of focusing on the next relationship. It's tempting to dwell on a previous job instead of directing your energy toward the next opportunity.
For Mike Golic, he's shifting his focus to the next challenge, not the previous gig. It does his future no good to replay the end of his ESPN days over and over again. It's a smart approach. If you drive down the road while only looking through the rear-view mirror, you won't get anywhere; unless you consider a ditch or T-boning another vehicle to be somewhere. Life works the same way.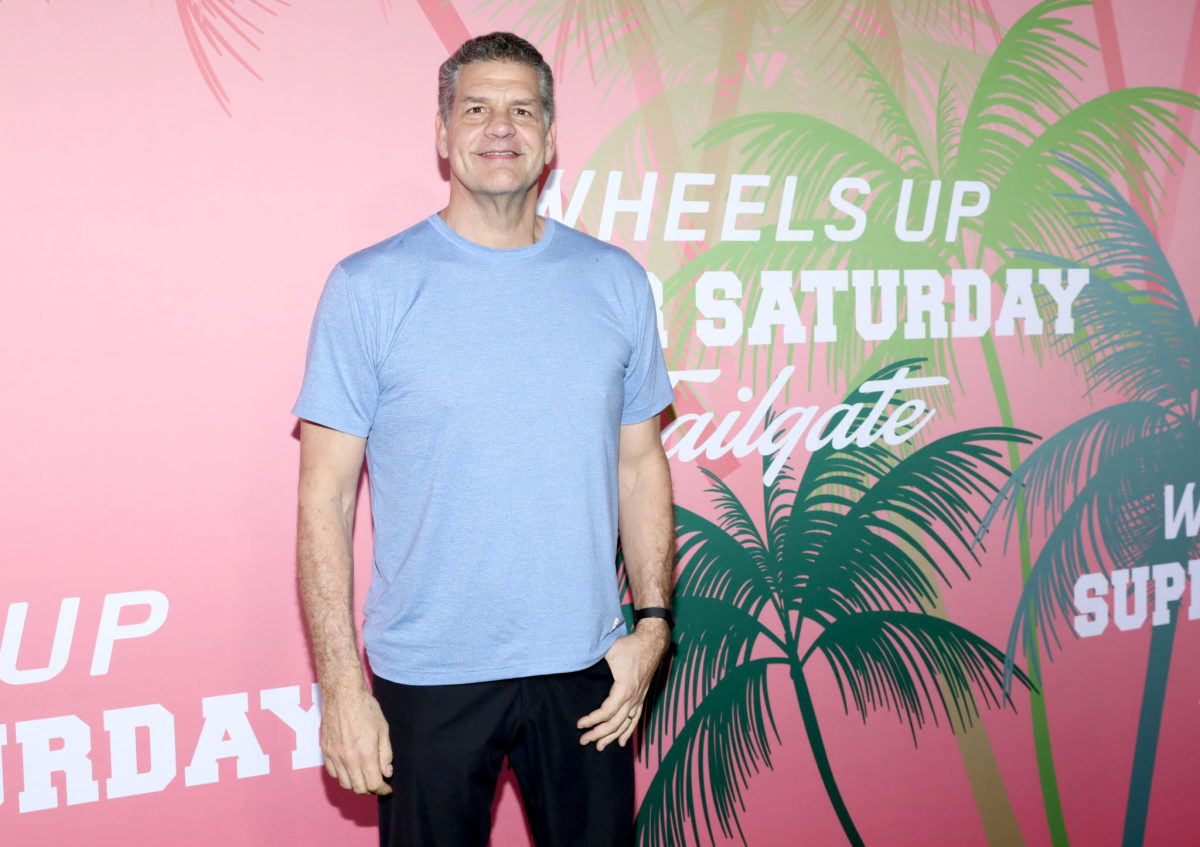 This is an exciting time for Golic. The next chapter of his career can go in many different directions. Plus, he doesn't have to take a job he's lukewarm about just to keep the cable on. He can pick and choose the projects he wants to dedicate himself toward fully. Golic talks about his passion for calling games and his reluctance to dive back into the local radio scene. He also has some great thoughts about weaving in fun, getting used to hard work, and not letting ego get the best of you. Enjoy.
Brian Noe: I've read a couple of interviews you've done since leaving ESPN. I'm curious if it's gotten to a point where you're like, I'd just rather look forward now.

Mike Golic: Oh yeah, I've definitely done my bit of explaining on how it all ended. It's weird; we just posted the last show on July 31, which is just over a year ago. It was kind of a thing to look back on. But for the most part, yeah, it does me no good to look back. I explained myself a ton out there for people who asked. I have no problem speaking about it but yeah, at this point it's like okay, what's next?
The first thing was don't do anything for a while. Basically have my agent say, don't want you to hear from me for about six months. That was nice to just sleep in. Now it's move forward, what's next? What can I still enjoy? I'm not ready to retire just yet even though I have the gray in the hair and gray in the beard. I'm not ready to just be at home every day.

BN: If it's sports radio full-time or only play-by-play, do you have a preference if it's one or the other?

MG: Oh, I can do both. The analyst stuff is always on the weekend. When I first got to ESPN in '95, I called games right away and then we started doing NFL 2Night. It's NFL Live now, but it was NFL 2Night. I was doing that three times a week, and doing a game on the weekend, and I was doing radio out in Phoenix with our mutual buddy Bruce Jacobs. I was actually doing five times a week on the morning show, but I would fly to Connecticut and do some morning shows from there, do three nights a week of NFL 2Night and then travel on weekends to do games. That's when I was just starting out and doing everything under the sun. I stopped calling games for a while. I stopped because I told ESPN right when my kids got to high school, I was done calling games because I didn't want to miss any of their stuff. That was my own hiatus on that, which I just picked up the last year. I did it for 10 years before I took a break on games. But I could do both without question. In fact that's all I'm used to. It's usually been both together. Whenever I've had to call games, I've usually had a show that was during all week. I'd have no problem doing that again.
BN: It's a lot of work, right? Do you think that your playing career helped you move into working seven days a week, and flying here, flying there?

MG: A thousand percent. I told my kids that. I told any young kid I coached really in any sport. Then obviously it pyramided to football especially with my kids. My daughter was a swimmer. Forgetting how hard you work in football, it's multiplied many times by a swimmer. Swims in the morning, goes to school, works out after school, and then swims again. I mean it's crazy what they do. I said no matter how far this takes you, you're going to learn how to budget your time. You're going to learn sacrifices. You're going to learn hard work and it's going to help you.
I think what helped me as well, I was a 10th rounder. This is back when the draft was 12 rounds. Tenth rounders weren't supposed to make it. I was fortunate enough to play for nine years. Mike was an undrafted free agent. He was on a couple of teams for a couple of training camps, but had to work extra hard. My son Jake and his wife, they own a couple of businesses now. They had to work hard and they had to work obviously through the pandemic. She was an athlete as well. My daughter Sydney, the same way. Hard work doesn't affect them because they were used to doing it. Without question that helps you later in life.
BN: Would doing local radio be appealing to you at all?

MG: Umm, I don't know. I've done national for so long, I don't know because having a place here in South Bend and having a place in Scottsdale and knowing we like both places, I'm one of those guys, I like to be where work is. When I played football in the offseason I stayed in that city. Obviously at ESPN I lived in Connecticut where ESPN is. If I'm splitting time around the country in a couple of different spots and doing local but not living local, I wouldn't like that. If I did local, I would need to stay in that area to get the feel of that area, to go to the games in that area and be part of it. Quite honestly you've got to dive a lot deeper.
When I was doing local in Phoenix, you've got to dive deep into the local teams in the community, where national you're hitting more of the bigger stories and not diving as deep. Local is a lot more in-depth. If I were ever to do local, I would need to live there. I couldn't imagine living somewhere else and doing local in the city I wasn't in to sort of feel that city. So I doubt it.
BN: What's something besides not having to wake up at the crack of dawn that you haven't missed with this down time right now?

MG: That I haven't missed. That's a good question. Really it would probably just be the timeframe because I love doing it. Think about it, I got to talk sports. Now sometimes in the offseason the tougher times in June and July once basketball ended, you had a lot of that down time before football started up, those were always tough. Then it was who's the Mount Rushmore of the NBA, who's the Mount Rushmore of the NHL, who's your top-10 list? It's a great list time or let's reminisce about old jingles. That's kind of wacky radio stuff. But for the most part, I do miss it. I loved it.
Getting up sucked, but once you start going and getting to the studio and everybody is there, I loved it. There wasn't much I haven't missed outside of that 4:15 alarm, which I swore every single morning. Every time 4:15 hit, I had a bad word come out of my mouth.

BN: I bet. It probably wasn't "goodie, 4:15!" [Laughs] I'm sure you're supporting your son while he's doing his show on ESPN. Is it awkward at all when you listen to the network knowing you were there for so long?
MG: No, I'm past that. I equate a lot of things to sports. My first two and a half years in the league, I was with the Oilers. I got cut and I went to the Eagles. I didn't sit around watching the Oilers play going oh God, I was there. And then when I left the Eagles to go to the Dolphins, I didn't sit around and reminisce about my Eagle days. I played with the Dolphins. You just move on.
Obviously it was a little weird at first knowing I did a show there for so long and then all of a sudden there's other people doing that show. But my son had been there already for a few years before me, him, and Trey were doing that morning show. I had been used to seeing him on air and calling games and doing all the digital work. So it was no different.

BN: When you look back on your time on air, what's something you either learned from someone else or learned on your own along the way that helped you get to another level?

MG: I think the biggest thing that I needed to work on was — because I was a professional athlete, and you know this, when you're going to ask somebody a question a lot of times you kind of know what the answer is going to be. For me it was as I asked the question, I gave my opinion about the subject. I learned and I was told and I really tried to do this is the interview is not about you. I have four hours to do a show. I can explain my opinion many times. Let the guest say what they're going to say. Then if you have a back and forth with them, fine. To drill this down is keep your questions short. Who, what, where, when, why. Keep it short; give them their time to answer. Instead of me asking a question, and then I make a statement, and then I asked the question again, and then I continue to make a statement — they're sitting there going, is there a question in there? What are we doing? That took me a while because I would catch myself doing it. I just needed to shut the hell up, ask the question I wanted to ask, and give them their time to answer.

BN: Who told you that?

MG: There was a guy that came through ESPN that went over questions, what to ask, how to ask them, and I could only make it for one day. He would have seminars and I remember making it to one day, but that was the one day he really talked about it. It really kind of stuck with me. I would put a card in front of me at times that said short questions. Who, what, where, when, why. Then I would just try and remember that.
There were times I failed and went back the other way especially early on. We'd have listening sessions. You listen to a segment and you'd hear yourself. Man when you hear it, it's like watching tape of me playing football and I see the mistake and go oh my God, how did I do that? You hear yourself and you sit there and time it and go, hey great job, 48-second question. You don't need a 48-second question because I'm giving my own opinion. Just get the question out there and let them answer.

BN: What's the most fun that you've had in your radio career?

MG: The most fun I ever had on radio was when it was there organically. You can set up things in a segment where you're going to go that could lead to fun. You have a plan. But quite honestly the best radio is when you go off that plan organically. You just go to something else and the next thing you know you're laughing your ass off, you're having a ball, and it's coming out of the speakers that way.
My thought process in the morning because people are driving to work, was maybe I can take you where you can't go, I can take you into a pro athletes' head, I can take you into their locker room, I can take you onto the field of any sport because as pro athletes you have that mentality, and can I make you laugh a little bit. If I can make you smile and chuckle a little bit on your way to work, I feel like I did my job. So to me the best part of radio is when you went off course and that turned out to be the most fun.
BN: I call it grown-up stuff in radio that you have to execute — keep it moving, reset, don't stray off topic too much. Do those things sometimes get in the way of having fun?
MG: No, once you learn how to incorporate it, like anything else you knew you had to do things and sometimes you were like oh hell, I've got to do this and it took you off course of what you wanted to do. In doing the show for 20-some years I got used to understanding that you've got to do those things. Weave them into the show while still maintaining the fun, while still not slamming on the proverbial brakes so I can do this and then getting back to what we were talking about. You've got to be able to weave it.
A lot of that just came with time. Time, experience, doing it, and quite honestly at the end not giving a shit if I got it wrong.
I'm not perfect. I'll never have a perfect show. I think there's a lot of that where you just do your thing and if you make a mistake, you make it. Laugh at yourself while other people laugh at you, laugh with them and move on.

BN: The Notre Dame football telecast hasn't had many ND grads on there. Is that strange to you at all?

MG: It's something that they do. For whatever reason they don't want an ND grad in the booth. They probably feel they'll be a homer. Maybe. I guess. I've done Notre Dame games in the past for ESPN and I would have no problem not being a homer.
Listen I love Notre Dame. I want Notre Dame to win all of their games, but I called one last year when they played at Georgia Tech. I called one when they played Air Force years ago. I had no problem doing that. But it's not my rule. I don't know how much of a hard, fast rule it is for them, but I know that has been something they have somewhat lived by.
We've had Boston College guys in there in Flutie, and Tony Dungy in there, and now a Purdue guy in Drew Brees. I'm like wait a minute, man, I'm a Domer. Let's get a Domer in there a little bit. But I don't get to make those decisions because I would love to do that, sure.

BN: If you were able to write out the next five years of what you were doing, what would that look like for you ideally?

MG: When I say calling games, I don't care if it's radio, TV, college, pro, I just love calling games. For this year at least some of it's going to be with Learfield. It's going to be college games. I did a thing for them last year, The Fan Exam, kind of a sports trivia for college. I've gotten to know those people. They're getting a Saturday night game of the week and it worked out where I'm going to do that. I look forward to it. A full slate of college games hopefully, fingers crossed, we're all traveling and going back out to colleges again. The script for me for the next five years would at the very least, at the very least, do college games and pro games. It would be calling games for sure.
Other than that, like I said if an opportunity arises for an everyday radio show, we'll see. Podcast situations have come about. I'm still talking to people. We'll see what goes on with that. I may have a fun little thing that I don't have inked yet that has nothing to do with a sport; it's more of a travel type of a thing that's fun. It would be a lot of fun, which now that I'm not tied to one place like I was at ESPN I can do. Something like that. We'll see if that turns out. That's the beauty of it is I can kind of pick and choose now. But the constant for me would be calling games.

BN: This just randomly popped into my head; Tom Brady recently mentioned that a couple of teams were interested in him last year, and then they weren't. He said if you had a chance to get Michael Jordan or Wayne Gretzky, I'm kind of scratching my head why you wouldn't do that. If you apply that thought to you, you're a big deal in radio. Have you ever had a moment where you're like okay random company, I'm available and you're not interested in me?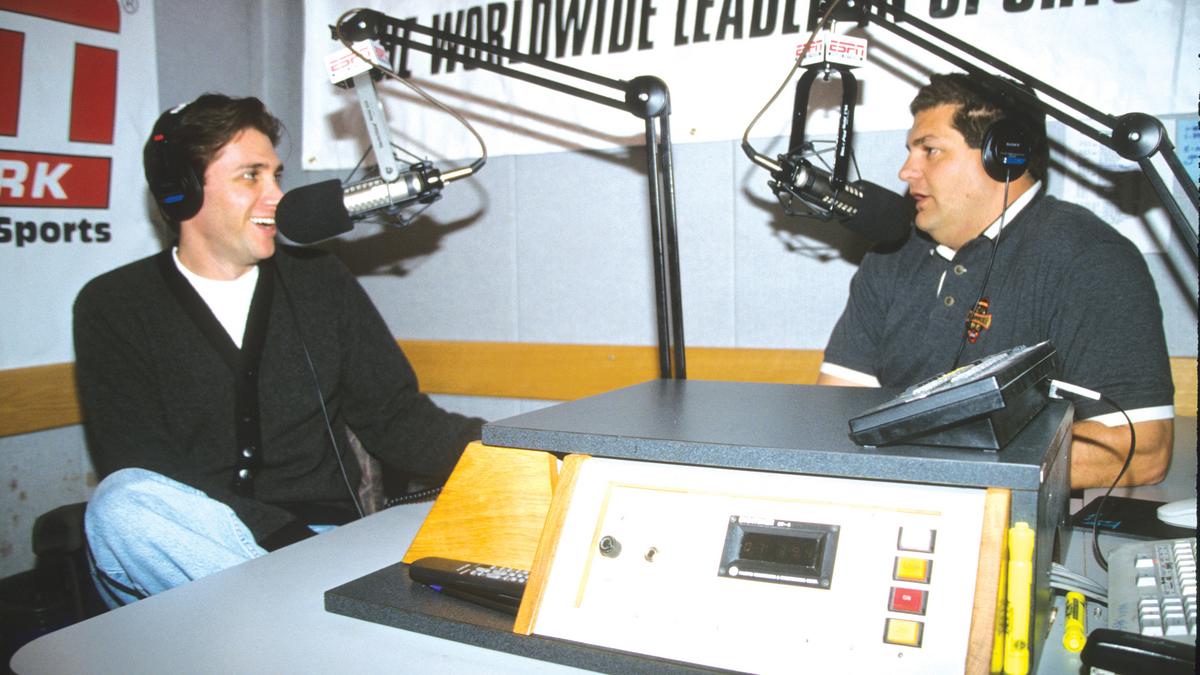 MG: Going in the 10th round, and basically there were maybe three years of my nine-year career where I felt very comfortable going into the season that I was going to be on the team and playing. Other than that I was kind of fighting and scratching to be on the team. Does your ego think about that and you say boy I wish this person or this network would contact me? What am I going to do? I'm not one of those that lives in the past about it. If they don't, then I just move on to somebody who does. I'm fine with that.
Does everybody have an ego and would love the networks to give you their top spot? Well sure, but that's unrealistic as well. My career has gone pretty well but that certainly doesn't give me any expectation that the network is going to say, oh we're plugging you for our number one guy, here you go, we're bumping whoever. You know what? It's not going to work that way for me. I know that. So I never expect it.
Brian Noe is a columnist for BSM and an on-air host heard nationwide each weekend on FOX Sports Radio. Previous roles include stops in Portland, OR, Albany, NY and Fresno, CA. You can follow him on Twitter @TheNoeShow or email him at bnoe@premierenetworks.com.
Mike Tirico Has 'Never Pretended to Be Friends' With Athletes
"I like having a healthy relationship where if I need something, I can ask whether it's for on-air or for background and build trust."
Mike Tirico has been covering sports on network television for 32 years. Over those 3+ decades, he has made it a point to not be so close with the athletes he covers in whichever sport he is broadcasting.
Tirico was a guest on the most recent episode of the GOLF's Subpar podcast with Colt Knost and Drew Stoltz. While Tirico knows he is not doing extensive journalism work, he wants to make sure that he can be able to ask the hard questions if he has to any athlete.
"I never pretend to be friends with the athletes I cover. I like having a healthy relationship where if I need something, I can ask whether it's for on-air or for background and build trust. I'm not in a position where I'm working for Outside the Lines at my old place, ESPN. It's not a knock. It's just you're not in a position where you have to do these journalistic-type interviews all the time, but there are times you have to ask hard questions. I always try to keep a little bit of a buffer or a distance."
The context of that question came when Tirico was asked about how good of a relationship he has with Tiger Woods.
"It's good….If I reach out, he will usually get back to me. He's been really good and really nice along the way."
As for broadcasting sports in this day and age of social media, Tirico believes that it can make a broadcaster better whether or not the complaint from someone on Twitter is real or not.
"It makes us better because you know that people are going to catch you. If something is artificial or not, real or not, embraced or not, it forces you to be better at what you do."
For that same reason, Tirico thinks that LIV Golf is going to make the PGA Tour have to be better going forward because now they have another tour to go up against.
"I think LIV Golf, and we all have our own opinions on it, is going to force the PGA Tour to be better. Competition is good. Checks and balances are really good."
Even though Tirico doesn't feel nervous about many broadcasts anymore, there was one event in the last decade where the nerves kicked in when he was hosting his first Olympics at NBC.
"The only time in the last 10 years that I've been nervous was coming on for the first time hosting the Olympics because Bob Costas has done that since most of us have been alive and most people had never seen anyone but Bob Costas host the Olympics in primetime…2 minutes before, I'm like 'should I be this? Should I have fun?' and then the minute before, I cracked a joke in the studio."
Ricky Keeler is a reporter for BSM with a primary focus on sports media podcasts and national personalities. He is also an active podcaster with an interest in pursuing a career in sports media. You can find him on Twitter @Rickinator555 or reach him by email at RickJKeeler@gmail.com.
Kyle Brandt's Rant a Reminder to Consider the Messenger
This doesn't mean Brandt is wrong or even that he is being told to echo the NFL's position, it's to note that he took a very powerful stance on a very powerful platform and they both matter.
This week, a massive announcement was made in the National Football League regarding the immediate future of Deshaun Watson. Judge Sue L. Robinson recommended a six -game suspension with no additional monetary fine for the quarterback. While the NFL mulls what it will say further, most others didn't, including a really prominent personality: Kyle Brandt.
Brandt, a co-host on Good Morning Football, reacted like a lot of people did upon hearing the decision: forcefully. On Monday, Brandt denounced the decision to limit Watson's suspension to six games, saying in part, "…I look at six and I find it very light. I hope it doesn't stay that way personally. I think that Deshaun Watson leveraged his status as an NFL player against women. In my opinion. And I think it happened more than one time and I think it was was in closed doors in small rooms against women who were probably intimidated. And it pisses me off to even talk about it. And frankly it pisses me off to see the number six. And I don't think it's going to stay that way and I hope it doesn't."
Those words resonated. Once they were said, the clip was grabbed from the show and then distributed on Brandt's Twitter account which reaches 333,000+ followers and on his Instagram which speaks to 96,000+ followers. That video has been seen over two million times. Viral, they say. Here it is if you did happen to miss it. Passionate stuff from Brandt.
If you believe in the message, it's an easy to like, retweet or share idea. It's not a hot take, frankly, because there is a large section of those that have been following this story that agree. Deshaun Watson is settling cases because people believe he did something bad. Something bad enough that judge did seem fit to point it out and recommend what is generally speaking, a strong suspension. The only problem here is the platform hosting the message.
This is not a Kyle Brandt-bashing piece. He isn't the platform. If anything, he's the vessel of this message he wants out. He also, very likely, feels exactly the way he said he did in the above tweeted video. In fact, the next day, Tuesday, Brandt doubled down on his opinion. The newer video was viewed over 400,000 times. You can check it out right below these words.
The distinction needs to be noted that the message Brandt is delivering, is the NFL's message. It is what Roger Goodell wants to be the prevailing wisdom regarding how we feel about the current state of Watson's suspension. That message is being amplified by a very popular co-host, on a very popular morning television show that is seen by a lot of people and that is owned by the National Football League.
Again, I am here waving to you wildly to say that I have no reason to believe that Brandt is being told this particular messaging needs to be voiced. But, I do know that the NFL has until Thursday to appeal the decision. Three days is a lot of time to gather data on whether or not the public might support you appealing for more games, something that the league most certainly will look into judging by their statement released shortly after the ruling.
I also know that the NFL was seeking a much longer suspension as well as a hefty fine to be issued to Watson. The NFL has taken a lot of hits for how it has handled players violating league rules and the player conduct policy. No matter which case you look at, comparing it to the one previous or the one right after is an exercise is madness. The one common theme seems to be is that when the NFL feels like it is delving out punishment, it wants to be severe, no matter the consistency. Remember, Tom Brady was a short 'yes' answer away from appealing his case to the Supreme Court. The NFL isn't particularly interested in just letting things go.
It is well within the realm of possibility that the NFL is getting what it rarely gets: an overwhelming opinion that actually sides with it in terms of punishment. For the majority of the modern cases I can remember, more fans than not disagreed with the NFL's stance on a case. This time, they might have the court of public opinion on their side. I hear far more 'kick him outs' in reference to Watson than I do 'no suspensions'.
We might have the perfect storm for the NFL in terms of support and Kyle Brandt's message lines up exactly with the leagues desires, no matter how they may have gotten there. Both want more punishment for the Cleveland quarterback. Brandt can hope, the NFL can fight.
This doesn't mean Brandt is wrong or even that he is being told to echo the NFL's position, it's to note that he took a very powerful stance on a very powerful platform and they both matter.
Arky Shea serves as BSM's evening editor, a daily news writer, and a weekly media columnist. He has previously worked for Outkick, 97.7 The Zone, 740 Sports Radio, and 730 The Ump where he held roles as the station's program director, afternoon host, and producer. To connect, find Arky on Twitter @ArkyShea.
Producers Podcast Episode 6: Jackson Safon, The Volume
Brady Farkas is a sports radio professional with 5+ years of experience as a Program Director, On-Air Personality, Assistant Program Director and Producer in Burlington, VT and Albany, NY. He's well versed in content creation, developing ideas to generate ratings and revenue, working in a team environment, and improving and growing digital content thru the use of social media, audio/video, and station websites. His primary goal is to host a daily sports talk program for a company/station that is dedicated to serving sports fans. You can find him on Twitter @WDEVRadioBrady and reach him by email at bradyfarkas@gmail.com.