Chuck Oliver Is Distracting People In Traffic
"Oh dude, the beginning of the week, my shirt is tucked in, pressed collar. By about Thursday, I look like I just killed a bear with a knife."
You might enjoy P.F. Chang's. Chances are, however, that the restaurant doesn't play a role in you eventually hosting a syndicated radio show. It is part of Chuck Oliver's story though. The Auburn grad hosts a syndicated college football show year-round throughout the South, as well as an afternoon drive show on 680 The Fan in Atlanta. That's right; two separate shows, six hours a day, five days a week. Fire up the Keurig and let her rip.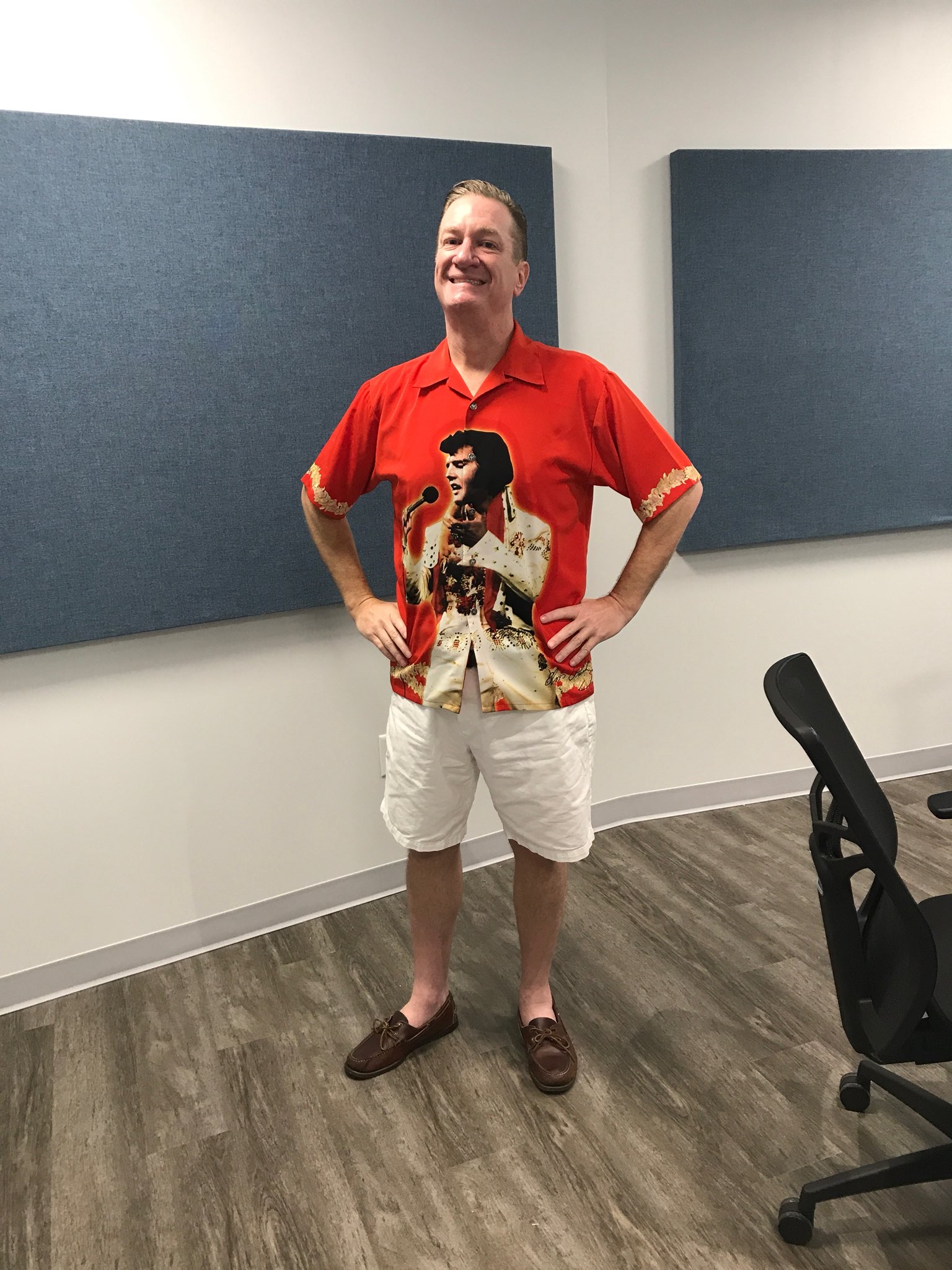 Chuck isn't one to complain. He knows his career is a blessing. Chuck loves what he does, but the former high school football coach also talks about the demands of working 13 to 14-hour days. Keeping a tight schedule is essential just like his PhD in coffee. Chuck talks about having an understanding partner, why he eludes Twitter trolls like Barry Sanders used to sidestep defenders, and the need for bike horns. Enjoy!
Brian Noe: Are you originally from Atlanta?
Chuck Oliver: Essentially. I was born in Houston, but six months in my parents moved to Atlanta. I was born in December of '67 and then the summer of '68 my dad got a job in Atlanta. I was the youngest of four kids, so the Vista Cruiser station wagon with the fake wood grain panels on the side, it left Houston and landed in Atlanta. Except for college, this is where I've been.
BN: Have you been a college football junkie from the get-go?
CO: I was a baseball fan actually more than anything growing up. My first Major League game was the Braves home opener against the Astros in April of '77. I was a third grader. My dad and I went to Opening Day every year after that. Literally it was every single night with the Braves on Ted Turner's satellite. I'm running down to the driveway every morning trying to get the paper before my dad so I can read the box scores and everything. I was a huge baseball fan.

College football, I actually grew up with no allegiance to anybody because neither of my parents went to college. Pepper Rodgers was the head coach at Georgia Tech. I would watch the Pepper Rodgers Show on Sunday mornings because nobody was on TV. You would have two or maybe three games on a Saturday. Most of them were regional. You'd have Texas and Oklahoma playing, USC and Notre Dame playing. If you lived in Lawrenceville, Georgia you may get Maryland and Wake Forest. It was a totally different challenge to be a college football fan. I'd watch the Pepper Rodgers Show on Sunday and catch up on Georgia Tech football. That was kind of the environment; you had to watch those coaches shows just to see anything.

BN: How did you start your syndicated college football show?

CO: A guy named Chad Scott was a producer for me way back in the day at 790 The Zone in Atlanta. I had a conversation with him at a P.F. Chang's parking lot in 2008. He said every day that you don't do the Chuck Oliver Show, you're throwing money into the trash can. I ended up switching jobs. I was at 790 The Zone, which was a tremendous station; it should have been legendary. I was afternoon drive there, which was a pretty nice patch of radio real estate to have, but it was just one station in Atlanta. I went and met with David Dickey when my contract had a provision in it where I could get out with no non-compete, no anything. I had about a 30-day window and I was like well let's jump on this.
I met with David Dickey in September of '08. He said "I'm David Dickey". I said "I'm Chuck Oliver; I want my own syndicated college football show".
He laughed. And by the way, he was right to laugh about that. You tell me, how many dudes in the South have had the idea that hey, we're going to put together a syndicated show and just talk college football? I would bet you a couple of hundred have even tried it. That's the reason I left afternoon drive at 790 and went to middays at 680. I was like I didn't care about that; that's the local play. Then six years later, David Dickey pushed the Staples button on this and made the syndicated thing happen. I started with one affiliate and now seven years later it's two hours a day, nine states, and I think next week we add our 55th stick just outside of Knoxville.
BN: Do you cover the SEC exclusively?

CO: I'm of the opinion if the customers want hamburgers, give them hamburgers. And that really is the SEC. Now, granted the flagship is in Atlanta and we go from Lexington down to Ocala, over the Baton Rouge and Fayetteville. That's basically our footprint, our circle.
If you've got 55 stations in that footprint, the majority of it each day is probably 80 to 85 percent SEC. I'm going to say it's 15 to 20 percent maybe ACC. But let's be honest. That's Clemson — not this year — but we talk some ACC. That means you talk Florida State, Clemson, Miami, Virginia Tech maybe, and North Carolina with Mack. You don't talk NC State. Dave Doeren is therapy for terminal insomniacs. That's just not how the conversation is going to carry the day. It's almost exclusively SEC.
I don't claim to be anything superior here at all. I'm talking college football in the South. It's supposed to work. But we don't get dropped. Rush Limbaugh would be picked up and dropped. Dave Ramsey has been picked up and dropped sometimes. For the most part we don't get dropped when we get picked up. It's just a really, really nice compliment. We're in Alabama and Tennessee and Mississippi talking college football so it works, but the response has been really, really nice.

BN: What's your schedule like on a daily basis?

CO: I'm on from 11-1 on the syndicated show. Then there's an hour break. Then I do the afternoon drive show on 680 The Fan in Atlanta from 2-6. It's a full day and it's extremely unusual. I get that. In fact our sales manager when I started, he used to be in Cincinnati, and he said we had a host that tried this, it lasted three months. It's not easy. But I also understand the blessing is the opportunity. I'm just trying to maximize the opportunity and be thankful for it. Again I'm not playing all shucks; it's a full day. I'm out of bed every morning at five. At 5:15 I have coffee and I'm at my computer already prepping at 5:15 and I get off at six. But I'm not complaining. Like I said that's a heck of an opportunity, so I'm just trying to show up and do a decent job.
BN: A lot of broadcasters don't want to talk about how it's mentally demanding and tires you out, because you're not digging ditches or doing physical labor. But just the mental focus it takes, do you feel it on a Thursday or Friday when you've been doing it all week?

CO: Oh dude, the beginning of the week, my shirt is tucked in, pressed collar. By about Thursday, I look like I just killed a bear with a knife. As we go through the week there's this deterioration. I don't want to complain and I'm not, I'm just saying that the physical part of it, it literally is 13 to 14 hours a day. I was asked to do Atlanta Braves watch parties. From six to nine I was out. That's part of it. The blessing is going out to a bar for a paid appearance. That's awesome. Today I woke up at five and I'll be getting home about 9:30. I ain't complaining; I'm just saying it's a full day and I've been doing it for seven years.
I'll be honest, Brian, it's doable. My daily schedule is like a Jenga tower. If I take out the wrong thing — I'll be candid — you and I were texting back and forth and it got down to like we were negotiating at a fair or something. I was like 9:14, and you were like 9:16, and I was like all right 9:15. It fit perfectly in there. I just have to be really regimented and disciplined and scheduled to get it all done. The thing is that would be the same for anybody that was doing these two jobs. I've just evolved over time and started drinking coffee. I didn't drink coffee when I started the job. I have my schedule laid out and as long as there's no real big curveball, I can handle it. It's been seven years and it's fine.

BN: What's your go-to coffee and how many cups are we talking here?

CO: All right, brother, I've got the Keurig. I actually wrote that thing off. I was like this is a business expense. I go all the way on strength, two of the three bars on temperature, and I use Don Francisco's hazelnut coffee pots. Can I give you a hack? Everybody start doing this immediately. The only dietary thing I do is I don't have any added sugar ever. I eat everything else all day long, whatever I want, no added sugar ever. What I add to my coffee instead of half and half; heavy whipping cream. It turns it into a hazelnut latte with zero sugar in it. I have two or three of those every single morning. You wake up, it's like walking dead, then after three of those, man, you are ready to roll. That's what I do. Heavy whipping cream, people. Start that. It's a treat.

BN: I'd assume your wife [Kristen] is pretty understanding about the demands of your job, right?

CO: Oh gosh, yeah. For instance I was in Charlotte for three days. I was in Houston for three nights for the World Series. In two weeks I'm going to Knoxville and blah, blah, blah. It's a blessing, but it also is me taking off and heading on the road and saying I'm going to see Tennessee and Georgia play at Neyland. Well that's great for me; she's back here in Atlanta running the house and the dogs and oh yeah, trying to essentially be a PA. That's what she's pursuing while she's doing everything else.
She's awesome though. You're right, she has a big understanding of this. The cool part though is that I've told her when she graduates and when it's all done in about four weeks, the world is her oyster as far as getting a job. With radio, you can do that job anywhere. Just give me a microphone and some power and I can broadcast in India. I'm ready to roll, man. I'm really looking forward to the next chapter and it being all about her.

BN: I'm curious how you'd describe Georgia fans this year. Are they braggadocious, we're number one, or is it sort of like this could go south at any time?

CO: Georgia fans right now are occupying themselves with the Stetson Bennett, J.T. Daniels thing. Here's the weird thing; they're more boisterous and finger in the air if they're like 9-1 than they are right now after beating Florida. It's been weird. Going into the Clemson game, it was the height of anxiety. After they got into conference play, the South Carolina game, we all looked around and realized this is what the defense is. They looked at the schedule and were like Auburn ain't beating us, Tennessee isn't beating us, Vanderbilt's not beating us, Florida's not beating us. They already looked at the entire regular season and said there's a really good chance we're 12-0.
This is all in the course of about two months. I had two Georgia fans tell me I'm not going to Jacksonville. They canceled their plans and sold their tickets. I was like why? Quote, it's not a big enough game this year. I almost needed a paper bag to breathe into. I couldn't believe a Georgia fan telling me Jacksonville ain't a big enough game. That's what it is.
BN: There was some serious turnover during COVID at 680. Are you feeling good about where things stand now?

CO: Yeah, John Kincade is a very, very good friend of mine and played a huge role actually in me going over to 680. When John got canned, that was just awful, awful, awful. It's tough because you look at John, you can't do the job better than John does it. You can't be more prepared. You can't work harder. He has something to say. All right, he got fired. That was kind of an attention getter. That was Sheriff Justice kicking you in the butt against the side of the car. For John personally I knew that he's a cat, he was going to land on his feet. Steak Shapiro and Mark Zinno the same sort of thing, they're too good. Steak's got his TV empire anyway.
It wasn't necessarily just related to okay what happens to these individuals? Because I knew all of them were good and were going to land. It was just a tough commentary. I'll say this about David Dickey, he is not knee-jerk. He does not react in the moment. Everything is very measured and thought out. If that was the decision he came to, I was like all right, this is another indication of how real this thing is. John is really good at his job. It was kind of jarring because that's just not the kind of thing that has happened at DBC since I've been there. And it happens everywhere in the industry, but just not there.


BN: Where do you think you would be right now if you stuck with coaching?

CO: I want to say coaching d-line somewhere. In fact I'm going to tell you right now honestly if you dropped me down onto a college coaching staff right now, I could coach technique. I could coach technique tomorrow. I would be almost useless with a game plan. I can break down film and tell you what's going on, but I know zero. I know a thimble full as far as preparing for a modern offense. It's just been too long.
But the techniques have never changed. Alignments, stance, hand placement, footwork, leverage, it's never changed. I can do that. And that was awesome. I loved it. Actually you know how I could coach? Here's what I need, just two concessions, the offense only gets three formations and there's no pre-snap motion. If you could make that a rule, I'm back in coaching tomorrow. I promise you. It was so much fun. It was just a tremendous experience.
I coached high school football for six years and even got a ring. That was kind of cool. Also there were kids on the defensive line when I was there that went to Troy State, one went to Auburn, we had several go to Cumberland and Maryville and various places. You see a kid that showed up who's like I'm 14 and I'm a freshman, I'm just here to play high school ball, and then four years later you realize he's about to be able to graduate from college without any student loan debt. It is a huge, huge deal, and so many of those kids, I just loved when they got their chance.

BN: I love your Twitter bio. Part of it says it's not possible to troll me, I just don't engage the negative on Twitter, ever. Why is that your approach?

CO: I have a co-worker of mine, Mark Zinno as a matter of fact, he gets out of bed every morning like he's stepping into a boxing ring on Twitter. He's like well these people said things about me. The way I said it, my studio is on the 4th floor and there's a big floor-to-ceiling window about 12 feet away. I don't sit anywhere near it. I said Mark here's Twitter, there's a thousand people on the sidewalk that have been yelling just rude, awful things to you for the past hour. He's like really? I'm like no. Because you haven't gone over and looked. I was like they might have been there just yelling the most vile, awful things for the past 60 minutes, but you don't know that because you didn't engage them. You sat in your chair 12 feet away. I was like I sit in my Twitter chair 12 feet away.
It's really a different environment for me. I have some funny, really insightful, sometimes helpful folks on Twitter. That's really what I try to limit my engagements to. Twitter is this dark alley that you step into it and then thousands of people jump out with sticks and just start beating on you. I'm just not going to do that. I don't respond to anybody because again it's not trolling unless you engage back and kind of shine a light on it yourself. You have to be complicit in this and I just don't do it.

BN: Over the next five to 10 years what do you want your ideal radio schedule to look like?

CO: Gosh, the syndicated thing continues to kind of unfold on its own pretty steadily. We'll pick up six to seven affiliates. People hear about it and over the year they add some. That's kind of only been growing. I assume that that'll keep going unless people lose taste for college football. I found a schedule that works. I believe that I'll keep on rolling along until public taste changes and nobody likes college football in the South.

BN: How would you describe the difference between doing your 680 show with [Matt] Chernoff where it's a two-man show, and your syndicated show, which is solo?

CO: Chuck and Chernoff is a traditional, like the wacky morning zoo with the bike horn and all that in the afternoon. We do a dumb show. It's fun, but it's dumb. We're silly and we don't take ourselves seriously. It is the anti — because college football is serious stuff — it is the anti-Chuck Oliver Show. It's just a lot of fun. This is my professional life and I just hope they don't catch on soon.
BN: It's six hours on the air each day, you probably need the bike horn at the end of the day, right?

CO: Oh God, if it was six hours of brain surgery and the neighbor's yard is so much better than mine and everything in between, no. It can't be all serious issues all the time. We'll go crazy. That's the thing about the job actually I've said, my job is not important. I don't fly the space shuttle for a living. But I've had so many people tell me that it's important to them. When you're in Atlanta traffic, which you average an hour and seven minutes a day in afternoon drive, here's what people don't want; they don't want a statistical seminar on the Atlanta Braves matchup with the Astros. What they want is distract me in Atlanta traffic. That's all they want, distract me. Make me not notice what's going on in front of me. So we just try to distract people for a little bit while they're in traffic.
Brian Noe is a columnist for BSM and an on-air host heard nationwide on FOX Sports Radio's Countdown To Kickoff. Previous roles include stops in Portland, OR, Albany, NY and Fresno, CA. You can follow him on Twitter @TheNoeShow or email him at bnoe@premierenetworks.com.
Chris Broussard Is No Longer Just A 'Basketball Guy'
"There's no doubt that gets attached to you and that can be good because you're seen as an 'expert' in one sport which is great."
After embarking on a career in sports, Chris Broussard made a name for himself as a writer, specifically as it pertains to covering the NBA. Whether it was covering the Cleveland Cavaliers for the Akron Beacon Journal, covering the New York Knicks and New Jersey Nets for The New York Times, or doing television hits for ESPN, Broussard had always, whether it was justified or not, been pigeon-holed as a "basketball guy".
That was the perception then, but today, the reality is different.
"There's no doubt that gets attached to you and that can be good because you're seen as an 'expert' in one sport which is great," said Broussard, the co-host of First Things First on FS1 and the co-host of The Odd Couple on FOX Sports Radio.
"But what was good for me was that at ESPN, I had done First Take with Skip Bayless a lot. There were a few years where it was a rotation and I was in that rotation. That enabled me to at least do the other sports."
Broussard has certainly made a seamless transition from print to electronic media.
After joining The New York Times in 1998, Broussard started to get television exposure doing local hits and then appearances on the various ESPN platforms would soon follow. He joined ESPN full-time in 2004 as a writer for ESPN The Magazine, but that also included regular guest appearances and fill-in hosting opportunities on shows like First Take and the opportunity to be a co-host for NBA Countdown for the 2010-11 season.
With that gig came the opportunity to work with Michael Wilbon, Jon Barry, and his childhood hero Magic Johnson.
"I think that may be have been the pinnacle because Magic is Magic," said Broussard. "He was my favorite player until Jordan came along and (with Wilbon and Barry), we just had great chemistry."
After one season, Broussard and Barry were replaced by Bill Simmons and Jalen Rose. A few years later, Broussard would make the move that would bring him to the next chapter of his career.
In 2016, Broussard left what amounted to being just a reporters role at ESPN for a new opportunity at FS1 where he would also be an analyst as well as a regular panelist for shows like Undisputed, The Herd with Colin Cowherd, First Things First and Lock It In. In 2018, he began co-hosting The Odd Couple radio show with Rob Parker on FOX Sports Radio.
And then in August of 2021, Broussard was named the full-time co-host of First Things First, something that almost had happened when the network first launched.
"When they asked me to come on as a full-time co-host, it was great and maybe a long time coming," said Broussard. "I know when Jamie Horowitz first brought all the people over from ESPN to be on FS1 in 2016, he was considering doing a show where Nick Wright and I were the co-hosts."
Broussard now co-hosts the show with Wright and Kevin Wildes.
"I thought that I really just fit right in with the chemistry and it's just been a great trio," said Broussard.
Born in Baton Rouge, Broussard and his family also lived in Cincinnati, Indiana, Syracuse, Iowa, and Cleveland. He was a star football and basketball player for Holy Name High School in Parma Heights, Ohio and went on to play basketball for Oberlin College, an NCAA Division III school in Ohio.
Believe it or not, his first love was not basketball.
"My favorite sport growing up was football," said Broussard. "I played football through high school. I played basketball at Oberlin College but they recruited for me football and basketball. I even played baseball up until I was about 16 years old."
So much for being just a basketball guy, right?
After college, Broussard had a decision to make. He knew he wanted to be a sports reporter but wasn't sure if it was going to be print or electronic media. When he was an intern at The Indianapolis Star, he spoke to people in the know about which direction to go.
"I was told that it's just easier and there are more spots in print journalism than there are in television and radio," said Broussard. "I chose print because I thought I had more opportunities."
Broussard's first taste of covering pro sports was in 1995 at the Akron Beacon Journal when he was a backup writer covering the Cleveland Indians who would go to the World Series for the first time since 1954. He shifted to covering the Cavaliers and then it was off to New York and a bit of culture shock for Broussard.
During his 2 ½ years covering the Cavaliers, Broussard typically wore a rugby shirt, jeans and sneakers at games. But he noticed that when the Knicks and Nets would come to Cleveland or when Broussard travelled to New York and New Jersey when the Cavaliers visited the Knicks and Nets, that the New York writers would typically wear suits and ties when covering the games.
So, when he interviewed for the job with The New York Times, Broussard had an important question for his future editor.
"I asked him when I was being interviewed for the job do they require that your writers dress up," said Broussard. "He said no but they do generally in New York because they know television opportunities are there. So, when I started working at The New York Times, I started dressing up wearing a suit and tie or sportscoat and tie whenever I would cover games. Ultimately that led to television."
And the rest is history.
This coming week, Broussard will be busy co-hosting his shows from the Super Bowl in Arizona. It's one thing to host a radio show or a television show from a studio but it's really something special to do it from a live event, especially on the giant stage of the Super Bowl.
And this week, Broussard will be center stage in front of a lot of ears and eyeballs.
"It's always great," said Broussard. "FOX Sports Radio always has one of the biggest and best platforms on radio row. It's always fun when you're doing these live shows at the big events and you've got an audience, it really can kind of bring out the best in you. I'm excited about it both for TV and radio."
Chris Broussard has certainly come a long way in his career in sports.
From his days as an athlete in high school in college to getting his start as a write to a transformation into a radio and television personality, Broussard has worked hard to get to where he is today.
"I haven't written a word since I went to Fox," said Broussard. "I do feel fortunate that I've been able from morph from a writer into TV and radio. What you want to do in this business is stay relevant and you want an audience and a platform. There's not that many people who get that opportunity to do it."
He's no longer just a "basketball guy". He's a "sports guy".
Peter Schwartz has been involved in New York sports media for over three decades. Along the way he has worked for notable brands such as WFAN, CBS Sports Radio, WCBS 880, ESPN New York, and FOX News Radio. He has also worked as a play by play announcer for the New Yok Riptide, New York Dragons, New York Hitmen, Varsity Media and the Long Island Sports Network. You can find him on Twitter @SchwartzSports or email him at DragonsRadio@aol.com.
Radio Row Is One of The Worst Weeks For Our Listeners
Radio Row is a great opportunity for hosts, PDs, and executives. But it isn't an inherently great opportunity for your listeners.
From strictly a listener's perspective, sports radio the week of Super Bowl's Radio Row is one of the worst weeks.
Before I was a sports radio programmer, I was a sports radio listener. And while I didn't realize it at the time, I was listening to sports radio with a programmer's mindset. And every year, I would spend the entire week listening to shows produced live — or pretending to be live — from Radio Row at the Super Bowl. And each year, I would wonder "What the hell is the point of this?"
And now, as a former sports radio programmer, I will sit this week and listen to shows produced live — or pretending to be live — from Radio Row at the Super Bowl. And each day, I will wonder "What the hell is the point of this?"
Who does it serve? Let's take an in-depth look at that question.
It serves the NFL. Hundreds of media professionals are stationed at its largest event, talking about it, ensuring it stays at the forefront of the public consciousness and providing millions in value for its sponsors.
It serves NFL players. Both past and present. Dozens of current and former stars will flock to Radio Row to record dozens of interviews. They'll be paid thousands of dollars to pitch their wares as often as possible while expanding their brands outside the cities in which they currently or formerly played.
It serves the sponsors of NFL players. Radio Row provides a one-stop-shop for sponsors to send their endorsers down a line of interviews to continually get in front of new audiences. Scale, baby!
It serves the hosts, PDs, and executives. You get a working vacation! It's awesome! I live in the Midwest, and yesterday was one of a handful of days I've seen the sun since November. Being in Arizona in early February is phenomenal! Plus, you get to hob knob with celebrities, get your photos taken, go to awesome parties with extravagant hor dourves and open bars, and it's fantastic. You deserve the little break Radio Row provides; better yet, it's all on the company dime. You get some bonding with your co-workers, you get to network, and it really is an awesome opportunity.
But you know who isn't served? Your listeners. At least, the vast majority of them. Because here's the reality: While it's really cool that you're hanging out with other radio folks, and you'll have a plethora of former and current players swinging by for interviews, your listeners really don't care. It's a harsh reality, but it's the truth. While there's a subset of listeners who are living vicariously through you — and that can't be completely shortchanged, it's a big deal — the overwhelming majority couldn't be less invested in your Radio Row interviews.
Think of it from a listener's viewpoint: Outside of the Bay Area, do you think anyone has thought "Man, I wonder who Kyle Juszczyk thinks is gonna win the Super Bowl?" I'll tell you that, no, they haven't thought that, and they don't particularly care what he thinks. Furthermore, they definitely don't care that he's sponsored by Old Spice, which gives him the P-P-P-Power!™
And it would be fine if there was one interview here or there, but there are some shows — both local and national — that will completely fill out their rundowns with interviews with people your listeners don't especially care about, ask questions that your listeners don't especially care about, and end the interview by asking who they think wins Sunday, why they think that way, and allow them to pitch their boner pills or whatever else they're schlepping. Every day. For five straight days. For two, three, four, or even five hours.
It stinks.
Self-serving isn't bad as long as you recognize it's self-serving. And that could be potentially the biggest issue. Now and then, you'll get a host that is sanctimonious and pretends they're doing the listener a favor by spending a week away from their family in a warm weather destination, rubbing elbows with some of the greatest players — both past and present — in the game. You're not. You're spending a week eating all the free food you can find, drinking all the free beer you can find, and taking pictures to post on your Instagram. And that's fine, but don't pretend like it's something it isn't. You can talk yourself into its importance, but it's important to you.
Radio Row is a great opportunity for hosts, PDs, and executives. But it isn't an inherently great opportunity for your listeners. You can turn it into one with thoughtful questions, a unique spin on the traditional interview, or avoiding the same boring questions your subject has been asked 1,000 times during the day, but you've gotta go the extra mile to accomplish that. And I hope that's not something you lose sight of this week.
Garrett Searight is the Editor of Barrett Sports Media and Barrett News Media. He previously was the Program Director and Afternoon Co-Host on 93.1 The Fan in Lima, OH. He is also a play-by-play announcer for TV and Radio broadcasts in Western Ohio. Reach him at garrettsearight@gmail.com.
What Are The Right Social Media Answers For Sports Radio?
"What are the limits of social media for radio brands? Are there any?"
Social media does not stand still. The platforms that matter today can fall out of favor with the general public in the blink of an eye. Conversely, the right feature or attention from the right people can catapult a site's importance in the social pecking order.
How does a radio company determine what matters? Are all formats received similarly on social media or is sports radio such a unique animal that brands have to be much more deliberate in how resources are allocated? To answer these questions, I turned to some experts.
Tom Izzo doesn't exclude any platform when he is plotting WFAN's social strategy. Facebook, Instagram, TikTok and Twitter may each attract a different type of sports fan, but they all matter in building and serving the larger audience.
"There is sports radio audience on every social media platform, you just have to talk to them differently depending where you are," he told me. "The language and audience on Twitter is different than the language and audience on Facebook, but there is audience everywhere."
Audience is everywhere. That's what is at the heart of the conundrum. How do you best utilize your assets in a landscape that isn't just constantly changing? It's also constantly growing!
Lori Lewis has overseen social media strategy at an executive level for Cumulus, Westwood One, Jacobs Media and iHeart among others. Now she coaches companies on creating great content with her own company, Lori Lewis Media. 
She told me that the key for not just sports stations, but for any brand, is understanding what their audience prioritizes. That doesn't mean it should be the brand's only focus though.
"Obviously, for sports radio, it's Twitter. But don't sleep on short-form vertical video," she said in an email. "When done right, you'll see success (meaning converting views into new fans) with YouTube Shorts and/or Instagram Reels as well as playback videos on Facebook (those are visual replays from the audio show)."
Converting views into new fans was taken to a bit of an extreme in Nashville. 104.5 The Zone launched Zone TV in 2021. Will Boling took the lead in creating the product. He says that launching a proprietary video stream was never about moving away from other social platforms. It was about giving listeners more access to better content in more places.
"Our video platform affects a lot of our social strategy," he said. "On Twitter, we don't want to just be seen as a radio station, but as a media company. Our Twitter stream allows us to react to breaking news while also sharing our broadcast at the same time. And with Twitch's video producer, we can create featured clips from shows whenever we want. That allows us to push video out of featured guests, funny callers and anything in between to promote our podcasts from each show too."
Video matters so much more than ever before. It does not matter who you talk to or what platform it is you are talking about. The answer always comes back to using video to attract more eyeballs.
TikTok, our most controversial social video platform, is trying to figure out what its reach could be without the visuals. Last month the company announced that it would experiment with its version of podcasts – a mode on the app that would allow users to experience TikTok content as audio-only entertainment.
I asked all three of my experts what their initial impression of the story is. Only Izzo expressed reservations.
"Probably no need for us to be first anywhere if there isn't any particular benefit to doing that," he said. "We'll watch and see what happens and if it turns out that people like consuming podcasts on TikTok we will certainly address that."
That doesn't mean WFAN hosts and bosses won't keep a keen eye on the feature. I would anticipate that there may be some experimental posts that either don't receive much of a push or perhaps never see the light of day at all.
Boling is adamant that any use of TikTok is a wise one for stations. He says anything set up with an algorithm that rewards creators for posting content the audience connects with is an asset that cannot be ignored.
"We use social media to push listeners to our YouTube channel because it's an algorithm based platform. If we get someone to click on our page once, then our channel will get recommended to them the next time they get on YouTube. TikTok helps radio companies accomplish that and own every space in the digital market right now."
Unsurprisingly, it's Lori Lewis that approaches the feature in the most scientific way. Do TikTok podcasts represent a sort of new frontier for audio brands? Sure, but just like Grogu and the Mandalorian, you have to go there and poke around before you can figure out how it will work best for you.
"If TikTok expands to audio, how might you complement the mothership (The FM/AM stick) and build on the trust you've earned from your show? What's a unique way to tap into new features? As social media evolves, so should our approach."
What are the limits of social media for radio brands? Are there any? Since the onset of the pandemic, so much listening has shifted from terrestrial signals to digital streams. We have totally rethought what we are. Why should it stop with how our audience consumes our content?
I asked Lewis if we are too narrow in thinking about how social media can serve us. Are we so focused on what is that we have not considered what could be? Can a brand have one identity on air and use social media to create something that does not mirror it, but instead compliments it?
"Depends on why you're using social media," she answered. "If you're leveraging social media for increased awareness and building trust to drive more engagement during your show, it might not make sense to be different on social than on-air. But, if you're a vanilla brand limited to creativity on-air, why not? Throw yourself out there. Show your real, relatable self (assuming it's legal and appropriate, ha-ha). Relatability wins every time."
Do we have to be deliberate in sports radio with how we allocate our social media resources? Yes, but that doesn't mean there is a single correct answer.
Strategy matters on air. It's no different on social media. But in order to figure out the best strategy, you have to be open-minded and eager to play around with new offerings to determine what works.
Demetri Ravanos is the Assistant Content Director for Barrett Sports Media. He hosts the Chewing Clock and Media Noise podcasts. He occasionally fills in on stations across the Carolinas. Previous stops include WAVH and WZEW in Mobile, AL, WBPT in Birmingham, AL and WBBB, WPTK and WDNC in Raleigh, NC. You can find him on Twitter @DemetriRavanos and reach him by email at DemetriTheGreek@gmail.com.