Anatomy Of An Analyst: Brian Griese
Griese is a pro in the booth. He can break down what a quarterback sees or what an offensive coordinator is trying to accomplish on any given play, or in certain situations.
Brian Griese is the answer to a pretty cool NFL trivia question. Griese and his father, Bob Griese, are the only father/son quarterback combination in NFL history to both win Super Bowl titles. The elder Griese, a Hall of Fame quarterback, won back-to-back titles with Miami in Super Bowls VII and VIII and later served as a top college football analyst for ABC Sports from 1987-2005.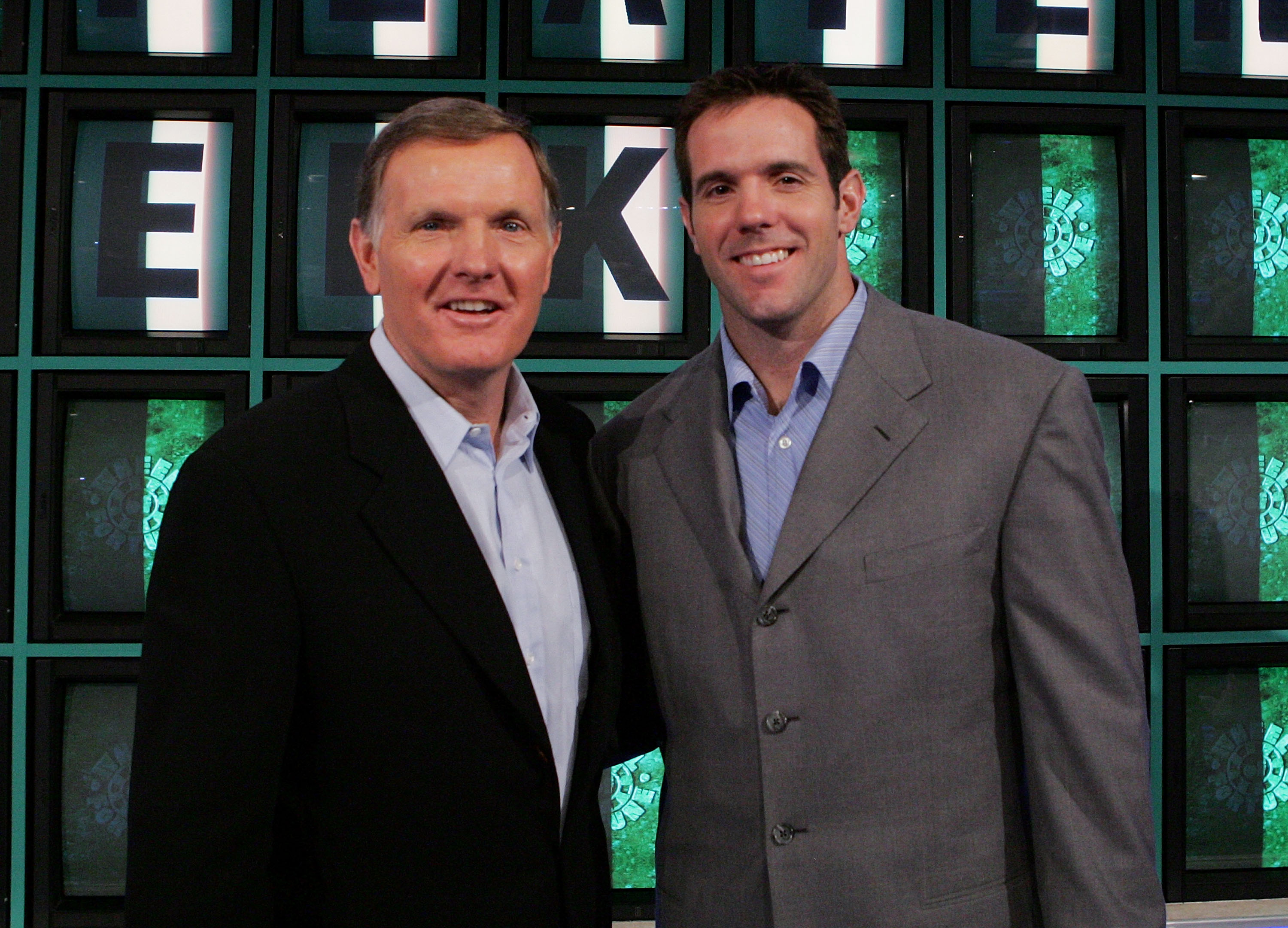 The younger Griese followed in his dad's footsteps one more time, in becoming a college football, and eventually NFL, color commentator. Brian was named to the ESPN Monday Night Football booth in 2020, in a three-man booth featuring Steve Levy on play-by-play and Louis Riddick as the other analyst. The crew was basically given last season as an audition. They passed and were brought back for the 2021 Monday night schedule. 
FOOTBALL CAREER
Griese played collegiately at Michigan from 1993-1997. He was a walk-on for the Wolverines after turning down scholarships at Purdue, where his dad played, and Kentucky.
He managed to piece together a pretty nice career for a non-scholarship player. In his career he went 17-5 as a starter.  Oh yeah, the Wolverines won all three games against Ohio State in which he was the QB. Griese was inducted into the Rose Bowl Hall of Fame in December of 2012. 
Griese led the Wolverines to the 1997 National Championship (as recognized by the Associated Press). After being selected in the third round by the Denver Broncos in the 1998 NFL Draft, he earned his Super Bowl ring with the Broncos in his rookie season, as John Elway led the Broncos to a victory in Super Bowl XXIII over the Falcons. Elway retired after the Super Bowl and Griese became the starting quarterback for the Broncos during the 1999 season. Griese made the Pro Bowl in 2000. After leaving the Broncos, Griese started games for the Dolphins, Bears and Buccaneers.
After his release in July of 2009, he decided to retire from the NFL.
ROAD TO ESPN MONDAY NIGHT FOOTBALL
Griese joined ESPN soon after his playing days were over in 2009. His rise to the MNF Booth was 11 years in the making. He was a leading analyst on college football for the network, calling big games on ABC and ESPN since his hiring. Griese teamed with Levy, field analyst Todd McShay and reporter Molly McGrath to call prominent games which included broadcasting New Year's Day Bowls on television and the College Football Playoff games on ESPN Radio.
Griese previously called ESPN's MNF doubleheader game in 2019 – with his current MNF booth mates Levy and Riddick, and 2018 with Beth Mowins. He also called Denver Broncos' preseason games on TV (2018-19 with Levy) and regular season games on the radio (2010-12). 
AS AN ANALYST
When Griese, Levy and Riddick took over the MNF booth, ESPN was looking to shake things up. Levy was a known commodity, handling many different roles at the network, including hockey. Riddick was more of a question mark from the start. He had the chops as a former player and front office guy, but he had never really served as a game analyst. Griese on the other hand, as I've denoted earlier, had plenty of game experience and the ability to break down a game. The risk though, was a three-man booth. These are never easy situations in any sport. 
"Obviously having three people in a booth versus two people in a booth is different," Griese told The Athletic last year before the groups' first season together. "It's different structurally. The amount of time that you have to talk and how you organize that is something that you have to work through. It's going to be a work in progress, but I think as time goes on, we'll develop our rhythm." he said.  
The roles have been carved out nicely. Griese is a pro in the booth. He can break down what a quarterback sees or what an offensive coordinator is trying to accomplish on any given play, or in certain situations. Having been not only a starter in the NFL, but a backup too, really helps him in my opinion. Sometimes as a starter you get very comfortable with what you're calling, because of the involvement play to play. As a backup, he had the ability to understand by listening to the offensive coordinator in 'game situations' and soaked up that knowledge. In turn now he's able to present that information from both sides if you will. Yet, both Griese and Riddick can explain things to the casual fan. He knows his audience is far less familiar with the nuts and bolts of a game plan than he is. 
I really feel like Riddick's development into a top-flight analyst, comes from Griese's understanding of the role. What do I mean by that? Last year, I felt like Riddick deferred a lot to Griese. In kind, I think the former QB nurtured Riddick, and allowed him to grow, because of how Griese handles his job. I've said it many times, there is a unique skill that only a few former athletes have mastered. That is simplifying the game of football down to its basic form and allowing everyone watching to understand the intricacies involved. All Griese had to do, was be himself and Riddick is doing the same. It really works, especially with an experienced 'traffic cop' in the booth. 
"Ultimately, I don't view our role as showing up every week and trying to show people how much football we know. That's not the point." Griese told the Athletic. "They will learn something new watching the show, and at the very minimum, they will know why the game was won or lost, whether that's a decision by a player or a coach. They will be engaged emotionally because that's always what the most interesting thing to me is when we watch a football game."
There have been occasions where Griese has been questioned for some of the comments he makes. Most recently in the Bears/Steelers Monday Night game on November 8th. Late in the game the Bears tied the score at 26. With 1:46 on the clock, going for one point seemed like it would be the obvious thing to do. The Steelers were called for encroachment and Griese asked whether Matt Nagy would go for two.
"If this is offsides on the defense, now you have options," Griese said. "Do you want to go for two here and potentially… (quick pause), well you're going to kick this field goal either way. It's a higher percentage to win the game."
There was that pause. He was likely hearing from his producer reminding him of the situation and that it only made sense to kick the extra-point.
Everyone makes a mistake from time to time, even people that played the game at the highest level. I don't hold that against Griese, considering, as a Bears' fan, that game had no flow thanks to all the penalties that were called in that game. Tony Corrente and his crew made far more mistakes that night than the broadcast team did.
I'm sure, if Griese is like many, as soon as that commercial break hit, he probably took off his headsets and looked at his partners and said something like, "What did I just say?". He also probably thanked the producer or whoever got in his ear for having his back. 
This situation certainly doesn't define Griese as a broadcaster or an analyst. I look at it as a blip on the radar and one that doesn't happen very often. 
CONCLUSION
As a whole, I enjoy Griese's work on ESPN and ABC. He's become a household voice in football and now is a mainstay on MNF. His less is more approach works, I think it helps the casual fan understand the game better. It's always nicer when the analyst doesn't talk down to you, he/she talks to you and helps the fan to see what they are talking about. The Griese name surely carries some cache, with name recognition as well.
Anatomy of a Broadcaster: Joe Davis
"The sky is the absolute limit for this guy. I'm a little jealous, in fact, of the talent and poise that he possesses right now."
"Joe Davis back to throw, looks left, now over the middle, complete, touchdown!"
Before his meteoric rise in the world of play-by-play, Joe Davis was a four-year letter winner at Beloit College in Wisconsin. He was the quarterback for two seasons until a shoulder injury forced him to move to wide receiver. 
Perhaps the most important move for Davis in college was assuming play-by-play duties for the school's athletic department. When football was out of season, Davis called baseball and both men's and women's basketball on local radio and television. He served as the voice of Buccaneers spring sports for his final three years on campus before graduating in 2010. 
Now Davis holds two very high-profile jobs. He's the television voice of the Los Angeles Dodgers and has been named the number one baseball guy at Fox Sports. In both cases, he's replaced an announcer of legendary status, first Vin Scully and now Joe Buck. Big shoes to fill in both cases. If how Davis has handled the former is any indication, he'll be equally as accepted in the latter position. 
Davis is another in a long line of broadcasters that seemed to know what he wanted to do at an early age.
"If you had asked me when I was 10 what I wanted to do when I grew up, I would've told you 'Call the World Series.' So, when I say this is a dream-come-true, I really mean it," Davis said in a statement after Fox named him Buck's replacement. 
In a recent story in The Athletic, Richard Deitsch chronicled how the offer was made to Davis. He recalled meeting with Brad Zager, who is the executive producer of Fox Sports. Zager flew to Las Vegas where Davis was for the Pac 12 Tournament. It was about 4-hours from the tip and the two met at a hotel bar in the MGM Resort. The offer was made, and a very emotional Davis accepted.
"It took me a little while to get it together after the meeting," Davis told The Athletic. "And there were a number of times over the course of that week where I broke down because of the emotions of thinking it could happen and being so close to a dream coming true but not knowing."
ROAD TO FOX/DODGERS
Before his senior year of college, in 2009, Davis secured a summer job as the manager of broadcasting for the Schaumburg Flyers baseball team of the independent Northern League. He served as the team's play-by-play voice and media relations director. Also, during the fall, he filled in on men's and women's volleyball broadcasts at Loyola University Chicago. That year Davis was the voice of the State High School Volleyball Championships, for the Illinois High School Television Network.
From there Davis would go to work for the Montgomery Biscuits of the Southern League. The Biscuits were the Double-A affiliate of the Tampa Bay Rays. Davis called Biscuits games for three seasons and was named the Southern League Broadcaster of the Year in 2012. In the offseason, he also gained experience as a radio host for the Baylor Independent Sports Properties Network. While working that job, he also caught on at Comcast Sports Southeast, where he picked play-by-play duties for college football, basketball and baseball.
In July 2012, at the age of 24, he joined ESPN as a play-by-play announcer. He called college baseball, basketball, football, hockey and softball games. Davis also appeared in spot duty for Major League Baseball games that were broadcast on ESPN Radio. He made a little history in December of 2013, when he was assigned to call the Poinsettia Bowl between Utah and Northern Illinois. At the age of 25 he became the youngest person to ever announce a bowl game for ESPN. He was soon hired by Fox, and then a couple of years later by the Dodgers to call road games, and eventually succeeded the legendary Vin Scully for the team on TV. 
WHY IS HE SO GOOD?
There is a smoothness about Davis that is kind of hard to describe. He's calm at the right moments and he elevates to the big moments almost perfectly. Calling baseball can be a challenge at any age, but he seems a natural fit for the pacing of the sport. There are moments when the game is left to itself to breathe during his broadcasts. Now, there are also times when Davis shows off his ability for the big call.
The Dodgers have been in the pennant race, seemingly all the time. Huge moments demand a great call. Davis hasn't disappointed yet. 
Among his many moments with the Dodgers already were walk off home run calls, some miracle finishes, and a lot of victories.
In an article on MLB.com in August of 2020, Davis surprised a lot of folks, when saying a home run by pitcher Hyun-Jin Ryu was his favorite so far. It took place on Sept. 22, 2019, in a 7-4 win over the Rockies that provided the Dodgers with their 100th victory of the year.
"High fly ball, centerfield and deep, back goes Hanson at the wall…it's happened! It's happened! Babe Ryu!" Then nearly 40 seconds of crowd noise.
Davis provided the backstory in the article.
"The call is, whatever, not a spectacular call, but Orel [Hershiser, analyst and Davis' partner] and I had jokingly talked about it the entire season. You could go back to Opening Day [which Ryu started], and we were predicting he would hit one. Those of us who are around batting practice see how he swings, and we would joke every time he came up that this would be the time, and then it actually happened. It's the only time Orel and I both stood up and high-fived, just the incredible feeling it had actually happened."
It's just an example of how the moment is never too big for Davis. He can have fun and still keep his composure, so the fans know what is actually happening as well.
His runner-up call at that time, was a more obvious choice. It his "absolute madness" call of the Dodgers' 6-5 walk-off win over the Phillies in 2017. For more reasons than just the great call.
"It was my first month or so on the job after Vin," said Davis. "It was maybe the first time where the fanbase seemed to say, 'Hey, maybe this kid is not bad.' Because of that, it will always be special to me."
Also of importance, is the fact that Davis is able to play off of, and work well with, his analyst Orel Hershiser. The two have great chemistry. That's the hallmark of a good play-by-play announcer, get the most and more out of your color commentator. 
It speaks volumes as well, to have that kind of relationship with all the people he works with. That includes John Smoltz, his new partner for MLB on Fox games starting this season.
"Having worked with Joe before, finding our chemistry in the booth is already well underway and I'm looking forward to our partnership over the next several years," said Smoltz in a statement. "I had the opportunity to work with the very best at Fox Sports in Joe Buck, and I feel fortunate to get to continue with another exceptionally talented 'Joe' in Joe Davis."
For someone as young as he is, it's impressive that he had those skills early on and continues to hone what has worked for him. When he was just 24-years-old and had a crack at the national spotlight, he might have been overwhelmed. Well, if he was, it surely didn't sound like it, because he was able to advance in the business at a rapid rate.
DID YOU KNOW?
Davis named his third child, a boy, to honor his partner in the booth, Orel Hershiser. Theodore Orel Davis arrived in July of 2021. Hershiser was very touched by the gesture from the Davis'.
Did you realize that Davis' daughter Charlotte broke the news of her daddy getting the World Series assignment from Fox? Davis explained to The Athletic that he tried to see if his daughter would understand the significance of the moment. Charlotte didn't seem to grasp how important this was. After all, she is only 5 and a half. Davis wanted to make the point that the World Series was a big deal and that Charlotte, could achieve anything she wanted to. 
"I dropped her off at her school one day and her teacher said, 'Joe, congratulations!' Mind you there were like five people in the world that knew at this point." he told The Athletic. "I said, 'Oh boy, I guess you have an inside source.' She said, 'Yeah, the first thing Charlotte did yesterday when we got into the classroom was announce to everyone, my daddy got the World Series.' For whatever reason, that was another moment that just got me. I got in my car and broke down." he recalled. 
Eat your heart out Ken Rosenthal! 
CONCLUSION
The sky is the absolute limit for this guy. I'm a little jealous, in fact, of the talent and poise that he possesses right now. There are just a few people blessed with all of that, plus a kind nature.
It's hard not to cheer for a guy like this, he paid his dues, made some good choices and basically let his talent do the talking. It's pretty amazing and so well deserved. I'm pretty confident that the Fox MLB broadcasts are in very good hands.
Anatomy Of An Analyst: Gene Steratore
"There's a calmness and authoritative way about him. Steratore seemingly commands respect when he opens up his mic to comment on a play, giving his opinion."
"Let's bring in our rule's analyst, Gene Steratore, Gene what did you see on that play?"
If you've been watching CBS/TNT/TBS/TRU coverage of the NCAA Tournament, you've undoubtedly heard that question asked. Steratore has been providing rules analysis for the network for both the NCAA and the NFL. He's sort of a unicorn when it comes to having the knowledge and first-hand experience both on the field and on the court.
Oh yeah, and he possesses the ability to actually relate the information to the audience.
This role has become a major part of broadcasts now. These 'experts' help the viewer to understand rulings and why certain calls should or should not have been made.
BEFORE TELEVISION
If you think Steratore is busy these days, he was even busier before he decided to retire. Steratore spent 15 years as an on-field NFL game official, 13 of those seasons as a referee. He entered the NFL as a field judge in 2003, was promoted to referee in 2006, and worked 14 playoff games. He finished his career as the referee in Super Bowl LII. That was the Eagles' 41-33 win over the Patriots on the Philly Special. Steratore also worked two conference title games, as well as serving as the alternate referee for Super Bowl XLIV.
Steratore started officiating NCAA Division I Men's Basketball in 1997 and worked numerous Conference Tournament games in the Big Ten, ACC, Big East, Atlantic 10, Mid-American, Colonial, Horizon, Metro-Atlantic, Summit and Northeast. He also worked 12 NCAA Tournament games, including a pair in the Sweet 16s.
He finished his basketball career as a Big Ten primary official. Steratore also spent time as a Midwest 'observer' of officials. He would be at a game, take notes on how the officials did their jobs, and then go over it, nearly play by play after the game ended.
CONTROVERSIES ON THE FIELD
Steratore's NFL career had a couple of notable controversies, well one controversy and one oddity, I guess.
On September 12, 2010, the Detroit Lions faced the Chicago Bears in the season opener at Soldier Field. The Lions were trailing 19-14 late in the fourth quarter but were driving against the Bears' defense. With 24-seconds left, quarterback Shaun Hill found receiver Calvin Johnson in the corner of the end zone. Touchdown Lions. Not so fast. The play was under review, for a phrase that is now commonplace in the NFL, 'completing the process of a catch'.
After the review, Steratore ruled it an incomplete catch. He stated after the game to an NFL pool reporter, "In order for the catch to be completed he has got to maintain possession of the ball throughout the entire process of the catch." Replays showed the ball leaving Johnson's right hand the moment the ball touched the ground. The Lions failed to score on their final two plays, and the Bears held on to win.
That play started a debate about what is actually a catch and what is not. The controversy elicited a new rule named for Johnson. That particular entry into the rule book outlined what exactly a catch was: control of the ball, two feet or another body part down on the ground and a "football act or move" such as reaching for the goal line or tucking the ball away.
Steratore was affected by the rule again, and this time the stakes were high. He was the referee during the NFC Divisional Playoff game between the Cowboys and Packers on January 11, 2015. That's where a fourth-quarter, fourth-down catch by Cowboys wide receiver Dez Bryant was overturned using the "Calvin Johnson rule". The Packers challenged the call and after review, it was determined that the ball touched the ground before Bryant completed the catch.
Now for the oddity. In a game on December 17, 2017, between the Cowboys and Raiders. Steratore took the controversial step of using an index card normally used for recording penalties to assist him in determining whether the Cowboys had made the line to gain for a first down. His ruling that they had done so allowed Dallas to kick a late field goal in their 20–17 victory.
"The ball was touching the pole," Steratore said. "I put the card in there and as soon as it touched, it was nothing more than a reaffirmation. The decision was made based on my visual from the top looking down and the ball touching the front of the pole."
EVOLUTION
Mike Pereira pioneered the rules analyst role on Fox in 2010 and since, each network has followed suit. Fox also added Dean Blandino. ESPN has used Gerry Austin, Jeff Triplette and now John Parry. NBC employs Terry McCauly.
CBS hired former referee Mike Carey in the 2014 season. That didn't work out too well, after most of his predictions on which way replays would go, were not correct. He was let go following the 2015 season. Now the job belongs to Steratore.
The NHL is now in the business of rules analysis, with the hiring of Don Koharski on TNT.
WHAT MAKES STERATORE GOOD?
There's a calmness and authoritative way about him. Steratore seemingly commands respect when he opens up his mic to comment on a play, giving his opinion. That opinion is based on the years of actual on-field experience or in the case of the NCAA Tournament, on-court work. There isn't much time to waste when it comes to his analysis. He has to offer his thoughts in a clear and understandable manner, then allow the broadcasters to perhaps ask a follow-up question.
Being understandable is probably the most important part, because as a viewer, I don't want a bunch of referee jargon thrown at me. Was the call correct or incorrect? Tell me why. What should have been ruled? That's the reason he is employed by a network, prove your worth. He does.
During the NCAA Tournament Steratore is sometimes not on-site until the Final Four. He's watching a number of games on television screens. There are producers and others watching games to keep him updated and if he's needed, they brief him quickly and he goes on the air. Kind of daunting in some ways. He also spoke a couple of years ago about the 4-5 second delay between the studio and the stadium, which is not easy to navigate.
One of the biggest issues facing a former referee is agreeing with or not agreeing with current officials. In Steratore's case, it's both NFL and NCAA referees that he either goes along with or points out a mistake.
He spoke to the Athletic in 2020 on this very topic. "Officials never get upset if you are objectively honest with what's going on." said Steratore. "When officials miss plays, they're OK if you call them out for missing that play. But if I started seeking every little nuance, I can see that they've done, it demeans the profession and it's an unfair observation, even if you're right on the technical issues."
Take, for example, the case of Illinois freshman RJ Melendez, who was assessed a technical foul for hanging on the rim after a dunk. Replays showed that Melendez needed to hang on to avoid an injury to himself. Much like the one Paul George suffered several years ago in an NBA game.
Steratore commented on the play during the telecast and then took to Twitter.
Steratore is honest that's for sure. Now look, I get that some criticize him for playing both sides of the fence, but some calls are not black and white, there are grey areas within the rules. He has to point it all out for the sake of credibility.
He is empathetic to the cause of the on-field official, having been there himself one or two hundred times before. During a game between the Bengals and Raiders in January, the old 'inadvertent whistle' came into play. Here's how he explained things on Twitter.
I think Steratore also realizes that he has one thing the on-field folks don't, and that is time to review the situation and express his thoughts. His reasonings, right or wrong, in the moment, will not change a call that's been made and will not affect the outcome of a game. Steratore can afford to get a little more in depth with his reasoning, while the game continues.
There is one main goal Steratore and all the other rule's analysts want to accomplish. He wants to help casual viewers better understand the game and its rules. "You hope you can add value to the broadcast," he explained to the Athletic. "But if I can explain something that is a little complicated and that the casual viewer gains interest to watch this game, then it makes it more relevant."
I think he can check that box, without any further review.
DID YOU KNOW?
Steratore is the co-owner of Steratore Supply, Inc., a full line paper/janitorial supply business, with his brother, Tony, who also works as an NFL back judge. The siblings know how to get under each other's skin, even to this day.
Gene explains, "There are times Tony and I are working together in our business and he's not in a good mood," Steratore said to the Athletic. "I tell him I'm the media and he's an NFL official, he's not allowed to talk to me. I use that. It helps the little family feuds."
Gene and his older brother Tony were on the same crew in 2006. Gene had been elevated to referee and Tony was the back judge. That lasted 3 years. Gene overturned Tony's calls 3 times in the first year which led to some tense moments on the field. Gene recalled one such time to the Athletic.
"Brett Favre thought we were going to fight one day in Miami when I overturned him on a play. He said 'Are you guys going to fight?' I said 'We might.' He said 'Can I watch?' I said, 'Heck, yeah you can watch.'"
Anatomy of a Broadcaster: Ian Eagle
"Eagle is the consummate professional. I am not sure how he continues to sort of fly under the radar with the amount of talent he has."
Fall, Winter and Spring, is the time for eagles to soar high in the skies across the United States. Okay, I'm not a bird expert, but the point I'm trying to make, is a guy that shares a last name with the emblem of America, is a busy guy during those seasons.
Ian Eagle calls NFL, NBA and NCAA College Basketball for CBS and Turner Sports. Eagle is also one of the voices on Brooklyn Nets' telecasts on the YES Network. 
He's been a familiar voice for quite some time and handles each assignment with professionalism and preparedness. Whether it be a national radio broadcast of a Thursday Night Football game on Westwood One, or a Sunday afternoon telecast of the NFL on CBS, the results are the same, a high-quality entertaining broadcast.
The story of his start is like many of us in the business. He told sportshistoryweekly.com, his fascination with the industry started at age 8. Eagle would be watching and playing sports like any other normal kid, but would take particular interest in the announcers. 
Growing up in Forest Hills, New York in the 1980's, he would watch and listen to Marv Albert call Knicks and Rangers games. Albert played a large role Eagle's early dream and most certainly in the style he developed initially. Eagle says his parents were very encouraging, urging him to do what he wanted to do. 
"That is very empowering as a child when you believe something that most consider an 'out of the box' objective is actually attainable. They were also quite concerned when I was constantly doing a Marv Albert impression around the house even for non-sports related activities. Eventually, I stopped when they considered bringing in professional help," he recalled to sportshistoryweekly.com.  
THE ROAD TO CBS
Eagle began his career by announcing football, basketball, and lacrosse for the Syracuse Orange on WAER, the student run radio station. Following his graduation in 1990, Eagle began working for WFAN Radio in New York City as a producer. In 1992, WFAN gave him his own show (Bagels and Baseball). In 1993, Eagle was given pregame and postgame duties for the Jets. 1994 saw Eagle's first year as a Nets play-by-play radio announcer. In 1997, WFAN made Eagle play-by-play announcer for Jets games.
He joined CBS Sports in March 1998 as a play-by-play announcer for the CBS Television Network's coverage of the NCAA Division I Men's Basketball Championship. He has called play-by-play for the Network's coverage of the National Football League since 1998, and served as pregame and postgame host contributor during the Network's coverage of Super Bowl LV, Super Bowl LIII and Super Bowl 50.
He continues to serve these roles today. In 2010, he joined Dan Fouts to make up the number three broadcast team for CBS' NFL coverage. The pair was elevated to the number two team in the 2014 season. After Fouts parted ways with CBS, and with the NFL's playoff expansion, which included CBS gaining rights to an extra playoff game, during the 2020 offseason, the network paired him with former Fox analyst Charles Davis, and the duo now call one of CBS's Wild Card games every year, and a Divisional Game in even years. Other CBS work includes boxing The Pilot Pen Tennis tournament, the US Open and the NCAA Track and Field Championships.
Prior to joining the YES Network as Nets announcer in 2002, Eagle served the same role for the Nets on the MSG Network and Fox Sports Net New York. When Marv Albert joined the YES Network prior to the 2005-06 NBA season, the games were split between the two broadcasters, before Eagle again became the primary announcer for the Nets in the 2011-12 season when Albert left the network.
WHY IS HE SO GOOD?
No matter the sport, or the partner, Eagle makes it all work. As a play-by-play broadcaster, he's one of the best. He delivers a consistent broadcast that has everything the viewer needs for that particular game. While Eagle may not be flashy, he more than makes up for it in personality and performance. The ability to have fun in a broadcast is so important. The ability not to take yourself too seriously is also a must when you are performing at the network level.
There was the moment I wrote about last month, when Eagle and Charles Davis called the "Super Wild Card" game in Buffalo. The air temperature at kickoff was 7 degrees. The two were coming on camera to set up the second half, and Eagle was wearing an extremely puffy jacket. It was one like Kurt Warner donned a week before on an NFL Network playoff telecast. The two had a great exchange, with Eagle saying, "I feel like, I want Jiffy Pop Popcorn. This thing is very warm. This is the same jacket. Kurt sent this to me. Let me tell you, not all heroes wear capes, they wear Silver Bullet Puffers."
It was great, because it illustrated the temperature and it wasn't so over the top that it felt out of place. This is also a demonstration of Eagle's ability to put some humor into a broadcast at the perfect time.
His pairing with Davis on the #2 broadcast on CBS really works. The two play well off each other and you would get the sense they've been working together their whole careers. That is the ultimate testament to Eagle's ability as the game caller. The camaraderie is natural and that has a lot to do with the way Eagle handles the relationship. Knowing your analyst's strengths, and playing to them, is so important in the overall picture. Eagle consistently rises to the occasion in key moments and Davis does the same to create great calls. The chemistry seems very natural.
Eagle was asked recently in a piece on sportshistoryweekly.com, what he thought, made a great announcer these days.
"I see myself as a storyteller. Every game that I broadcast has a story behind it and it's my job to help tell that story to viewers and listeners. The goal is to convey the drama of the event that I'm covering and humanize the athletes," said Eagle. "My objective is to inform and entertain the audience and I bring that mentality to the microphone for every assignment I'm given. The methodology from broadcaster to broadcaster can vary, but ultimately you have to ask yourself during the game 'are you serving the viewer?'. Voice quality, vocabulary, instincts, a sense of humor, etc. all play a role in what makes a great announcer."
Mission accomplished.
DID YOU KNOW?
Since Eagle pronounces his first name "EYE-un" (instead of the more common "EE-an"), he has often admitted that life was easier prior to the 1986 release of the movie Iron Eagle. In fact, many callers (including prominent sports figures) continue to call him "Iron Eagle"—much to his chagrin.
Eagle also had a funny encounter with Tom Brady. He told the SI Media Podcast in August of last year about Brady shaming him for some food choices. 
Eagle says he got into New England for meetings with Patriots players one morning after not getting a lot of sleep because of work and travel. Eagle is not a coffee drinker, so he decided, at 9 a.m. to have some Pepsi for a jolt of energy. There were also some donuts on the premises, so Eagle figured he'd partake in a chocolate-frosted sweet treat, as well. As Eagle was chasing his donut with a soda, Brady entered.
"So, Tom walks in," Eagle said on the SI Media Podcast. "I have a large Pepsi in front of me and a half-eaten chocolate frosted donut and he walks in and he says, 'Having a good morning, Ian? How's that all working out for you?'
"I said, 'No, no, no. Normally I wouldn't have a Pepsi at 9 a.m.' He doesn't want to hear it. 'You're having a Pepsi at 9 a.m. and you've eaten a donut. You know, I go to a healthy donut shop which is only a half mile away.'
"I was like, 'Well, that's kind of an oxymoron. Why would you have a healthy donut?'
"And I said, 'Well, have you ever had a Pepsi?'
He goes, 'No, never had a soda.'
"So, he crushed me at that point and I believe he fat-shamed me.
"Three week later, we have [the Patriots] again. Road game. First thing he says when he steps up, 'Where's your donut? Where's your Pepsi?' He knows to keep going back to it. A year later he'll go back to it. He doesn't forget (stuff). Ever."
CONCLUSION
Eagle is the consummate professional. I am not sure how he continues to sort of fly under the radar with the amount of talent he has. His broadcasts are not hung up on catchphrases or a 'look at me' kind of feel. He's a team player in the broadcast booth which is really what makes the telecasts work. That's the goal, or should be the goal, for all play-by-play announcers and Eagle gets it done.