Clay Travis & Buck Sexton Are Finding Their Rhythm and Enjoying Success
"Nobody can fill Rush's shoes, but Clay took one shoe, and I took the other."
Rush Limbaugh was diagnosed with advanced lung cancer in February 2020, but it wasn't until the broadcasting giant died a year later that Premiere Networks had to finally act on the immeasurable void in the industry and, specifically, its midday slot.
Rush's program continued on with "Best of" shows, but behind-the-scenes plans were taking hold for Limbaugh's successor.
In May, Premiere announced Clay Travis and Buck Sexton would join forces to co-host the 12p-3p ET slot. Their program debuted on Monday June 21st.
"Nobody can fill Rush's shoes," Sexton told BNM. "But Clay took one shoe, and I took the other."
"You're stepping into the role of a legend," added Travis during a separate interview with BNM. "Simultaneously, you can't be held hostage by the past."
Sexton was already entrenched in conservative media, filling in for Limbaugh many times during the last decade. Travis, though, was hosting morning drive on Fox Sports Radio, and growing his presence with OutKick, and FS1.
"It hasn't been that hard for me because so much of sports became political," Travis said. "There was a decent amount of political analysis over the past several years. The storylines [and] the issues have not changed."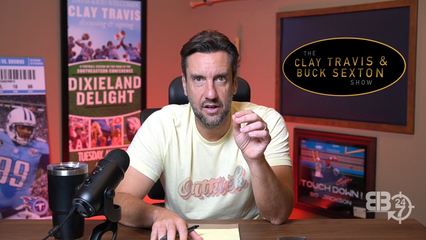 Having a built-in audience helped, but Clay and Buck exceeded their own expectations, tops in several markets including Houston, Phoenix, San Diego, Salt Lake City, Memphis and Sacramento (Limbaugh's former flagship KFBK).
"To be number one is pretty wild," Travis admitted. "We set a new podcast record [and] one of the two or three biggest in all of iHeart."
Although the hosts are bringing new blood to the show–Travis is 42, Sexton is 39–they have a strong work ethic and fresh approach to keeping the three-hour block entertaining and informative for listeners.
"I think it speaks to how important the issues that [Limbaugh] talked about were and how committed the audience is to Rush's world view," Travis said.
"In some level the pressure's off, at least in our minds, because Rush was so widely renowned, not just the most talented in the format, but someone who really built the format in many ways," Sexton added.
Despite being a Limbaugh relief host on numerous occasions, Sexton acknowledged he never met or spoke to Rush. The Limbaugh influence on Sexton came as millions of others listened to the radio titan.
No Training Wheels
While "Clay and Buck" may have their own take on the issues important to the majority of the audience, the Limbaugh lineage is present with his former staff staying behind to forge a future with Travis and Sexton.
"It's an incredible honor to his legacy," shared Travis.
It was Julie Talbott, president of Premiere Networks, who had the foresight to team Sexton and Travis on the 400+ stations.
"We had our own solo shows, so there were probably thousands of hours of us out there. Julie managed us and was both of our bosses," Travis said. "There were no training wheels here."
"Clay is a great talent, a true professional [and] a super smart guy," Sexton said of his co-host. "We're both sort of put in this position…We're both going to make it happen."
Both hosts are proud of the show's performance over the opening six months.
"I think we're doing one of the best radio shows that exists anywhere in the country," Travis said.
While it was direct ascent to the coveted show for Sexton, Travis had to switch formats to make it work. However, regardless of the format or topic, once you are consciously aware of what you are trying to be, "I think that filters into your own authenticity," said Travis.
The OutKick founder places Limbaugh and Howard Stern as the greatest of the generation, who "consistently educate and entertain their audience in a way that's better than almost anybody out there.
While Sexton and Travis may have come from different avenues, each enjoying success as solo performers, it's their connection as a team that's made the difference.
"It certainly takes a bit of a change of pace," said Sexton. "You have to get used to the rhythms of having a co-host."
Since Sexton and Travis have found their best way to format the lunchtime show, listeners will be without the dramatics. There's no fist-pounding or screaming for controversies.
"We're both providing different insights, but also a more conversational and relaxed feel," shared Sexton. "We really want everyone listening to the show to feel like they're the third person sitting at the table."
The tandem also has other projects keeping them busy. Travis remains heavily involved with OutKick, the brand he founded, which produces a mixture of sports, news, gambling, and pop culture content. Sexton meanwhile remains connected to television, hosting a daily one-hour show on The First, a conservative digital network.
"It's good to keep those TV skills sharp and have that opportunity to reach additional audiences beyond the radio show," Sexton said.
The duo has not shied away from topics that hit nerves and resonate with most, especially the pandemic and mask mandates. Sexton, a former CIA analyst who spent time as a consultant for CNN, was quick to criticize his former employer and its recent decision to fire Chris Cuomo.
"I do not believe CNN is running a journalistic enterprise. I think CNN is running a propaganda enterprise under the guise of journalism. That means that their ethics, such as they are, are highly dependent on situations that benefit them," explained Sexton. "So they're very ethically flexible, I think we could say. The fact that CNN didn't take action against Cuomo earlier on isn't surprising to me at all. Eventually, it just became too embarrassing for them."
Some have suggested, given the sexual harassment allegations that, in part, led to Cuomo's demise, the cable outlet should hire a woman for that prime-time hour.
"It's not that they need a woman in that time slot; their problem is: What is CNN?" Sexton contends. "Is this an objective news network? Jake Tapper presents himself as an objective journalist. To anyone who knows his work and certainly how he also operates behind the scenes—that's fraudulent. That's just dishonest."
Great Relationship
To make the most effective radio, the hosts drill down on the issues together to find the most pressing area for focus. Sexton's CIA background has provided great training for navigating the broadcasting business.
"Taking in a tremendous amount of information and figuring out what makes sense, what makes a difference, what matters, that in many ways is the quintessential prep skill for a radio host" said Sexton.
Travis on the other hand started practicing law, after graduating from Vanderbilt University. He then ventured into writing, and local radio before arriving on the national circuit.
Though they go out of their way to bring facts to the forefront and see many things in a similar light, Clay and Buck do share a few differences.
"We don't agree on everything," Sexton cautioned. "Clay is a converted Conservative. I'm a Conservative since I was probably 15 years old."
Whether they agree on taking calls or not is a different issue. The show hasn't done a lot of it, although they are in constant communication with the audience thru social media and make it a point to share messages on the show.
"We want Liberals to listen. We want Democrats to listen, people that disagree with us strongly, we'd rather they hear our version of why Conservatism is correct on a certain issue or why maybe we're a little ambivalent or some things than what they might get elsewhere," Sexton said.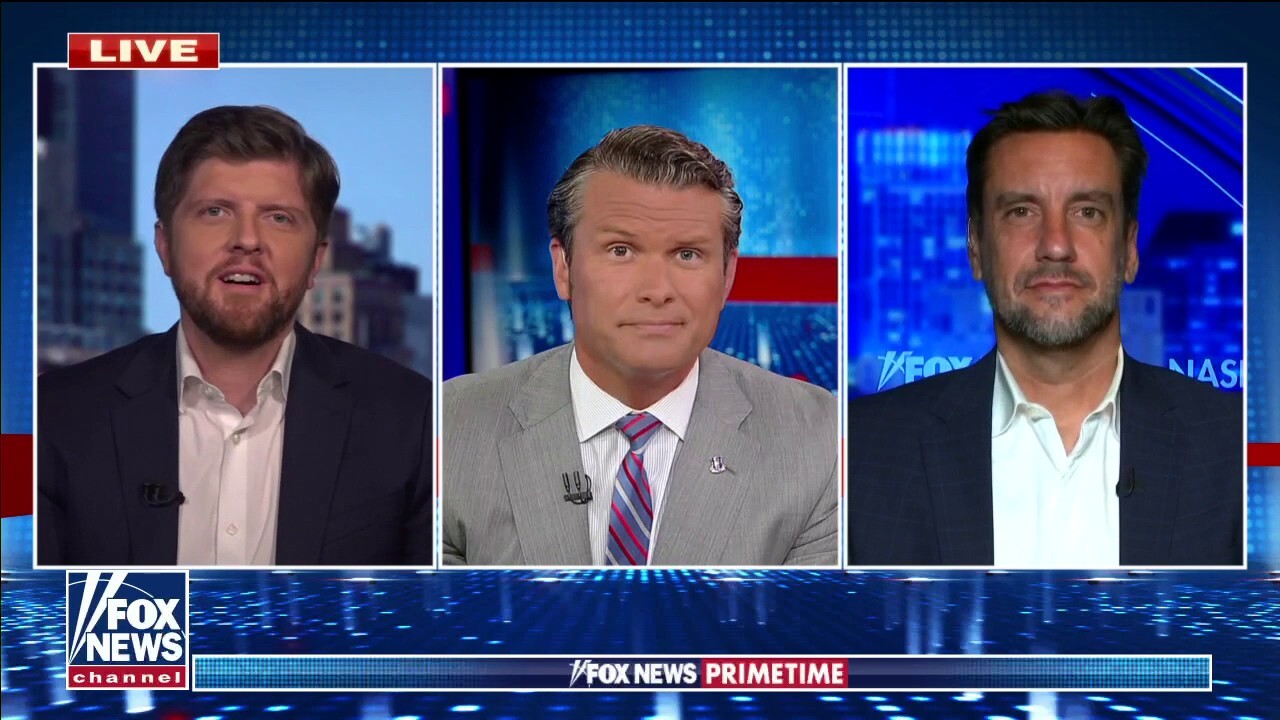 The show itself is put together remotely. Sexton is based in Manhattan, Travis is in Nashville. Though that could create challenges for some, both say it hasn't interfered with the on-air product.
"The technology is such that I don't think anybody out there listening can even tell," Travis added, although they are upfront with the audience about it. "Frankly, it's basically the same, to me, seamlessness, whether we're in the same studio [or not]. It doesn't really seem to impact the flow of the show."
"I think it actually adds to the show and creates a really interesting dynamic," Sexton said. "I can see Clay in real time very clearly. We're staring at each other's faces on pretty large screens."
Wherever they crack the mic, the duo in short order has built a good working relationship.
"I don't know exactly what the phrase would be, but we talk for three hours every day, and the vast majority of it is public," said Travis. "We're constantly texting and sharing stories, interacting, basically all day, so, we have a great relationship."
Sexton echoed a similar sentiment, pointing out that the two hosts share a strong work ethic.
"I will do the absolute maximum workload that I can to create the most successful shows and put out the best content I can," Sexton said. "Clay Travis is an absolute machine as well. I've found that [he's] one of the only people in the entire media industry that I've come across who puts in the hours, the effort and energy that I do."
The Cost of "Thoughts"
Jack Del Rio made a classic mistake of wondering aloud about topics that people in public positions aren't allowed to think about on Twitter.
The first recorded use of the expression, "A penny for your thoughts," was made by Sir Thomas Moore precisely 500 years ago (1522). But, no doubt, a penny went much further in the 16th century.
The U.S. Department of Labor's most recent Consumer Price Index (CPI) shows that inflation continues to increase above expectations. The current annual rate of 8.6% is the highest since 1981. The cost of thoughts, or at least saying them aloud, well, saying certain things in a public forum, has gone up far more than the CPI.
Jack Del Rio, defensive coordinator for the Washington Commanders (formerly known as the "Washington Football Team," and before that, the Washington Redskins), made a classic mistake of wondering aloud about topics that people in public positions aren't allowed to think about on Twitter. Specifically, his Tweets compared (what he called) "the summer of riots" to January 6th at the U.S. Capitol. As the late, great Alex Trebek would say, Del Rio's comments were "in the form of a question."
Faced with media scrutiny about his Tweets, rather than back down, Del Rio referred to January 6th as a "dust-up at the Capitol."
Can I tell you a trade secret of press flacks? They all have a small can of lighter fluid and a pack of matches within reach behind a piece of glass with the words "break only in the case of emergency" scrawled on it. Certain phrases or words will cause a press person, at great personal danger and sacrifice, to break the glass, douse themselves with the accelerant, and strike a match before flinging their immolating body in front of the podium. Okay, not literally, but I guarantee the Commanders' public relations director would think this alternative less painful than hearing those words come out of Del Rio's mouth in front of the press gaggle.
The controversy that followed was swift and certain: as was the reaction from Commanders Head Coach Ron Rivera. He promptly assessed a $100,000 fine on Del Rio for his comments.
Two points here: First, this is not a sports story. Talk Radio observers should be far more concerned with the consequences of this story than NFL or sports fans. Second, it doesn't matter what you think happened on January 6th. You should still find the fine issued by Rivera chilling, whether you call it an insurrection or a dust-up.
I used to believe that comedian Bill Maher and I were about as far apart on the political spectrum as any two Americans could be. Maher and I, however, hold similar views on freedom of expression.
On his HBO show, "Real Time," Maher defended Del Rio by saying: "In America, you have the right to be wrong. They fined him; the team fined him $100,000 for this opinion. Fining people for an opinion. I am not down with that."
Because this is where we meet, I'd like to buy Bill Maher a drink and have a laugh over all the times he's been wrong, or we can share that drink and a smile for understanding that freedom of expression IS the foundation of democracy – no matter who's right or wrong. Freedom of expression is an issue where liberals and conservatives must find common ground.
The football team currently known as the Washington Commanders may need another name change. Perhaps the "Comrades" would reflect the team's philosophy better? Levying such a hefty punishment for stating a political (and non-football) point of view because it is out of step with what is apparently official policy seems more reminiscent of the Politburo's posture than a free society.
Del Rio's words are understandably offensive to many. At the very least, they were ham-handed for someone who has been in the public spotlight for so long. But a $100,000 fine? Stifling political opinion is far more dangerous than anything Del Rio said.
Taking the Del Rio incident into context with the "Cancel Culture" of the past few years, Talk Radio hosts should look over their shoulders. Del Rio is also an excellent reminder to think twice before posting a politically unpopular opinion on social media.
Inflation has eaten away at the value of a penny and increased the cost of making politically incorrect statements, including on the air in recent years. What inhibits individuals from expressing their thoughts, beliefs, opinions, and emotions is a threat to Talk Radio and democracy.
Joe Pags' Dream to Work In Media Started Early
Pags knew a career in media was for him ever since he was ten years old, even before his vocal chords did.
If you've ever been required to interview someone for a segment or article, you know pretty quickly when it's going to be a bumpy ride.
Joe Pags was answering my initial questions as freely as Ebeneezer Scrooge hands out Krugerrands. Teeth have been pulled from the human head with greater ease. It just wasn't happening.
After a few minutes, I think I grew on him.
I discovered we actually had a few things in common; both of us lived in Lake Worth, Florida, we knew a lot of the same places and faces, and we both understood that summer heat in Florida is like purgatory.
However, Pags and I will both have a fond devotion to The Noid. We will always share the memories of being a manager at Domino's Pizza.
"I worked at Domino's when pizzas were delivered to your door within 30-minutes, or it was free," Pags said. "After a while they went to 30 minutes or three dollars off the price. Too many people were getting into accidents trying to beat the clock."
What Pags did not mention was that even when you legitimately made it in less than 30 minutes, you had people questioning your delivery time. I guess that's human nature.
Soon, pizzas were just for eating, not working; Pags started his radio career in 1989 in Palm Beach County, Florida.
After that, it was a stint as a television anchor from 1994-2005 in Saginaw, Michigan, and then Albany, New York. From there he was called back to radio and landed at the Clear Channel Talk Flagship, WOAI, in 2005. The Joe Pags Show has been a fan favorite since its debut in 2005.
For Pags, the media dream started early on.
"I grew up listening to talk radio at a very young age and was determined to make my living doing it one day," Pags says. "I actually have a tape somewhere on which I erased the DJ's voice and recorded mine over the songs."
Pags is probably thrilled that the tape will never be released.
Years later, he found he could pay the bills doing something he loved. "I'm lucky enough to work with great people on both local, and national radio and television," Pags explained.
As a kid, Pags listened to Neil Rogers on WIOD. It was consistently a top-rated show in the Miami–Ft. Lauderdale media market and had been since his Miami debut in 1976.
"I also remember Steve Cain, Rick, and Suds on that station," Pags said. "It was a lot of talk radio, but it was fun. It was entertainment. Rush Limbaugh was doing the politics stuff back then."
Pags knew a career in media was for him ever since he was ten years old, even before his vocal chords did.
"When my voice changed at 13, I developed more of a bass tone; I knew I was on my way. I had a New York accent and had to shake that."
Before he embarked on a career in radio, his music career was going well. Pags played French horn and saxophone; apparently, he was pretty good.
He played gigs at the prestigious Breakers Hotel, among many others. "I used to play at the Backstage lounge adjacent to the old Burt Reynolds Dinner Theater in Jupiter," Pags said.
No word on whether Reynolds ever caught Pags live or not.
As a kid, he played baseball. Pags said he was pretty good. What took center stage for Pags was music. It was the French horn and saxophone that captured his heart.
"I played professionally on the Empress Dinner Cruise on the Intracoastal Waterway," Pags said. "I also did gigs at The Breakers Hotel in Palm Beach. We made some good money."
Before Domino's and radio and music, it all started with a strong desire to succeed. That often comes from your family's belief in you. Sometimes it's not there.
"I knew that if I worked hard enough, if I showed the love for the work I was doing, then I'd succeed," Pags said.
His family lived in Lake Worth, Florida, from 1973-74, and Pags returned every so often. "I got back to Florida recently when I went to Mara Lago and watched 2,000 Mules."
San Antonio has been home for the past 17 years for Pags and his family. "I've been here at WOAI. I've got my own studio in a great area." His daughter Sam is his executive producer. I asked Pags if there was any nepotism when it came to hiring Sam.
"Darn right, there is nepotism," he said. "This is Joe Pags media. I get to hire whoever I want," he quipped. "Sam has always had a love of broadcasting. When I became syndicated in this business, I told her I trusted her more than anyone else I knew and asked her to produce my show."
The other day I spoke with Will Cain for a piece. He told me if I visited Austin, I should also see Texas. So I asked Pags what Cain was trying to say. "He means Austin is a city like Portland; only it's in Texas. There's a lot of homelessness in Austin. A lot of crime. The University of Texas in Austin goes far to the Left."
Where does Pags' tough demeanor come from?
"My father was 100 percent Italian. We had some good pasta dishes around our house with my grandparents around," Pags explained. "We didn't have a good bakery in Lake Worth, so I remember my mother and aunts bringing great bread recipes over from the homeland."
Pags has always been interested in what takes place on the periphery, not just the core of matters. He's done a lot of things throughout his life. That experience has helped shape his radio show. Pags said his show tends to be white-collar, but he grew up blue-collar all the way.
"I liked the Superman movies. I enjoyed Rocky," Pags explained. "As a car-buff, I loved the Burt Reynolds films with Smokey and the Bandit. Stuff like that."
Lake Worth, like a lot of other Floridia areas, has been known to be a little rough and tumble. Just watch Cops for a week if you don't believe me.
Pags said other than a little shoving match at the bus stop, he didn't encounter much rough stuff. "I was a musician, I wasn't in that mix. Perhaps a scuffle in little league."
When he was a teenager, he thought music would be it. "I'd played with some big-hitters at the time, like The Coasters," Pags said.
"Music career opportunities really didn't come along as I'd hoped. In some ways, people in the industry were full of it. I still did some freelance work on the saxophone."
Pags said he was always willing to work for what he got. "I poured coffee and ran errands for $4 an hour," Pags said. "I had my car repossessed, and got evicted from my apartment. I still kept at it. I never was deterred from what I wanted. I knew what I wanted, but never really expected things to happen the way they did."
Pags said if some youngster asked how to be what Pags is today, his answer was succinct. "Pour coffee, run errands, whatever you have to do."
I asked Pags what he does in his downtime? Let's just say he's not running to tee-off at 7:00 am with the guys at the club on his day off.
"I'm a domestic sports car guy," he says with pride. "I've got three Corvettes, a Camaro Super Sport. My Camaro was a 1967, red with white stripes. I sold that car so we could afford to adopt our daughter. I got the better end of that deal."
He doesn't do any weekend racing on local tracks like other aging Indy wannabes. "I like to look at those cars in the garage," Pags said. "My dad was a big car guy. My dad is probably why I've succeeded in my life and career. Not for the reasons you'd think."
Pags' relationship with his father had the typical ups and downs. Same as it is for most men.
"My father didn't think I'd amount to anything and had no problem relating that to me," Pags said. "Conversely, my Mom was always extremely supportive of my interests and goals. I knew if you were good at what you did, people would take notice."
Pags said his father excelled at being a naysayer. A glass is a half-empty kind of guy.
"He was so negative. He thought I'd never succeed at anything," Pags explained. "I was out of the house at 17, and I was determined to become something. To prove him wrong."
Before his father passed away, Pags believes his father became aware of a lot of things.
"A light went on in his head, and he was just so surprised I could make a living doing what I did," Pags explains. "When I became a big enough success, he recognized my drive and determination. I'm still not sure if he was hard on me because he thought it would help me in the end. Whatever his reasoning was, it gave me the drive and determination to see things through."
Pags' father became so proud of his son that he'd tell friends Joe was going to be on Fox News and how they should tune in.
"It was my mother, with her ultimate support, that really made me want to succeed. For her," Pags explained.
"I learned that if someone disparages you or makes you feel small, you have choices. You can go into a shell and take it. Believe what people say. Or you can go out and knock down some doors. If you want me to do something, tell me I can't do it. Soon I will be syndicated on 200 stations. All that came from believing in myself. I'll prove it to iHeart. To other broadcasters."
Pags said at some point; you've got to find some kind of edge.
"I knew I wasn't going to agree with things my father believed and said, just to shut him up. I had to stand up for my own beliefs."
I can relate to a guy like Pags. He's got a tough exterior, not easy to crack. But like me, I know in the center is a soft, creamy nougat.
Where Is the Good Stuff?
By the "good stuff, I'm not even referring necessarily to the happy or "feel good" tales of human kindness, child wonderment, or cute puppies.
A couple of stories about bears actually brought me to this declamation of sorts.
What you'll see (or read, actually) is nothing new and certainly not any type of original complaint or assessment, but as I spend my days digging, crafting, and stacking stories on double homicides, house fires, high gas prices, and low voter turnout, it's becoming that much more difficult to balance out a newscast with the good stuff.
By the "good stuff, I'm not even referring necessarily to the happy or "feel good" tales of human kindness, child wonderment, or cute puppies. I'm really just talking about the low end of the meter things; an innocuous bill passing, a road-widening project, or maybe even an upgrade in consumer technology somewhere.
We all realize if a show rattles off an unending laundry list of death, destruction, corruption, and high pollen counts, the only winners are therapists, pharmacies, and liquor stores. But it's no longer as easy as it once was; I mean, I may be overstating for dramatic effect, but at the end of the day, it really does seem like not only are there fewer accounts to raise the serotonin levels, but those we do find cannot sufficiently dilute those newscasts from their continual tales of woe.
To expand my point, I return to the bears.
Over the years, I have come to count on bears, and for a good reason. Most bear content consists of the giant creatures, often with their youngsters in tow, doing things we find cute, intriguing, thought-provoking, and/or hilarious.
If you have never seen a giant black bear rumbling around inside an SUV they've just illegally entered or busting into someone's kitchen and raiding the pantry or the garbage shed, can you even say you have truly lived?
Well, the short answer is you probably can, but I'm the one on the keyboard at the moment, so roll with it for now.
True, those stories often come at the expense of some weary camper, homeowner, or utility worker, but for the audience, it's generally rejuvenating, even medicinal. A simple Google or social media search will lead you to an overflow of the best of bears in news content. Therefore, as you will see…they trend.
But here's what has happened of late to turn those stories in a downward direction. Here, in this part of New England, our news stories about bears recently have revolved around them being killed. They destroy some crops or a garden and move on towards somebody's house, and they get shot. They break into a shed and don't run off; they get shot. They are euthanized; their cubs get tranquilized for relocation and then don't wake up. It's certainly a shift.
Suddenly, we are back to where we started with our content. What was once a sure thing is now added to the dark category of story selection. Still, it is often viable content because it's a pro and con topic; it has angles and follow-up potential.
Now know this; I am not proposing a referendum involving bears, but rather just offering a long-winded metaphor of sorts.
We do not know when the time-tested default stories are going to turn on us. I do think it will usually happen when our backs are turned. That probably means the digging we do has gone even more profound than before. We cannot always count for all those elements in a story to be out in the open.
Like most of us, I read or at least do a hard scan of a lot of reports, releases, summaries, and everyone else's take on what's happening. Fortunately, I can sometimes find fundamental components dropped down further than they ought to be or not allotted enough attention due to time or space constraints.
In police work, these obscure details would often lead to another suspect, another criminal charge, or even an exoneration or a new investigation.
I find little difference in this present position:
A hi-rise building fire is brought under control when the alarm's sprinkler system douses much of the flames just as fire crews arrive. Now, that's great, but there's a bit more upon looking a little deeper.
The sprinklers knocked out the elevators, and firefighters carried a disabled burn victim down 14 flights of stairs.
Part of their job?
Sure, but worth peeling the layers off that onion.
Drivers going the wrong way is another big thing around here. On the interstates, the highways, the local roadways, it's happening a lot and often, as you might guess, with tragic results. So a driver is taken into custody after going the opposite way on not one but two different thoroughfares within like fifteen minutes.
Good story, good arrest, good write-up.
How did they catch the wrong-way driver?
The trooper turned directly into the driver's path and took the crash impact to stop him.
Where did we that aspect of the incident?
Paragraph four or three-quarters through the stand-up.
Now, of course, all coverage and treatment of stories is subjective, and the intent here is merely for me to find a way to say I'm not seeing enough or finding enough "good stuff" to balance out my newscast, so I am going to loot and gut everything I can when necessary.
And that's just on the local side. Do not get me started on the national beat.
I hope it's not that people are starting to slip on their quota of good deeds, but it has forced me to think and work just a little harder.
It's disappointing when I cannot even count on the bears anymore.