Sports Radio Hosts Support Eric Church Cancelling Concert For Final Four
"While there are plenty of sports talk hosts that love country music, rarely are the personal lives and decisions of the genre's biggest names fodder for content."
Country singer Eric Chruch was supposed to play a concert in San Antonio on Saturday night. That isn't going to happen though. He issued a statement earlier this week saying the show is canceled because the diehard North Carolina Tar Heels fan wants to watch his favorite team play archrival Duke in the Final Four. He is going to New Orleans instead of San Antonio.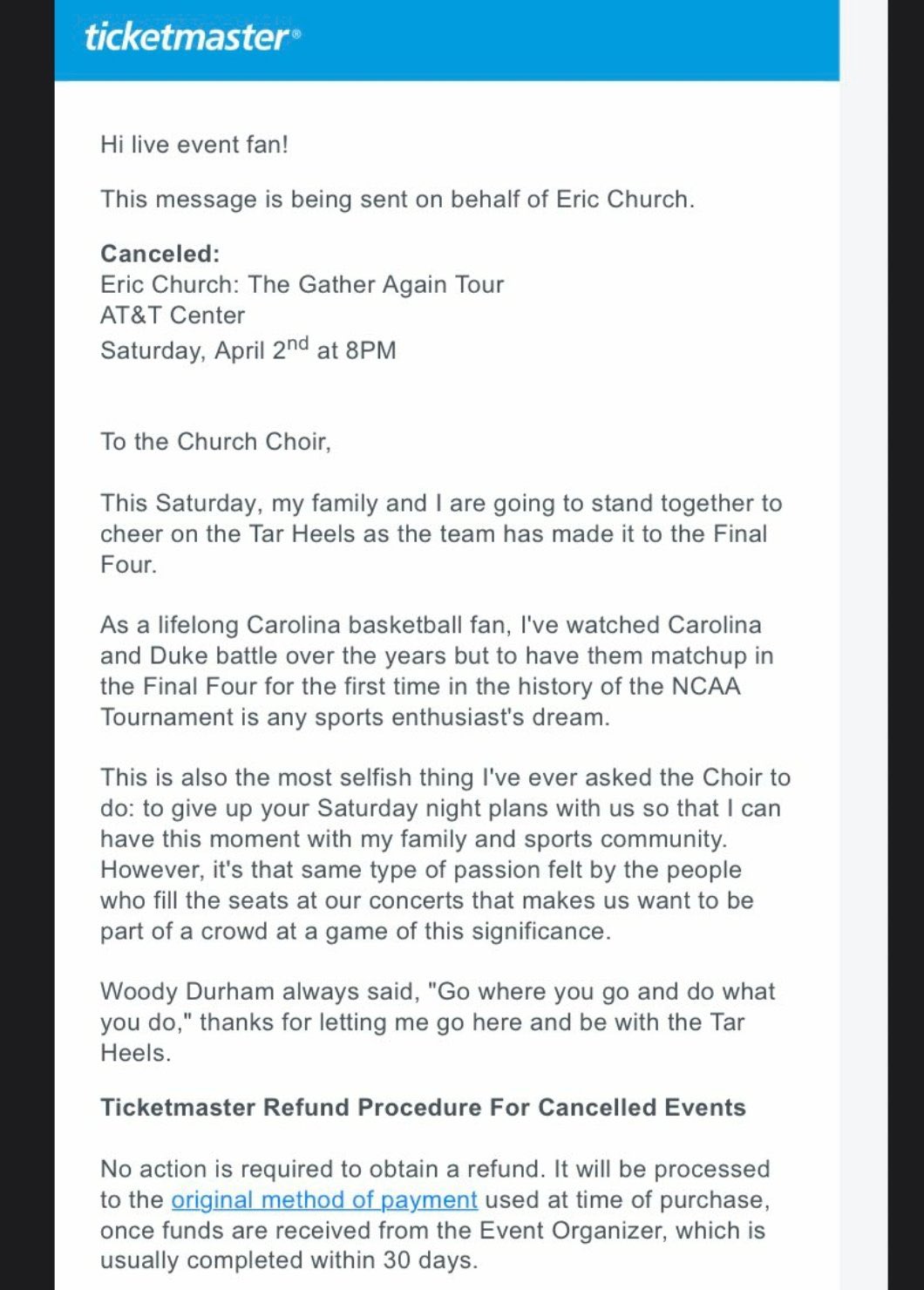 While there are plenty of sports talk hosts that love country music, rarely are the personal lives and decisions of the genre's biggest names fodder for content. That was the case on Wednesday though as many hosts used Church's decision to debate the rules of fandom. That included in Charlotte, the biggest market near his hometown of Granite Falls, NC.
Eric Church found a lot of support for his decision amongst the sports media. ESPN's Spencer Hall noted that this isn't just any Final Four. If the Tar Heels win, it will end the career of Duke coach Mike Krzyzewski. This is a once-in-a-lifetime opportunity for UNC fans.
Plenty of hosts from across the world of sports radio weighed in with a mix of admiration and condemnation.
Jim Szoke from WBT and WFNZ in Charlotte pointed out that there is a whole subsection of fans that are likely miles away from San Antonio this doesn't sit well with. You may have to be a resident of the Carolinas to know that Appalachian State University has a number of successful sports programs. It also happens to be where Eric Church went to college. Giving up a huge pay day to watch the University of North Carolina may not sit well with his fellow App State alums.
Fans that held tickets for the concert in San Antonio have been issued a refund. It stands to reason that Church will play in the city again sometime in the near future. Maybe this will be accepted as a no harm no foul situation sooner rather than later.
Joy Taylor Says Aaron Rodgers Is More Likeable After Pardon My Take Appearance
"It makes him astronomically more likeable," Taylor said.
On Monday, the Pardon My Take podcast dropped their latest episode which featured an interview with Green Bay Packers quarterback Aaron Rodgers. Big Cat, one of the show's co-hosts, is a Chicago Bears fan and has spent a lot of time not liking Rodgers publicly.
Colin Cowherd saw one of the many clips that the show shared and brought up how much he thought that Rodgers took ribbing from Big Cat and the podcast in stride. That's when Joy Taylor offered that the interview could help Rodgers in the long run.
"It makes him astronomically more likeable," Taylor said. "When you can show that you don't take yourself that seriously, all of the animosity that people have towards you just kind of starts to wither away."
She added that the disarming quality helps if people don't perceive Rodgers as thinking he has all the answers.
"When people feel like they are projecting 'I know more than you' and 'I've got it all figured out' energy, people are like: 'you got to be the smartest guy on the room all time time? You're not.'
"This is so likeable," Taylor said. "It's really funny."
Cowherd agreed and even said he is probably going to go listen to it after the show.
"Aaron is genuinely laughing as they make fun of him and that is an incredibly endearing quality."
WNSR Debuts 'Power Hour' with Sami Kincaid
Nashville's WNSR debuted Power Hour with host Sami Kincaid.
Nashville has a brand new voice to listen to on WNSR and her name is Sami Kincaid. On Saturday, the station debuted Power Hour with host Sami Kincaid.
The debut show featured Associated Press writer Teresa Walker, Vanderbilt women's basketball guard Jordyn Cambridge and North Georgia assistant softball coach Alea White. The show is focused on women that are operating inside sports.
The show airs Saturdays from 9-10a CT.
Toucher and Rich: Dennis Eckersley's Retirement a "Huge Loss"
"When Eckersley got in there (the booth)," Shertenlieb started, "he was great. It made all of them better when Dennis Eckersley was around. It's going to be a huge loss."
On Monday, Dennis Eckersley announced that he was going to retire from the Boston Red Sox television booth at the end of this season. The current NESN analyst is leaving after twenty years on the air with the team.
The news broke during Toucher and Rich on 98.5 the Sports Hub and it gave show co-host Rich Shertenlieb a chance to mention the news and praise the departing personality.
"When Eckersley got in there (the booth)," Shertenlieb started, "he was great. It made all of them better when Dennis Eckersley was around. It's going to be a huge loss."
The show spent the rest of the segment talking about what Eckersley offered that made him so unique. That's when Matt McCarthy, fill-in for Fred Toucher, said that Eckersley was exactly what you wanted in an analyst.
"You want someone that's going to give you an opinion," McCarthy said. "Eck gave you an opinion. He'll be missed."
McCarthy also pointed out that this is the latest major shakeup that has happened to the television broadcast in recent years.
"There's no doubt this is a blow," McCarthy added. "This is a tremendous loss to that Red Sox broadcast to which has taken a lot of hits over the years with the loss of Jerry Remy, the decision to move on from Don Orsillo and now Dennis Eckersley retiring… they are going to have to find an entertainer in there. Matt McCarthy